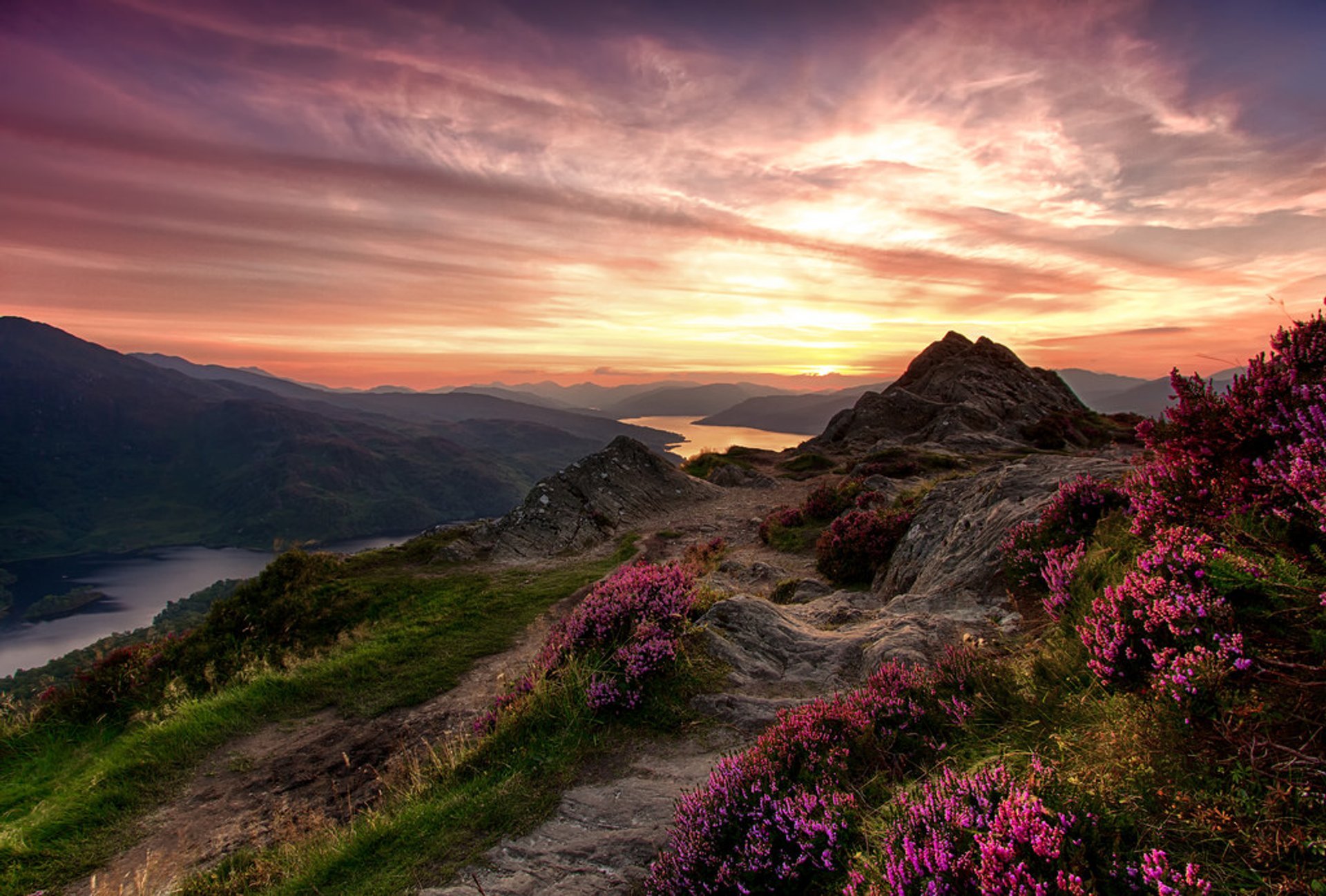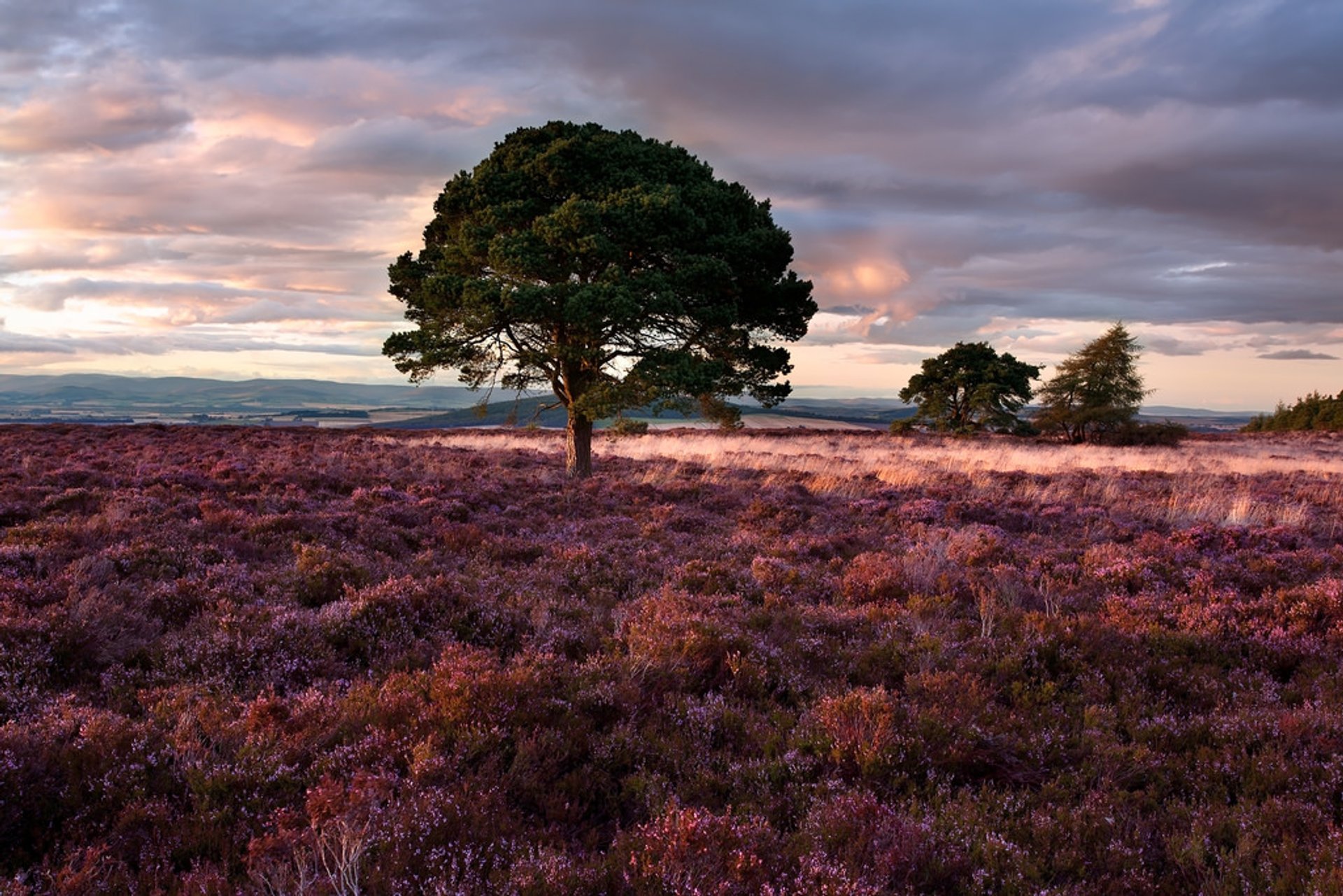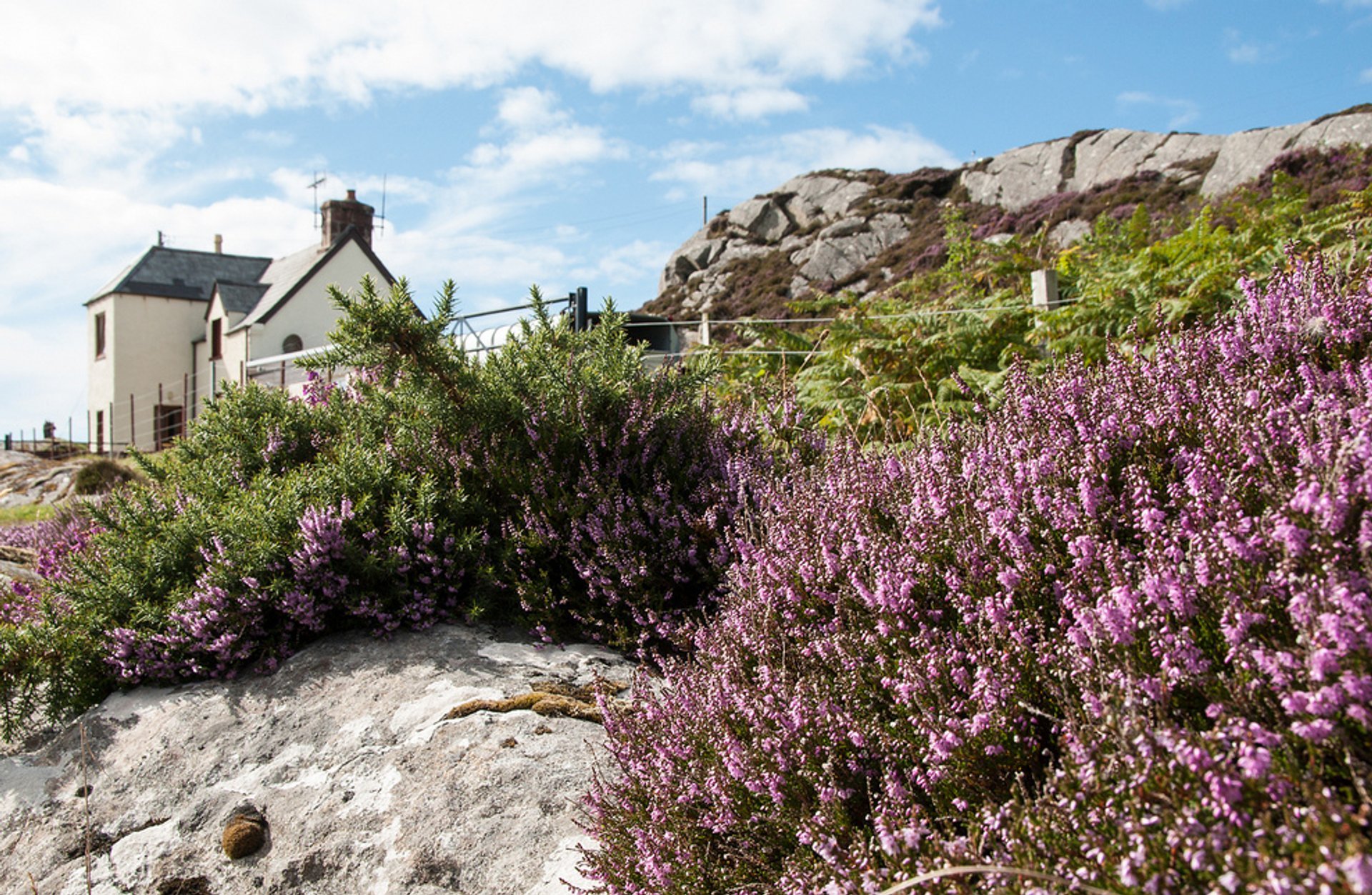 See accommodations nearby
Glorified in Scottish folklore, poetry, and songs, heather is already a part of local culture and is now strongly associated with Scotland. The often severe conditions of Scotland do not scare off the beautiful enduring plant, and it thrives equally well in damp and dry climates, survives cool temperatures, and infertile soils. Note that heather in Scotland comes in three types. The most widespread is common heather (Calluna vulgaris) with delicate pink flowers. Two other species are bell heather (Erica cinerea) with dark purple-pink or mauve and rarely also white bloom, and least found cross-leaved heath (Erica tetralix).
When does heather bloom in Scotland?
Scottish heather blooming season lasts from mid-summer through early-to-mid fall. The season differs slightly by the type. You can see common heather in bloom between July and October, and bell heather and cross-leaved heath—from July to September. The best month to enjoy lush heather fields across Scotland is August.
Where does heather grow in Scotland?
Heather is prevalent over vast swathes of Scottish landscapes in the west and north. This perennial evergreen shrub is found in Scottish wetlands, pine, birch, and oak forests, highlands, heathlands, dry fields, and large open areas. You can also come across heather on the exposed ground drawing back from sea cliffs.
Best heather fields in Scotland
There are lots of places to spot the blooming heather fields across Scotland. Discover breathtaking heathery landscapes close to Edinburgh on the Lammermuir Hills and Pentland Hills. Besides, these flowers thrive on exposed slopes up the coast from St Abbs at the Scottish border with Northern England. Another location is Mugdock Country Park close to Glasgow. In addition to coastal moorlands, the bloom also likes the woods around Cairngorms National Park, and especially near Boat of Garten. A great location to enjoy both common and bell heather flowers is Aird of Sleat on the Isle of Skye. Lastly, if you're looking for the unusual white bell heather, check out coastal Moray in the north-east of the country.
Marks in heather
No matter when you are visiting heather fields, there will be ticks in heather, so be cautious not to pick one up. Anyway, it's always better to find them on your body before they start sucking your blood, so after you leave, be sure to check yourself for any ticks that have decided to cling to your clothes or skin. Find out more information on how to deal with ticks in Scotland.
Things to do in Scotland during heather season
If you plan your getaway in August, consider also adding The Burry Man or Cowal Highland Gathering to your to-do list. Moreover, heather flowering time entirely overlaps with the berry season in Scotland. Also if you plan your adventures later in the season, you can also take advantage of the seafood season or go leaf peeping.
Find hotels and airbnbs near Heather (Map)