Vedi tutto
Ogni anno, l'arrivo dell'autunno è segnato a Colorado Springs con una massiccia ascensione a palloncino ad aria calda. Si può salire in uno dei 70 palloncini accompagnati da colazione e bevande da venditori locali che si alzano nel cielo per salutare il sole
Altre attività durante il Colorado Springs Balloon Festival includono dimostrazioni di paracadute, wake-boarding, padelboard, incisione di motosega e competizioni di cibo di ciambella. Inoltre, ci sarà un sacco di musica e altri intrattenimento dal vivo. La giornata di divertimento del festival si conclude con un incredibile splendore di palloncino ad aria calda al tramonto.
Guarda anche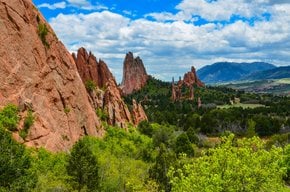 Garden of the Gods
Colorado, all year round
Il Colorado Springs Labor Day Lift Off è organizzato da Hot Apple Productions, LLC in affiliazione con Rainbow Ryders Hot Air Balloon Company, Inc. e la Colorado Springs Sports Corporation. Potrete scoprire la straordinaria natura del Colorado e vedere le sue vaste valli e montagne dal punto di vista degli occhi d'uccello e scivolare sull'acqua in un palloncino colorato.
Il luogo principale di tutte le feste è il bellissimo Memorial Park.
Per i biglietti e gli ultimi aggiornamenti, si prega di consultare il sito ufficiale (vedi sotto Risorse esterne).
Trova hotel e airbnb vicino a Colorado Springs Labor Day Lift Off (Mappa)