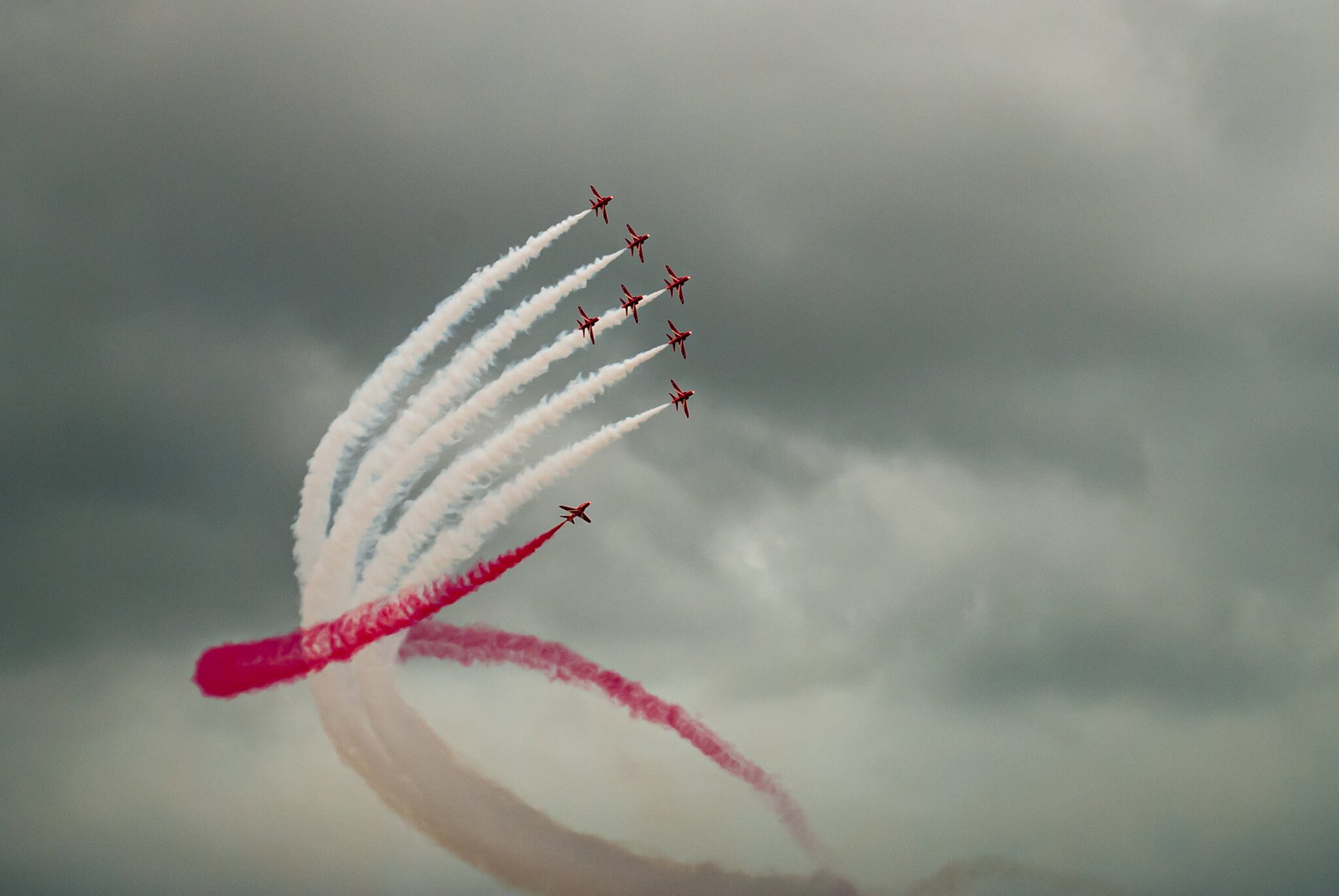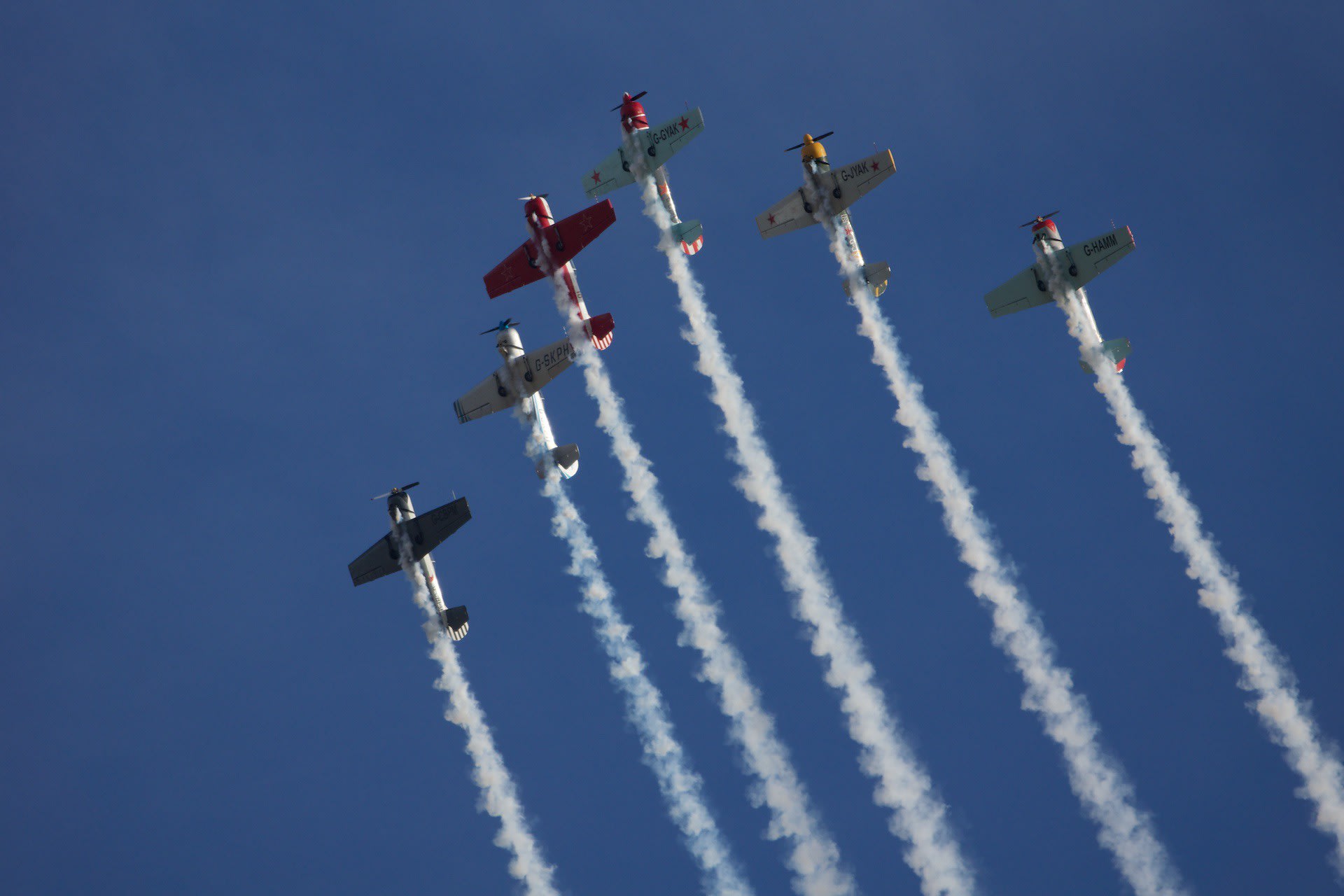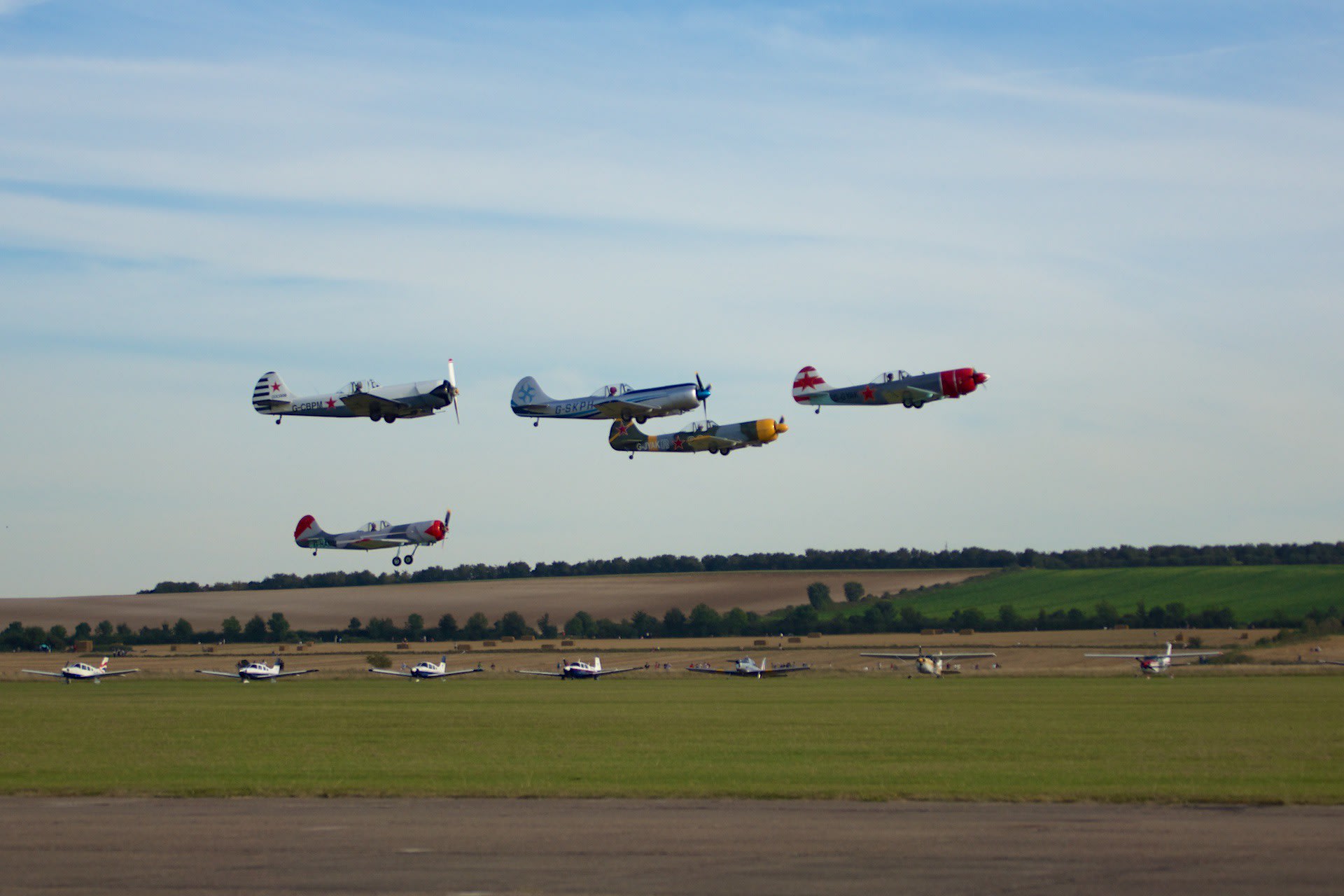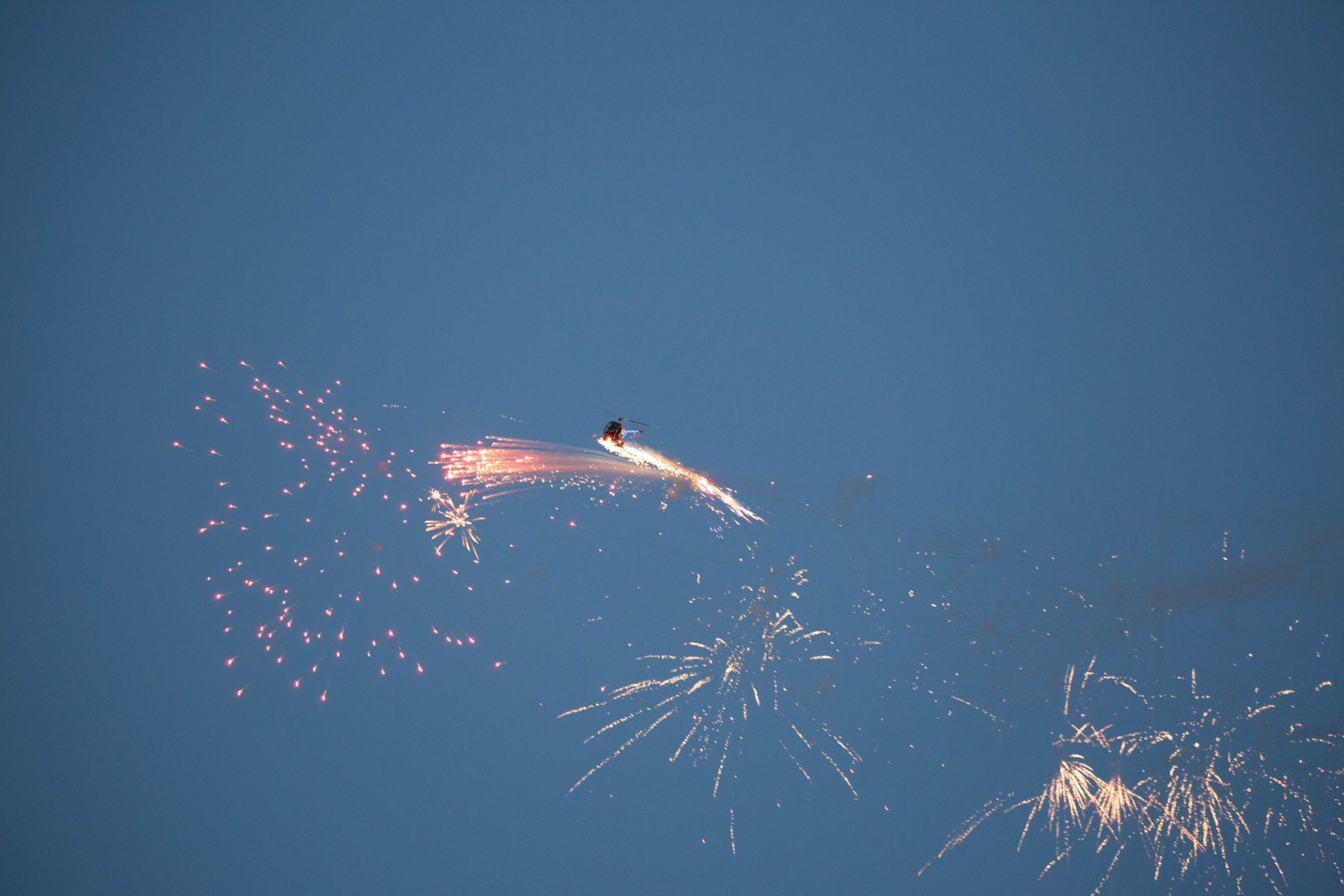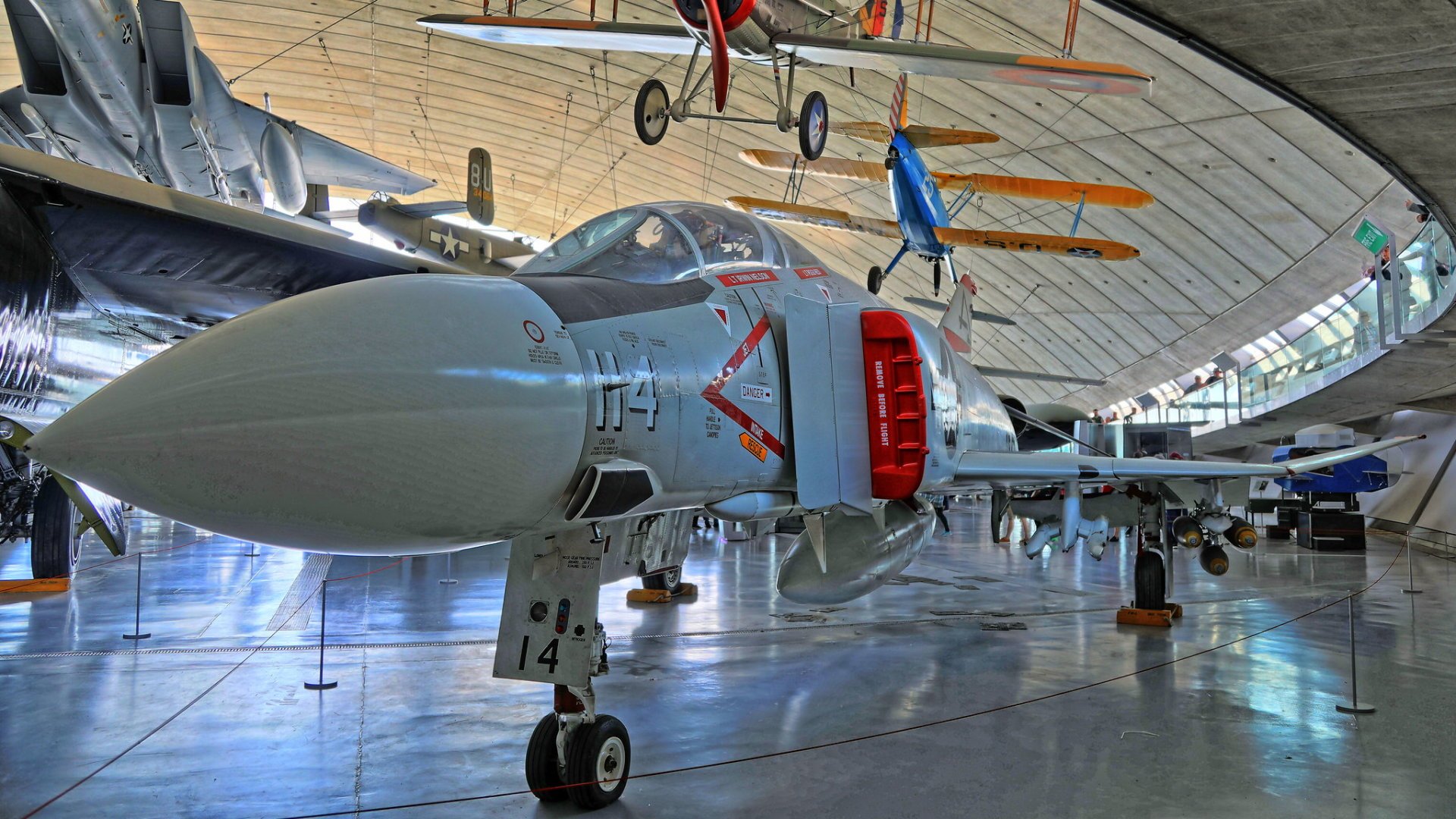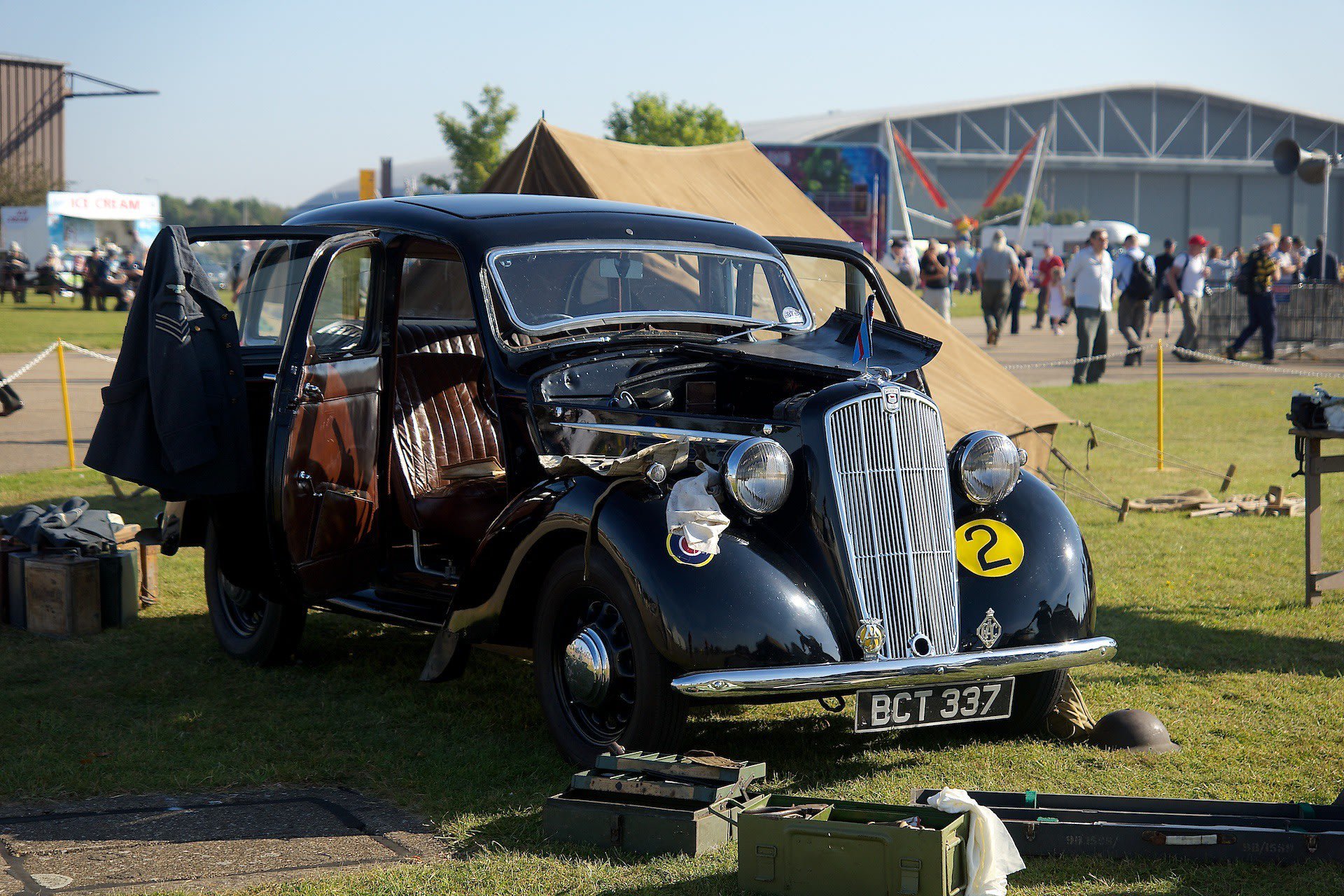 Duxford nel Cambridgeshire è sede di uno dei cinque rami dell'Imperial War Museum (IWM), il più grande museo dell'aviazione in Inghilterra. Inoltre, IWM Duxford è il più grande museo dell'aria in Europa. Il museo vanta sette sale espositive che ospitano circa 200 aerei, veicoli militari e navi navali. Ma il momento migliore per visitare questo meraviglioso sito è in uno dei giorni di volo all'aeroporto storico del museo. È possibile catturare spine-tinging Duxford Air Shows diverse volte all'anno, tipicamente in giugno, agosto, settembre e ottobre.
Duxford Summer Air Show (24–25 giugno, 2023)
Summer Air Show apre la stagione a metà giugno. Il fine settimana promette il meglio della classe di intrattenimento sky-high, adatto per i primi, famiglie con bambini, e ventilatori ugualmente. Il biglietto per l'evento copre una visita all'IWM Duxford, in modo da poter abbinare spettacolari acrobazie con serbatoi e barche esposte.
Duxford Flying Evening (26 agosto 2023)
Questo evento serale emozionante che si svolge l'ultimo sabato di agosto è uno dei posti migliori per salutare l'estate con tutta la famiglia. L'esposizione aerea inizia al tramonto, in modo da poter vedere Duxford in una luce completamente nuova, mentre godendo i vostri rinfreschi. Lo spettacolo è probabile che coinvolga alcuni elementi pirotecnici.
Duxford Battle of Britain Air Show (16-17 settembre 2023)
Un altro evento di alzamento dei capelli all'aeroporto di Duxford dura un fine settimana a metà settembre. Duxford Battle of Britain Air Show rende la storia dal vivo. La rievocazione vi riporta nel 1940 con il ruggito dei motori Merlin e altri divertimenti d'epoca.
Duxford Best (14 ottobre 2023)
Infine, all'inizio di ottobre, IWM Duxford ospita la celebrazione di chiusura con un nome che parla da solo – Duxford Best incorpora le più eccezionali esposizioni aeree della stagione Duxford Air Shows. Quindi, se non riusciste ad arrivare agli spettacoli estivi o alla Battaglia di Duxford, potete vedere i momenti più favolosi partecipando alla finale.
Consigli per visitare IWM Duxford
Per i biglietti e gli ultimi annunci, si prega di consultare il sito ufficiale o la pagina Facebook di IWM Duxford (vedi sotto Risorse Esterne). Inoltre, guarda la mappa che suggerisce le migliori sistemazioni a Duxford e oltre. Si noti che il museo si trova a circa 19 km a sud di Cambridge e a 90 km a nord di Londra, per cui si può anche soggiornare in una delle città vicine e pendolare a Duxford nei giorni di volo. L'auto dura circa 30 minuti da Cambridge e fino a 2 ore da Londra.
Trova hotel e airbnb vicino a Duxford Air Shows (Mappa)