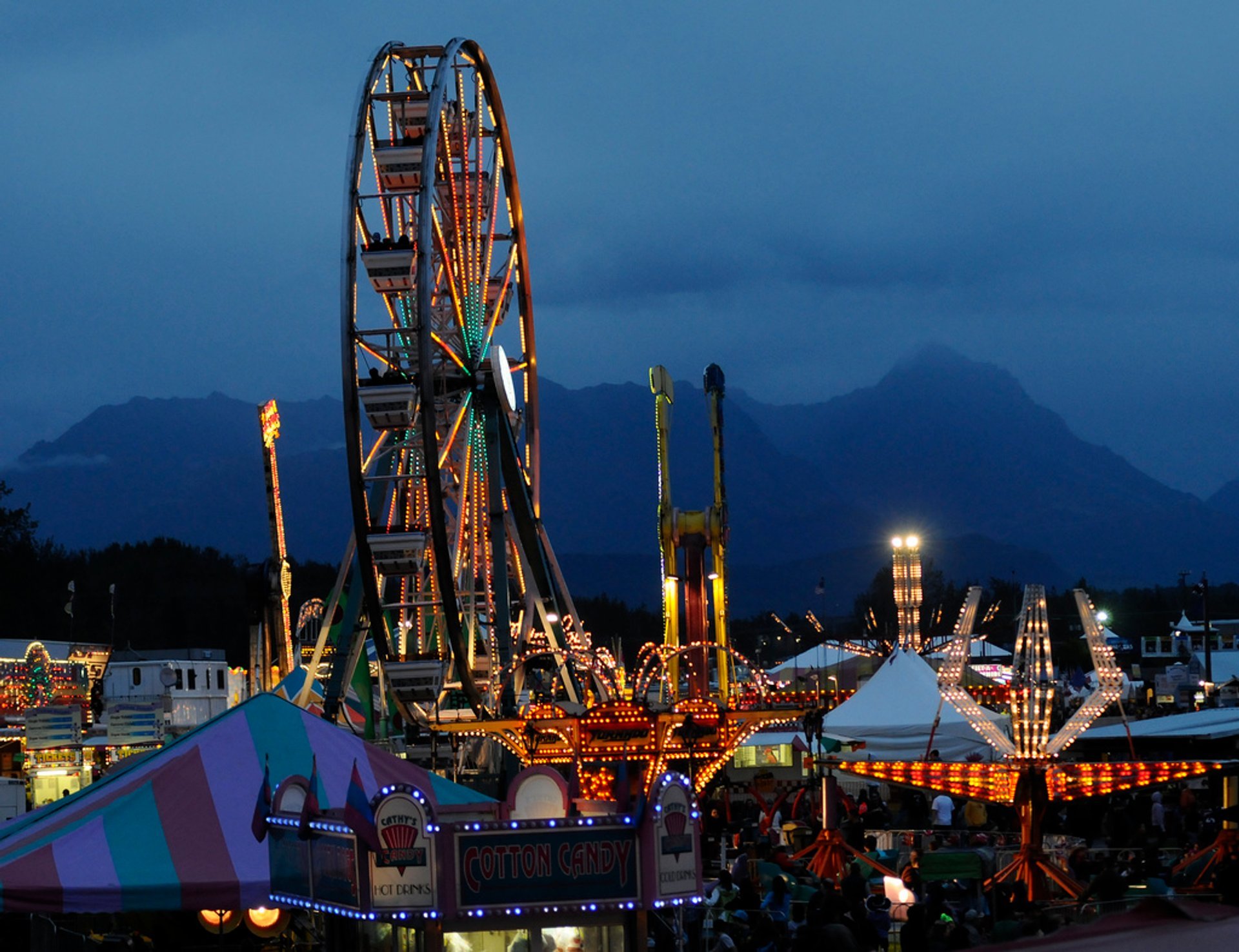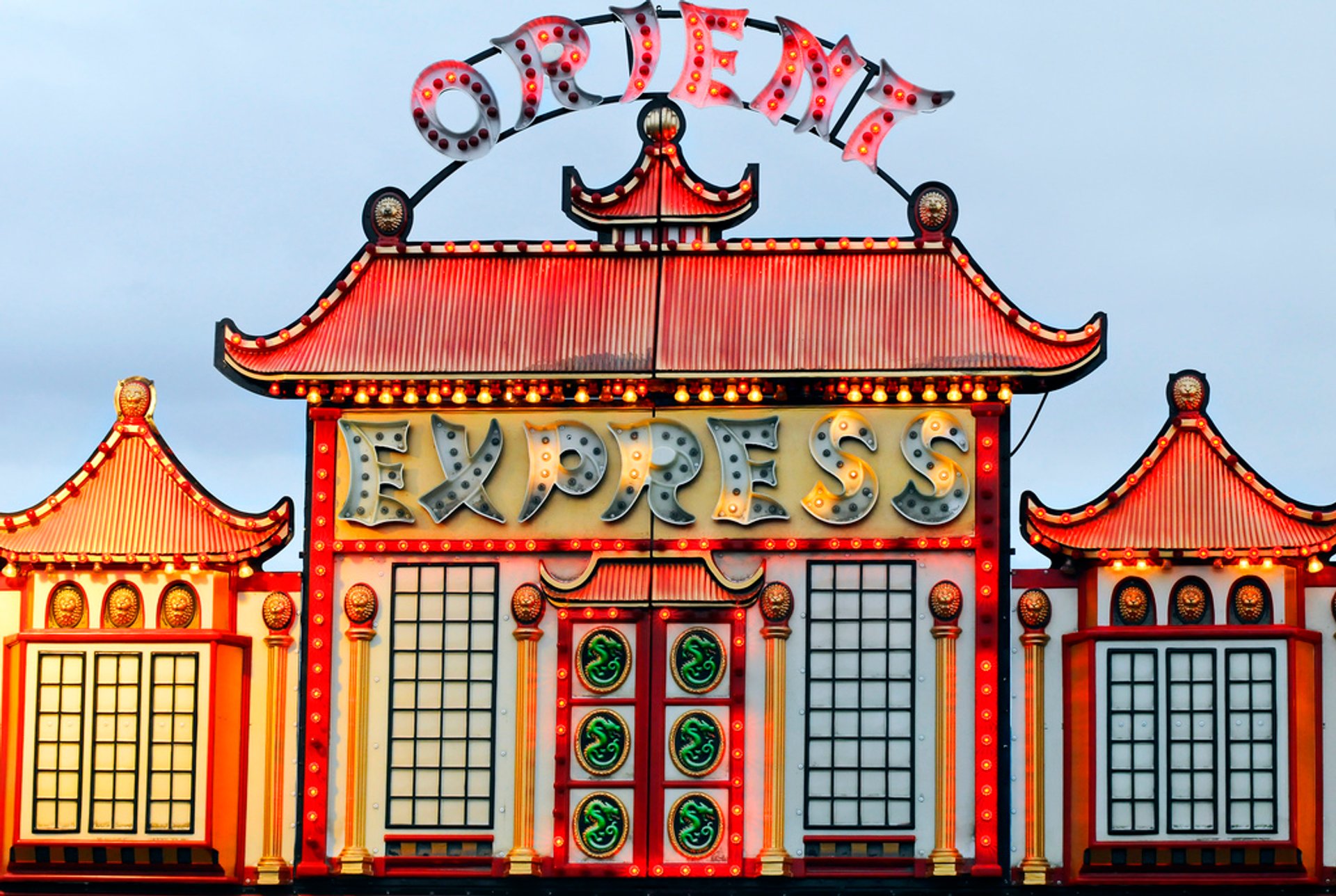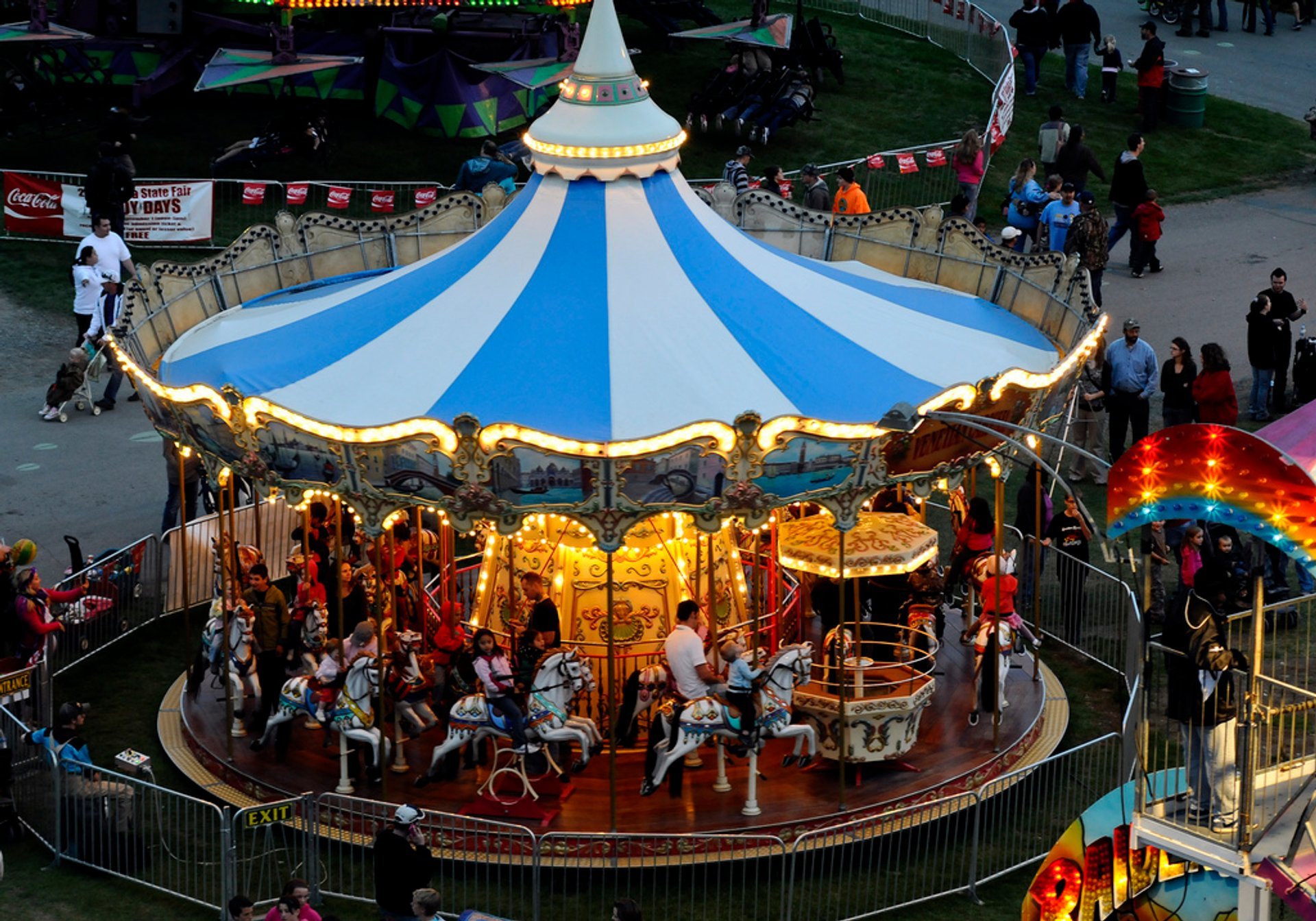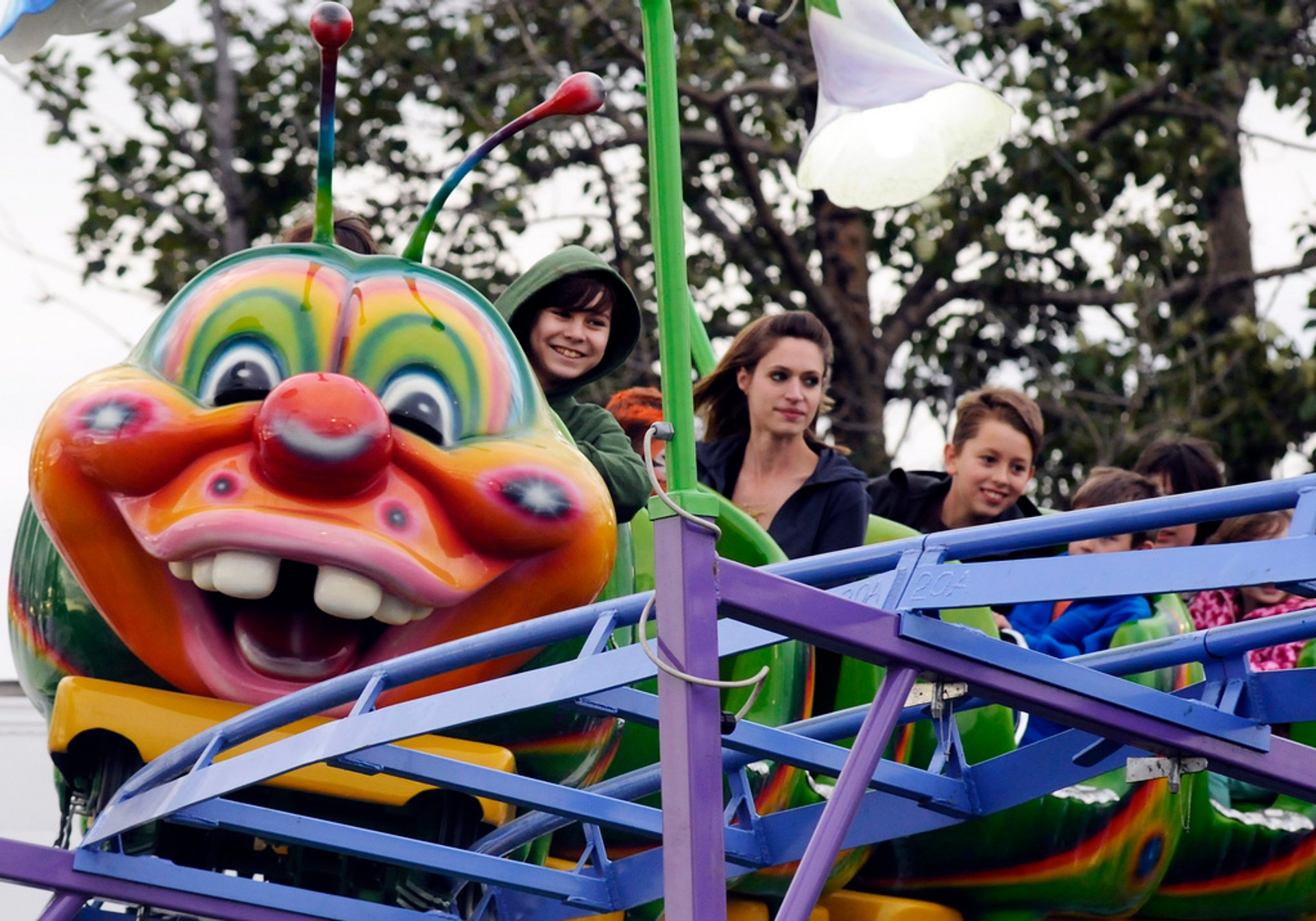 Die Alaska State Fair findet in Palmer von Ende August bis zum Tag der Arbeit statt. Das Messegelände ist eine Stunde nördlich von Anchorage. Die Messe ist berühmt für ihre gigantischen Gemüserekorde und ihre erstaunliche Lage am Chugach-Gebirge im Matanuska-Susitna-Tal. Wie jede Messe, bietet es spannende Fahrten, Lebensmittel auf Stöcken, große Exponate, Karnevalsspiele und viele Konzerte. Es gibt etwa 450 Verkaufsstände. Etwa 70 Lebensmittelverkäufer bieten alles – von Hot Dogs, Pizza, Burgern und Nachos, bis hin zu alaskischen Meeresfrüchten, Cremepuffs und mehr. Die Messe ist von Mittag bis 22.00 Uhr geöffnet. Die Alaska State Fair hat etwa 350.000 Besucher pro Jahr.
Die riesigen Gemüse-Ausstellungen der Messe umfassen eine 1-m-Bohne (39 Zoll), 2-Meter-Gourd und 500-kg (1100 Pfund) Kürbis und 14-m (146 Fuß) Kürbis-Rebe. Seit 1941 gibt es einen riesigen Kohl-Wettbewerb. 2012 präsentierte sich ein 63 kg Kohl auf der Messe und setzte einen neuen Weltrekord. Die Messe zeigt auch Kunst, Backwaren, Konserven, Ton, Kultur, Faser und Fleece, Bienenprodukte, Vieh, Fotografie, Geflügel, Quilts, Kaninchen, Nähen und Holzbearbeitung. Verpassen Sie nicht die Rodeo, Diaper Derby und Alaska Grown Games. Die Teenager lieben die Mitte mit Karneval Fahrten und Spiele. Auch Live-Konzerte sind eine große Attraktion.
Die erste Alaska State Fair wurde 1936 abgehalten und beinhaltete die Krönung der Messekönigin, Boxspiele, Pferderennen, Tänze, ein Rodeo und Baseball.
Praktische Infos
How much does it cost to get into the Alaska State Fair?
The price before August 21: for Monday–Thursday $11 (adults) and $7 (youth/senior); for Friday–Sunday $13 (adults) and $8 (youth/senior). The price after August 21: for Monday–Thursday $13 (adults) and $9 (youth/senior); for Friday–Sunday $15 (adults) and $10 (youth/senior). Note: Adults are 13–64, youth are 6–12, seniors are 65+. Mehr anzeigen
What are the hours of the Alaska State Fair?
Monday–Friday: noon–10 pm; Saturday–Sunday: 10 am–10 pm; Labor Day: 10 am–8 pm. Mehr anzeigen
How much is parking at the Alaska State Fair?
Park free with Season Fun Pass. The season pass includes 12-day admission plus a general season parking permit. The pass is $60 (adults) and $40 (seniors). The youth pass is $30 but it doesn't include parking. The season pass is available on the Fair website through August 21. Mehr anzeigen
Eine Frage stellen
Finde Hotels und Airbnbs in der Nähe von Alaska State Fair (Karte)