Alles anschauen
Der erste Samstag im April könnte Ihr bester Tag in Ann Arbor sein: Das ist, wenn Hash Bash wird jedes Jahr in der Diag auf der University of Michigan Campus um 12 Uhr statt. Die Veranstaltung ist eine Mischung aus Live-Musik, Straßenverkäufen, Reden und gelegentlichen zivilen Ungehorsam. Alle Ereignisse haben das Ziel, lokale, staatliche und föderale Vorschriften über Marihuana zu reformieren.
April 1972 statt und findet seitdem jedes Jahr, meist am ersten Samstag im April, statt. Die Versammlung zieht Tausende von Cannabisfans an, die offen rauchen, vape oder Marihuana einnehmen. Es ist üblich, Gelenke oder Schalen mit alten und neuen Freunden bei der Veranstaltung zu teilen.
Siehe auch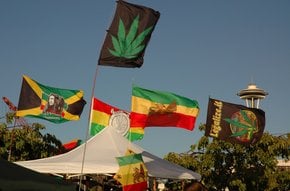 Seattle Hempfest
Seattle, June 24, 2022
Es gibt mehrere Veranstaltungen rund um das Thema Hash Bash. Die Monroe Street Fair bietet ein Programm mit einer Live-Show und Straßenverkäufern, die ausgefallene Wasserrohre und andere Produkte entlang der Monroe Street verkaufen. Der Hash Bash Cup findet am Wochenende im Wyndham Garden Hotel & Hampton Inn & Suites statt (auf den 13.-15. November 2020 verschoben). Also, wenn Sie den wahren Geist der Marihuana-Gemeinschaft von Ann Harbor erleben möchten, gehen Sie zur Diag und verbringen Sie einen Nachmittag damit, neue Freunde zu treffen und ein oder zwei Joints zu teilen.
Praktische Infos
What is Hash Bash?
It's an annual event taking place in Ann Arbor on the first Saturday of April. The event is a mix of live music, speeches, and occasional civil disobedience, all centered on the goal of reforming local, federal, and state marijuana laws.
When is the Hash Bash in Ann Arbor?
On the first Saturday of April at noon
Where is Hash Bash in Ann Arbor?
Hash Bash is held on the DIAG of the University of Michigan, Ann Arbor, Michigan
Eine Frage stellen
Finde Hotels und Airbnbs in der Nähe von Hasch Bash (Karte)