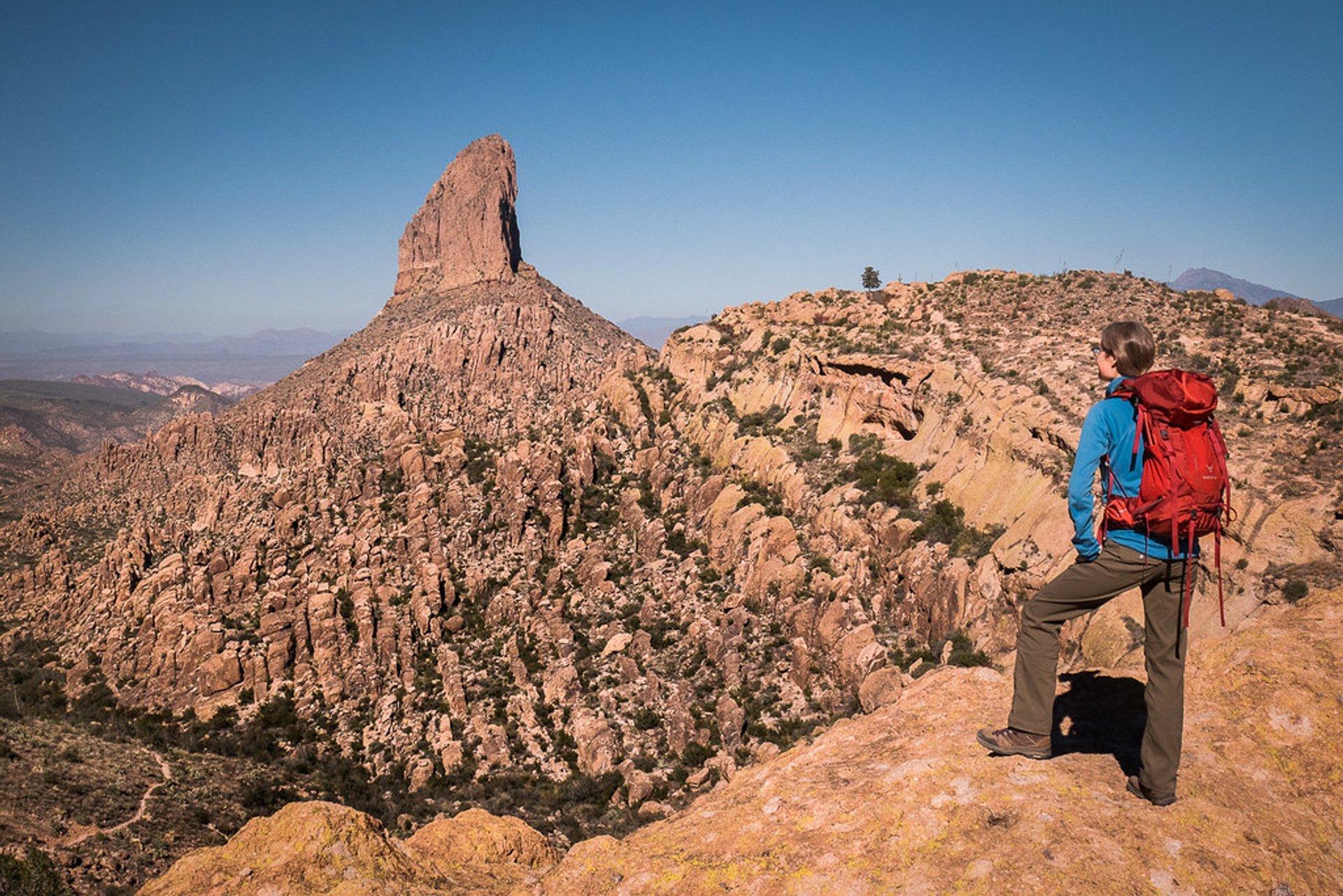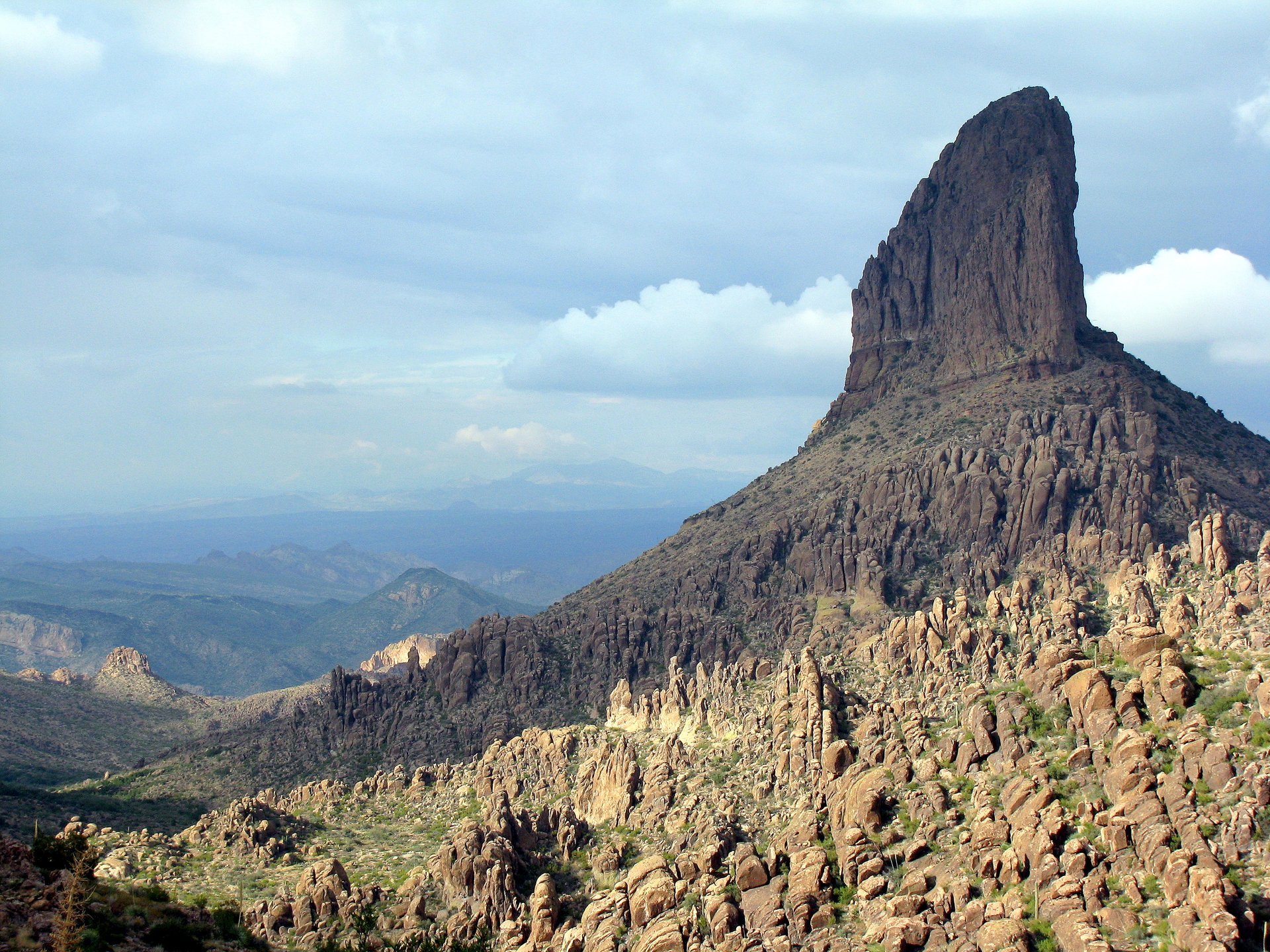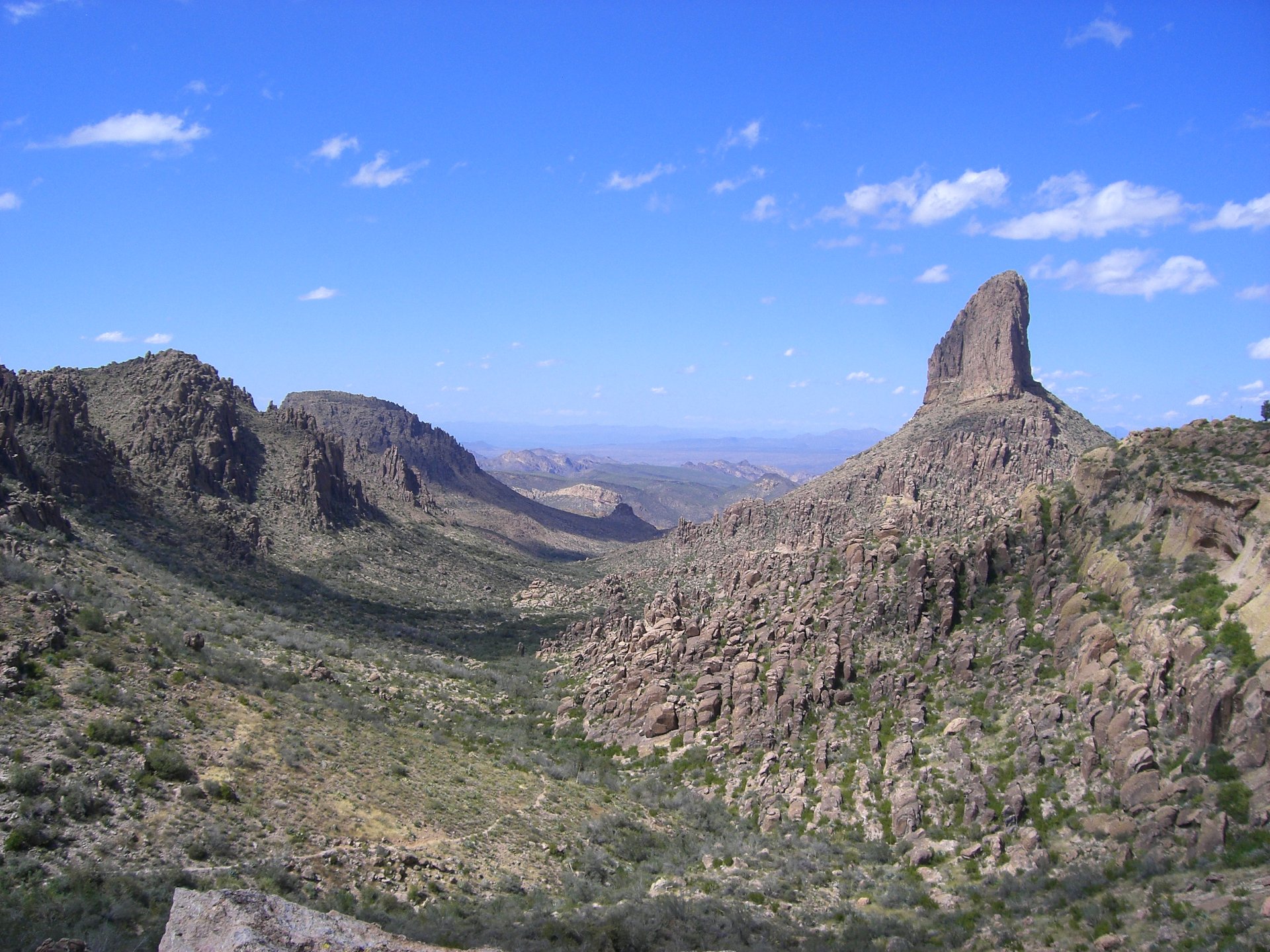 Weavers Needle is a prominent 993-ft (303-m) rock peak in the Superstition Mountains not far from Phoenix, Arizona. It was named after Army scout Pauline Weaver. Weavers Needle is surrounded by legends. According to one of them, its shadow points to the location of the gold, and many gold-seekers have tried their luck all around the mountain.
Climbers rate Weavers Needle as a class 4 peak with a couple of pitches of class 5. It is recommended to wear protection and other climbing gear. No permit is required for Weaver's Needle climb, but it's not recommended for novices. The best time to climb the Needle is when it's not too hot—in winter, spring and fall, roughly between September and May. Spring is also a great time for spotting wildflowers along the route. There is also plenty of mesquite bush and cactus, including giant Saguaro cacti.
The loop around Weavers Needle is about 20 km (13 mi). The hike starts at the Peralta Trailhead about an hour drive from Phoenix. There are two moderately easy routes to the Weavers Needle summit. The easier to climb is the one that starts with Bluff Springs Trail, then after about two miles takes you up the Terrapin Trail. Proceed for about 0.7 miles to Bluff Saddle and 200 yards after it, you should leave the trail to the left and hike to a low saddle. This spot offers an excellent view of Weavers Needle. After some bouldering, the climb begins with a few challenging pitches. After climbing past a platform to the southwest of the summit, you will reach the final section leading to the summit. The other route is via Fremont Saddle, so you could do a clockwise loop. At the start of the hike, take the Peralta Canyon Trail.
Most climbers conquer the Needle in a day, starting and ending at the Peralta Trailhead. It is a 10-12 hour day and is doable. But this adventure can also be an overnighter with setting a tent at Pinon Camp, which is about 3.5 miles from the trailhead if you take the Fremont Saddle route. Some adventurers also set their tents on top of the Weavers Needle Summit, but space is rather limited.
Find hotels and airbnbs near Weavers Needle (Map)