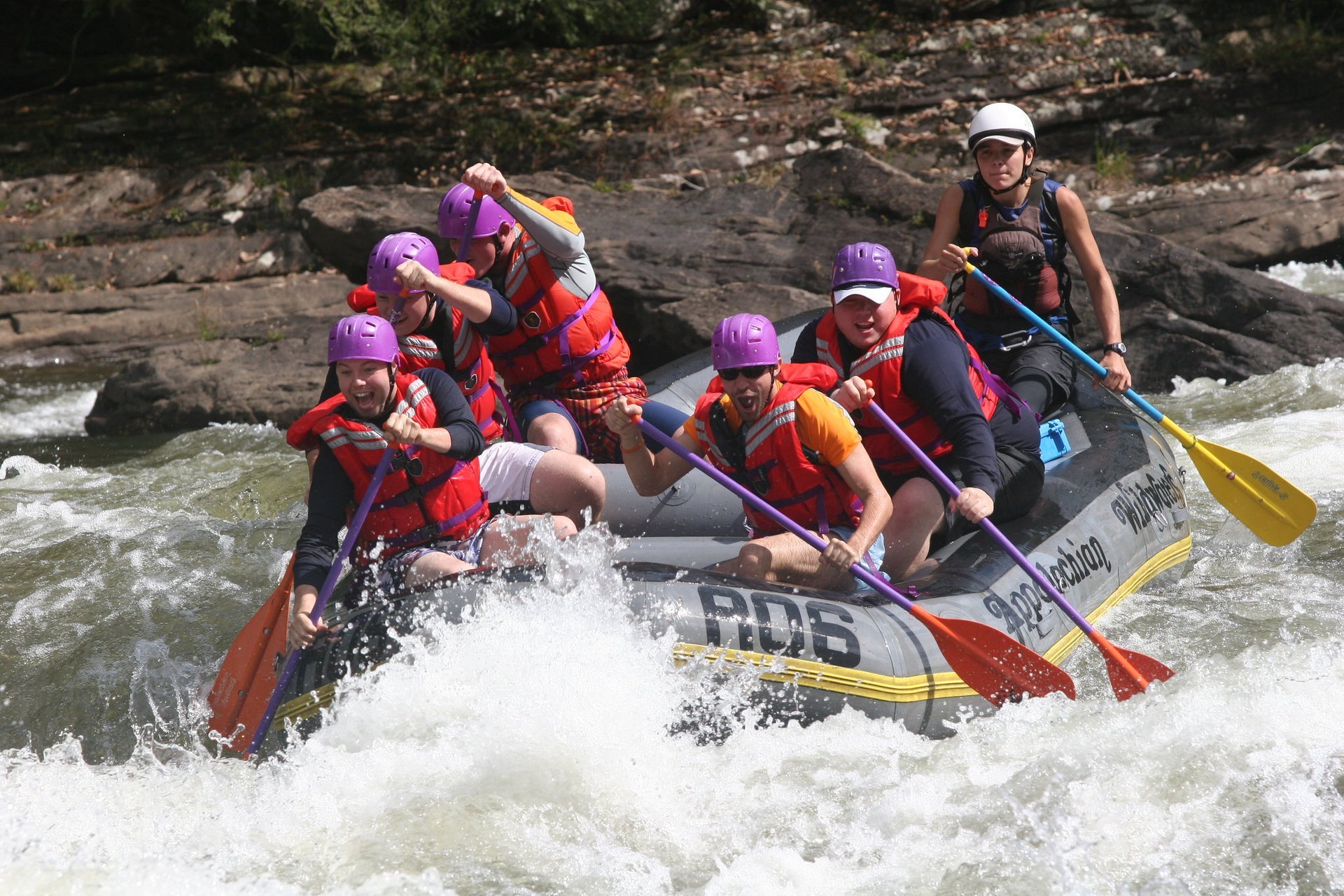 Whitewater rafting on the Lower Gauley River
See accommodations nearby
The Gauley River can be enjoyed year-round, but the best time is the so-called Gauley Season. The term refers to the recreational water release from the base of Summersville Dam, which occurs annually on selected dates between early September and late October. These releases create 26 mi (42 km) of some of the world's best whitewater with more than a hundred Class III, IV, and V rapids. The season draws adrenaline junkies from all 50 states and beyond.
Experienced whitewater enthusiasts start their adventure from the challenging Upper Gauley, famed for Pillow Rock, Iron Ring, Sweets Falls, and other mind-blowing rapids. While the Lower section of the Gauley River boasts the most stunning sceneries. For the newbies and kids aged 6+, the best place to start is the Upper New River, offering over 25 Class III through V rapids, as well as Class II-III rapids and pools for relaxation. The main bonus of the trip is the finish line at the iconic New River Gorge Bridge.
After all, for those who can't make it in fall, whitewater rafting is also possible in spring and summer, but without the splendor of the Gauley Season. In addition to rafting, visitors can also engage in many other activities in the area, including hiking, zip-lining, fishing, horseback riding, mountain biking, rock climbing, and rappelling.
Whitewater rafting companies
There are several companies in the area offering the Gauley Season experience. Adventures on the Gorge provides guided whitewater rafting tours on the Upper and Lower New River as well as the Lower and Upper Gauley River. The company also has other adventures to choose from: zip-lining, climbing, rappelling, fishing, kayaking, and other activities. New & Gauley River Adventures, as you can tell by the name, organize rafting adventures on the New and Gauley rivers. The company also gives a chance to go horseback riding, mountain biking, and fishing. River Expeditions is another excellent provider of guided whitewater rafting trips on the Gauley and New rivers. They also run zip-line and canopy tours and ATV tours alongside fishing, paintball, and rock climbing. ACE Adventures run guided whitewater rafting trips on the Lower and Upper New River and the Upper and Lower Gauley River. Besides the rafting, guests can enjoy stand-up paddleboarding, horseback riding, hiking, paintball, mountain biking, and playing at the ACE Adventures Water Park.
Find hotels and airbnbs near Gauley Season (Map)