West Virginia is blessed with vast national parks and forests that are home to countless deciduous trees. When fall comes in action, the state turns into a fairyland of yellow, orange, and red, and rich landscape makes for the loveliest vistas. The peak season usually occurs between late September and late October, arriving first to the mountains, and then to lower elevations. Anyways, check West Virginia's latest fall foliage report before planning your getaway, and make sure to see the state's prettiest locations listed below.
Coopers Rock (peak foliage: late September–early October)
Coopers Rock State Forest claims to be the best place to see fall colors in northern West Virginia. The nature preserve, located about 13 mi (21 km) northeast of Morgantown, is a wonderful place for hiking, biking, and camping, especially in the fall. While roaming the park's 50 mi (80 km) of trails, you'll discover sandstone cliffs above the Cheat River Gorge, historical sites, canyon overlooks, and picnic shelters—all blanketed with vivid foliage.
Find hotels and airbnbs near Fall Foliage (Map)
Davis (peak foliage: late September–early October)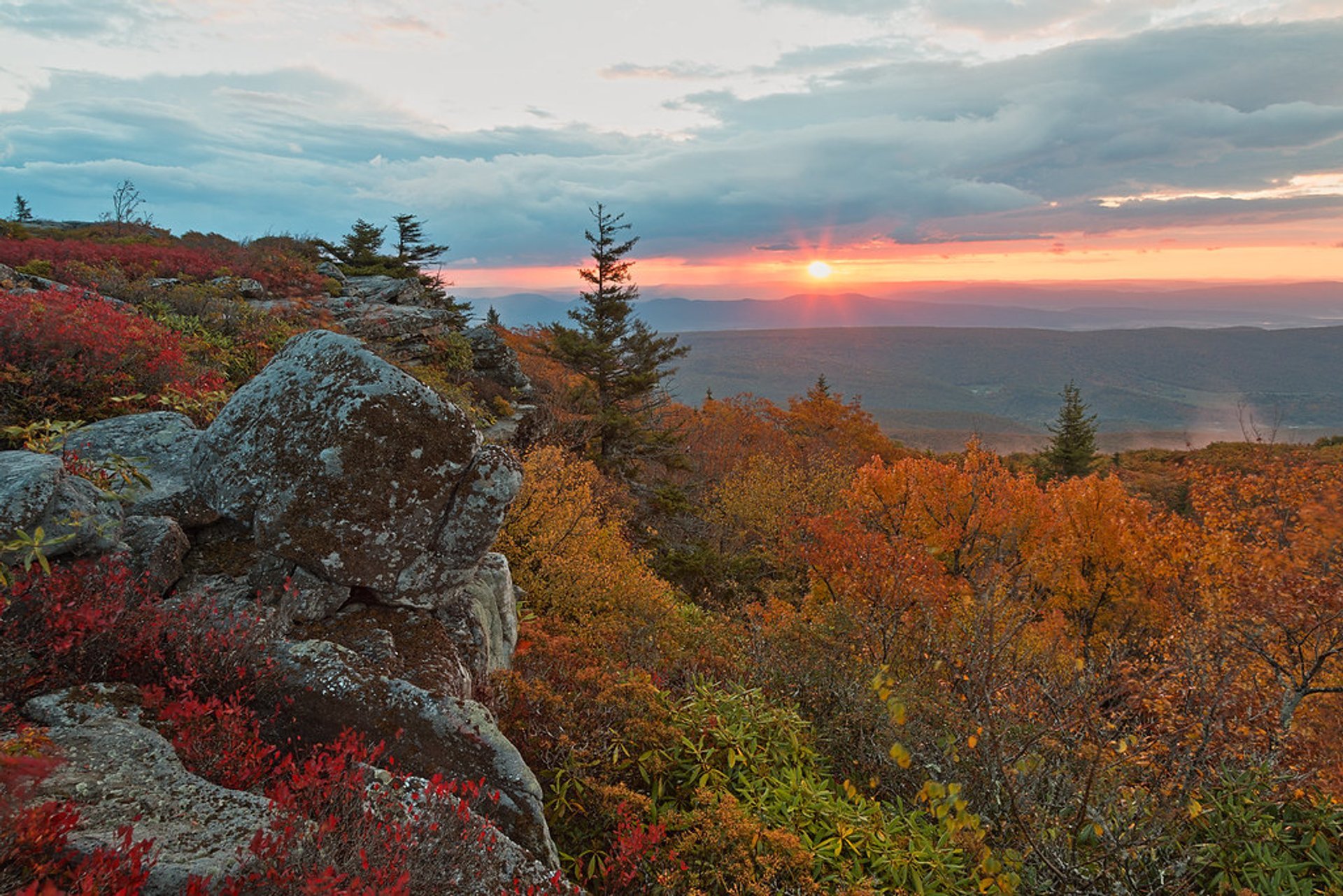 A small mountain town of Davis is located along the Blackwater River in the Allegheny Mountains of Tucker County. Davis is literally wrapped by scenic areas, equally worth visiting for the fall colors. Blackwater Falls State Park is the nearest location, only about 3 mi (5 km) southwest of the town. Plan your itinerary so that it includes such iconic features as Blackwater Falls, Elakala Falls, Lindy Point, and Pendleton Point Overlook.
Second of all, visit the picturesque Canaan Valley, situated 4 mi (6 km) northeast of the town. The area is mesmerizing, with kaleidoscopic canvas stretching all over the mountainsides, river valleys, and country roads.
Another scenic spot is Dolly Sods Wilderness, the gem of the Monongahela National Forest. The place is set some 20 mi (33 km) southeast of Davis. Leaf peepers love the area for its brilliant hardwood foliage and vibrant blueberry bushes.
Find hotels and airbnbs near Fall Foliage (Map)
Snowshoe (peak foliage: late September–early October)
Snowshoe is primarily known for its ski resort. However, the area is also stunning in fall. One of the best attractions nearby is Cass Scenic Railroad State Park, which is 10 mi (16 km) southeast of Snowshoe. Hop aboard a historic Shay Steam Engine for the most atmospheric experience of the season. Fall foliage train rides to Bald Knob run regularly from mid-September through late October. A round-trip takes 4.5 hours. Adult tickets start at $61, and kid tickets (4 to 11)—at $51.
If you're visiting Cass Scenic Railroad, consider also dropping by Seneca State Forest near Dunmore, 17 mi (27 km) south of Cass. Seneca is the oldest and largest state forest in West Virginia. Take in its lush colored woodlands, enjoy the tranquility at Seneca Lake and Greenbrier River. After hiking, you can relax in a rustic cabin or campsite. The most exquisite place to stay overnight must be Thorny Mountain Fire Lookout Tower. Make a reservation if you want to sleep in the clouds and access sweeping panoramas.
Find hotels and airbnbs near Fall Foliage (Map)
New River Gorge (peak foliage: mid-October)
The last stop is the New River Gorge area. Unlike highland forests with peak foliage season starting in late September, the state parks along the New River color a bit later. The prime time here is usually the second week of October. Start exploring the area from Babcock State Park near Clifftop, and take a shot of the Glade Creek Grist Mill, which has long become the iconic feature of West Virginia and its most photographed place.
Having enjoyed Babcock to your heart's content, move north for more classic fall foliage lookouts at Hawks Nest State Park near Ansted. The short drive will take around 30 minutes. You'll definitely want to make a stop and walk along the New River Gorge Bridge, which is roughly half-way to the Hawks Nest. The bridge at Fayetteville is a recognizable landmark itself and boasts breathtaking panoramic vistas with some of the best West Virginia fall colors. Upon the arrival to Hawks Nest, check out the views opening from the park lodge and restaurant, or take a ride by the aerial tramway to reveal the rugged section of the New River Gorge.
Find hotels and airbnbs near Fall Foliage (Map)
Where to stay
Every state park and national forest offers camping sites. Yet if you're into a comfortable night after an exhausting day of hiking, you're welcome to explore West Virginia fall foliage map below. Find the place you plan on visiting, and then choose a hotel nearby.