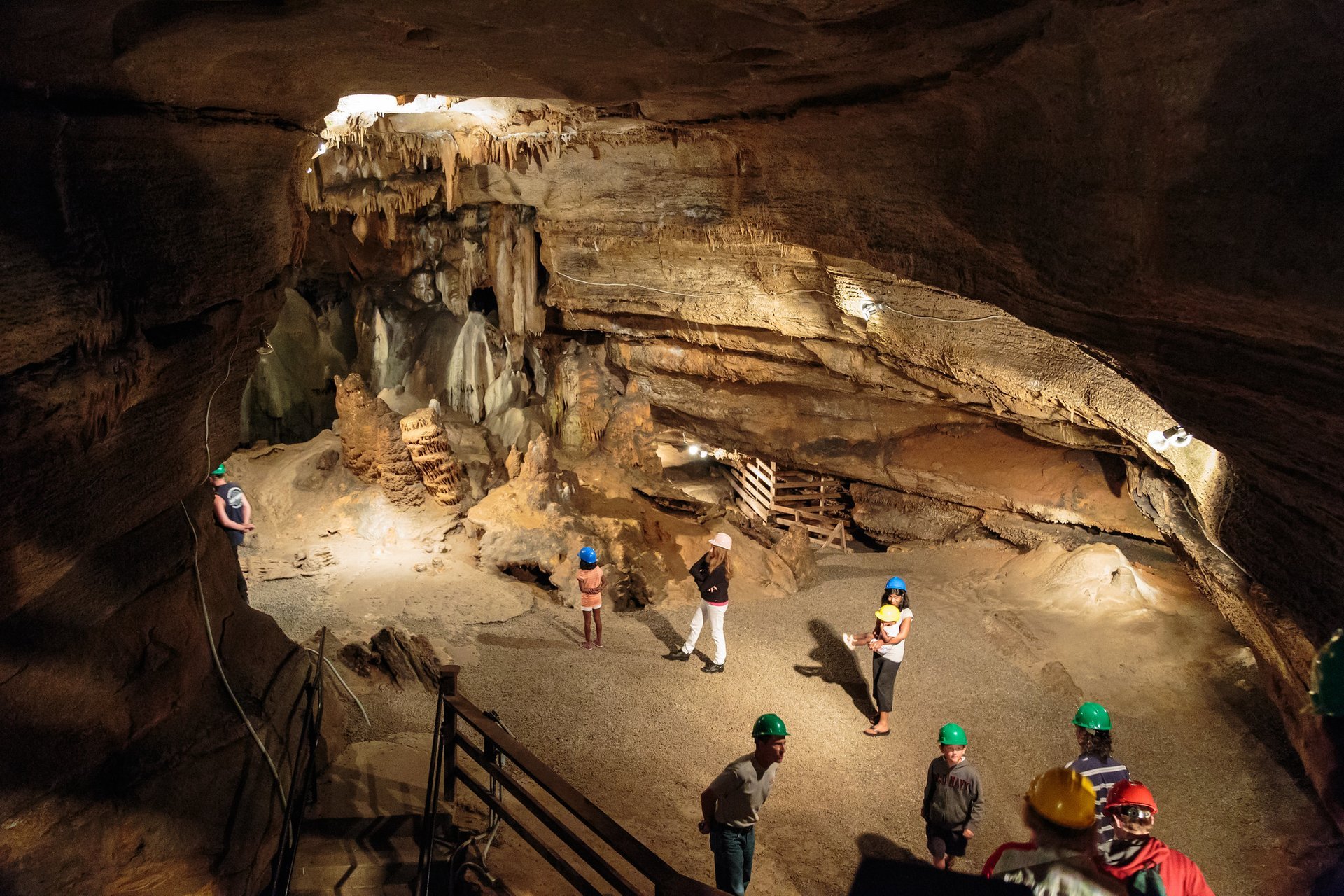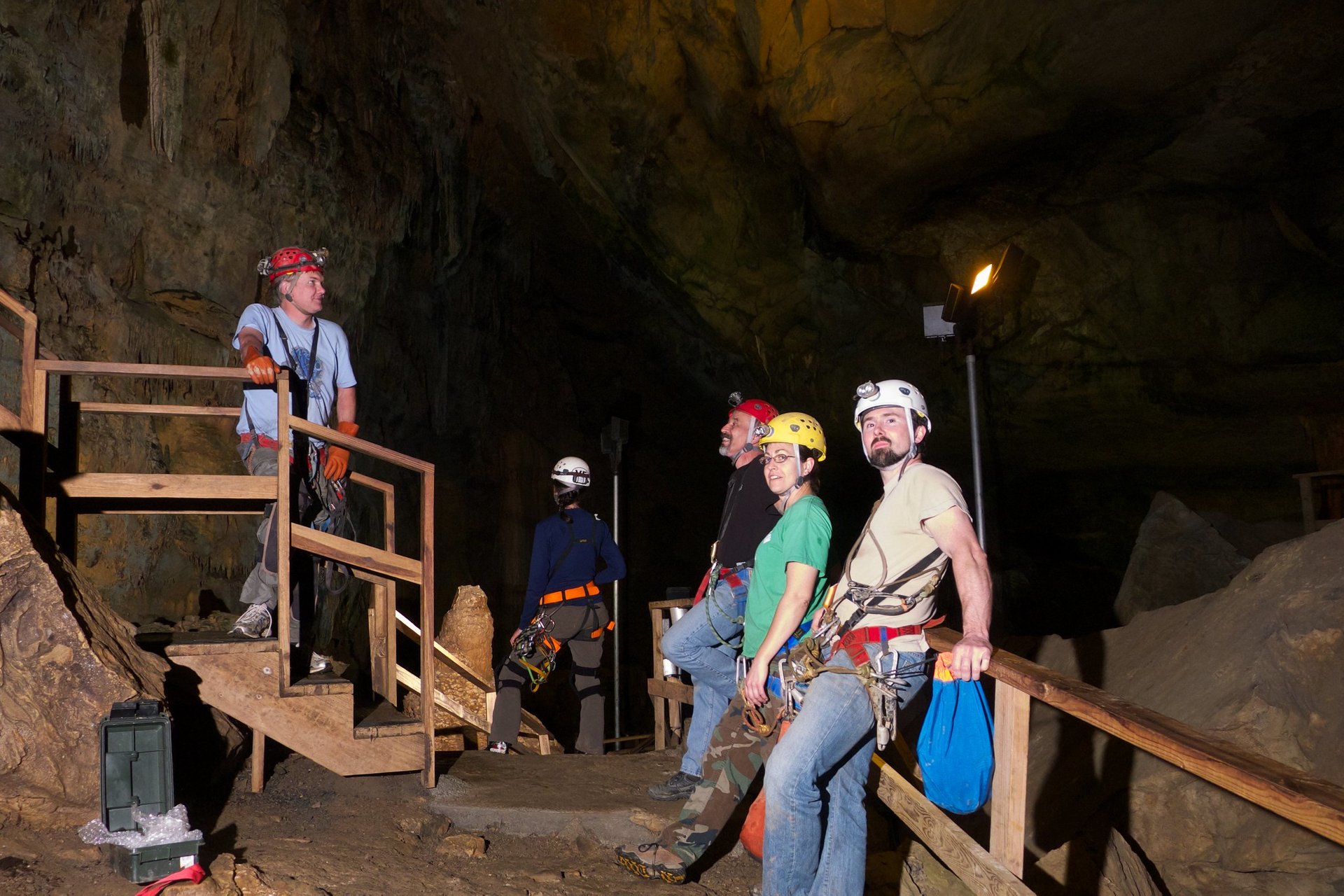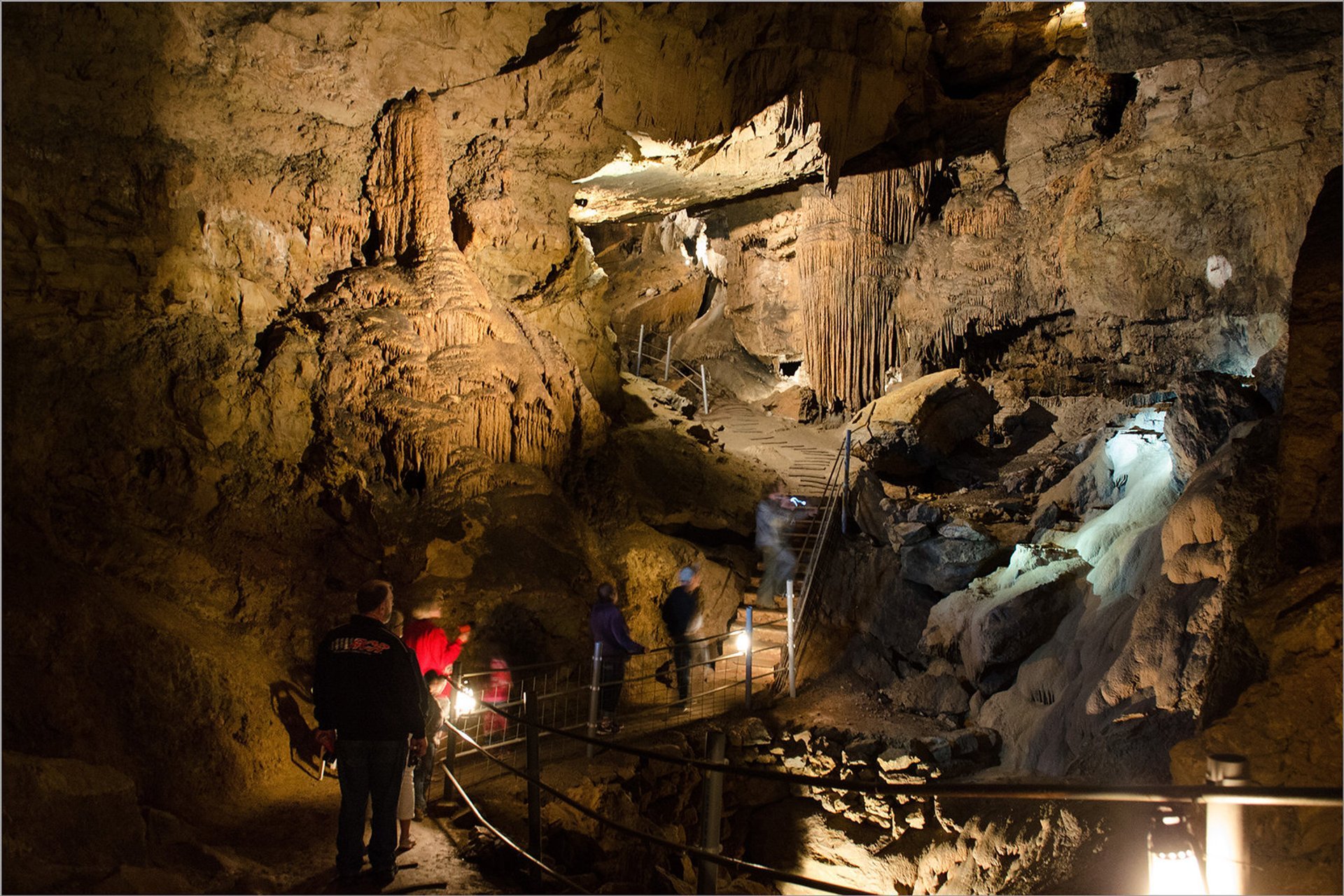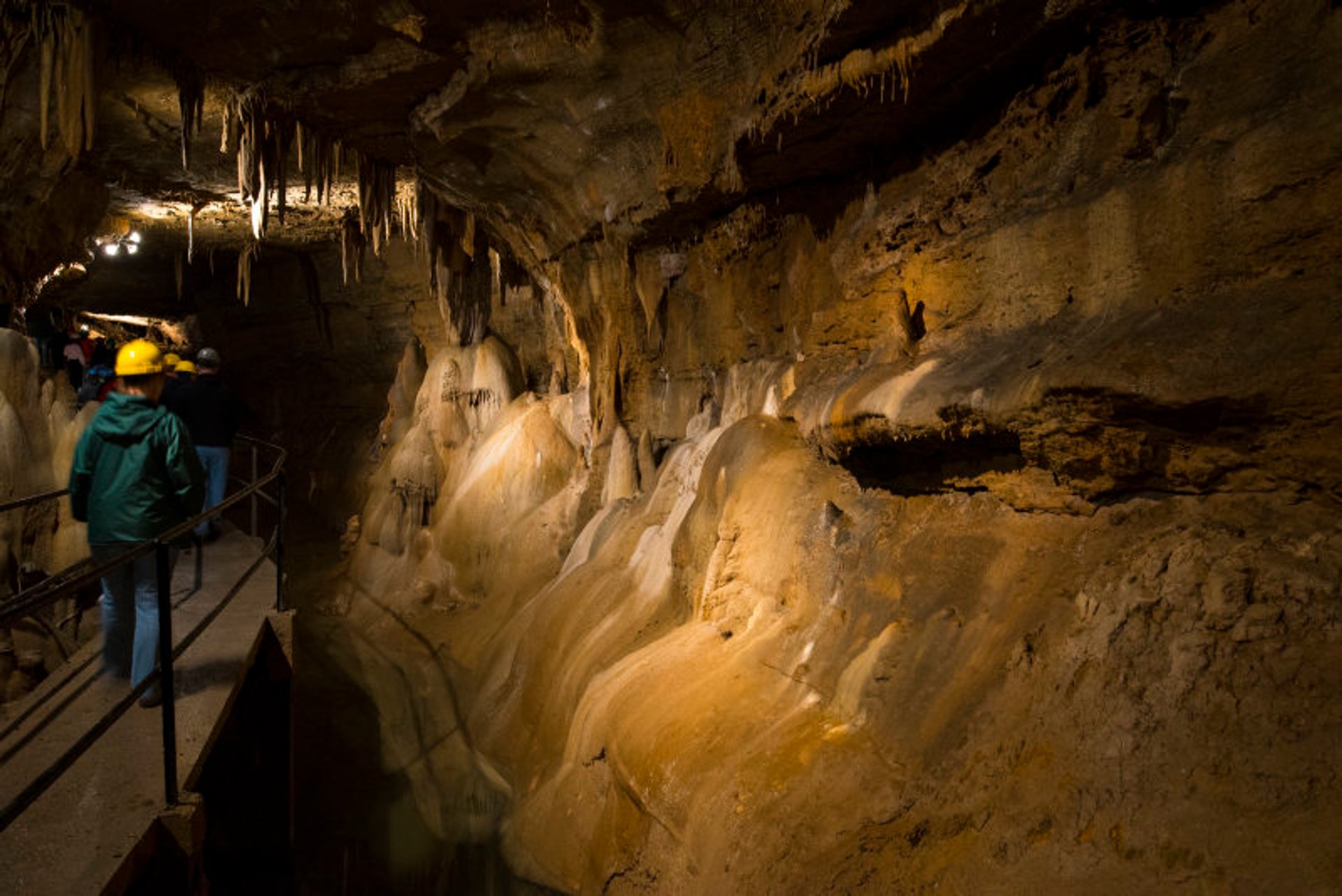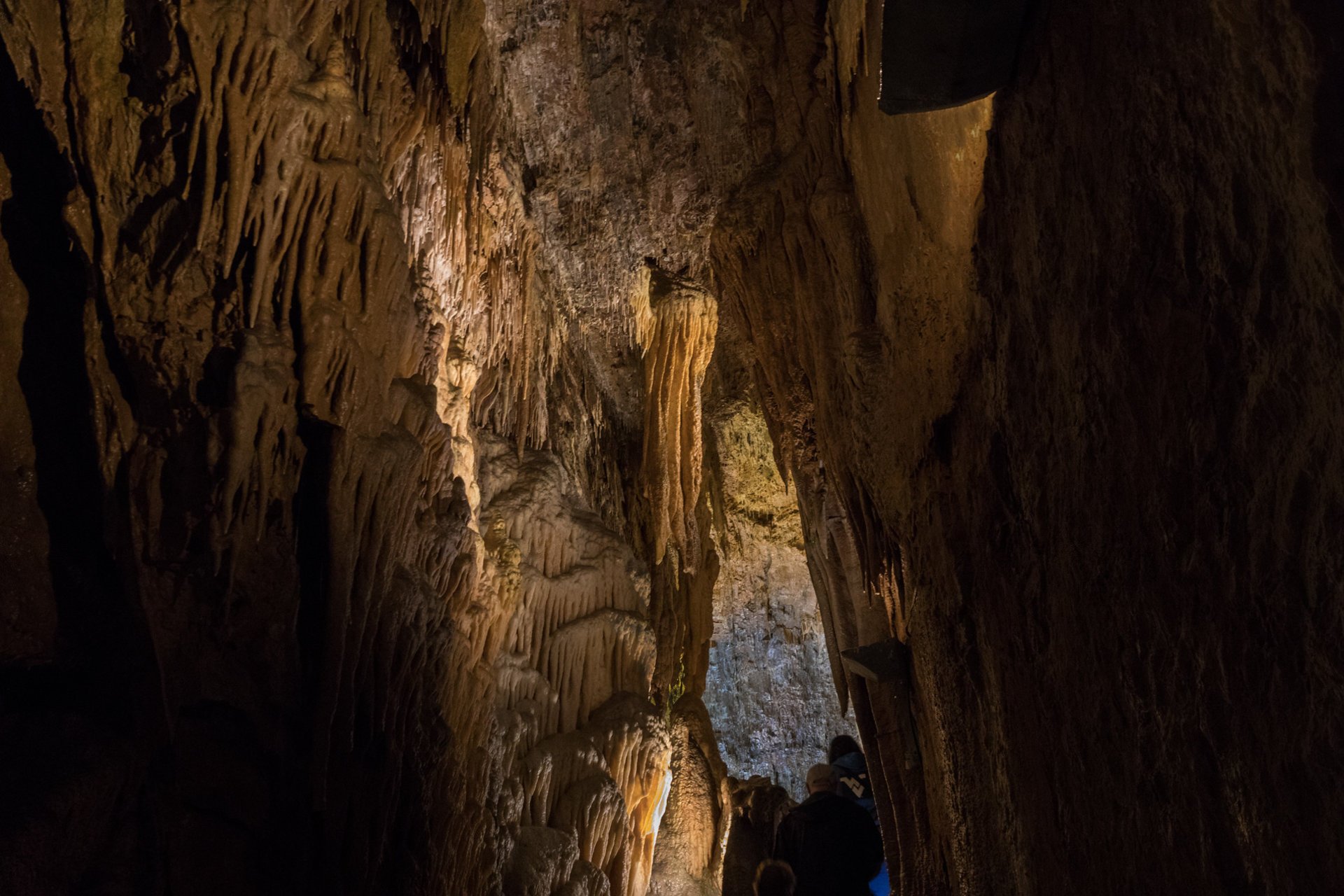 See accommodations nearby
Both southern and northern West Virginia have an array of underground adventures preserved to delight your inner explorer. Local caves and caverns offer options for everyone, from family-friendly self-guided tours to real caving experience, muddy, wet, and slithery.
Southern West Virginia
Lost World Caverns The most popular destination in southern West Virginia is Lost World Caverns, located just north of Lewisburg. The wonderland of stalactites and stalagmites reaches the depth of 235 ft (72 m). The tours operate daily year-round, in January and February—on weekends only. One of the options is the Cave Tour, a self-guided tour 120 ft (37 m) under the ground. Around 45 minutes is enough to walk through a half-mile loop. Remember to stay on the trail and wear good shoes along with a light jacket, as the caverns always have a temperature of 54°F (12°C), no matter the season.
For a true caving experience, choose the 4-hour guided Wild Cave Tour that will take you to the deepest and darkest corners of the underground maze. You'll need hiking shoes, warm long-sleeves, and pants, as well as a complete change of clothing, including undergarments, a towel for the shower, and possibly some medicine. Caving equipment is provided. A safety talk and a lunch break will take an extra 2 hours. So in total, you'll spend 6 hours at the location.
Organ Cave The historic Organ Cave, located in the very heart of Greenbrier County, is another gem of southern West Virginia. Stretching for 45 mi (72 km), Organ Cave is the second-longest commercial cave found on the east coast. In addition to its role in the American Civil War, fascinating rock formations, and prehistoric fossils, the cave is also renowned for bats! Walking tours operate year-round, from November to April—by reservation only.
Northern West Virginia
Seneca Caverns In northern West Virginia, the top choice is Seneca Caverns, located amidst the Potomac Highlands on a Native American trading route. The caverns are 4.5 million years old and once used to be home to the Seneca Indians and other tribes. You can join a family-friendly cave tour Wednesday through Sunday. For about an hour, a guide will lead you along a well-lit pathway 165 ft (50 m) below the entrance. Also, you can try gemstone mining and return home with a souvenir. After the caverns, be sure to take your time and explore the iconic Seneca Rocks.
Smoke Hole Caverns & Log Cabin Resort At last, discover the depth of Smoke Hole Caverns, just north of Seneca Caverns, likewise steeped in rich history. Once Seneca Indians used these caverns to smoke wild game, and other settlers made corn whiskey inside these natural formations. The visitors are welcome to guided tours year-round to learn more about the fascinating past of the Smoke Hole and marvel at the stalactites, helictites, columns, and draperies. Gemstone mining experience is also on offer.
Extra tips
For further details, such as hours of operation and prices, refer to the caverns and caves directly (check "External Resources" below). Such information is subject to change.
Find hotels and airbnbs near Caves & Caverns (Map)