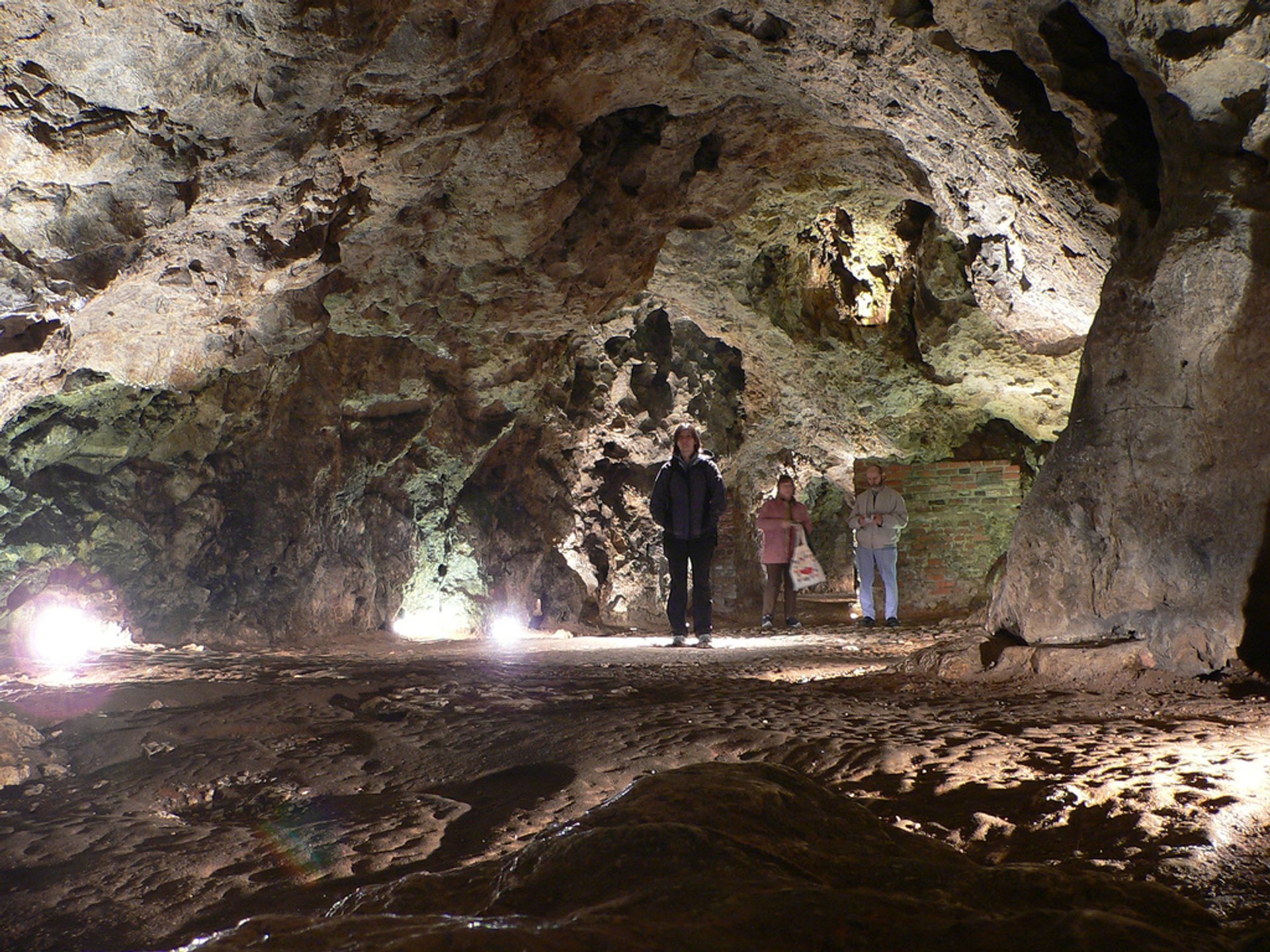 Rich in Jurassic limestones, the Kraków-Częstochowa Upland shelters a number of caves and grottos. Lots of them are hidden in the vicinity of Krakow, namely within the Prądnik Valley and Ojcow National Park north of the city. Also, salt caves in Wieliczka, southeast of Krakow, draw 100,000 tourists annually. But the most visited cave—Smocza Jama or Dragon Cave—is located in the very heart of the city, beneath the Wawel Hill.
Smocza Jama or Dragon Cave
Smocza Jama, also known as Dragon's Lair, Dragon Cave, or Dragon's Den, stretches for 900 feet (270 m) under the Wawel Royal Castle in the Old Town Krakow. This medieval cave is largely connected to the iconic figure of Polish folklore, the Wawel Dragon. The legend claims that the Dragon used to reside in this cave in the 12th-13th centuries. That's why there's a fire-breezing dragon statue at the entrance to the cavity. Besides, Smocza Jama hosted the infamous brothel between the 17th and 18th centuries. If you're curious to learn more about the cave's history, visit between April and October.
Wieliczka Salt Mine
Salt caves of Krakow are equally popular with tourists. Wieliczka Salt Mine is one of Poland's historical sites, dating back to the Medieval Ages. At a depth of about 460-1,070 feet (140-330 m), you'll discover one of the oldest working salt mines in the world. Three cave layers are home to unique chambers, carved out of salt, and underground lakes. You'll walk among salt chapels, life-size statues, and altars. Altogether, these passages carry on for nearly 180 miles (290 km). If you stay in Krakow, the best way to see this treasure is to join a guided group tour, which typically includes a pickup service from your hotel or accommodation and a drop-off after the excursion. The cave is open throughout the year, with varying hours.
King Łokietek's Cave
Another impressive caving adventure awaits you in Ojcow National Park, about 15 miles (24 km) northwest Krakow Old Town. The area's biggest grotto, expanding 1,050 feet (320 m), is the King Lokietek's Cave, locally called Jaskinia Łokietka or Grota Łokietka. According to a legend, the cave was once the shelter for the Polish prince Władysław Łokietek (Władysław the 'Elbow-high'), who was attacked by the Bohemian king Wacław II. A secret passage into the cave and a timely spider, which wove a large web, saved the prince and gave him some time to restore his power and later take over the throne. The cave is open to visitors from mid-April to November.
For more information, please consult with the official websites listed in the External Resources below. Also, explore the map below to find the best accommodations nearby.
Find hotels and airbnbs near Krakow Caves (Map)