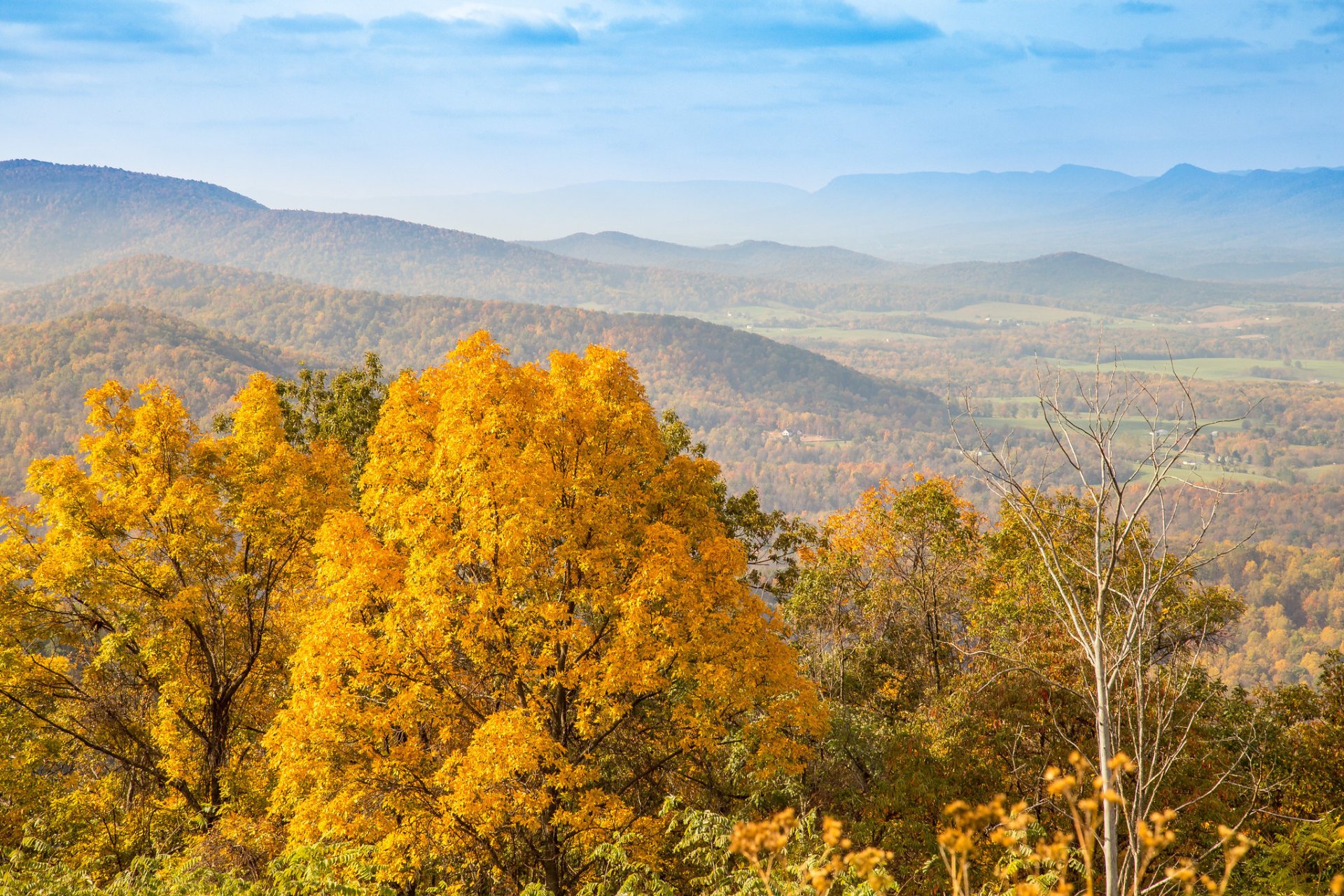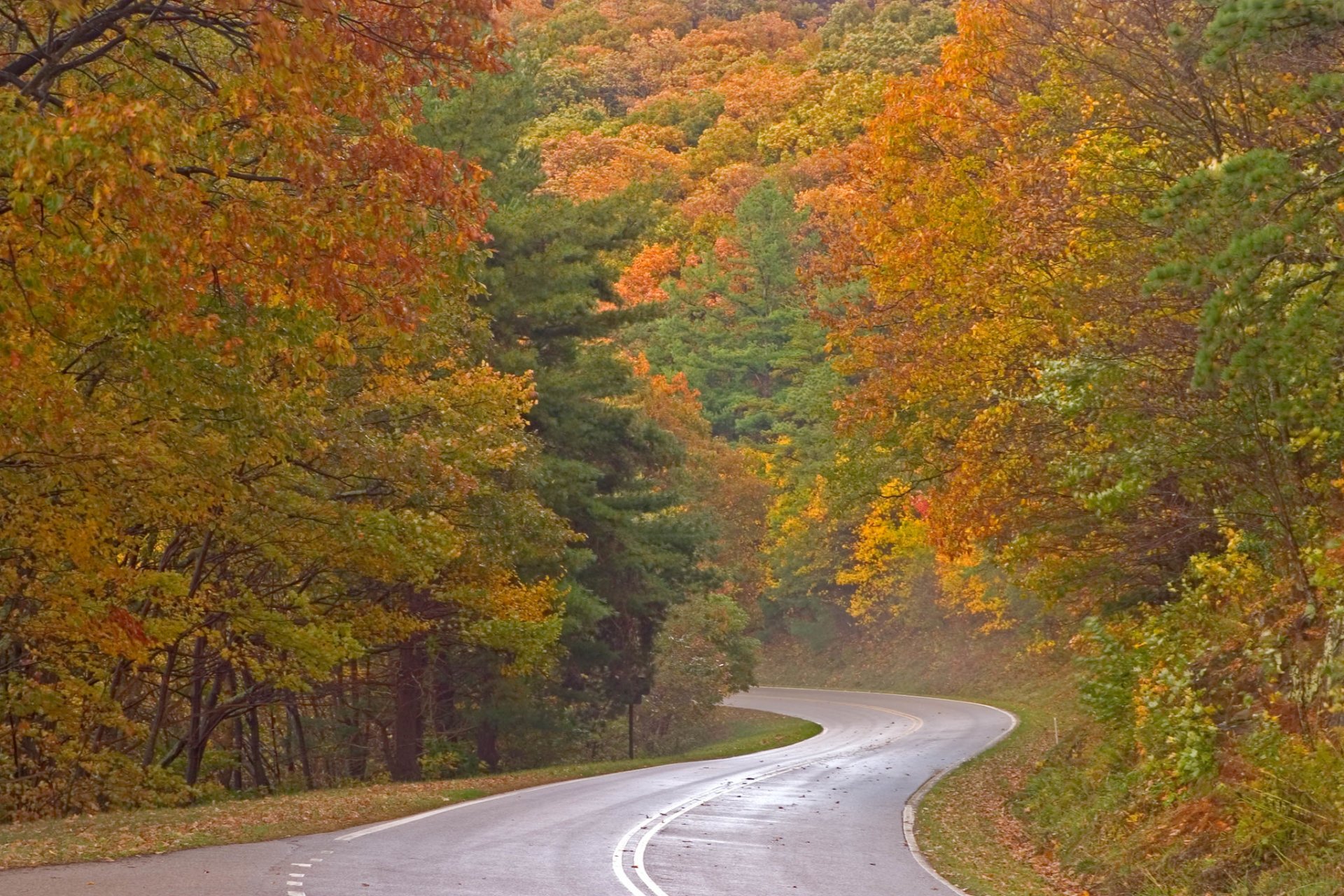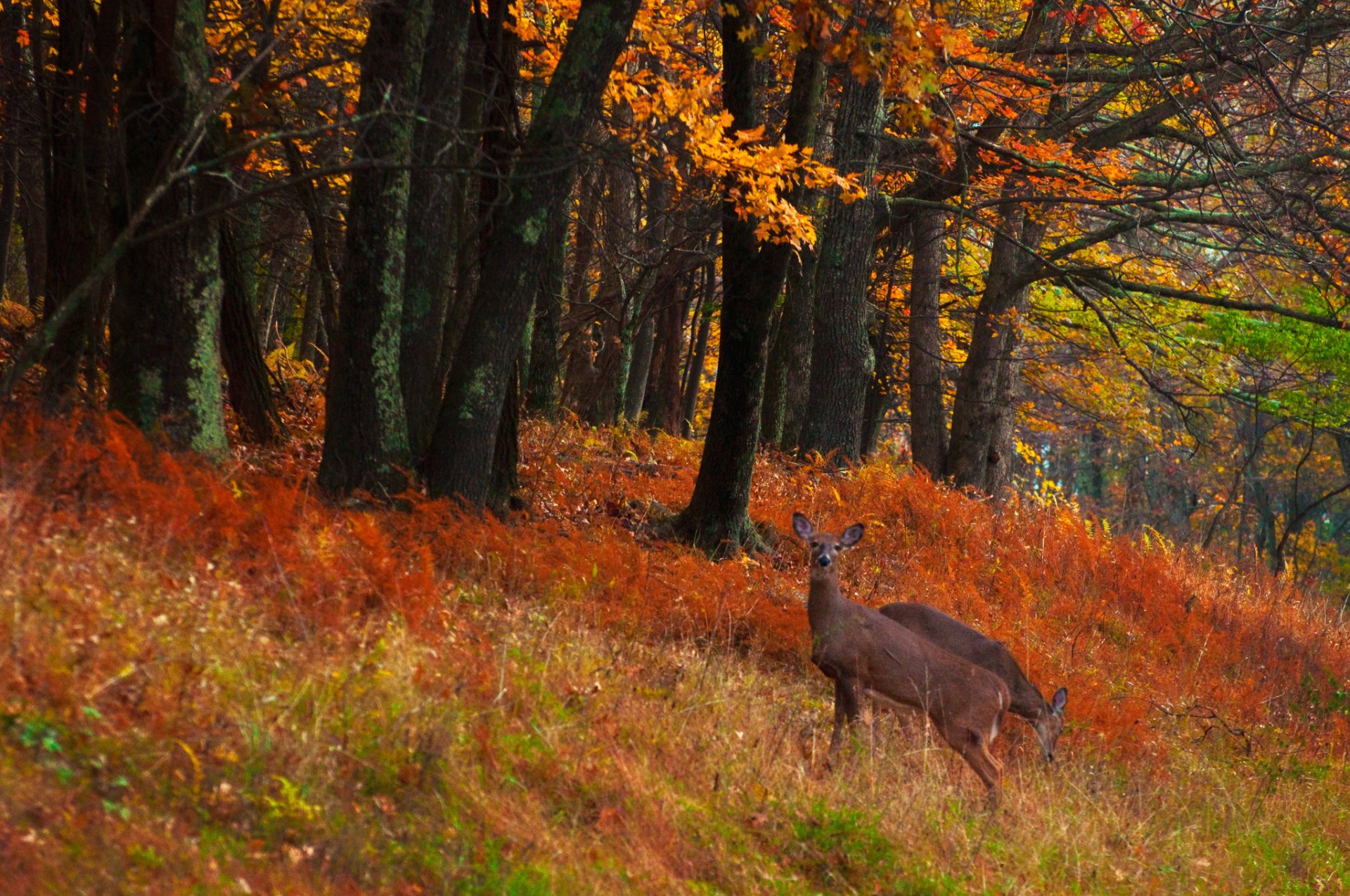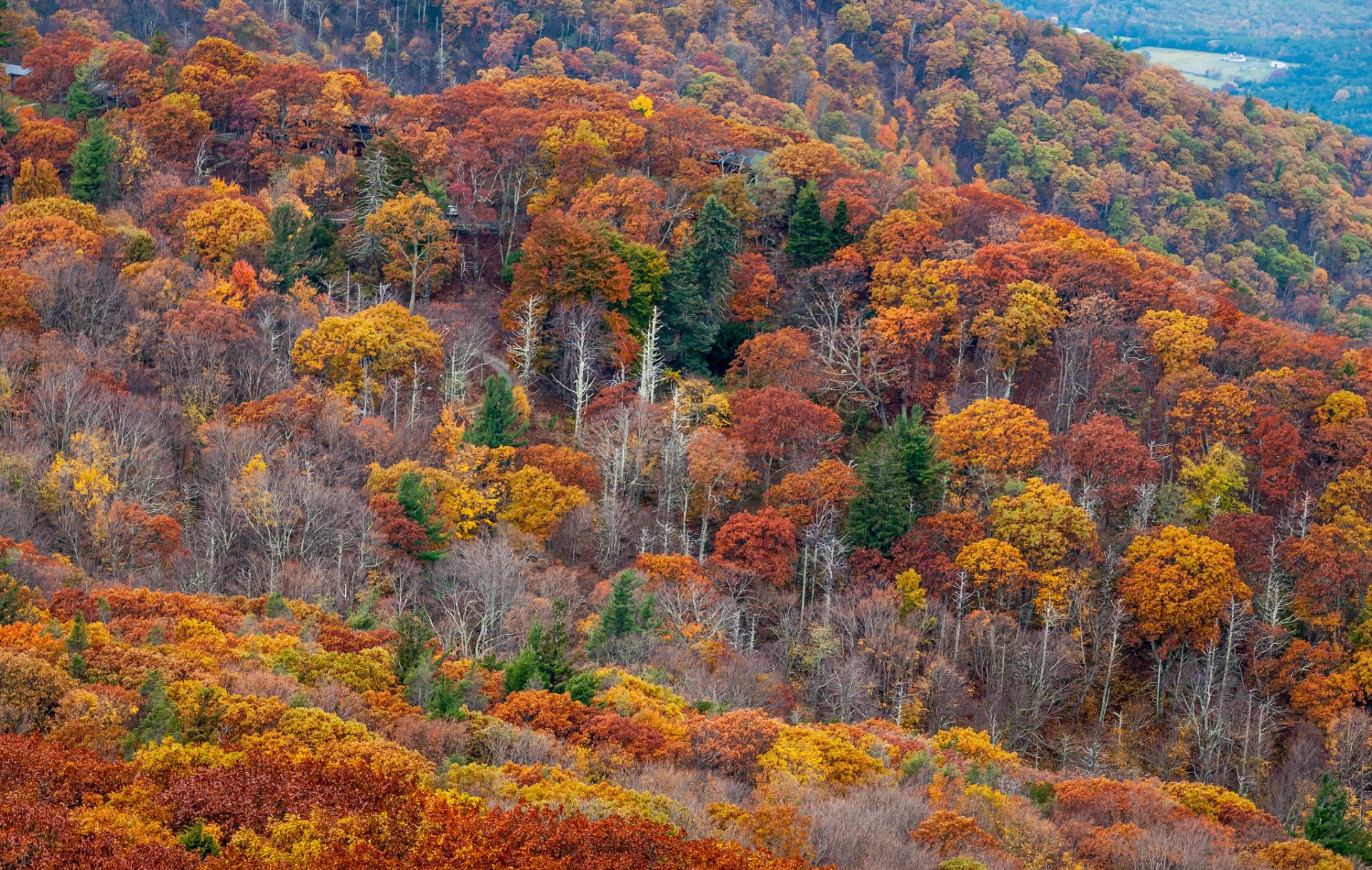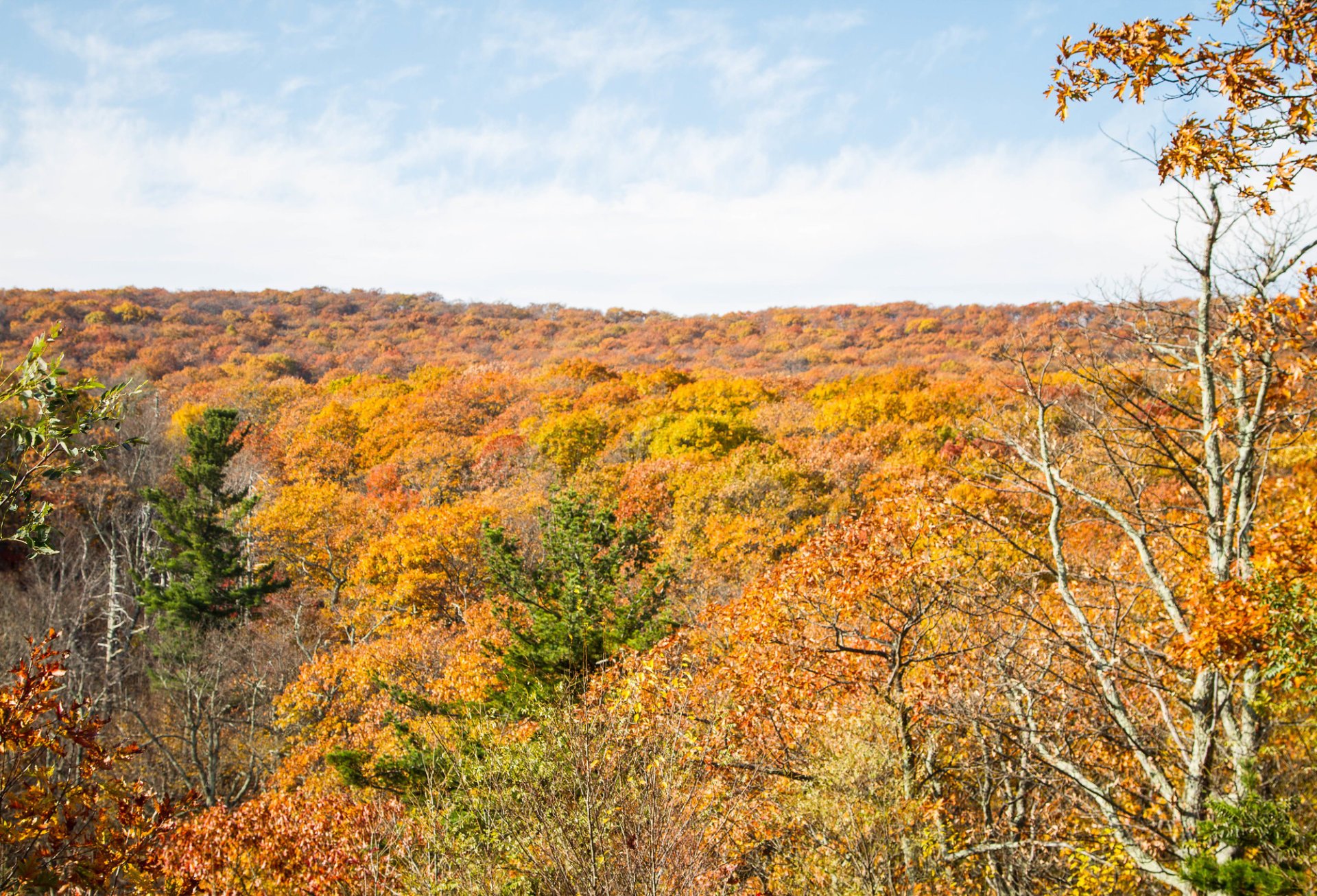 Shenandoah National Park is Virginia's top destination for fall foliage. In October, the park's slopes blanketed with oaks and occasional maple trees are ablaze with color. You can spend a few hours on a scenic Skyline Drive or absorb the fall splendor while enjoying a meal at one of the local resorts. The park, with an area of 200 acres (80 ha), is worth spending several days in. Take your time to experience local sunset and sunrise, explore hiking trails, spot wildlife, and perhaps learn about the park's history with a ranger.
When is the peak fall foliage in Shenandoah National Park
The fall comes to Shenandoah in early October, particularly in the higher elevations between the Thornton Gap and Rockfish Gap Entrance Stations. If you are an early visitor, the sceneries will be mostly gold and green with occasional patches of orange and red. In mid-October, these areas fill in with lush gold and yellow, but some trees are already bare. Late in the month, brown shades prevail in panoramas, but you can still catch some bright vistas at the lower elevations between Front Royal and Thornton Gap. Anyways, we recommend checking the latest fall color reports on official websites listed in the External Resources below.
Best places for fall foliage in Shenandoah National Park
Skyline Drive
Most visitors to Shenandoah National Park choose to go leaf-peeping on Skyline Drive, starting just south of Front Royal. This scenic route winds 105-mile (170-km) south and boasts 75 overlooks, so you can enjoy dozens of picture-perfect views. The most rewarding east-facing stops include Hazel Mountain, Pinnacles Overlook, and Tunnel Overlook. As for the west-facing panoramas, check out Jewell Hollow, The Point, and Stony Man. A small tip: if you're into a wildlife encounter, drive slowly and watch out for a deer or possibly a black bear next to the roadway. Also, opt for weekdays, as weekends tend to be super busy.
Stony Man Trail
If you're willing to do some hiking among fall colors, Shenandoah National Park offers endless opportunities of various difficulty. But the Stony Man Trail is one of the most popular and fairly easy hikes. It starts from the parking lot near the northern entrance to Skyland. The 1.6-mile (2.6-km) round trip is favored for sweeping panoramas observed from the summit. Note that dogs are not allowed on Stony Man Peak.
Old Rag Mountain Loop
The Old Rag Trail suits those who want to challenge themselves a bit. With 9.4-mile (15.1-km) route and an estimated 5.5 hours to complete the hike, the Old Rag Mountain Loop is rated as a hard trek. But mind-blowing fall foliage sceneries seen from the top are worth all the effort it may take to get there. An essential thing to remember is that the hikers must purchase an Old Rag day-use ticket in addition to the park's admission.
Lastly, if you've decided to remain in Shenandoah National Park for a while, consider your accommodations in advance, especially if your getaway is scheduled on weekends. The map below suggests available options nearby.
Find hotels and airbnbs near Shenandoah National Park Fall Foliage (Map)