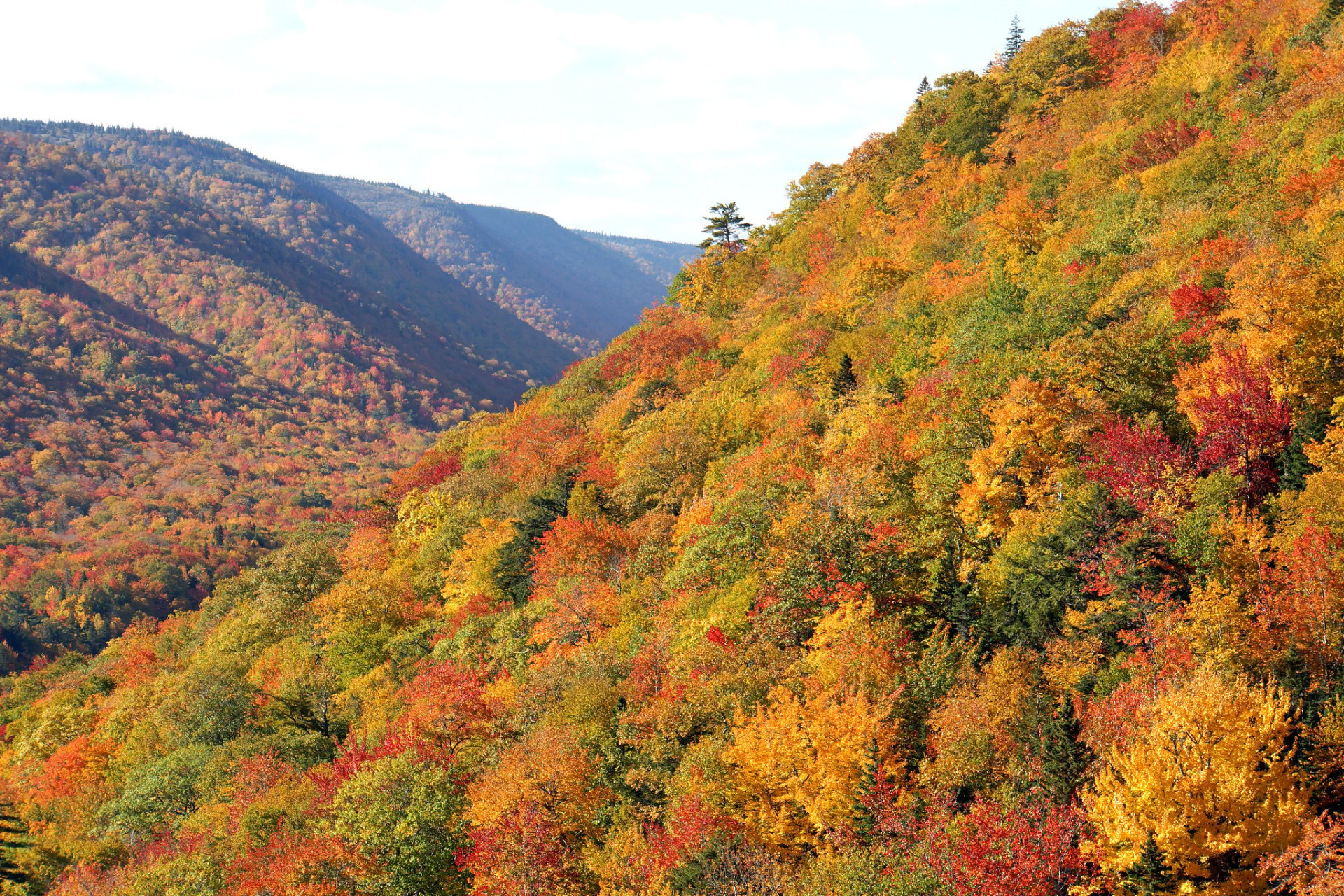 Nova Scotia has various types of trees: maple, oak, birch, beech, and ash. Such a diversity reveals itself in the fall months, when the leaves change their green hues into vibrant crimson, near-fuschia, orange, gold, yellow, red, and copper. The right timing is essential to capture the picture-perfect sceneries painted by nature.
Best time to visit Nova Scotia for fall colors
Leaf-peeping season in Nova Scotia is roughly late September to late October. But the apex of fall colors usually occurs in mid-October, most commonly during the second week. The best bet would be to go to a spot with the greatest tree diversity, nice vantage points, and water basins, offering magical reflections.
Best places for fall colors in Nova Scotia
Cabot Trail, Cape Breton
Cape Breton Highlands National Park is the winning spot for seasonal splendor in Nova Scotia and one of the best fall destinations in all of Canada. In particular, Cape Breton is home to a scenic coastal drive called Cabot Trail Road, as well as a number of delightful hikes. If you're only going for the road trip, you will need at least a full day to check out the views. But if you'd like to incorporate some trekking into your adventures, reserve a couple of days to fully enjoy the lookouts throughout the island. As a bonus, you can take a helicopter tour and observe the show of nature from above. Mind that the weather here could get rainy and foggy at this time of the year.
Wentworth Valley
Another place blessed with gorgeous fall colors is Wentworth Valley. For the most spectacular panoramic views of the area, you should get to the top of Wentworth Mountain. Consider planning your trip during the Fall Festival of Colours at Ski Wentworth. The event usually takes place over two weekends in early-to-mid October. The resort offers scenic chairlift rides between 10 am and 3 pm at $15 per individual and $45 for a family of four persons. Besides, the program of the festivities includes guided hikes, BBQ, and other family-friendly fun amidst a bright palette of colors. Stay tuned for the updates on Ski Wentworth's official website, mentioned in the External Resources below.
Halifax area
Sometimes, to find a feast for your eyes, you don't even have to stray far away from the capital city. You can simply walk around Shubie Park in Dartmouth, only 6 miles (10 km) north of Halifax. Another decent place nearby is Bayers Lake, nestled 7 miles (11 km) west of Downtown. The spot is located next to the End of the Birch Cove Trail, so if you have more time, you can also venture on a hike. Likewise, you can always stroll on the Sackville Riverside and enjoy the trees ablaze with color.
Mersey River, Kejimkujik National Park
If you're into a trip on the water, head to Kejimkujik National Park, rent a kayak or canoe at Jakes Landing, and paddle along the Mersey River gorge, studded with vivid maple trees. Additionally, you can combine boating with hiking and discover some lovely hidden treasures, like Mill Falls.
Bear River
Our last suggestion is a small village of Bear River, lying on the eponymous river, which divides the Annapolis and Digby counties and splits the village into two halves. The neat houses, churches, and laid-back community add to a special atmosphere. And brightly colored hardwood trees make for an unforgettable experience.
All in all, the spots listed above are just a few of many charming locations, which you can discover during your fall trip to Nova Scotia. Don't fear going off the beaten track and observe the beauty surrounding you everywhere across the province.
Find hotels and airbnbs near Fall Colors (Map)