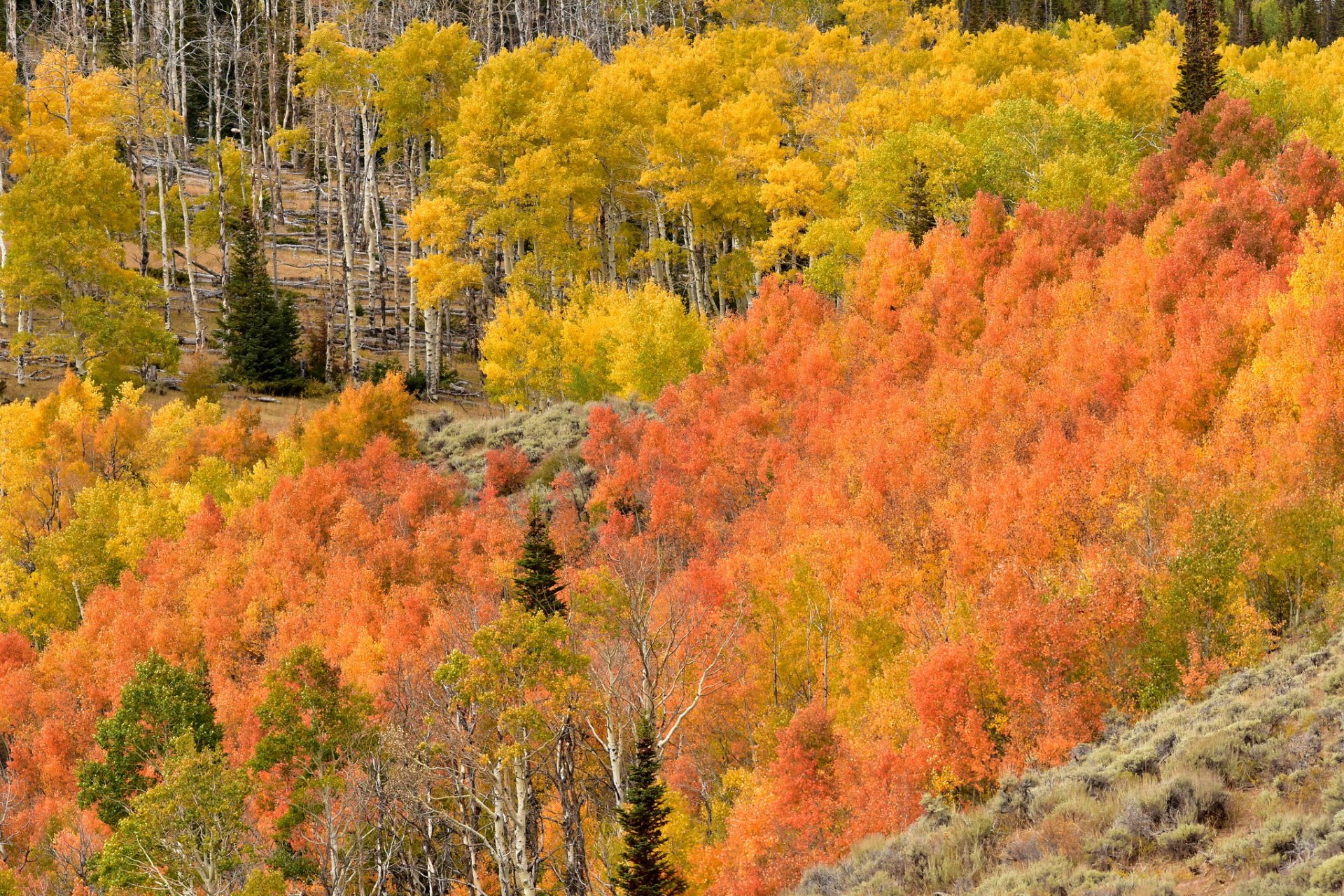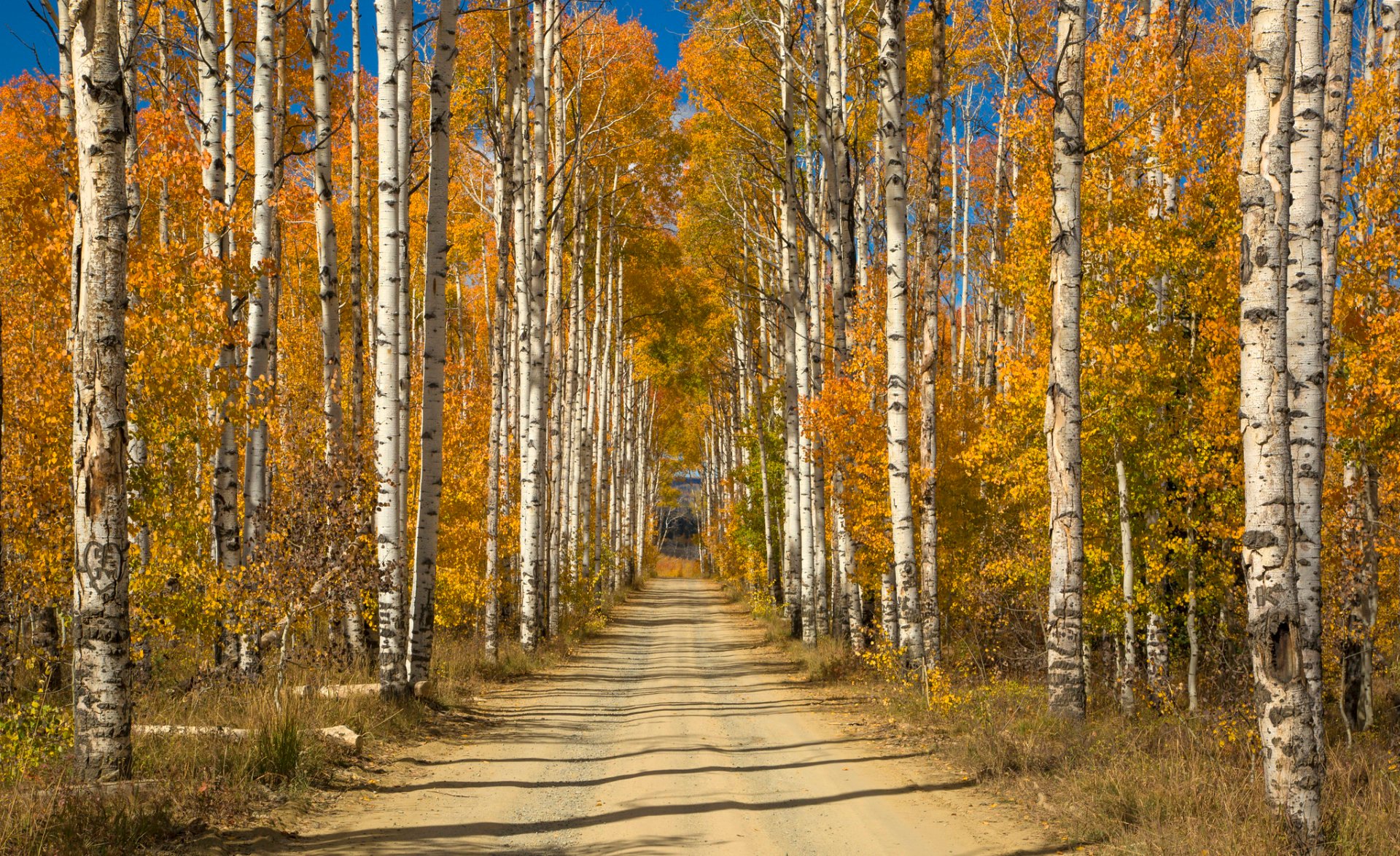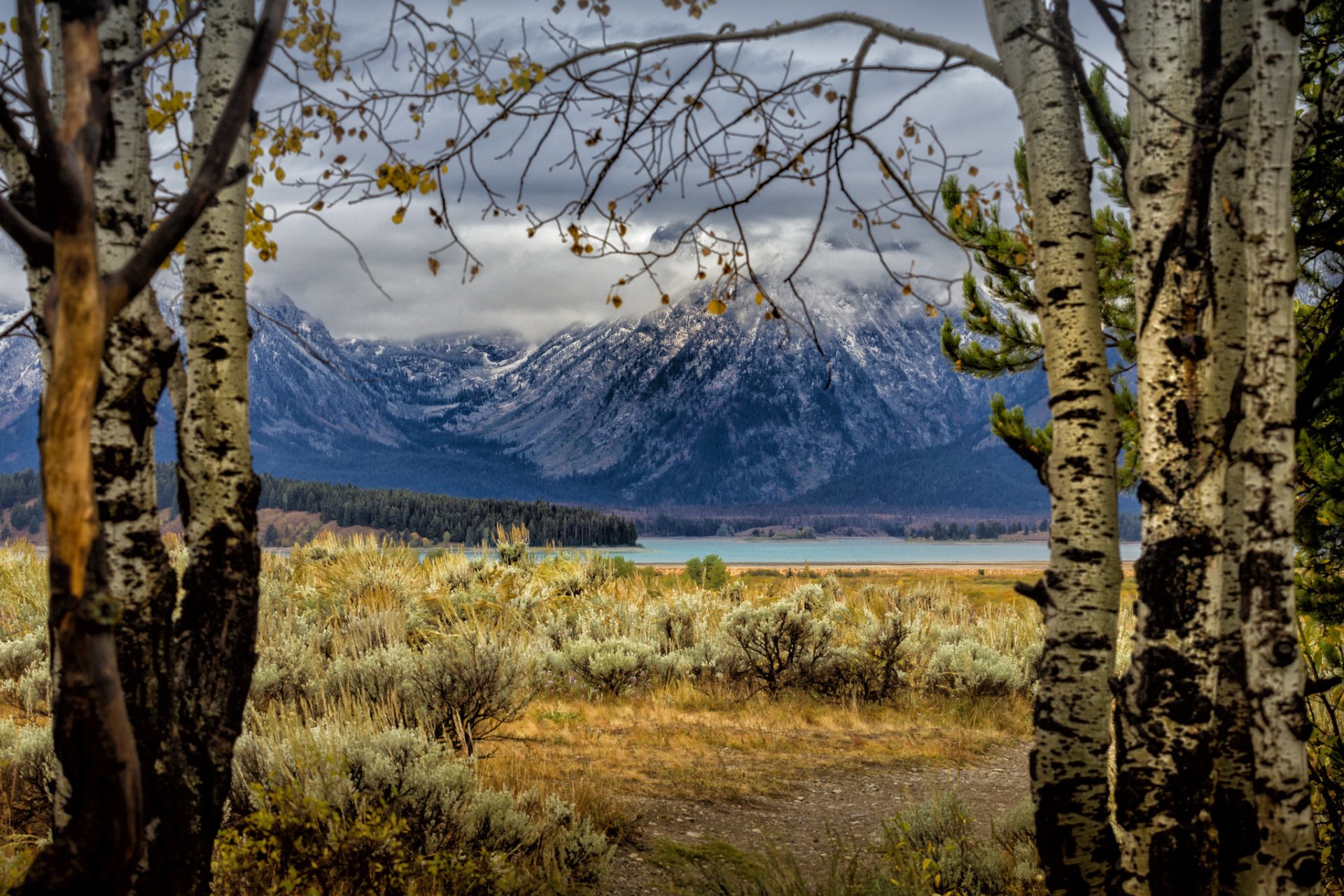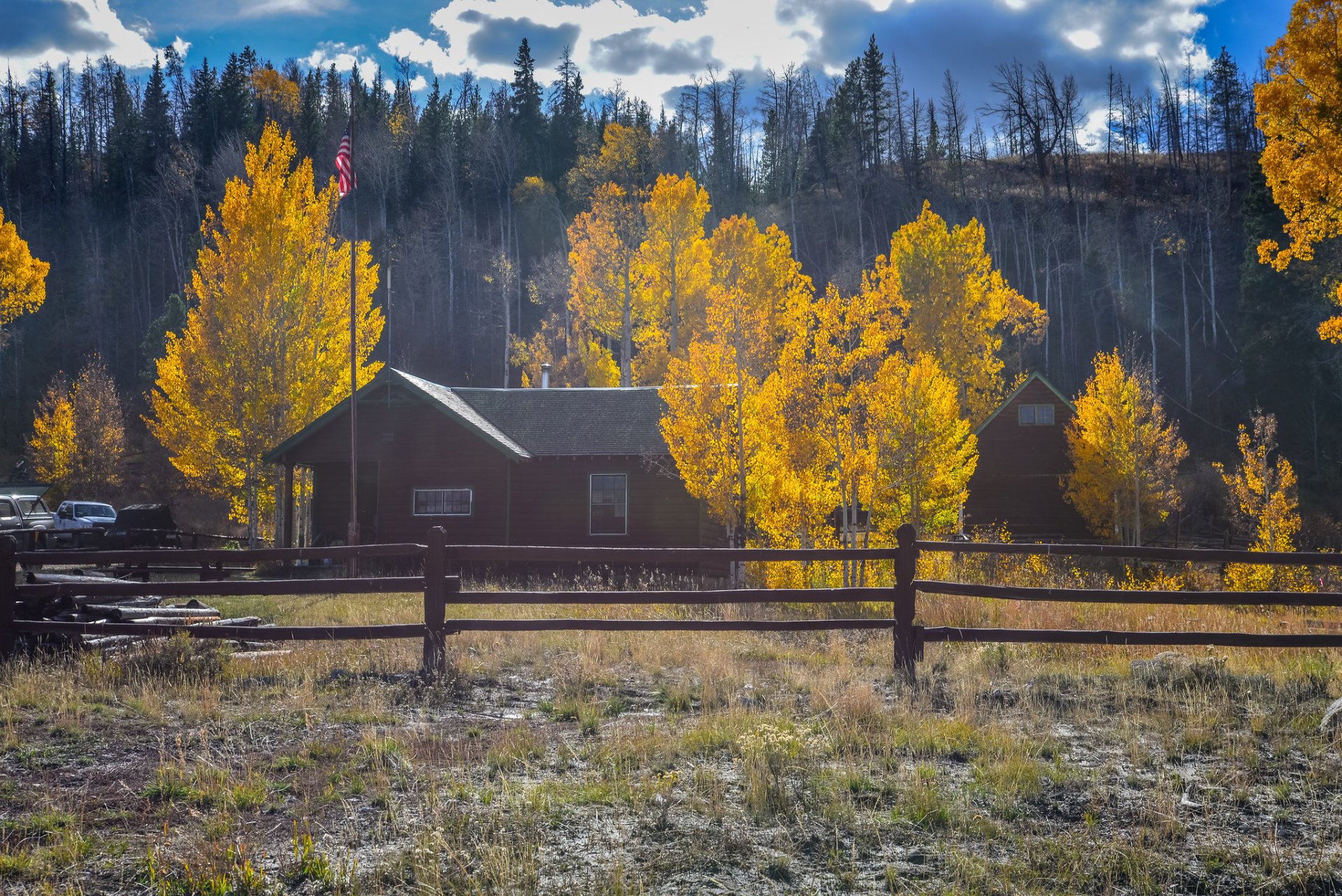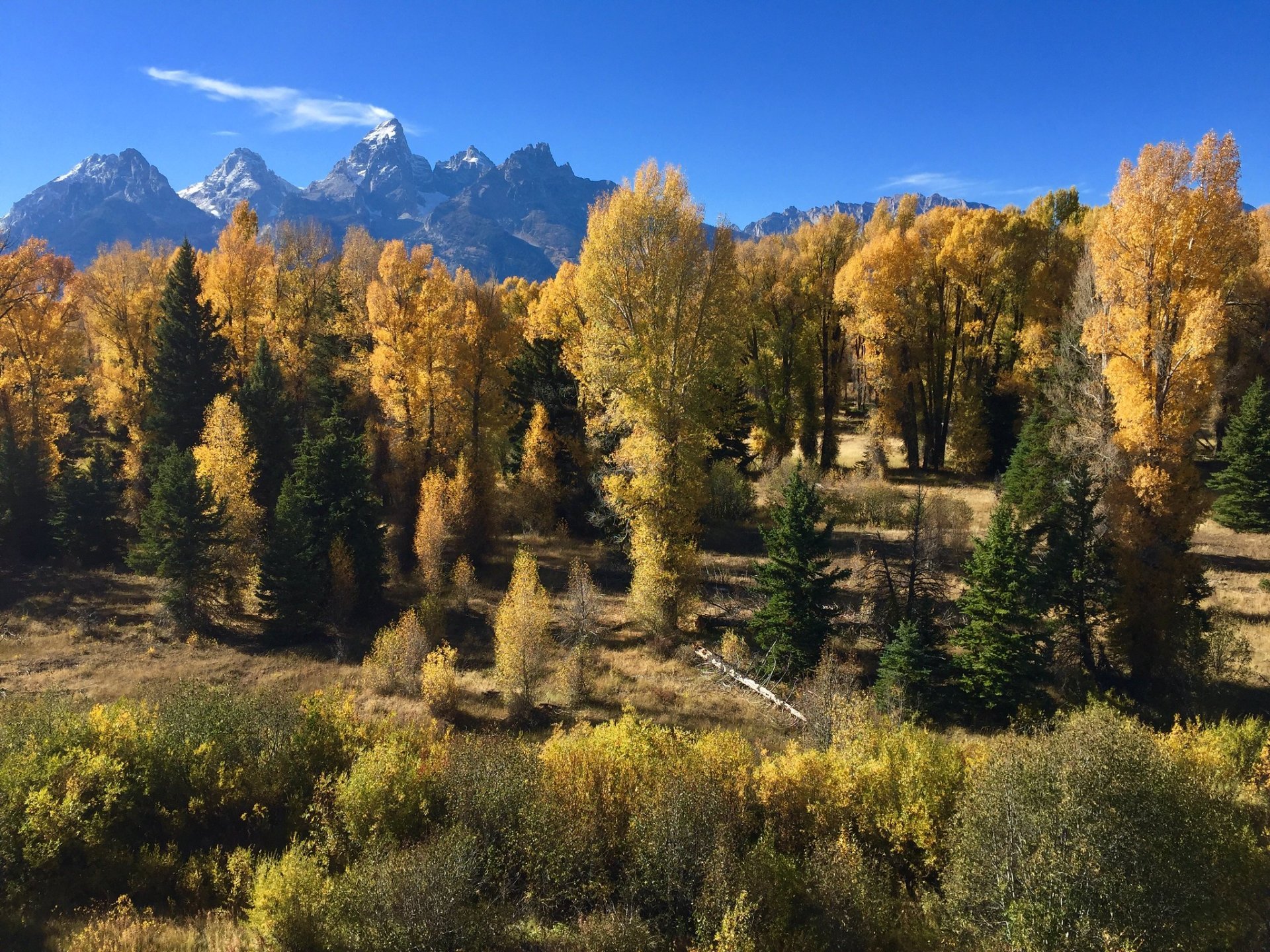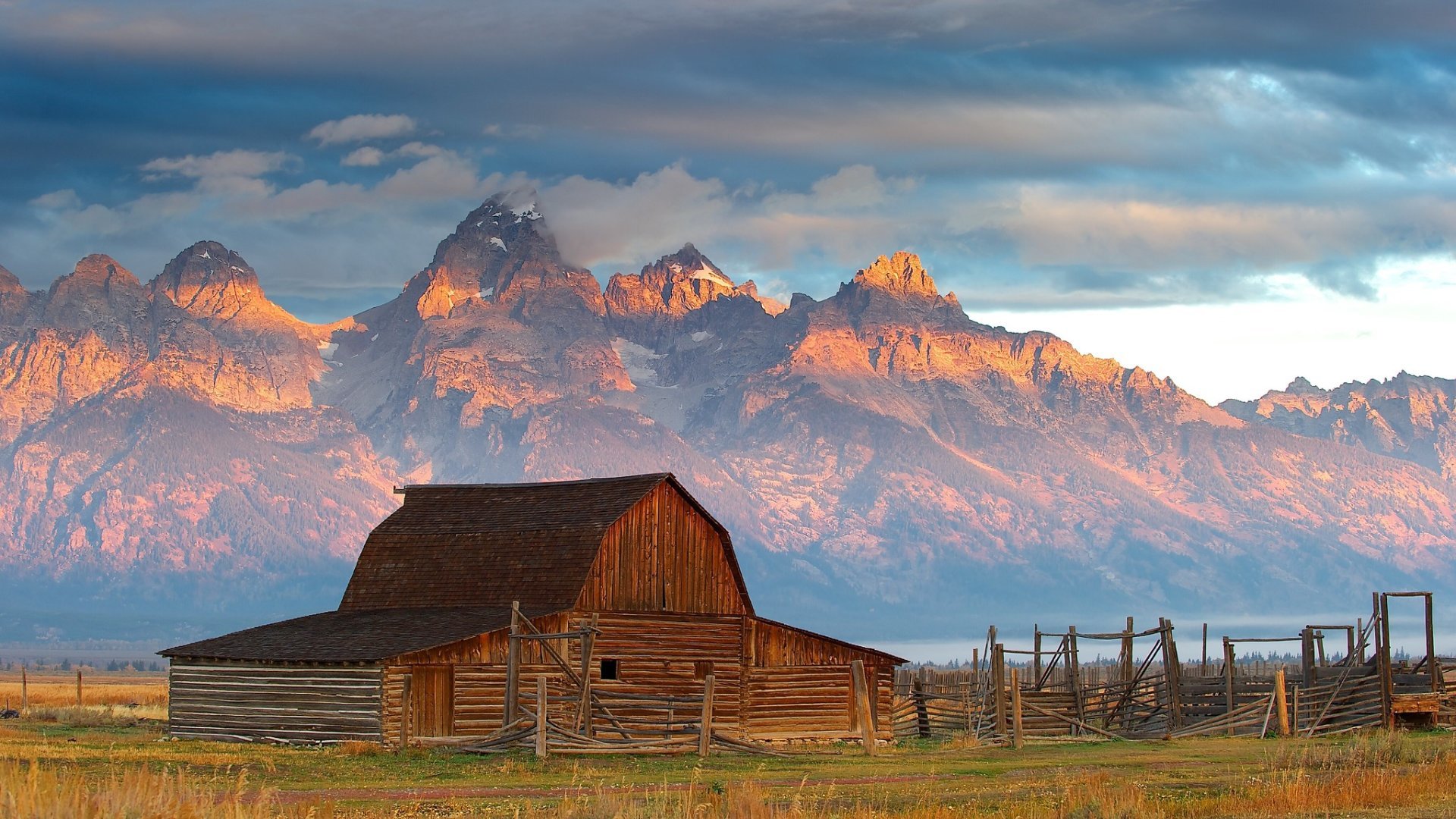 Fall colors on Little Mountain in southwest Wyoming
USFWS Mountain-Prairie/Tom Koerner
Wyoming is the least populous state in America, which makes it one of the best places to enjoy leaf peeping. Wyoming's territory is covered by mountain ranges, dense forests, and high plains, which look especially scenic in the fall. Not to mention Yellowstone and Grand Teton National Park, dream destinations for any nature enthusiast.
The most vibrant fall colors come from yellow and orange quaking aspens, yellow narrowleaf and plains cottonwoods, orange peachleaf willows, as well as box elders, elms, Rocky Mountain maples, and alders.
When to see fall colors in Wyoming
The first fall colors show up at the beginning of September and this magical time lasts to mid- or late October. The third and fourth weeks of September are usually the best time to see fall foliage in the state. Early and mid-October is when fall colors reach their peak in Jackson Hole.
Jackson Hole
Jackson Hole is a unique valley nestled between Gros Ventre and Teton mountains. The valley, which stretches for 50 mi (80 km) along the eastern side of the Tetons, is one of the best leaf-peeping destinations of the American West.
One of the greatest ways to indulge in fall foliage magic is to visit the Jackson Hole ski resort and take an aerial tram or gondola from Teton Village. The 12-minute ride will take you to the elevation of 4,139 ft (1,261 m). 360-degree views of Jackson Hole valley and the mountains will surely blow your mind!
Grand Teton National Park
Grand Teton National Park is a dream fall destination. Its top fall foliage spots include Oxbow Bend, a scenic overlook at the crescent-shaped section of the Snake River. One of the most photographed spots in the park, Oxbow Bend looks breathtaking in the fall due to the abundance of quaking aspens and cottonwoods with mountains on the backdrop. Snake River Overlook is another beautiful point off highway US-191 with stunning views of the Jackson River Valley and gorgeous Tetons. You won't regret a trip to Schwabacher's Landing, a scenic area on the Snake River, which can be reached by I-89. The area is used by anglers and river rafters and features trailheads for several hikes. Take a walk along Snake River or even a scenic float to enjoy the abundance of cottonwoods and perfect reflection views.
Yellowstone National Park
Yellowstone is famous not only for its fall colors but also for wildlife, which is most active in the fall. Mammoth Hot Springs, located south of the North entrance, is one of the best fall destinations in the park. It's the best place to hear bull elk bulging during the rut. Mammoth Hot Springs terraces look beautiful when dotted with colorful shrubs. Picturesque Lewis River with its geysers and scenic Lewis River Canyon is located in southern Yellowstone. The lower section of the river, near Lewis River Falls, is especially beautiful due to old-growth fir and cedar forests with patches of deciduous trees.
Sierra Madre
Southern Wyoming is no less spectacular during fall. The Medicine Bow-Routt National Forest and western slopes of the Sierra Madre Mountains are covered with quaking aspens. Take a ride on the 57 mi (91 km) Battle Pass Scenic Byway and stop by Aspen Alley, which got its name for a reason. Lush aspens mixed with pines create beautiful landscapes throughout the area. To fully immerse yourself in nature, head to Red Mountain Trailhead, which provides access to several popular hikes, including the Continental Divide Trail.
Scenic drives
No matter where you go in Wyoming, you'll end up on a scenic mountain road. However, if you have time for just one drive, it has to be the 68 mi (109 km) Beartooth Scenic Byway, The highest route in the Northern Rockies, which closes in mid-October. Climbing to 10,947 ft (3,337 m) along the border with Montana, this route passes the Absaroka Range of the Rocky Mountains, the Beartooth Wilderness, the Beartooth Plateau, and Red Lodge. From there, you can easily get to Yellowstone National Park and continue your fall adventure there.
Find hotels and airbnbs near Wyoming Fall Colors (Map)