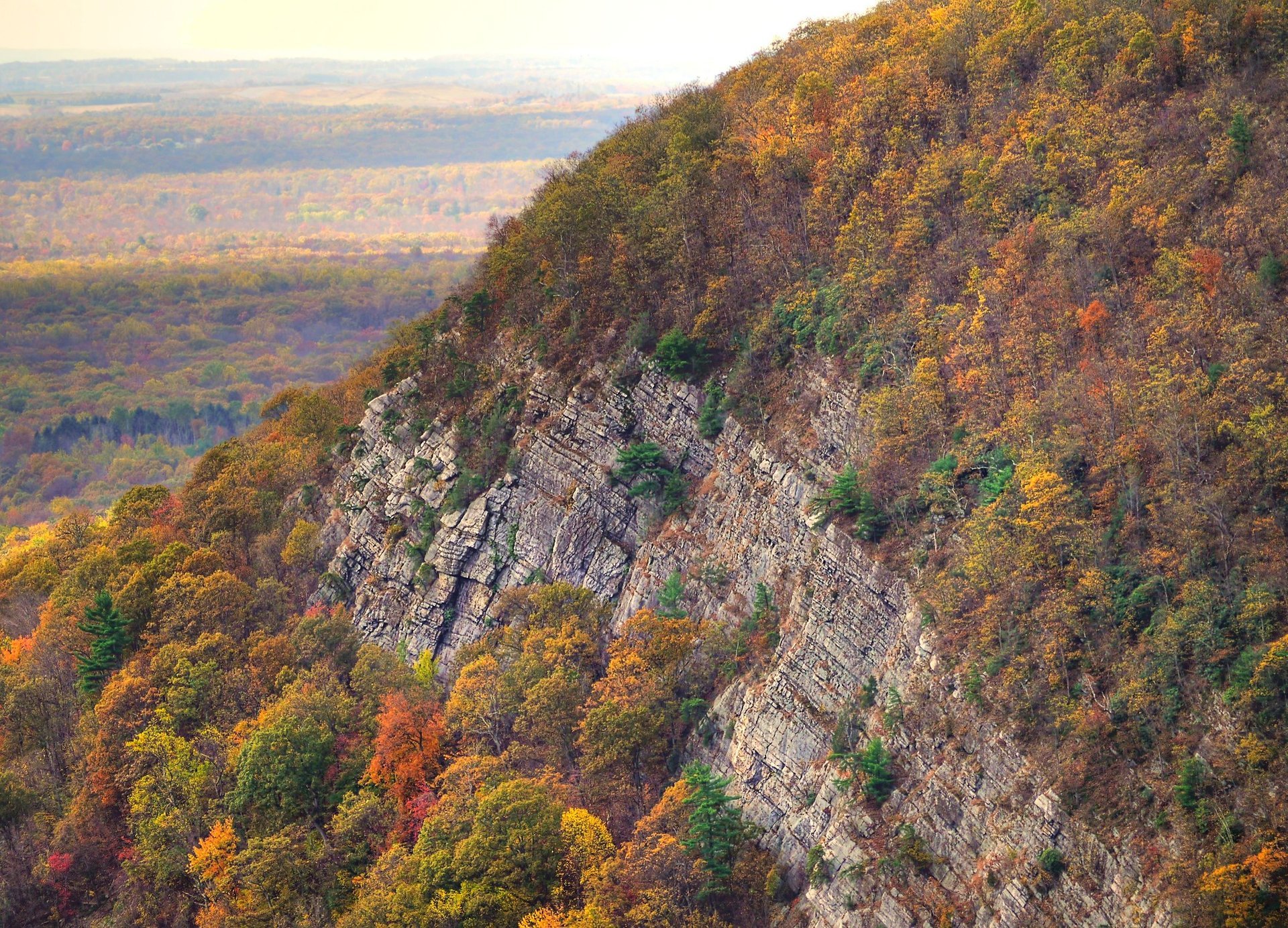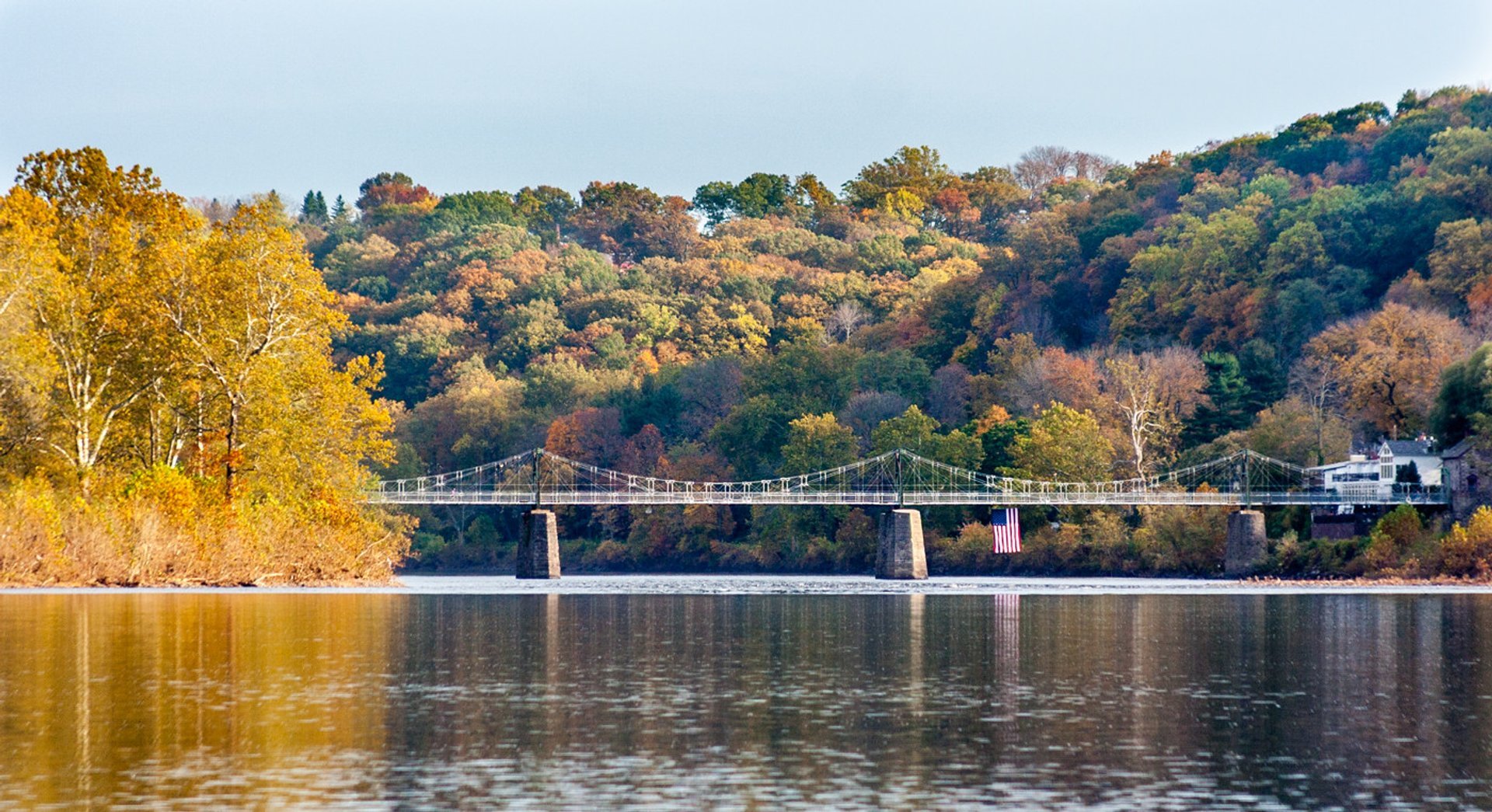 Delaware Water Gap, on the border between New Jersey and Pennsylvania
The Northeast is famous for its beautiful fall foliage, and New Jersey is no exception. From Jersey Shore to the Highlands in the north, there's a lot to see in the state during the change of seasons. Red oak is New Jersey's official state tree for a reason. Due to its abundance, the state dresses up in red and scarlet tones in the fall that make its numerous forests and parks look simply stunning. The seasonal trees transformation in New Jersey starts from late September to early October, depending on the weather. The peak fall foliage season is usually in mid- to late October. The trees can keep their vibrant colors well into November, weather permitting.
Best places to see fall foliage
Delaware Water Gap
Delaware Water Gap National Recreation Area, covering 70,000 acres (28,327 ha), is one of the most scenic fall foliage spots in New Jersey. You can rent a kayak and explore the Delaware River, enjoying vibrant colors in New Jersey and Pennsylvania.
Sussex County
To the north from Delaware Water Gap, Sussex County is also famous for its fall foliage. Especially, Montague area and High Point State Park featuring panoramic views on higher elevations and lots of hiking trails. To the south, stop by the picturesque village of Hope and beautiful Jenny Jump State Forest, which suits autumnal picnics perfectly and is surrounded by fall foliage.
Washington Crossing State Park
If you are interested in history, drive to Washington Crossing State Park where George Washington crossed the Delaware River back in 1776. The area looks beautiful in the fall, and scenic train rides are available nearby. The Bull's Island offers more hiking and biking trails famous for its views of the scenic Delaware River.
Cheesequake State Park
Another wonderful place to take in fall foliage is Cheesequake State Park in Matawan, Middlesex County. This place offers 1,610 acres (650 ha) of charming marshlands and pine barrens crisscrossed with numerous boardwalks. So you can treat yourself to a short and easy hike or explore the area on a bicycle. The park also offers a fishing lake and a camping sites.
Fall foliage train rides in NJ
Several railroads in New Jersey operate themed fall train rides. Some offer a ride in the countryside, while others combine the leaf-peeping adventure with a visit to a pumpkin patch or a museum.
Delaware River Railroad Excursions
On weekends, Delaware River Railroad Excursions runs scenic train rides along the picturesque Delaware River. Throughout October, guests can enjoy train rides like The Great Pumpkin Train and The Warren County Winery Train. View autumnal landscapes along the river while stepping back in time on restored historic railroad equipment. Every train makes a stop at the Pumpkin Patch Additional off-route options include stops at Ol' Susquehanna Mine for gemstone mining or a local corn maze.
Black River & Western Railroad
The Black River & Western Railroad is home to New Jersey's oldest operating steam locomotive. Since the early 1960s, this organization has been preserving railroad history and offering the opportunity to experience old-fashioned steam railroading in Hunterdon County, New Jersey. The railroad runs scenic train rides between Flemington and Ringoes. On select days in October, Black River Railroad takes visitors to Pumpkin Junction at Everitt Farms in Ringoes. The trips last two hours in total and take the passengers through tree-lined passageways with vibrant fall colors. A scenic fall foliage train ride and pumpkin picking—what could be a better family weekend?
Pine Creek Railroad
Pine Creek Railroad, operated by the New Jersey Museum of Transportation, is one of the oldest operating narrow gauge railway sections in the US. It offers scenic 15-minute train rides on weekends. Some visitors expect to see a typical museum—a building full of artifacts, but it's a "working museum" where all the facilities and the train itself are functioning. In the fall, Pine Creek Railroad operates special train rides. For more details, check the official website (see the "External Resources" section below).
Find hotels and airbnbs near New Jersey Fall Foliage (Map)