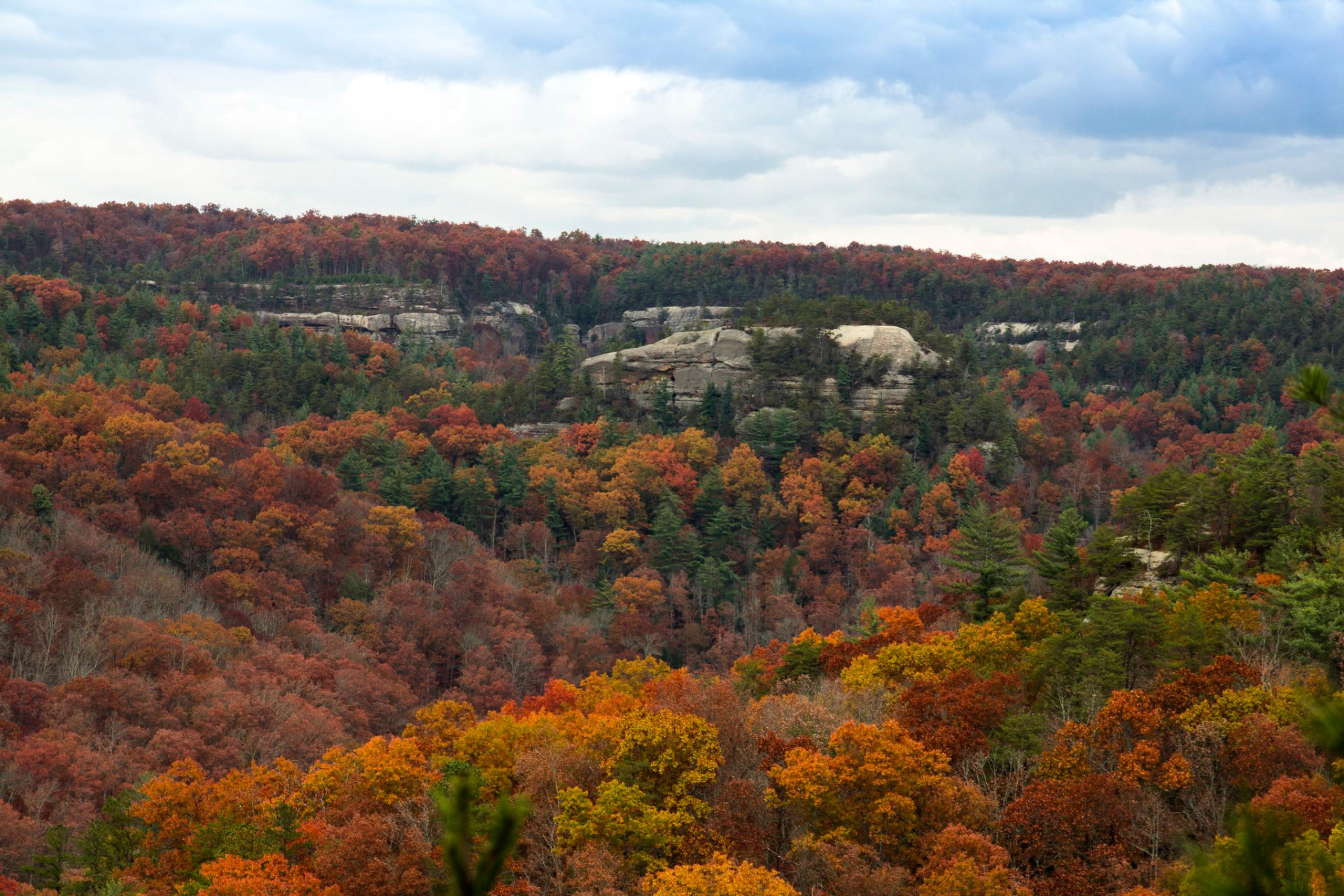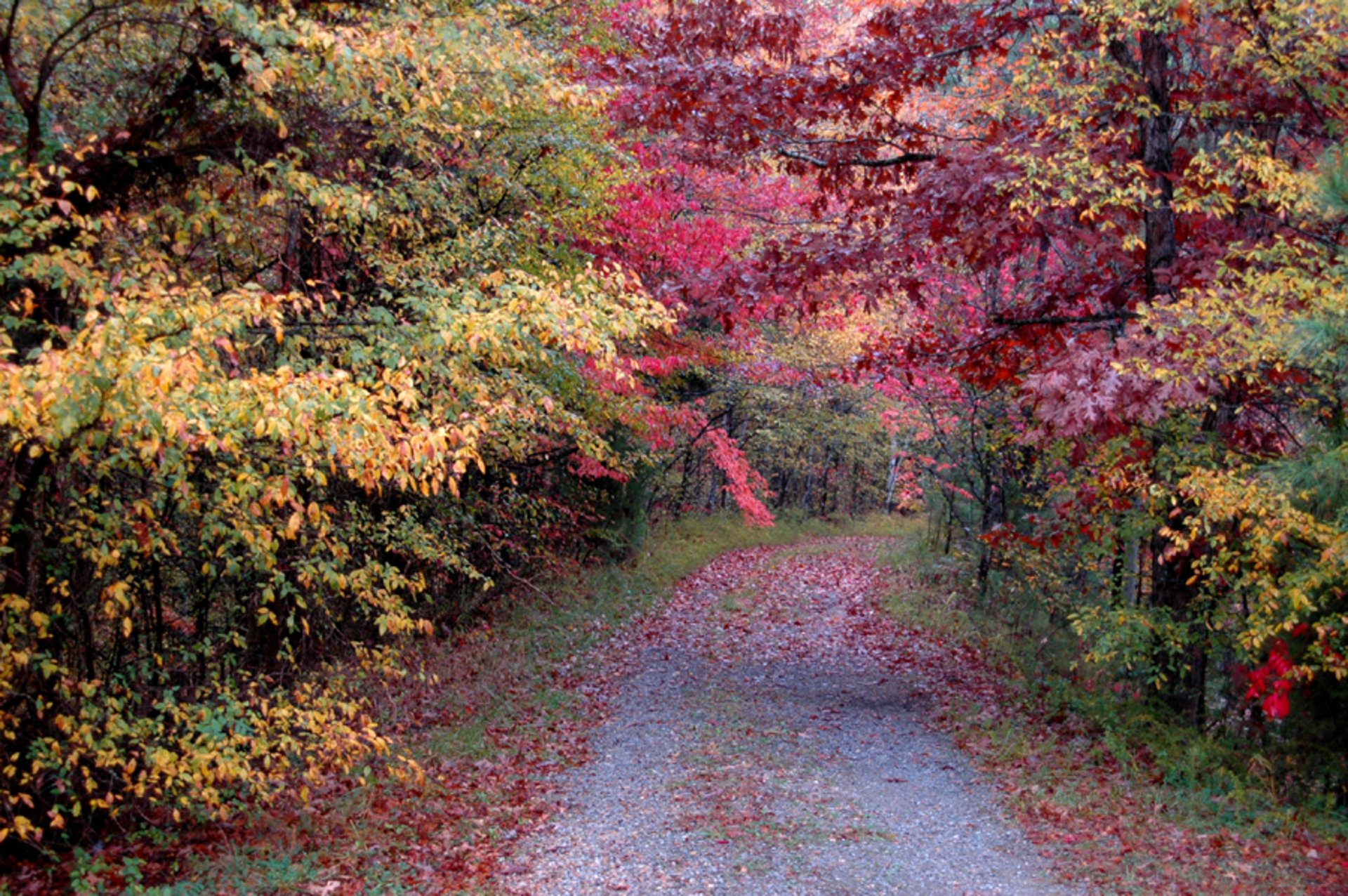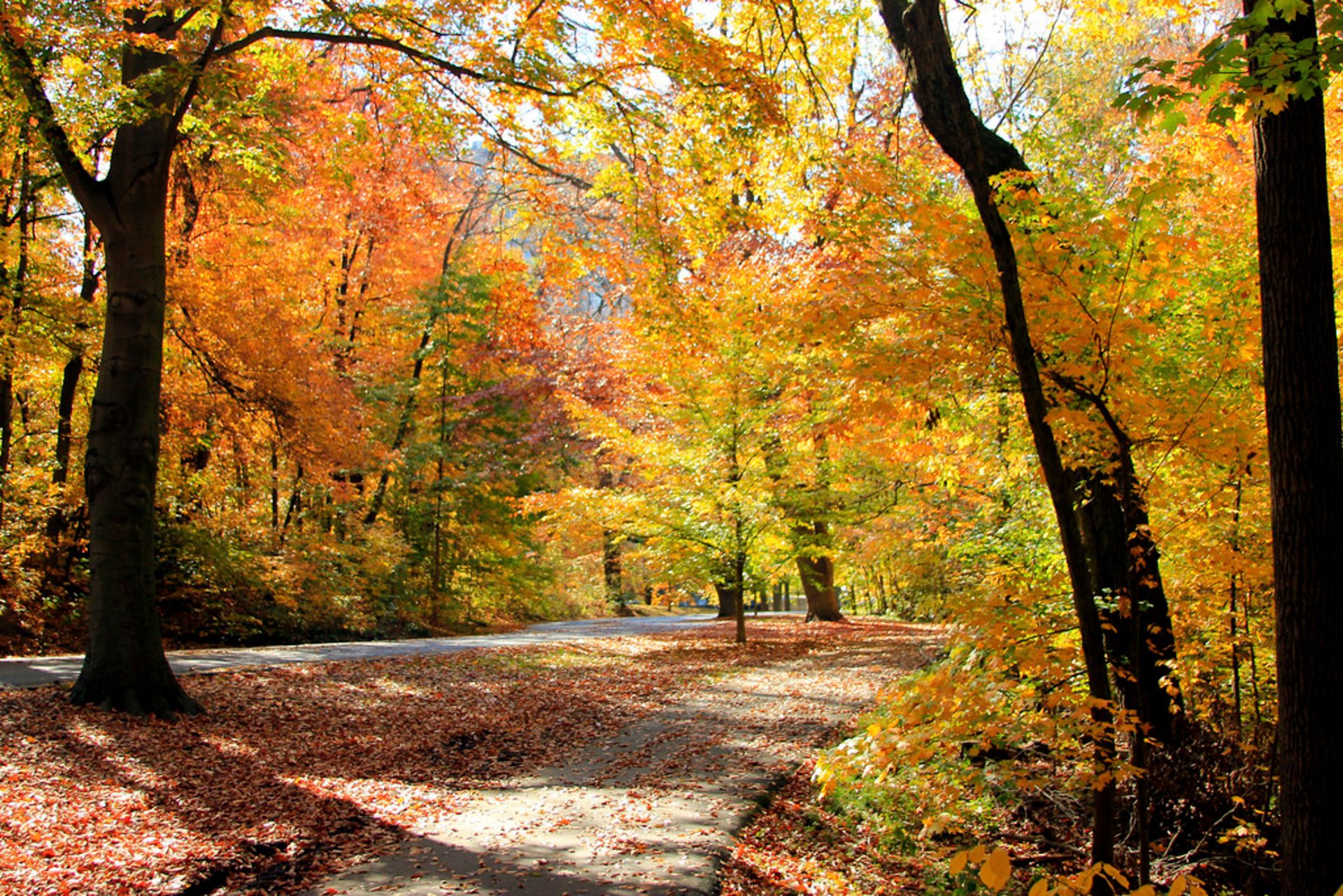 Red River Gorge, a view from Sky Bridge Road
Kentucky boasts diverse and beautiful landscapes: from the Appalachian mountains to rich forests and rolling hills. Since almost half of Kentucky's land area is covered by hardwood forests, it's an excellent fall destination that will take your breath away with its vibrant foliage. Red maples comprise over 12% of all trees in Kentucky, while sugar maple is the second most common tree that makes up about 10 % of all trees. Yellow poplar is the third most common tree in the state. There are also plenty of dogwoods, sweet gums, and sumacs, which add red tones. Oaks and hickories are responsible for gorgeous golden hues.
Best time to see fall colors in Kentucky
The first colorful leaves appear in the Appalachian mountains of Eastern Kentucky in September. By October, the color spreads to lower elevations. Central Kentucky usually experiences peak fall colors in late October. Finally, the foliage season spreads over southwest Kentucky, where it may last till early November.
Daniel Boone National Forest
Daniel Boone National Forest, with its more than 600 mi (965 km) of trails is the top leaf-peeping destination in Kentucky. The Red River Gorge area is a true hiker's paradise with scenic rock formations, cliffs, and over 100 natural stone arches. Visit it in the first two weeks of October for peak colors, produced by tulip poplars, birches, and bigleaf magnolias. Take a scenic drive on the Red River Gorge Byway and the Zilpo Road to fully enjoy the change of seasons.
Cumberland Falls State Park
Cumberland Falls State Park is a perfect day-trip destination. This state park is part of the Daniel Boone National Forest and features the most spectacular waterfall in Kentucky—Cumberland Falls, which is famous for its moonbows. The falls indeed look gorgeous when framed by the colorful leaves. You can take the best shots of the waterfall from the Eagle Falls Trail. Overall, the park boasts about 17 mi (27 km) of hiking trails.
Louisville and Taylorsville
The largest city in Kentucky has no shortage of picturesque spots for leaf-peeping. Cherokee Park is Louisville's most popular location, with over a million visitors annually. Jefferson Memorial Forest is one more scenic spot with a two-mile Scenic Loop and more than 50 mi (80 km) of other trails for hiking and running. Shawnee Park in West Louisville along the Ohio River is an excellent spot thanks to its scenic Riverwalk Trail. Southwest of Louisville, you can stop by Taylorsville Lake State Park and hike the scenic Lake View Trail and Possum Ridge Trail. In addition to beautiful fall foliage, you can enjoy kayaking, fishing, horseback riding, and camping at equestrian-friendly campgrounds for RVs and tents.
Land Between the Lakes National Recreation Area
Laying on the border between Kentucky and Tennessee, Land Between the Lakes boasts 151,000 ac (60,702 ha) that are dotted with lakes and forests. The area is rich with sumacs, black gums, and Virginia creeper, which produce attractive shades of red. Also, oaks, tulip poplars, and hickory trees add beautiful bronze tones. You can take The Woodlands Trace National Scenic Byway from Grand Rivers, Kentucky, into Tennessee to appreciate this scenic area. Hematite Lake, Honker Lake, and the Pryor Creek Area are quite famous for fall foliage displays.
Big South Fork Scenic Railway
Big South Fork Scenic Railway is an excellent idea for a fall weekend. The train goes for 14 mi (22 km) through the beautiful mountains of Southern Kentucky with a stop at the historic Blue Heron Mining Camp. You can learn a lot about coal mining in the US and enjoy spectacular foliage as the train descends 600 feet into the Big South Fork Gorge. The trip lasts about 3 hours.
Whether you are a fan of hiking, biking, or just prefer a drive through a picturesque forest, Kentucky has a lot to offer. The state has a long and impressive fall foliage season with plenty of jaw-dropping views to enjoy.
Find hotels and airbnbs near Kentucky Fall Colors (Map)