The change of seasons is especially beautiful in Pennsylvania with its vast parks, picturesque mountains and clear lakes. Oak forests dominate in two-thirds of the state. Chestnut oak, scarlet oak and black oak are the most common trees changing their colors to yellow and red. Sugar maple adds some orange tones, while red maple adds a few scarlet notes. The best time to see the mother nature's spectacle in Pennsylvania is mid-October.
Allegheny National Forest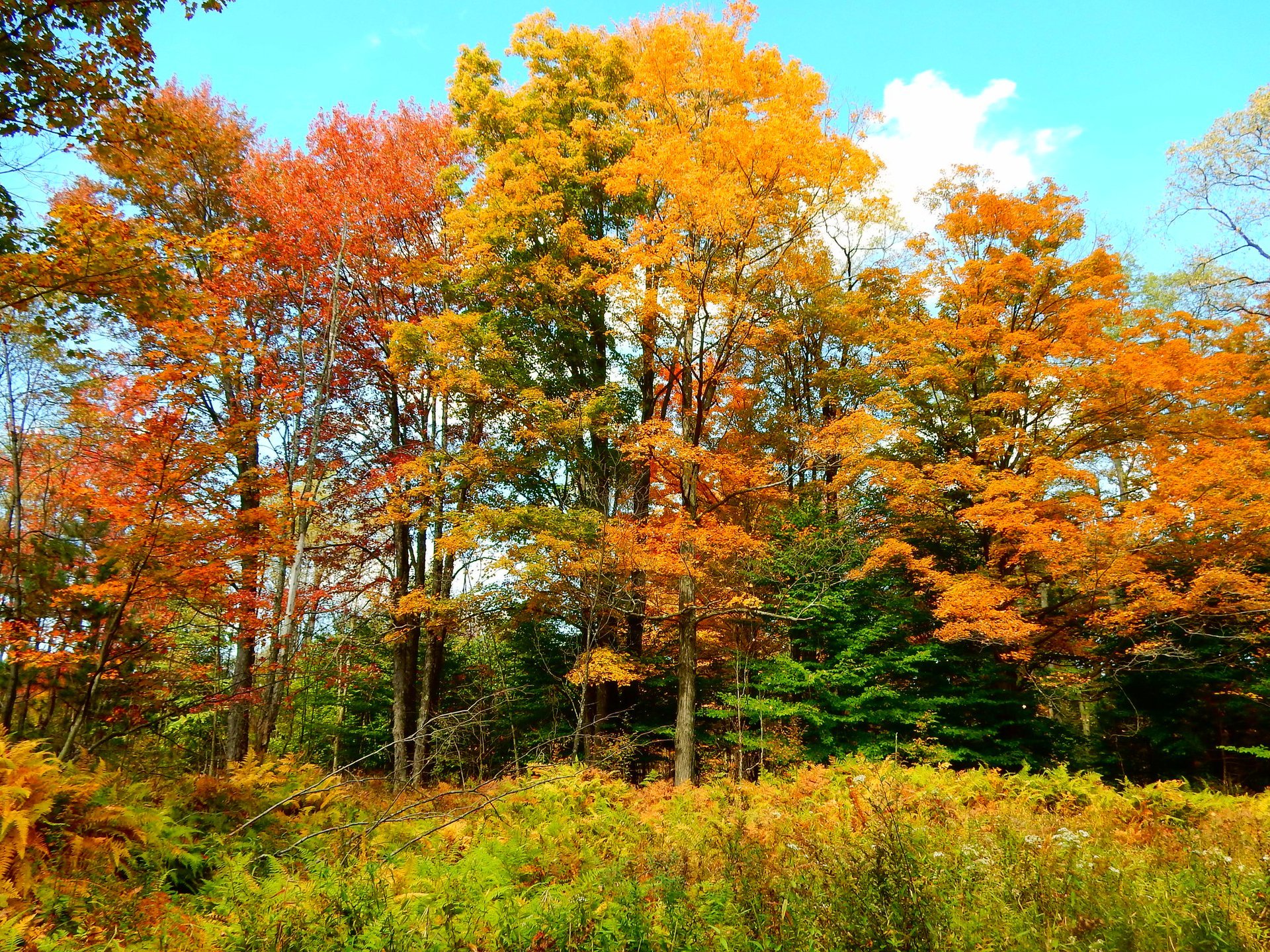 Located in the northwestern part of the state, Allegheny National Forest is probably the most famous place to observe fall foliage. It starts to transform in late September and turns into the sea of gold by mid-October. You'll see lots of yellow tones. with some orange and red accents. Take a drive on National Longhouse Scenic Byway to enjoy the whole picture. Or take a hike to Bridal Falls, Hector Falls or Logan Falls to make a postcard-worthy picture. Stop by Kinzua Reservoir to see a scenic outlook and make some reflection shots.
Find hotels and airbnbs near Fall Foliage (Map)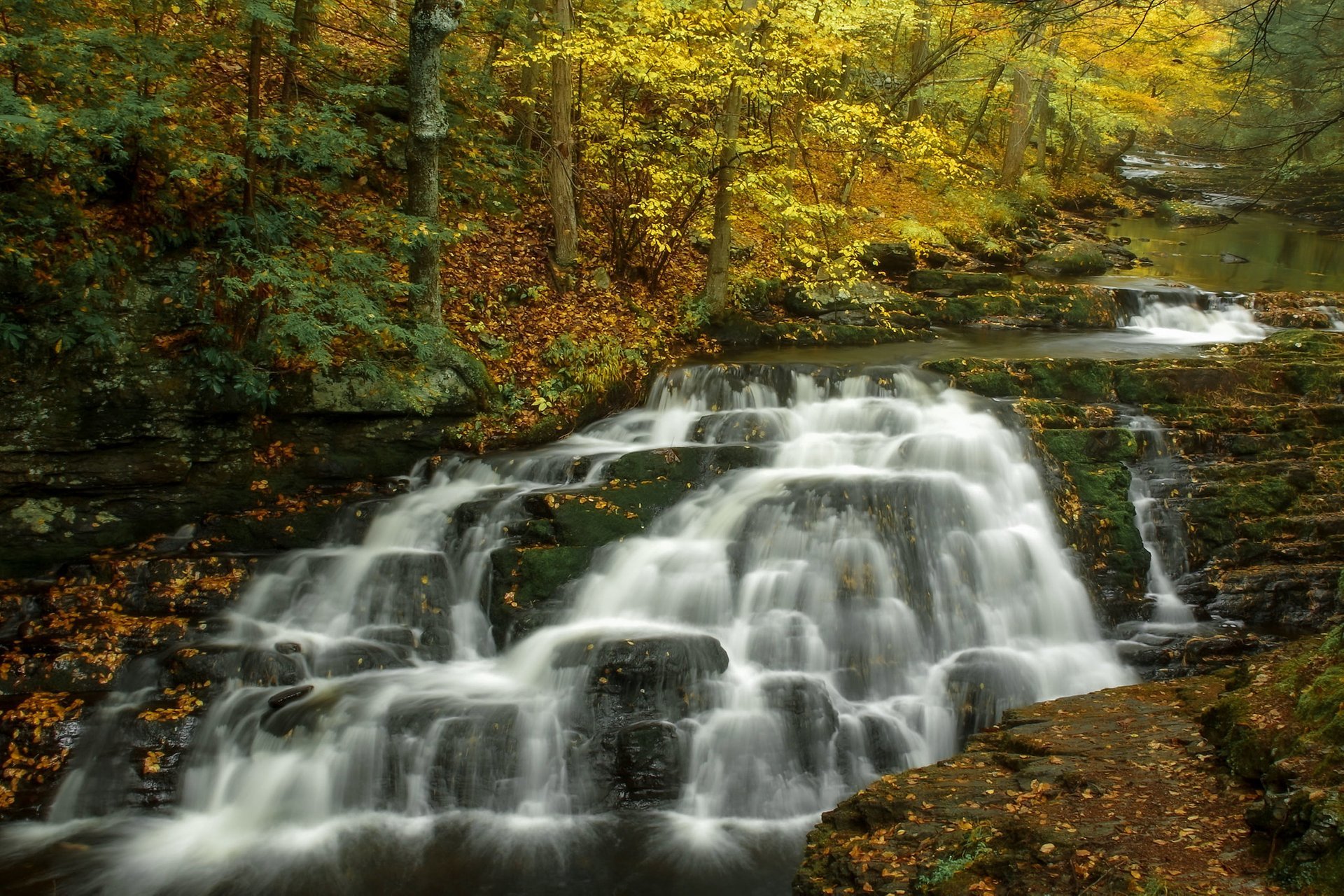 The Pocono Mountains look the most stunning in the fall. The best time for leaf-peepers in Big Pocono State Park comes in mid-October. Located on the slopes and summit of Camelback Mountain the park offers outlooks reaching New York and New Jersey. The most scenic locations include Lake Wallenpaupack and Bushkill Falls. Take a hike to Camelback Mountain or visit Hawk Falls in Hickory Run State Park that looks simply stunning in the fall.
Find hotels and airbnbs near Fall Foliage (Map)
Ohiopyle State Park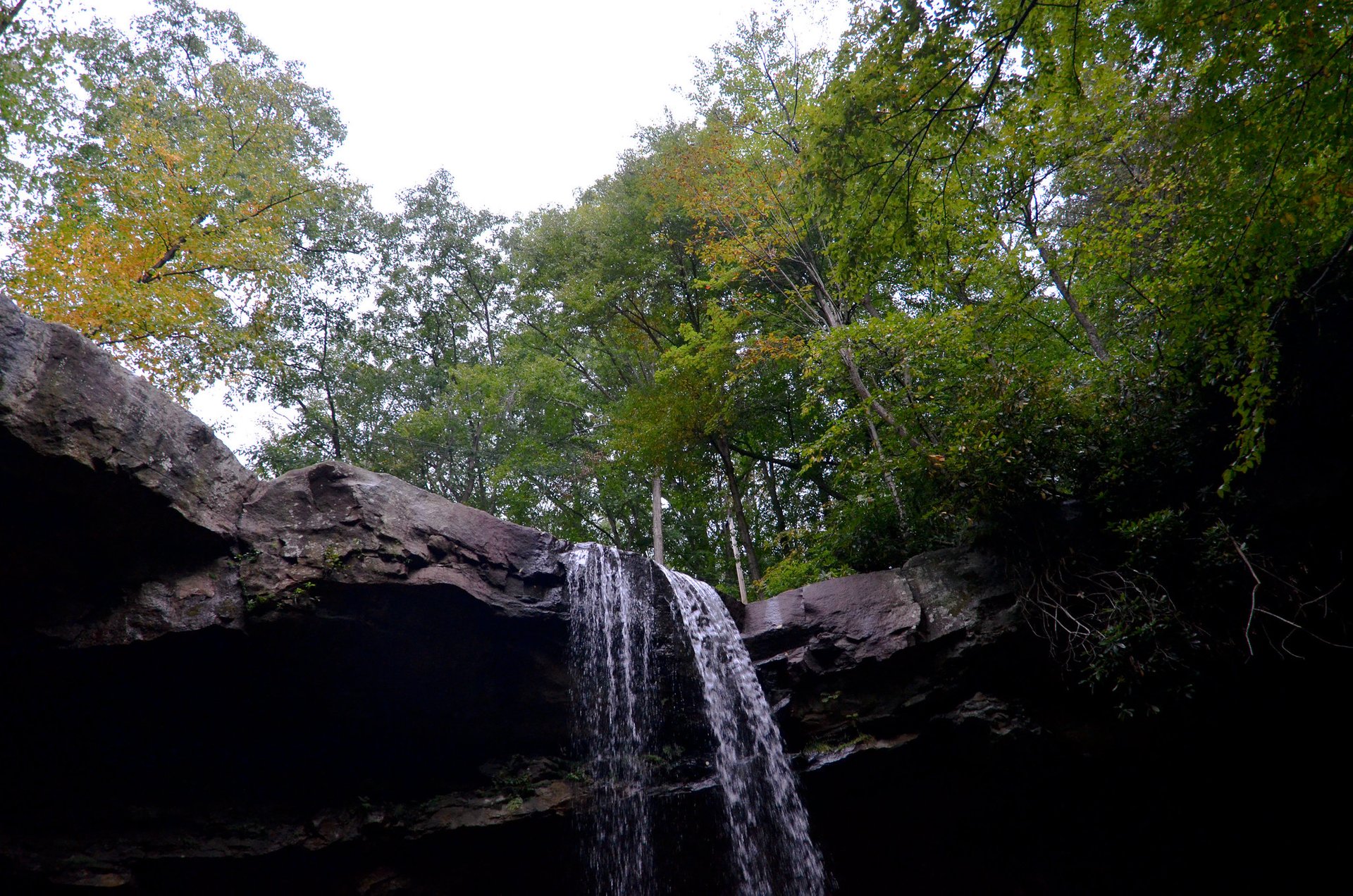 Located on the border between Pennsylvania and Maryland, Ohiopyle State Park reaches the peak display of fall foliage in early October. Great Allegheny passage is the most famous hiking area in the park. With 150 mi (240 km) of trails stretching to Cumberland, Maryland, Ohiopyle State Park. is a dream destination for a leaf-peeper. Also, don't miss the annual Fall Foliage Ride and Run in mid-October along the Youghiogheny River.
Find hotels and airbnbs near Fall Foliage (Map)
Pine Creek Gorge or Pennsylvania Grand Canyon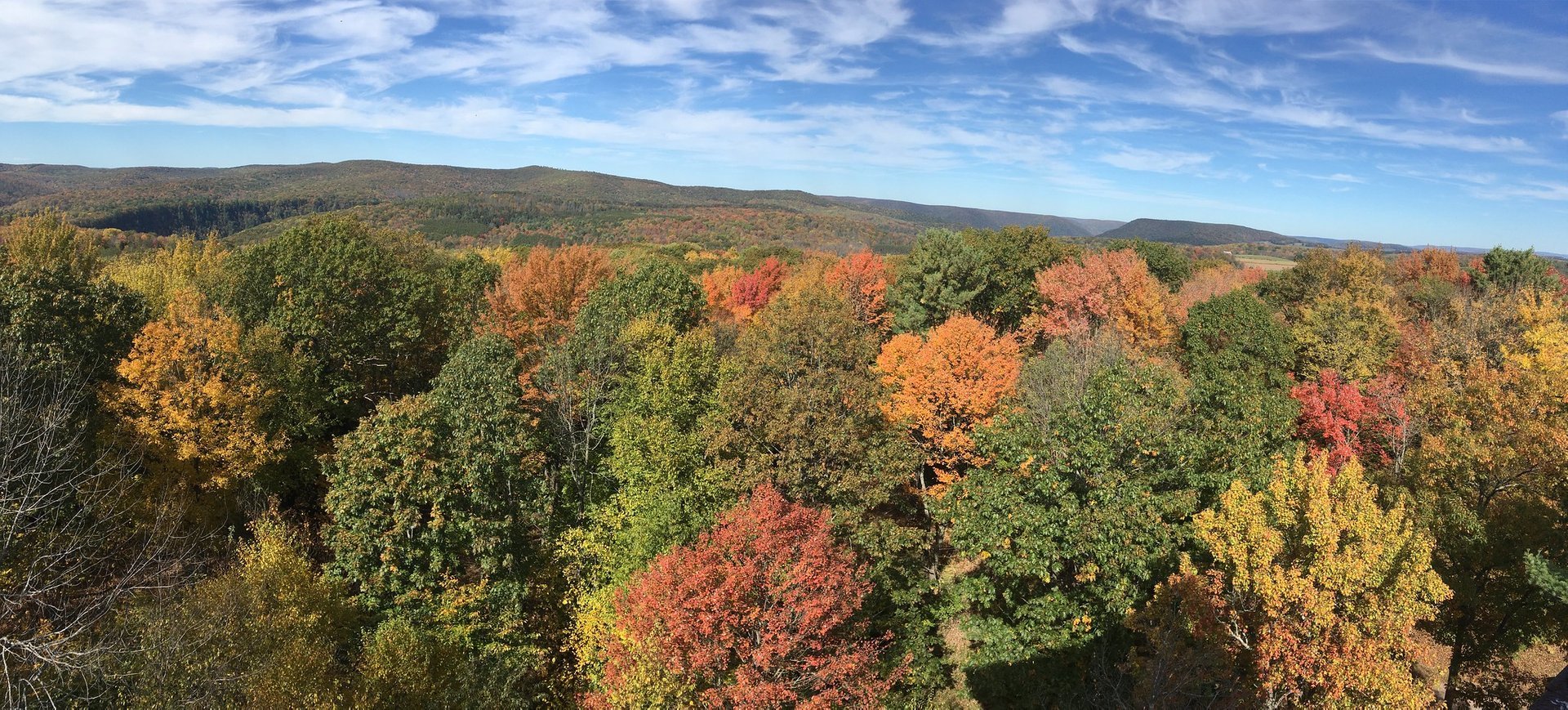 Pine Creek Gorge offers beautiful trails, scenic waterfalls, and observation outlooks with 360-degree views that look the best in early October. Some of the best views are available at Leonard Harrison State Park, Colton Point State Park and Tioga State Forest. Take a hike on the Pine Creek Rail Trail or drive along the west rim of the canyon to enjoy the colorful spectacle.
Find hotels and airbnbs near Fall Foliage (Map)
Gettysburg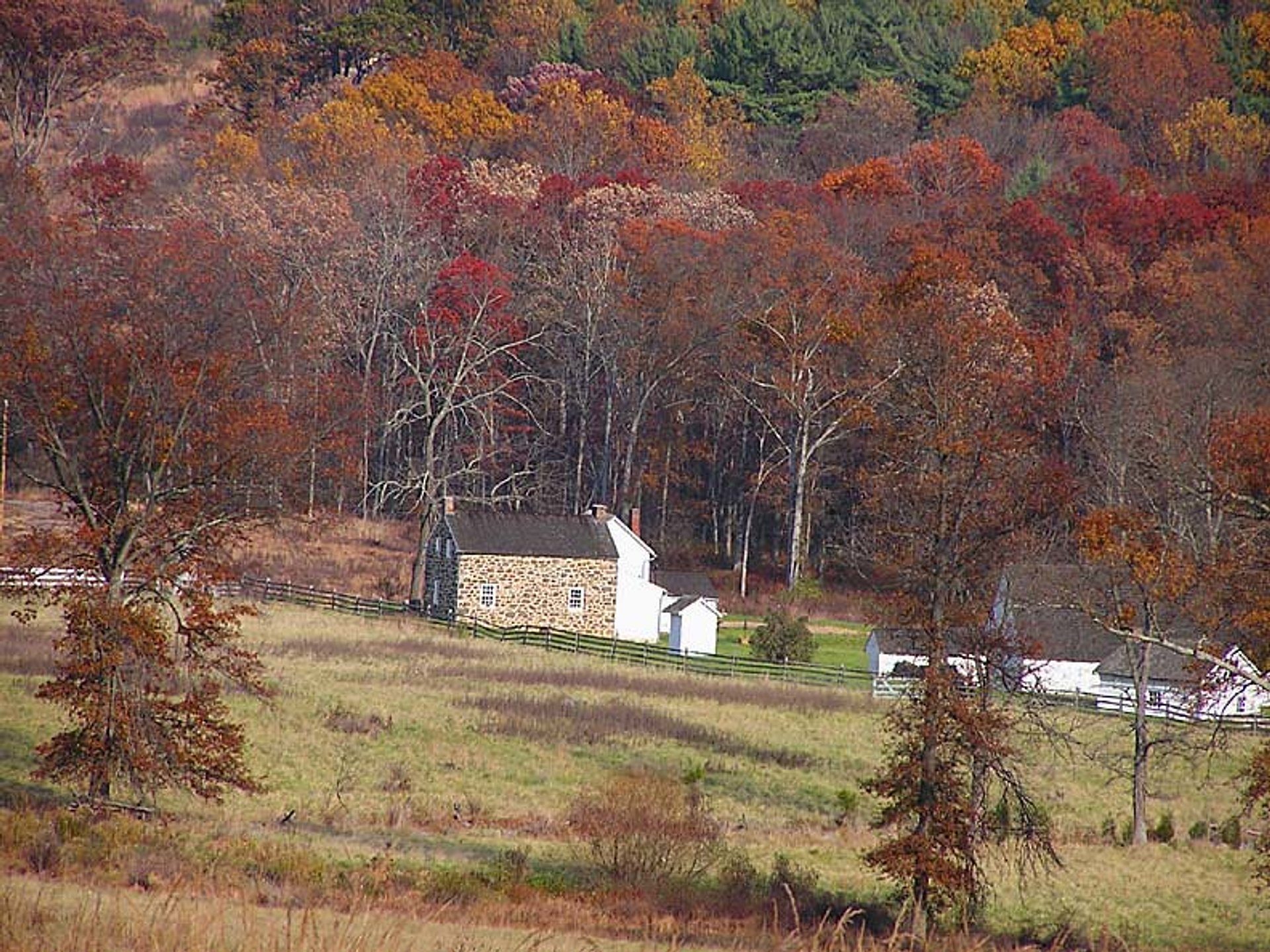 The historical Gettysburg is not just one of the most famous destinations in Pennsylvania. It's also one of the most beautiful due to its amazing fall foliage display. Visit one of the most famous battlefields in American history in late October to enjoy the best fall colors. Additionally, you can explore over 1,400 monuments of the Civil War.
Find hotels and airbnbs near Fall Foliage (Map)
Scenic Drives
Pennsylvania is famous for its nature, and during the last two weeks of October, the whole state becomes picture-perfect. However, some scenic drives just can't be missed. Take Route 6 that stretches for 400 mi (643 km) across the northern part of the state passing the famous Pine Creek Gorge or Pennsylvania Grand Canyon. Stop by the Marie Antoinette Overlook facing the Susquehanna River. Another beautiful ride awaits you on Route 32 in Bucks County that connects Kintersville and New Hope. Watch the stunning colors on hillsides along the Delaware River and stop by Ringing Rocks County Park to see the amazing Pennsylvania nature up close.
Where to stay: A rural hotel or a farm bed and breakfast is the best lodging to enjoy Pennsylvania's countryside. Some farms are located next to the most scenic spots like Ohiopyle State Park. Make sure to book in advance.
Find hotels and airbnbs near Fall Foliage (Map)
Fall Foliage Featured in