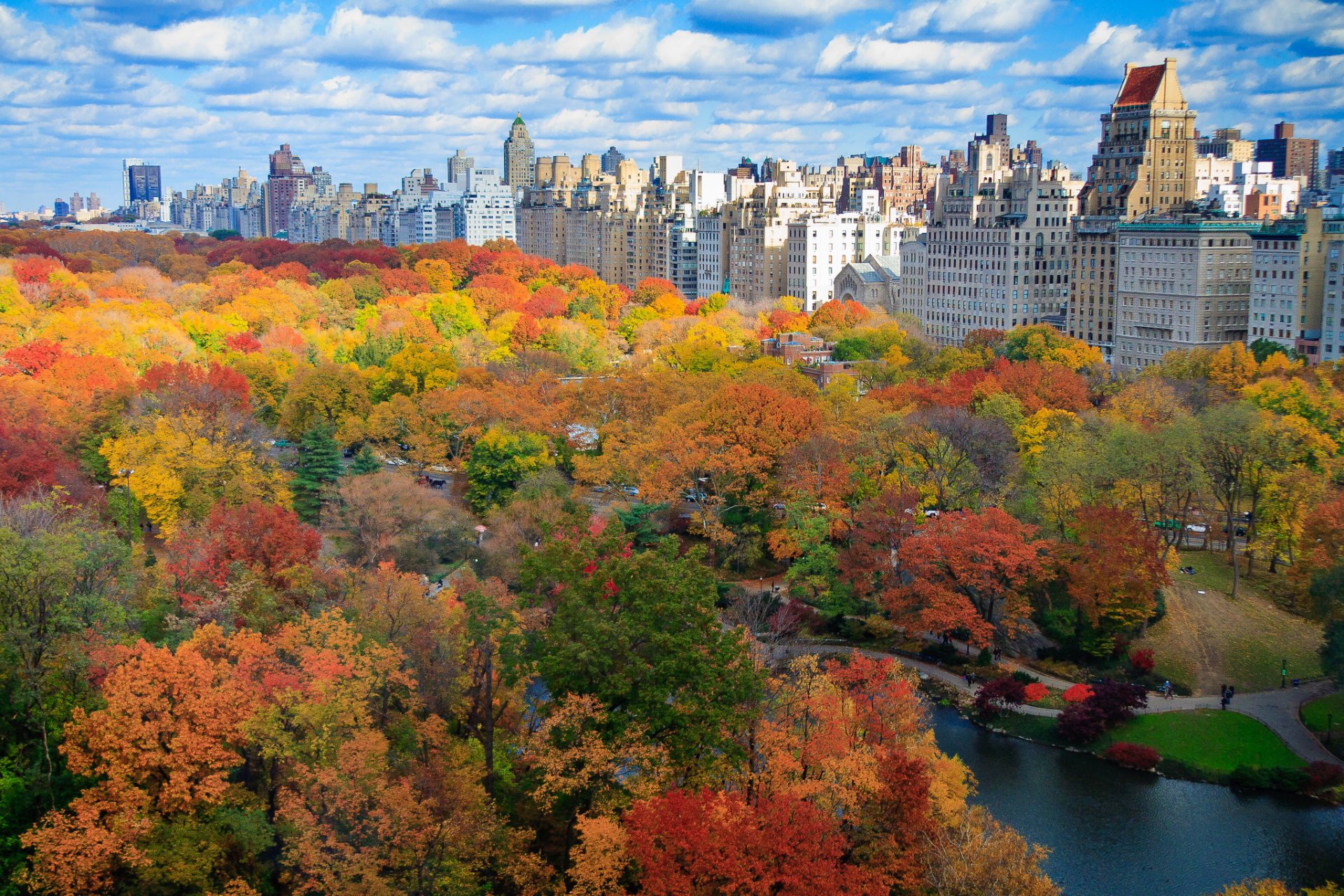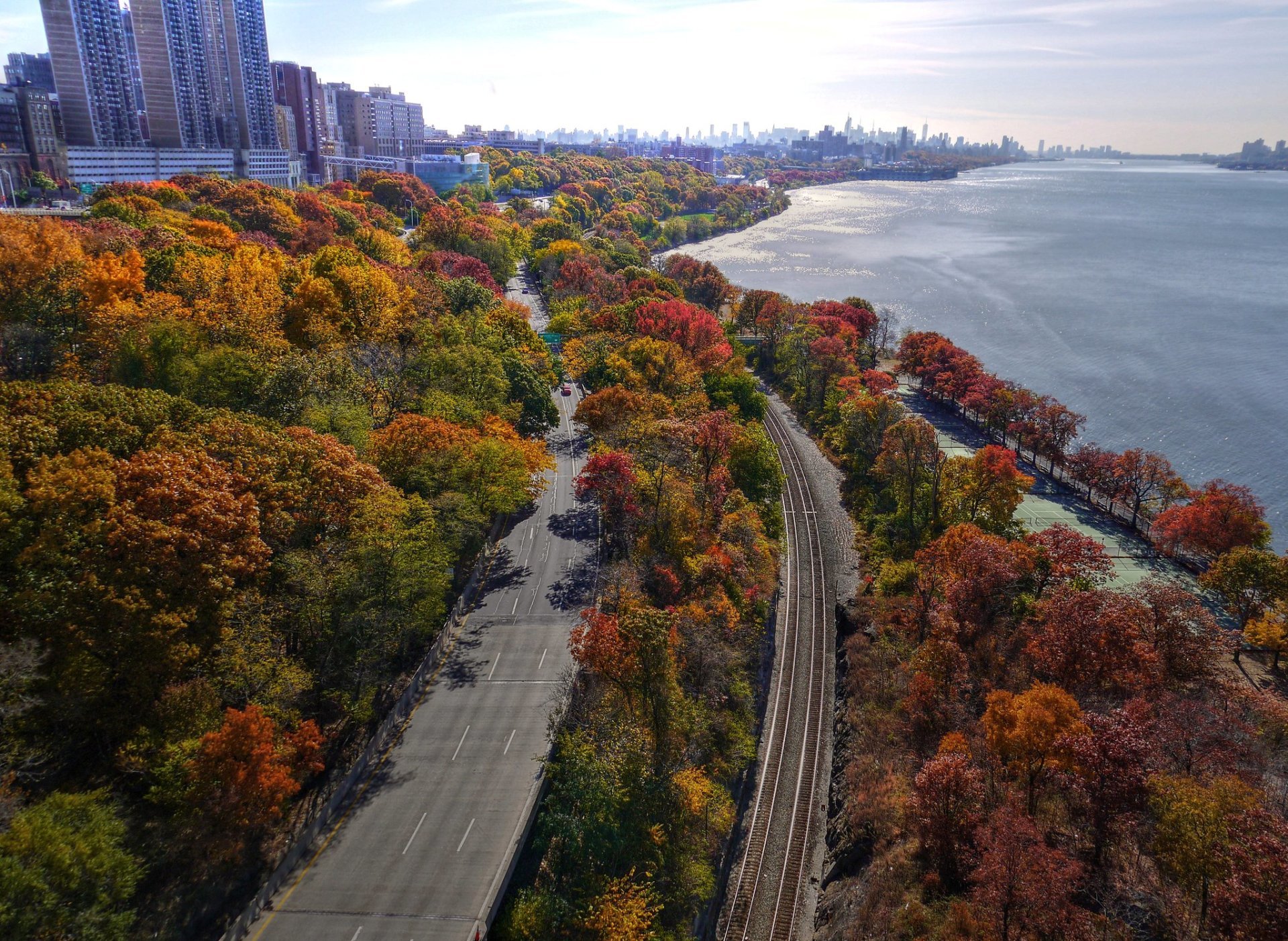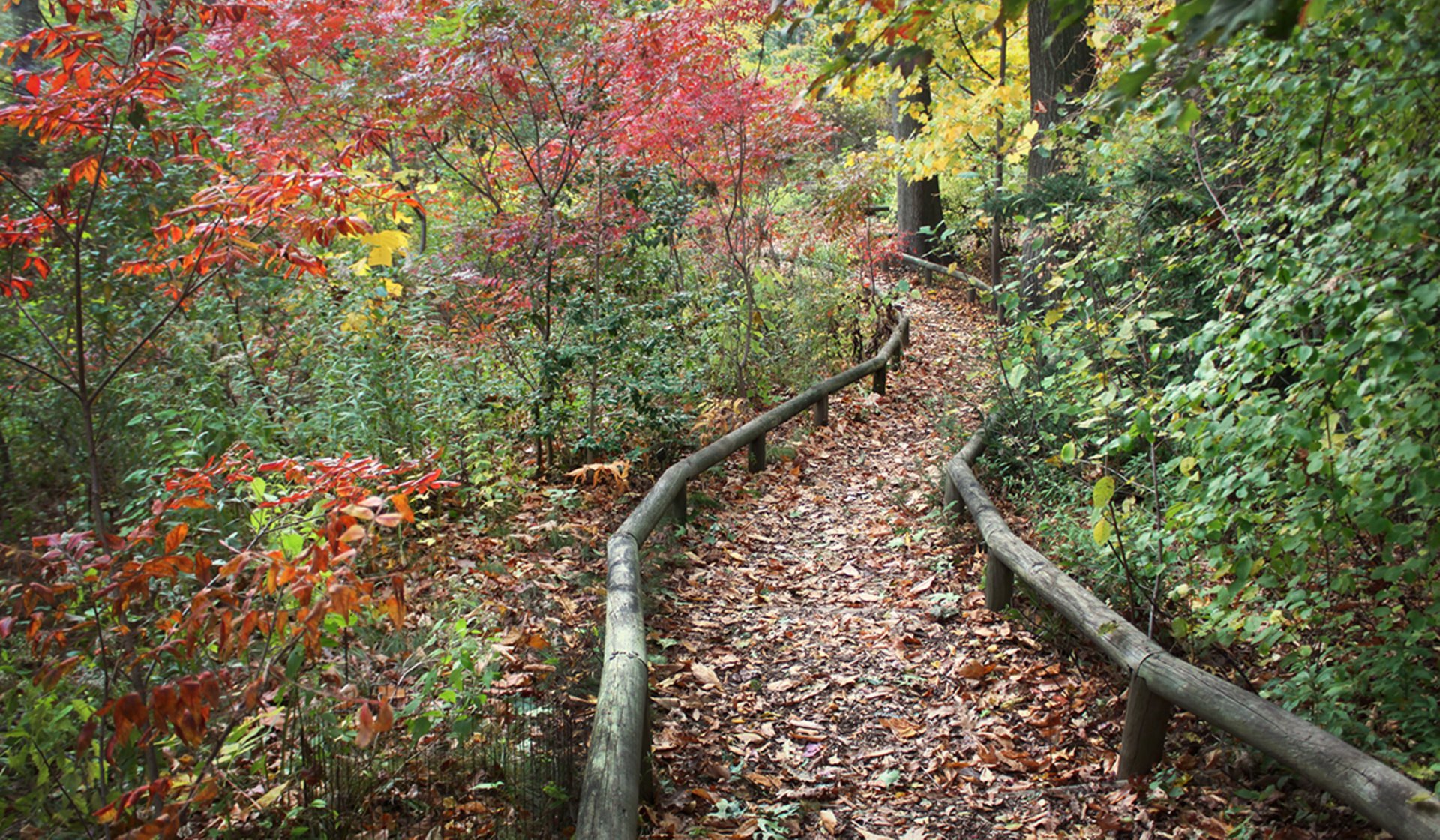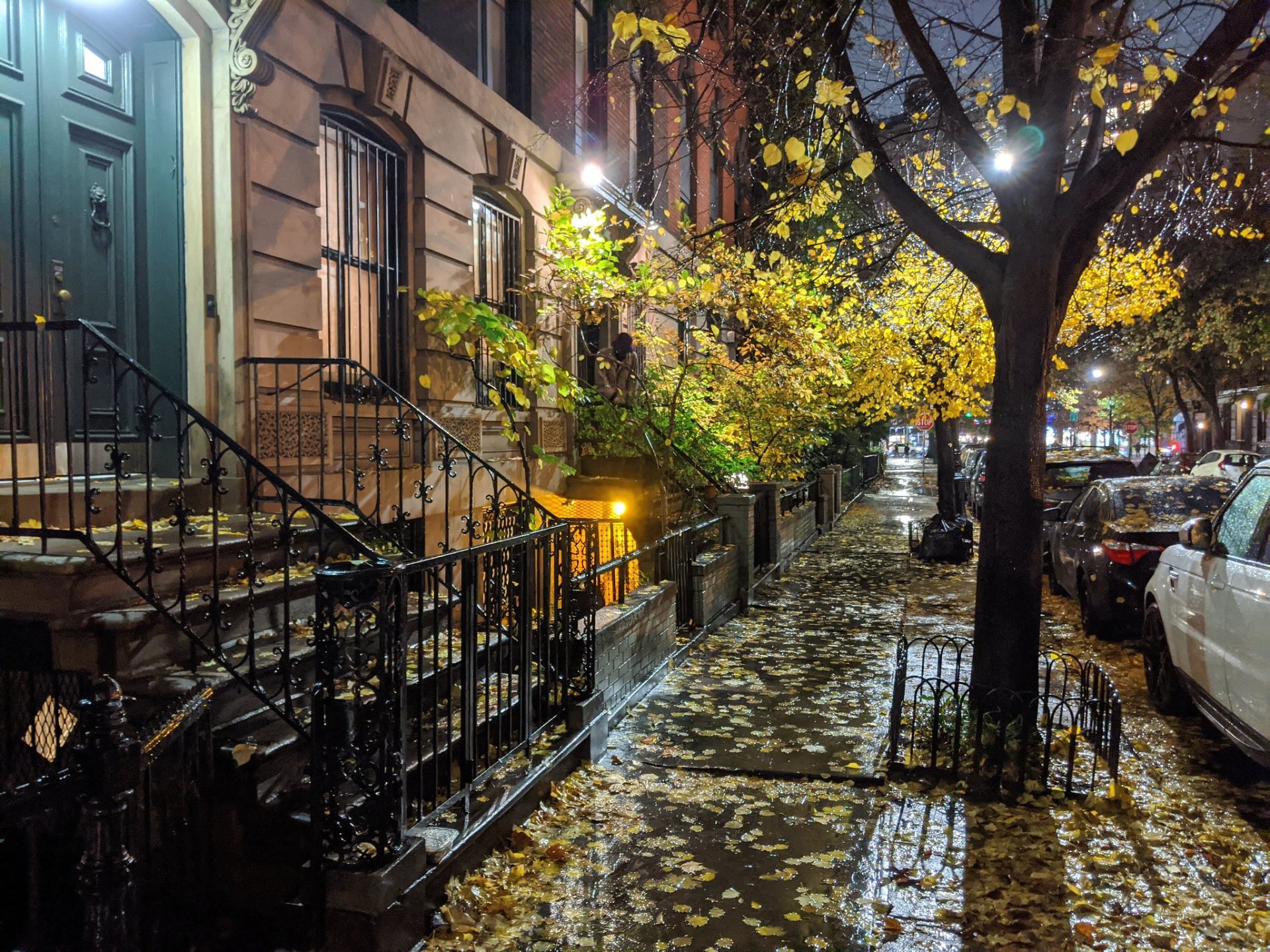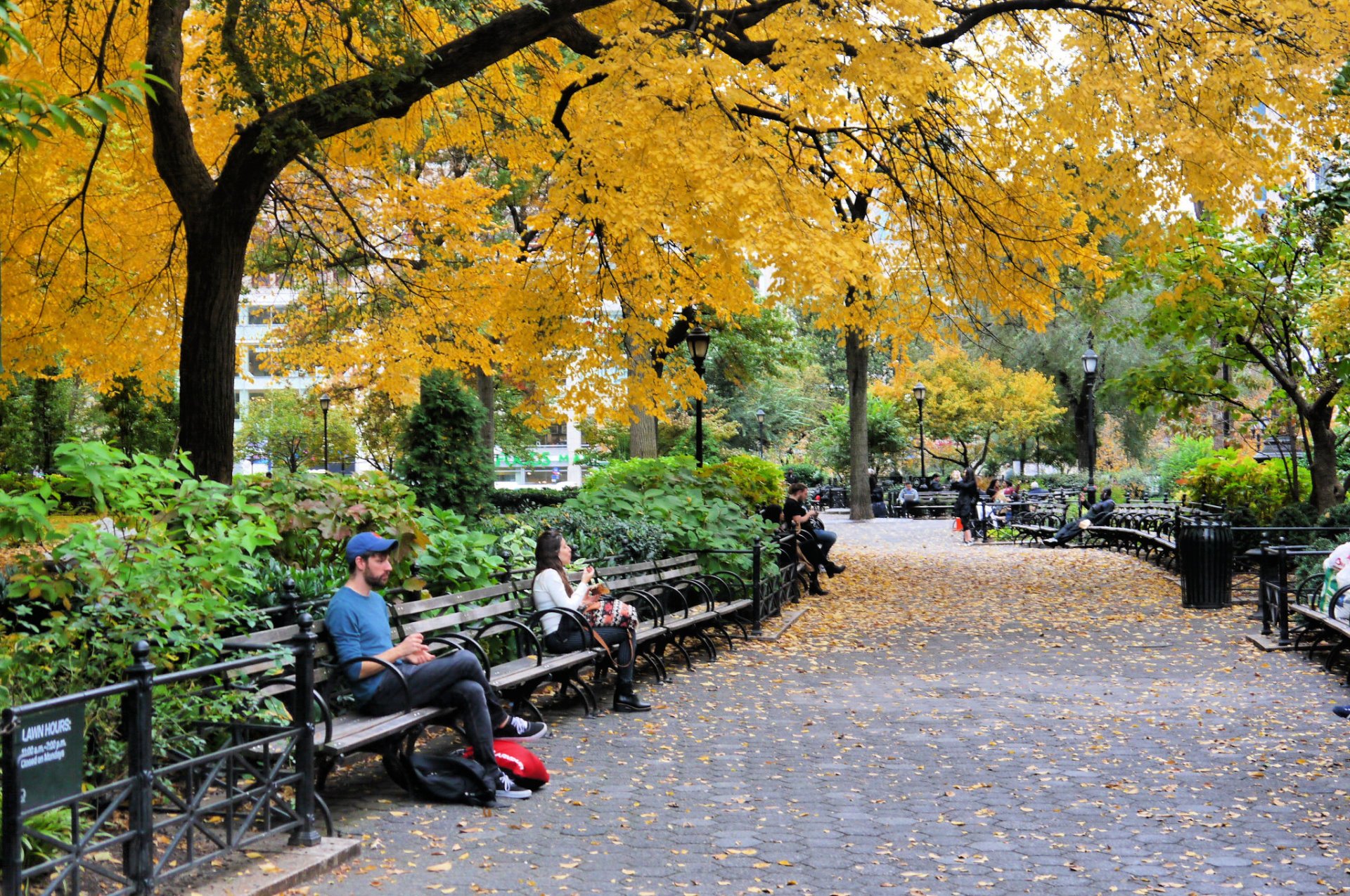 Central Park skyline in November
Autumn in New York has been immortalized in countless movies, including a romantic drama with Richard Gere and Winona Ryder that you should definitely watch before paying a visit to the Big Apple. The truth is that fall is indeed the best time to visit NYC. Weather is moderate and mellow, city landscapes look stunning, and crowds are thinner compared to summer. Despite being an urbanized megalopolis, NYC boasts 300 mi (482 km) of trails and over 500,000 trees. Norway maples and red maples are especially scenic in the fall, revealing bold orange and red tones. Oaks, hickory, American sycamore, dogwood, and American beech add gold and bronze into the picture.
When is the best time to see fall foliage in New York
Even though it's hard to predict fall weather and each year is different, October is generally the best month to visit New York City for leaf-peeping. The leaves start to change color at the beginning of the month, but the peak time usually comes in the second half of October and lasts up to early November. By mid-November, many trees already lose their leaves.
Best places to see fall foliage in NYC
Central Park fall foliage
The list of NYC's top leaf-peeping destinations always starts with Central Park. With over 20,000 trees growing in over 840 ac (339 ha), it can hardly be surpassed by another urban oasis. The park's numerous hickories, birches, elms, and cherries look stunning from any angle. The best way to enjoy the landscape is to rent a boat and take a scenic ride. The most beautiful spots include the Pond and Hallett Nature Sanctuary, located on the south side of the park, the Pool, the North Woods, and the Ramble.
Fall foliage cruises from New York
Another great idea is to take a scenic fall foliage cruise on the Hudson River. Most of them depart from Pier 61. It's a great option during the colder days since you can stay indoors in the heated salon and have a glass of wine or a beer while enjoying some of the best views of the George Washington Bridge.
If you don't feel like getting on the water, simply walk along the Hudson River Greenway in lower Manhattan for beautiful skyline views framed by colorful trees. You can also rent a bicycle to enjoy the ride all the way to upper Manhattan, where more parks will amaze you with their fall colors.
In Upper Manhattan, you can discover Inwood Hill Park with plenty of hickories, and tulip trees, which provide a bright yellow color. The park's Blue Trail starts on Indian Road at the entrance and traverses the whole park.
Brooklyn
Brooklyn has no shortage of spectacular fall foliage spots. Check out the 526 ac (212 ha) Prospect Park that simply stuns with its fall color palette. The park's Camperdown elm, which grows near the Boathouse, is especially famous for its unusual shape. Small but cozy Owl's Head Park and Brooklyn Botanic Garden are known for old red oaks and maple trees.
Staten Island
Staten Island is a must-see in the fall! Head to Clove Lakes Park featuring a 300-year-old tulip tree that is 107 feet tall. Then, hike along the 3 mi (5 km) trail to see the best of this 200-acre park that features three lakes with waterfowls and a waterfall. Snug Harbor Garden and Greenbelt Nature Center are also worth exploring in the fall.
Bronx
Located in Northwest Bronx, Wave Hill is a famous park along the Hudson River that looks stunning in the fall. During October, guided leaf-peeping walks are held in the park, where you can learn about various trees and shrubs throughout the 28 ac (11 ha) public garden. Finally, Pelham Bay Park is New York's largest park, especially famous for its 400-year-old white oak tree located on the Split Rock Golf Course.
Almost every NYC borough has its secret spots to enjoy the beautiful change of seasons. With about 30,000 acres of parks, the city fully deserves its reputation as one of the best fall colors destinations in the US.
Find hotels and airbnbs near Fall Foliage (Map)