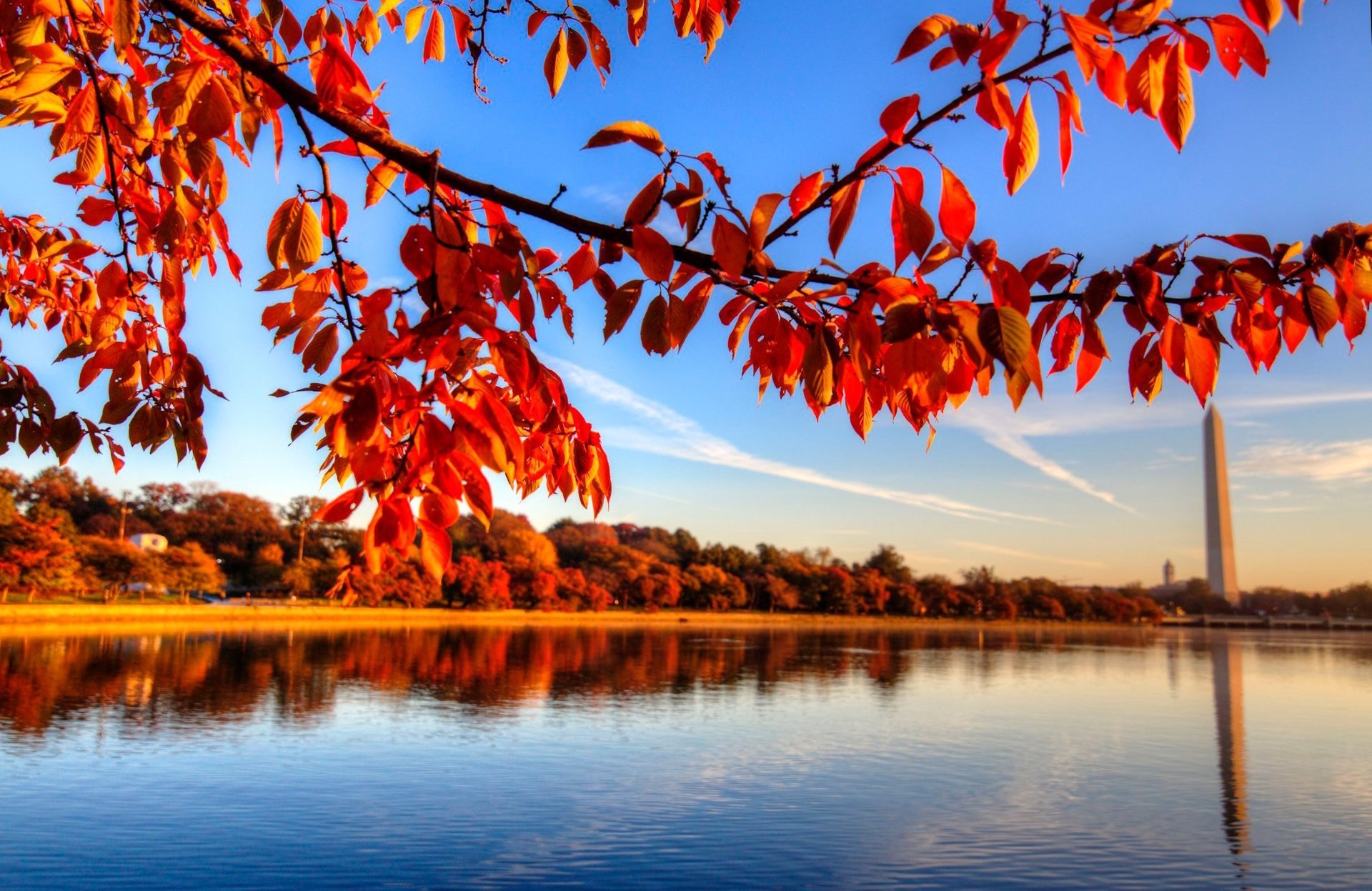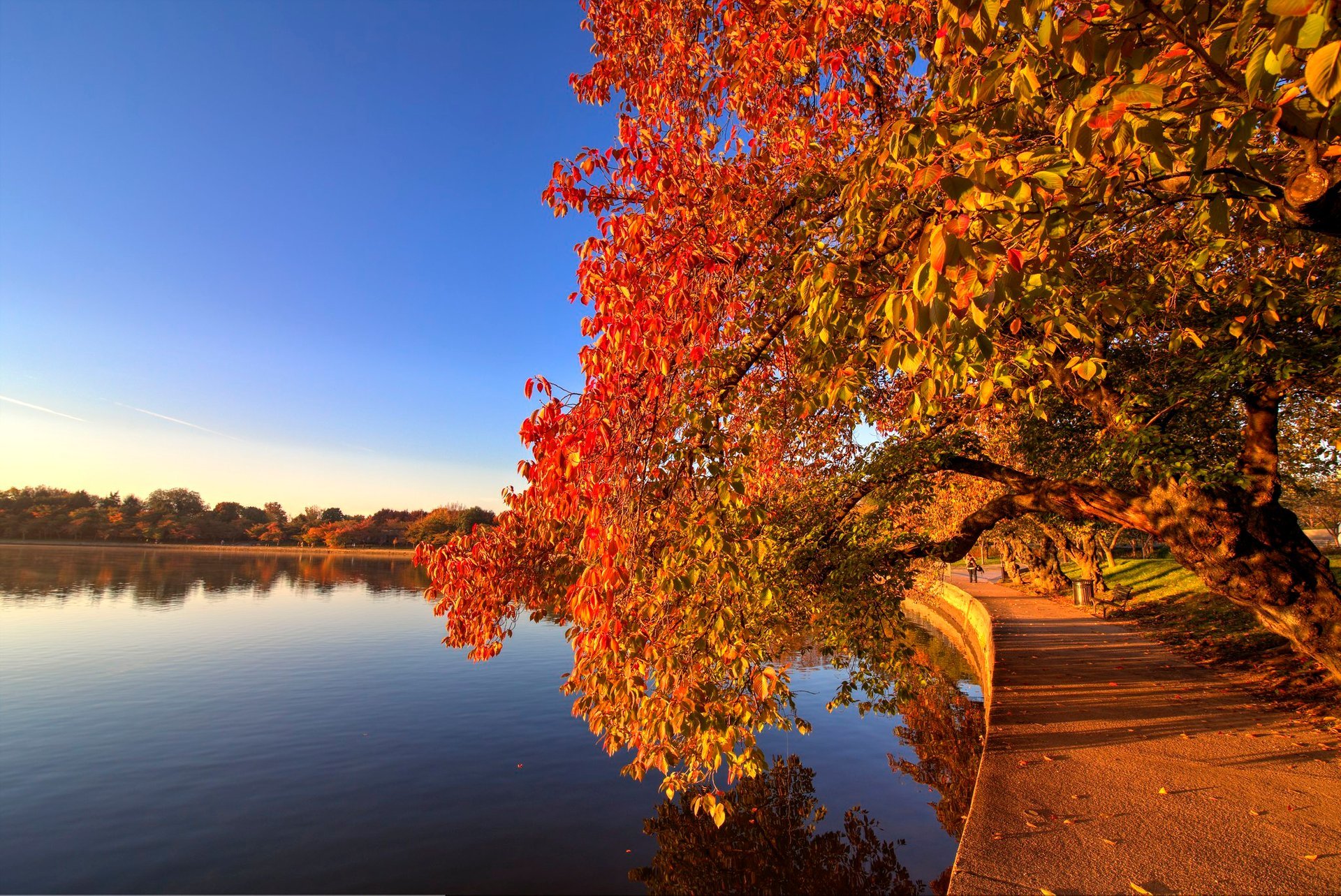 Tidal Basin fall cherries
Fall is exceptionally beautiful in the District of Columbia, Maryland, and Virginia. Leaves begin to turn red, orange, and yellow in the middle of October. The timing and intensity of color depend on temperature and rainfall. The fall colors peak in late October, but by the end of the month, the trees start losing leaves. In some areas like the Tidal Basin, fall foliage peaks in early November. When summer comes to an end, you can check local fall colors forecast, so you can plan your leaf peeping adventures accordingly.
Fall foliage in Washington, D.C.
If you happen to be in Washington, D.C. in fall, leaf peeping might be one of the best memories from the US capital. The iconic Tidal Basin is famous for spring cherry blossoms, but fall is an excellent time to visit as well. The canopy of cherry trees turns stunning orange and gold; and this place is not as crowded as in March. The National Arboretum, tucked away in Northeast DC, is a city oasis. The visual contrast of sandstone Corinthian columns and stunning leaves on surrounding trees make this living tree museum a prime spot to visit in Washington, D.C. in the fall months. Beautiful Georgetown boasts some stunning fall colors in October. You can go for a quiet walk in Oak Hill Cemetery or ride a bike along the Chesapeake and Ohio Canal Towpath, which runs for over 100 miles all the way from Georgetown to Cumberland, Maryland. The C & O Canal National Historical Park offers breathtaking vistas and a plethora of opportunities to bike, hike, boat, fish, and horseback ride along the towpath. When heading along the C & O Canal Towpath, pay a visit to the nearby Great Falls Park across the Potomac River, a favorite fall picnic spot for D.C. residents. Due to the autumn hurricane season, the falls are full of turbulent and formidable rainfall events.
Fall colors outside Washington, D.C.
If you have some time, visit some of the most popular fall foliage sites in the region. Virginia boasts several excellent leaf peeping spots. Shenandoah National Park is particularly charming in autumn as the colors are spectacular along the Skyline Drive Scenic Roadway. Over 500 miles of hiking trails and more than 70 scenic overlooks—what could be a better place for witnessing the beauty of the season? Go early, because traffic gets busy, especially on weekends. Consider coming midweek; on weekends, arrive before 10 am or after 4 pm. At its southern end, Skyline Drive Scenic Roadway meets the iconic Blue Ridge Parkway. This slow-paced drive reveals stunning distant vistas and close-up views of rugged mountainous terrain and peaceful landscapes of the Appalachian Highlands. These 469 mi (755 km) of natural beauty are worth the drive. The peak of fall colors in October depends on the elevation, so you might need to drive until you find the perfect spot. In the western corner of Virginia, you can explore hundreds of miles of scenic trails in George Washington & Jefferson National Forests. The area offers endless opportunities for recreation besides hiking: fishing, horseback riding, mountain biking, and lots of other activities.
Find hotels and airbnbs near Fall Foliage in and around Washington, D.C. (Map)