Sugar maple is the official tree of New York, and it's one of the reasons why the state looks so beautiful during the fall season. In addition to sugar maples that offer a rich palette varying from green to orange and red, there is Northern red oak, red maple, and sycamore adding bright red notes. Birch, oak, hickory, and tuliptree contribute with lovely yellow and bronze tones. From Long Island to Upstate New York, there are dozens of spectacular locations for leaf-peeping. The best time to enjoy the changing seasons is October. On higher elevations, like the Adirondack Mountains, the peak comes in early October. Catskills region experiences peak of color change in mid-October. While lower areas like central New York and New York City are worth visiting in late October.
Long Island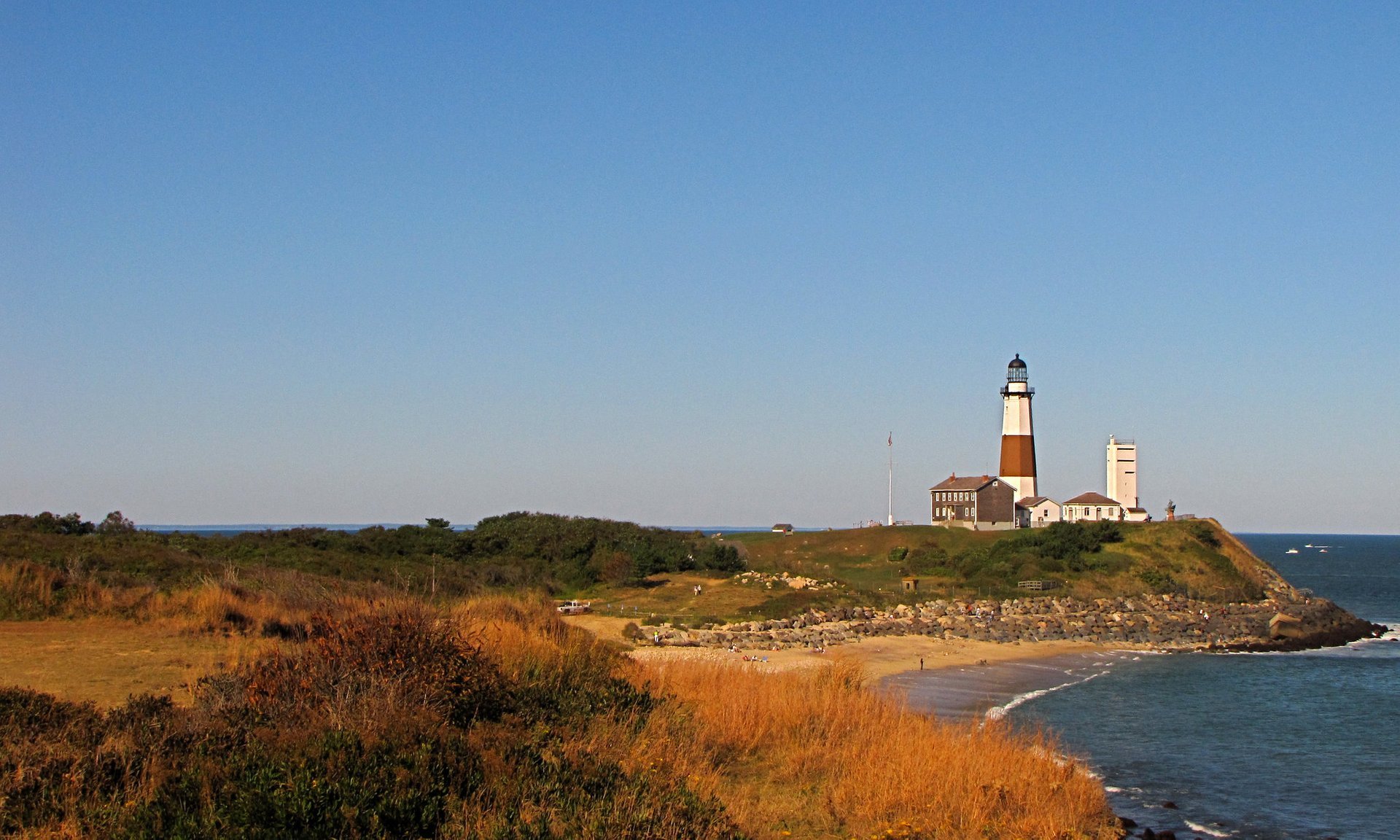 Long Island is a perfect destination for a leaf-peeping weekend. Head to its easternmost point, Montauk Point Lighthouse, to see a scenic landscape that includes the oldest lighthouse in the state. Another must-see stop is Planting Fields Arboretum, a huge park with woodland paths, lush gardens, and various marked plants. The park boasts golden larch, maples and dogwoods that look most beautiful in late October.
Where to stay There are many hotels on Long Island, ranging from luxurious to budget. Some of them are located right on the beaches. Montauk has a few lodging options as well. Prices for accommodation usually go down in October.
Hudson Valley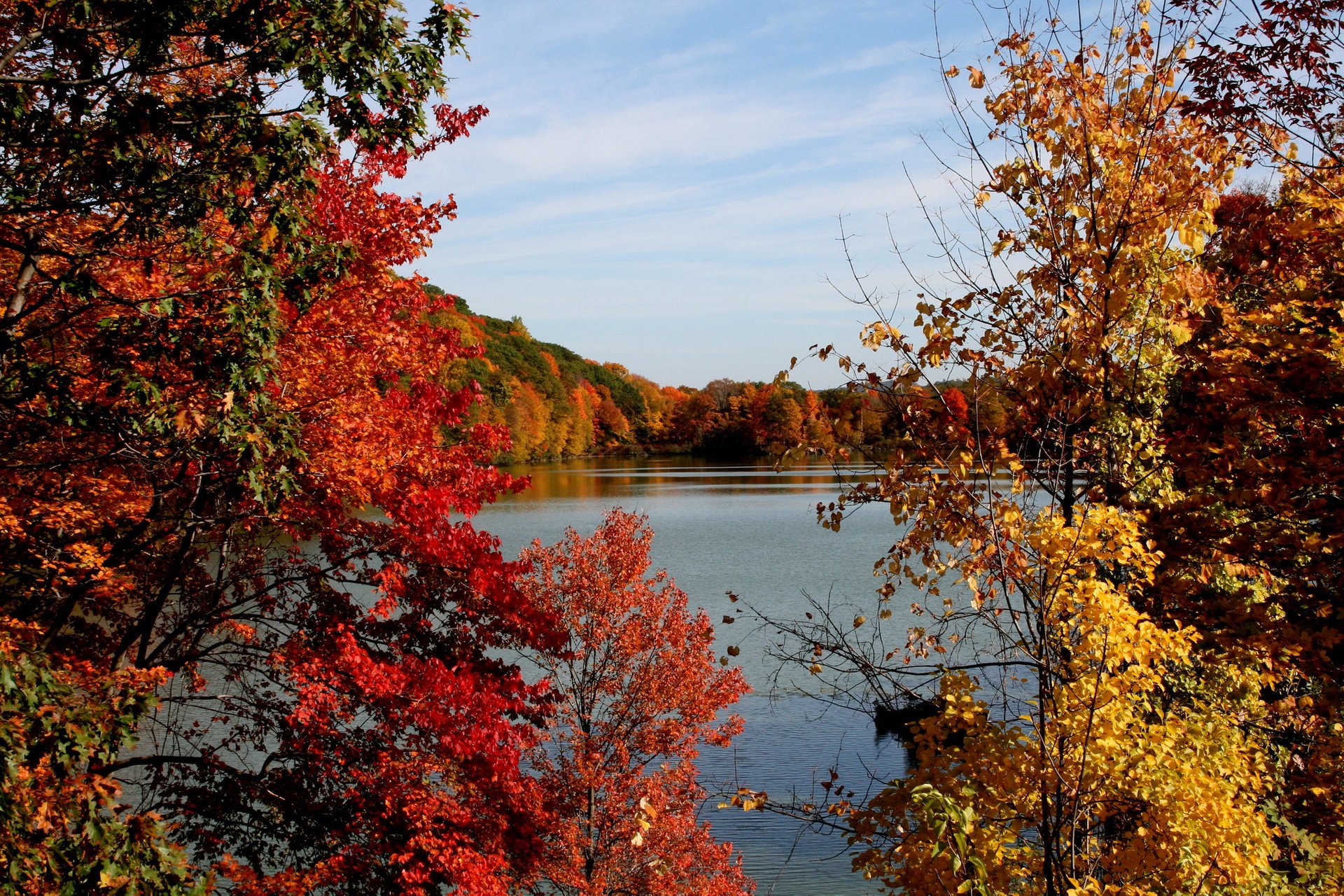 Upstate New York, and particularly Hudson Valley, offers an incredibly scenic foliage experience. You can start with the famous Walkway over the Hudson in Poughkeepsie and then move north towards Dutchess County. River Road in Rhinebeck, Poets' Walk Park, the campus of Bard College in Annandale-on-Hudson, and Tivoli Bays are some of the most scenic spots in the area. Take a ride on Route 9, Route 78, and Route 199 to enjoy the rural area dotted with farms and picturesque small towns.
Where to stayHudson Valley has many charming boutique hotels, bed and breakfasts, or farm lodging to choose from. Check the area around Poughkeepsie, Rhinebeck, or Tivoli.
Find hotels and airbnbs near Fall Foliage (Map)
The Catskills
The Catskill Mountains are most beautiful in the fall. Take a ski lift up the Hunter Mountain to see the area from above. Or you can hike to Hunter summit at elevation 4,040 ft (1,231 m). This 8-mi (12-km) hike ends with the Hunter Mountain Fire Tower and views stretching all the way to Massachusetts and Connecticut. There are dozens of other short trails in the area on moderate elevations. Take a ride on Catskill Mountain Railroad. Or opt for one of the easiest hikes – Kaaterskill Falls, 260 ft(80 m). The tallest waterfall in New York. looks the best when surrounded with golden foliage in mid-October.
Where to stay North/South Lake Campground is a great area to spend the night with access to all major trails. Kingston is the largest city near Catskills and it offers a wide choice of hotels. There are also lodging options near Hunter and Windham mountains.
Find hotels and airbnbs near Fall Foliage (Map)
The Adirondacks
The spectacular Adirondack Mountains is the number one hiking destination in New York with dozens of lakes, waterfalls, and high peaks, The 46 High Peaks of the Adirondacks, including Mount Marcy, suit perfectly for fall foliage viewing from above. If you are not ready for a long hike, take Cloudsplitter Gondola Ride to go up The Whiteface Mountain for spectacular 360-degree views. Another option is Adirondack Scenic Railroad which offers a spectacular foliage train ride every fall. Fall colors are reflecting beautifully in Adirondack Lakes, Lake George offers scenic foliage cruises and kayak rentals. Lake Placid, Saranac Lake, and Tupper Lake, which form the so-called Tri-Lakes region, are also famous for foliage views and scenic hiking trails.
Where to stay Lake George and Lake Placid have waterfront lodging ranging from luxurious hotels to budget inns. Adirondack Wilderness also has many campsites including beautiful island camping on the Saranac.
Find hotels and airbnbs near Fall Foliage (Map)
Saratoga Springs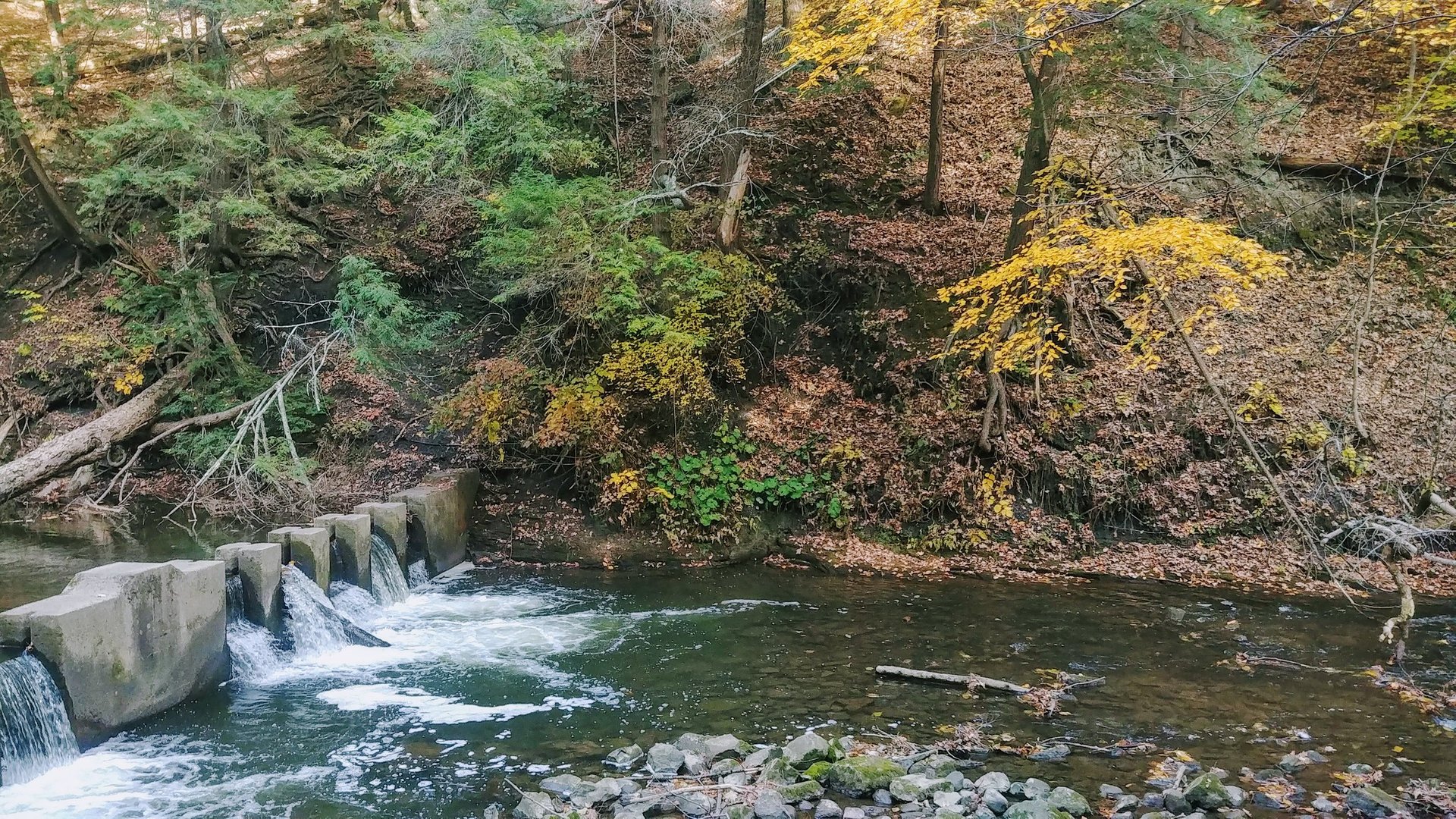 Saratoga Springs area, close to the state's capital Albany, also offers a few scenic foliage routes. John Boyd Thacher State Park in Voorheesville offers the panorama of the lowlands and 12 miles (20 km) of beautiful trails, including the Indian Ladder Trail. Another option is the historical Saratoga Monument that opens views of the Adirondack and Helderberg Mountains.
Where to stay Saratoga Springs has many large hotel chains, historical boutique hotels, and old-fashioned inns to choose from.
Find hotels and airbnbs near Fall Foliage (Map)
Finger Lakes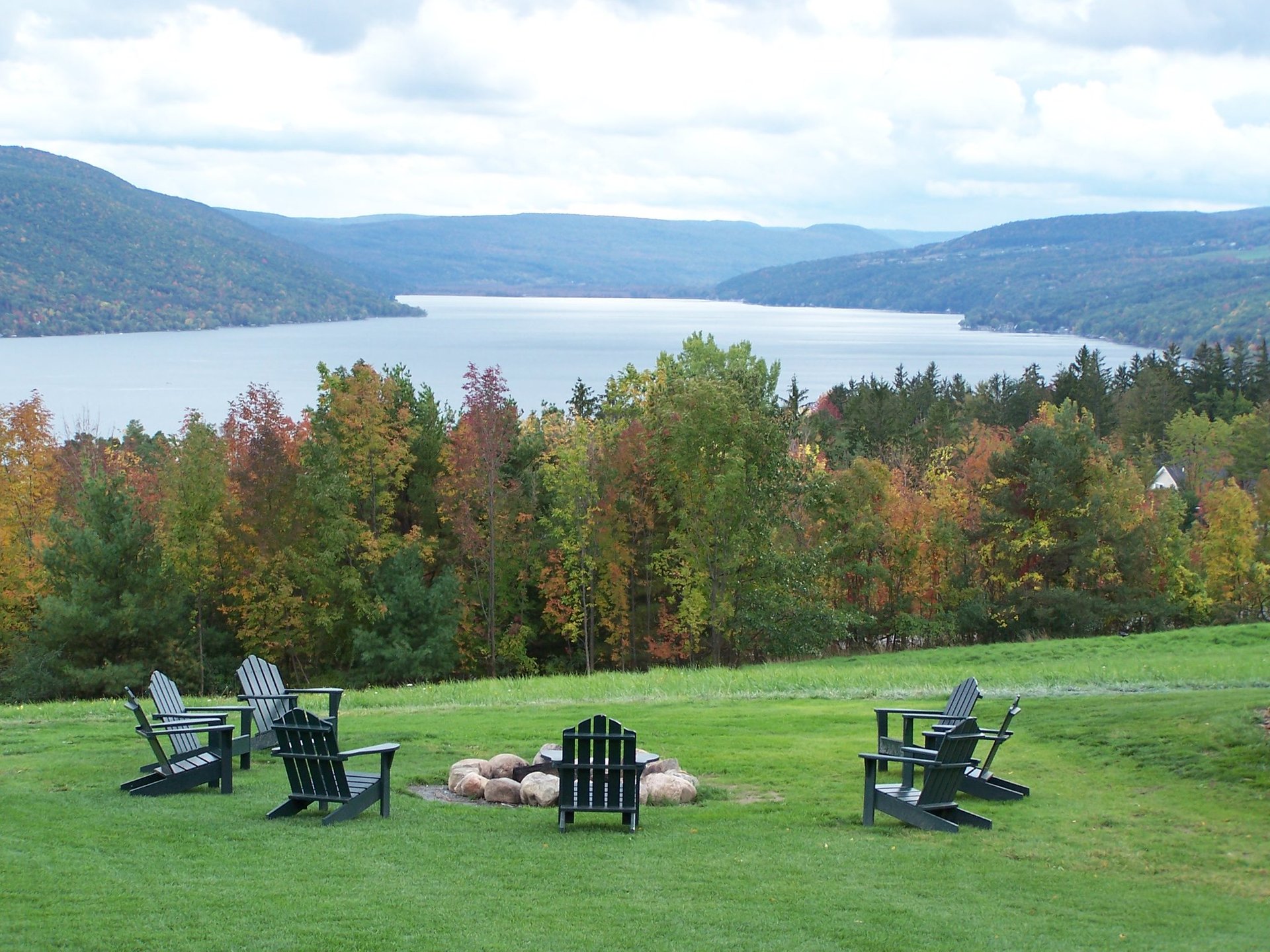 Finger Lakes area is another spectacular fall destination. You can choose between Canandaigua, Seneca, or Cayuga for your unforgettable leaf-peeping experience. All lakes offer postcard views with beautiful foliage reflections. The season lasts from late September through mid-October, with the peak time in early and mid-October. Use the chairlifts at Bristol Mountain Ski Resort near Rochester for special panoramic views. From there, take a drive to greater Niagara area for more breathtaking views.
Where to stay Choose a waterfront boutique hotel or bed and breakfast to enjoy non-stop fall foliage beauty all day long.
Find hotels and airbnbs near Fall Foliage (Map)
Fall Foliage Featured in