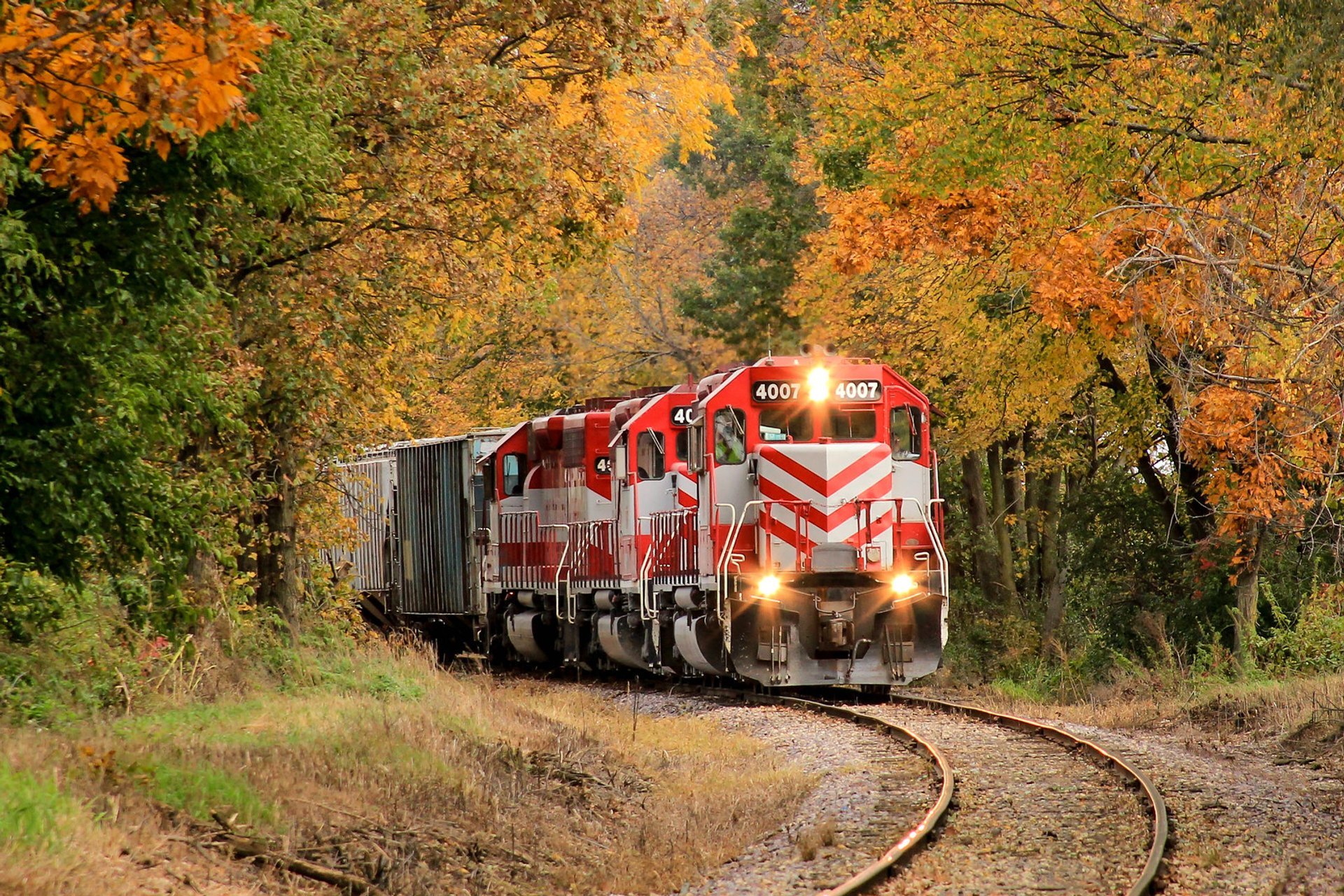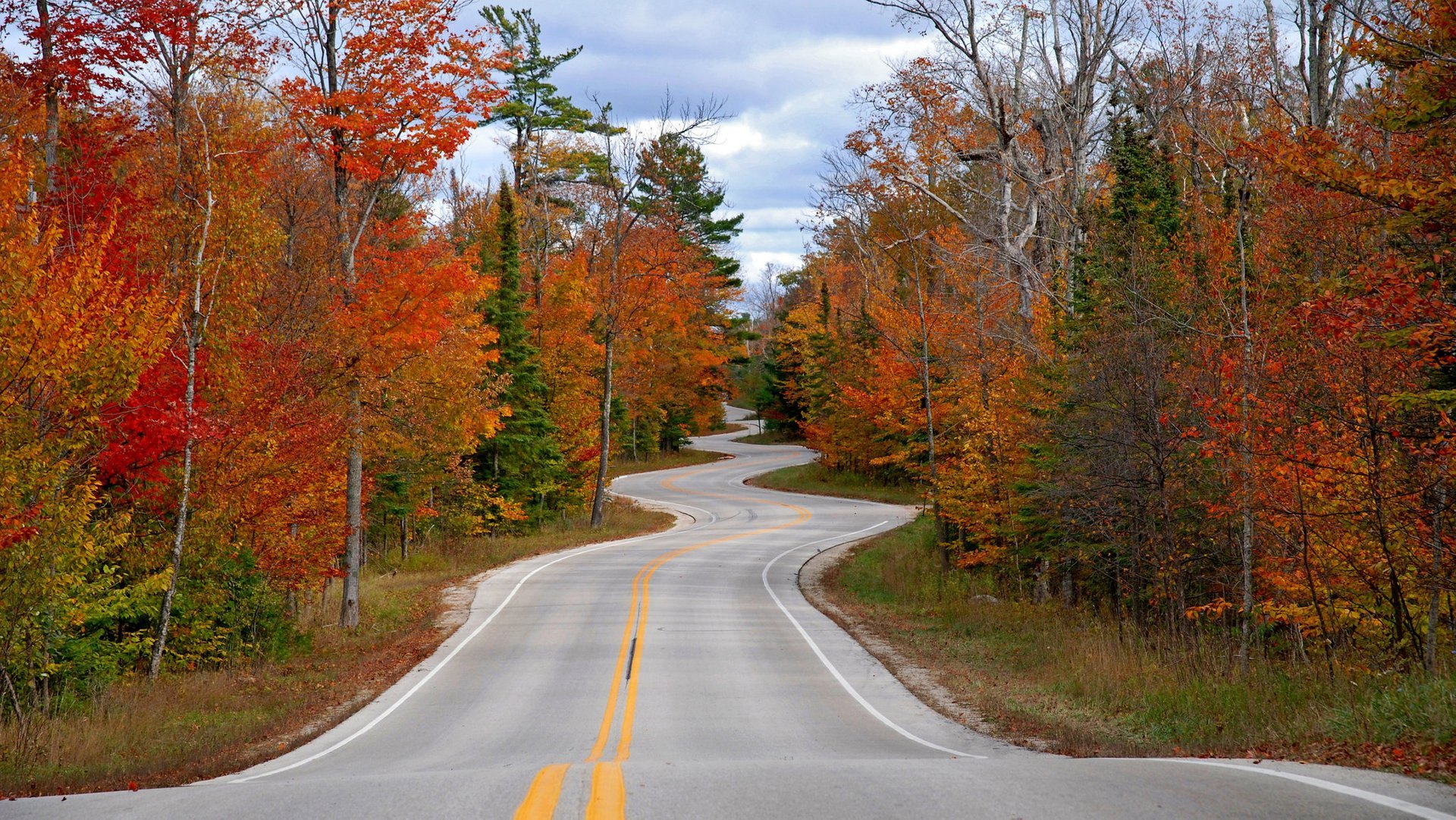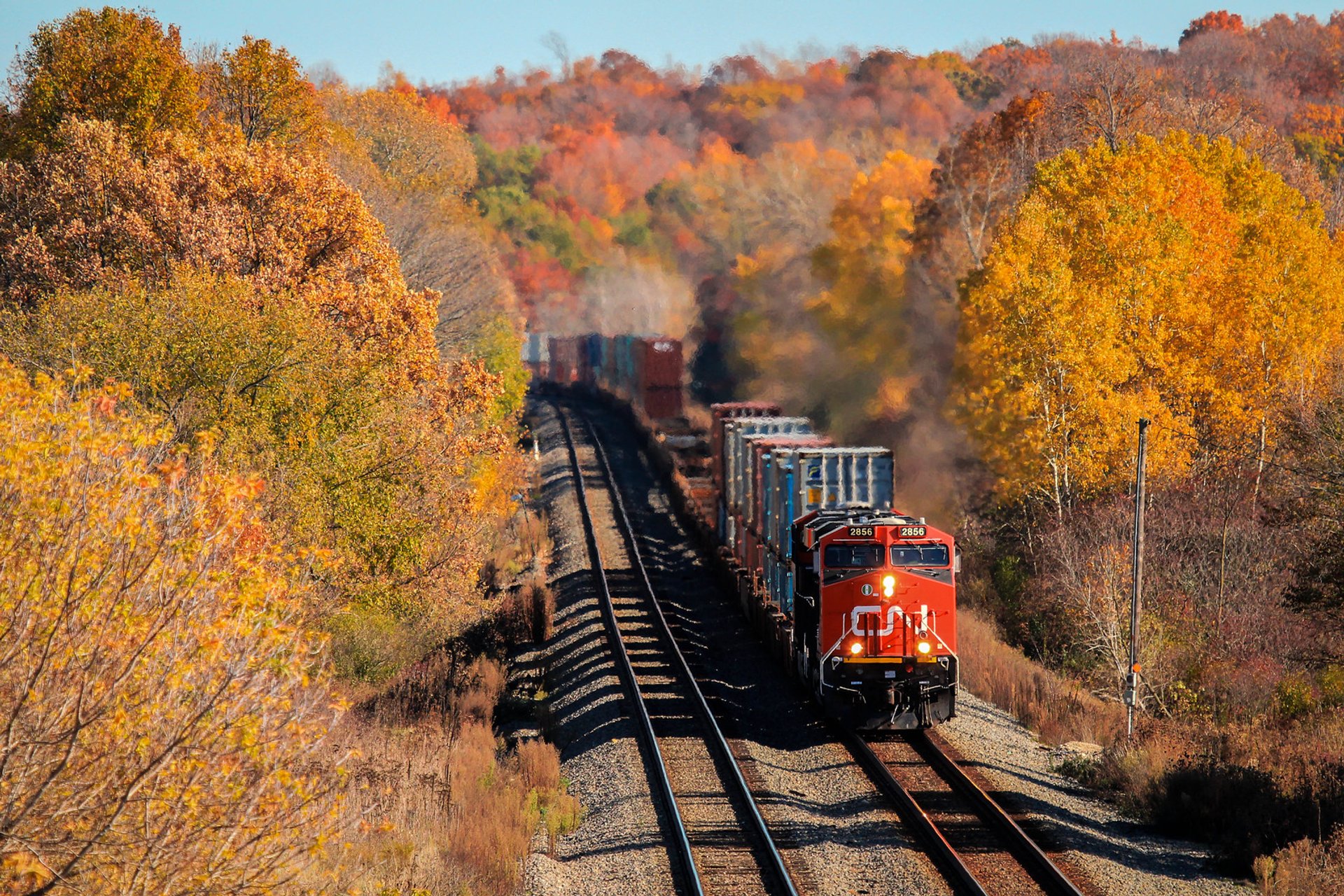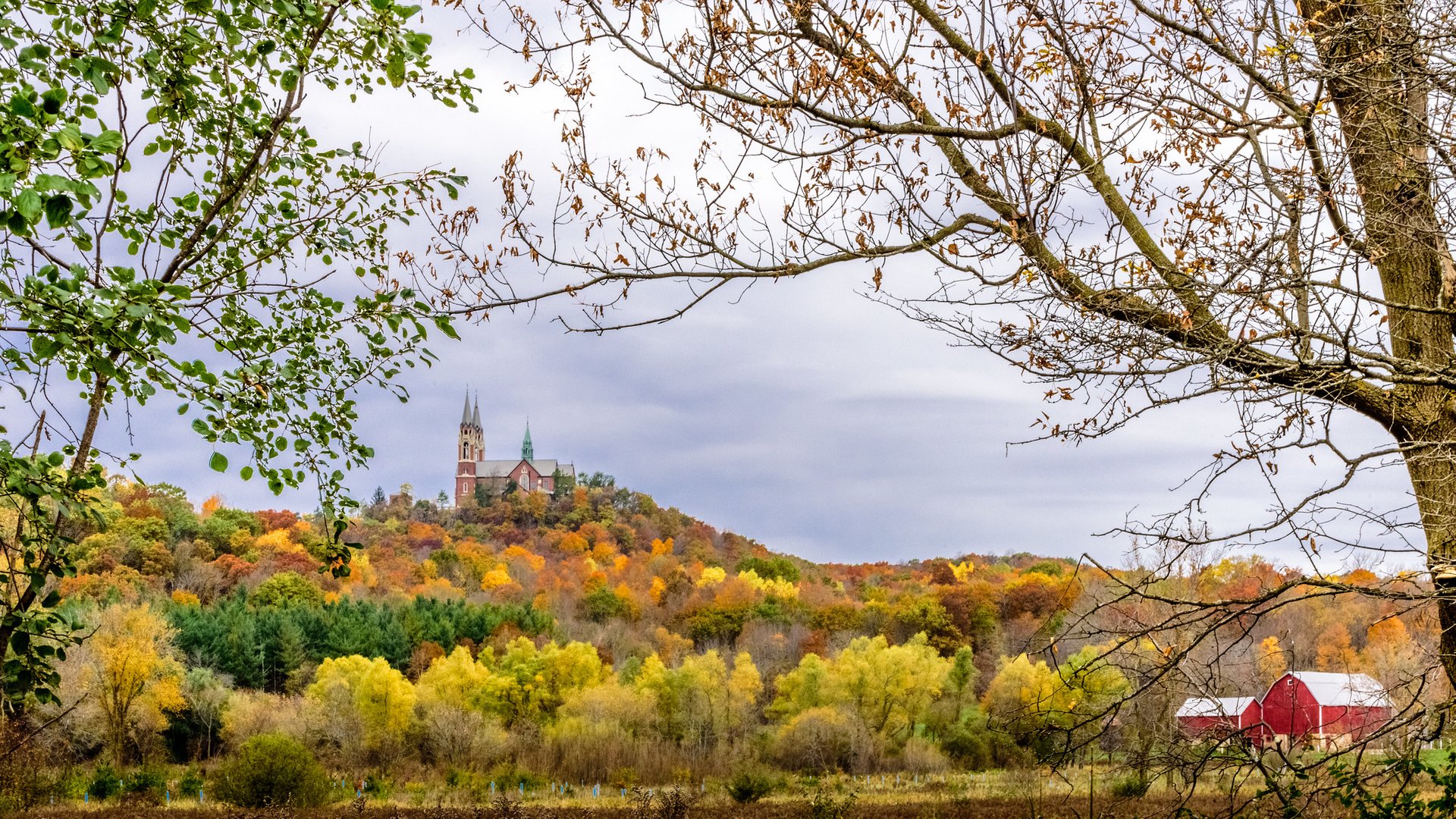 Wisconsin & Southern train T4 rolls into Milton, as the autumnal beauty of southern Wisconsin envelopes the truly classic General Motors locomotives.
See accommodations nearby
Wisconsin boasts countless state forests and parks with a wealth of fall color spotting opportunities. As many of the state's forests were created around watersheds, leaf peepers can also admire natural sights like rivers, streams, and lakes in the pristine environment. You can view fall colors from above at high-up places like Holy Hill and Timm's Hill or take a drive along the scenic coast of Lake Michigan. When planning your fall foliage tour in Wisconsin, you might want to check the fall colors map and forecast by Travel Wisconsin so see the best time and place for leaf-peeping in the Badger State.
Fall colors peak in different counties across the state at a different time. Usually, Mother Nature's fall display begins in mid-September in northern Wisconsin and then gradually works its way south. October is the prime time for vibrant hues of red, orange, and yellow in Wisconsin. Perfect timing allows you to have more meaningful fall trips, capture stunning photos, and enjoy the natural beauty of Wisconsin.
Door County Peninsula and Washington Island
Door County is proud to be one of the best fall foliage destinations of the Midwest and the whole of the US. You can start in Sturgeon Bay, the southernmost city in Door County. Drive Highway 42 northward along Green Bay until you reach Sister Bay and then Highway 57 southward down the Lake Michigan side of the peninsula. There are several state parks that might lure you off the highway: Peninsula State Park in Fish Creek, Newport State Park in Ellison Bay, and Whitefish Dunes State Park and Potawatomi State Park in Sturgeon Bay. While driving on a highway, enjoy the views of picturesque lighthouses and white-frame buildings alongside bursts of crimson, russet, and gold that form canopies over lanes. You'll find lots of things to do in the county's charming towns and apple orchards to pick-a-peck. Upon reaching the northern tip of the Door County peninsula, take a 20-minute ferry to scenic Washington Island, where you can climb up Mountain Park Lookout Tower at Mountain Wayside Park. For those who prefer running over driving, The Fall 50 is the best occasion to see fall colors in Door County. The Fall 50 is a (surprise-surprise!) 50-mile race taking place in October. This day-long adventure against the colorful backdrop of the county takes participants on scenic back roads with stunning fall foliage. The course starts in Gills Rock, at the northern tip of Door County, travels south along the western shoreline, passes through cozy villages and beautiful parks, and finishes in Sturgeon Bay. A festive afterparty in Sturgeon Bay's Sunset Park with DJ music, award ceremony, food, and drinks is free for the participants and $10–$20 for family and friends. Best time to see fall colors in Door County Fall colors start to envelop Door County in late September and peak around the second week of October, lingering into the third week of October in some years. Insider tip A beloved dinner tradition in Wisconsin—the fish boil—is still available in October across Door County. Check out Old Post Office Restaurant in Ephraim, where culinary experience is paired with the boiling "performance."
Kettle Moraine Scenic Drive
Kettle Moraine Scenic Drive runs for some 115 mi (185 km) from Whitewater Lake in the south to Elkhart Lake in the north using different local roads and county highways. This scenic drive traverses six Wisconsin counties and connects Southern and Northern units of Kettle Moraine State Forest. Kettle Moraine provides a glimpse of Wisconsin's geological landscape of the terminal moraine—the area where the last great glacier stopped about 12,000 years ago. The drive is easy to navigate as all the major turns are marked with white and green acorn signs. Otherwise, you can follow the Kettle Moraine Scenic Drive driving directions by Wisconsin Department of Natural Resources, with both south-north and north-south options. Kettle Moraine Scenic Drive offers spectacular panoramas, historic sites, and recreation areas. Along the route, you can find numerous places to hike, camp, picnic, fish, bike, shop, and find lodging. There are lots of leaf peeping opportunities, and Holy Hill is one of our favorites on the route. Holy Hill (Washington County) Holy Hill Basilica is a year-round scenic place in the Town of Erin some 34 mi (55 km) north of Milwaukee. After climbing up the hill, go up the bell tower (temporarily closed), one of the highest elevation spots of the region, for a birds-eye view of the colorful scenery of the Kettle Moraine Range. During regular periods of operation, the Church and Holy Hill grounds are open daily from 6 am to 7 pm (May 1–October 31) and 6 am to 5 pm (November 1–April 30). Best time to see fall colors along Kettle Moraine Scenic Drive Fall colors in southern Wisconsin usually peak in the third week of October. Colorful foliage is prevalent in this part of the state generally from early to late October. Insider tip Even though you can make the drive in one day, slow down and extend your visit. For the best fall color viewing experience, you can stay at one of the B&Bs near Kettle Moraine State Forest units.
Great River Road
The Great River Road ranks as one of the most scenic road-trip routes in the US, particularly during the fall months. The Great River Road is a combination of state and local roads that run across ten states. The drive follows the way of the Mississippi River from Wisconsin and Minnesota in the north to Louisiana in the south. On the western side of Wisconsin, the Upper Mississippi River Valley resembles a broad ribbon of water shouldered by sandstone bluffs with amber and rust trees along the course. This part of the Great River Road along the Mississippi River from Prescott in the north to Potosi in the south is known as Highway 35. The scenic drive of some 250 mi (400 km) takes visitors to a few dozen charming river towns and stunning bluff-top views. Along the way, you can stop by three Wisconsin state parks and several Wisconsin Historical Society sites. Other activities on the route are walleye and bass fishing and excellent birdwatching on the so-called "Mississippi Flyway." Scenic overlooks along the Wisconsin section of the Mississippi River are some of the best sites in North America for spotting bald eagles. Best time to see fall colors along Great River Road Fall colors along Great River Road usually peak early through mid-October. Insider tip Along the Great River Road route, stop by one of the observation platforms to watch river barges "locking through." Check out Lock and Dam No. 4 in Alma, No. 6 between Trempealeau, WI and Winona, MN, and No. 8 at Genoa.
Timm's Hill
Timm's Hill County Park close to Ogema is the highest natural point in Wisconsin—some 1,951 ft (595 m) above sea level. At the top of the hill, an observation tower reaches into the sky an additional 60 ft (18 m) and provides outstanding views of Price County forest with its vivid fall colors and several nearby lakes. The base of the tower is a short uphill hike from a parking lot. The park offers lots of other activities besides leaf peeping: boating, fishing, hiking, and picnicking. The gate for vehicles at Timm's Hill County Park is open from 7:30 am to 9:30 pm from May to October. Walk-in access is allowed only November through April. Best time to see fall colors at Timm's Hill County Park Timm's Hill County Park usually sees the peak fall colors in late September. Double-check the Wisconsin fall color report (see "External Resources" at the bottom of the page) for the updates to plan accordingly. Insider tip Make a stop at Bass Lake dock to capture the beauty of forest reflections in the lake waters.
Where to stay
Door County is one of Wisconsin's premier fall foliage destinations; thus, quality lodging, restaurants, and lots of attractions are always close at hand. Kettle Moraine Scenic Drive offers lots of B&Bs near Kettle Moraine State Forest units. When driving Great River Road, stay at one of the historic hotels, B&Bs, or even a farm. The cozy town of Trempealeau, located more or less in the middle of the 250-mile route, is an excellent overnight choice. You can opt for a stay in a room at the Trempealeau Hotel, a lodging property on the National Register of Historic Places. Timm's Hill County Park has cozy wooden cabins at the foot of the hill. These chalets can be booked via phone. Otherwise, there are several inns and guesthouses within a short driving distance to Timm's Hill. The map below depicts all the above-mentioned locations, so you can zoom in and out and book a room as close as possible to your fall color viewing spot.