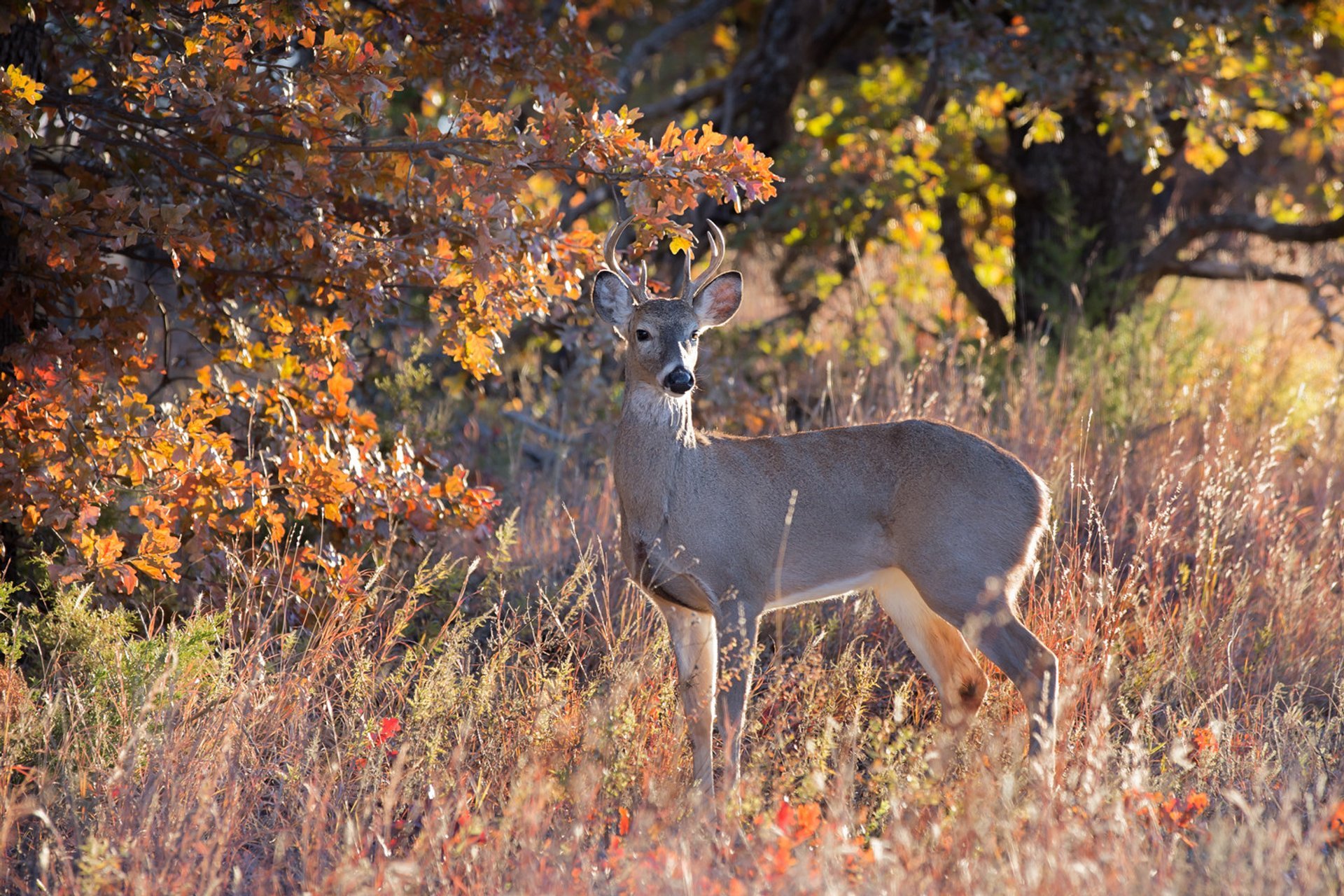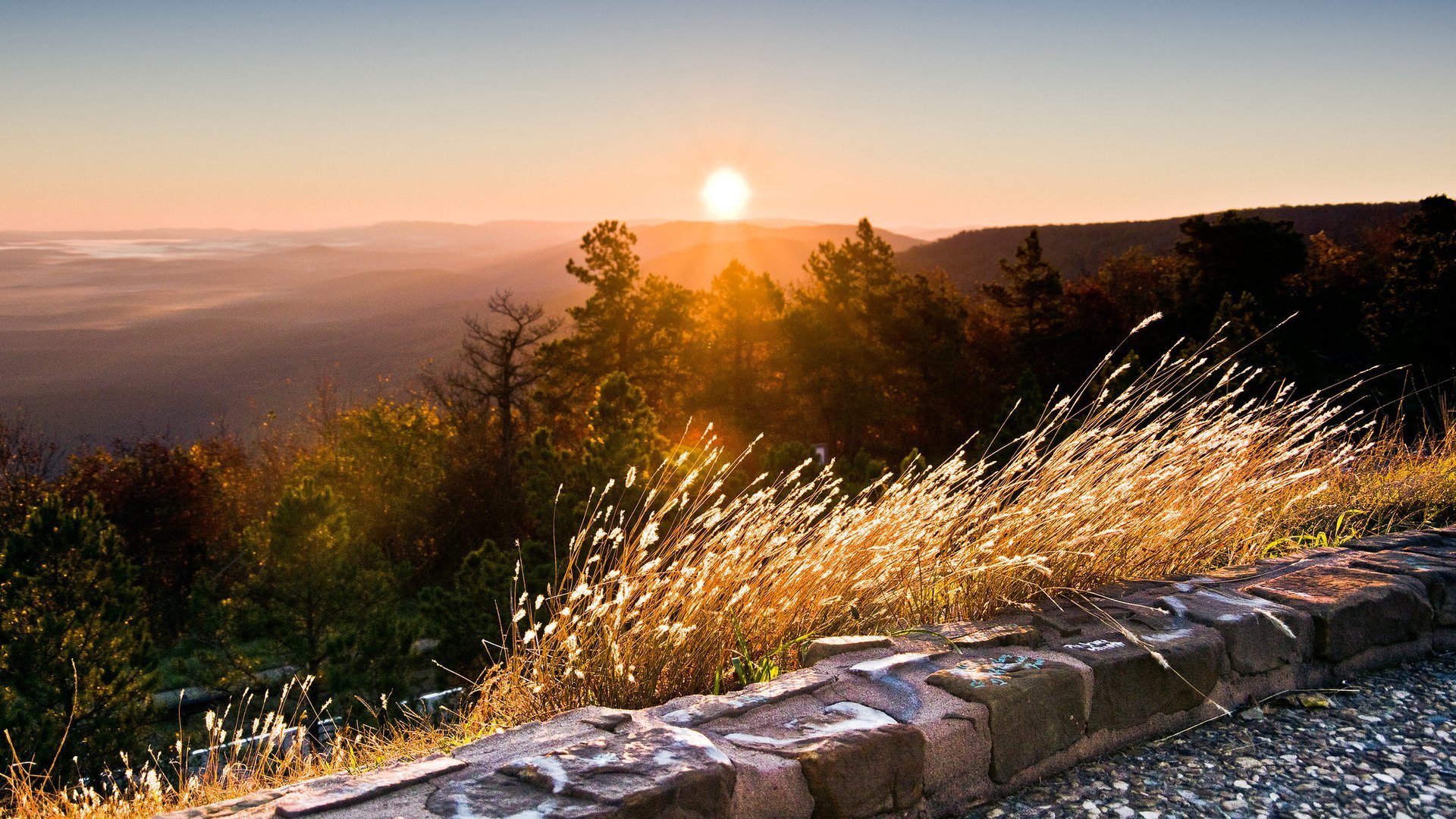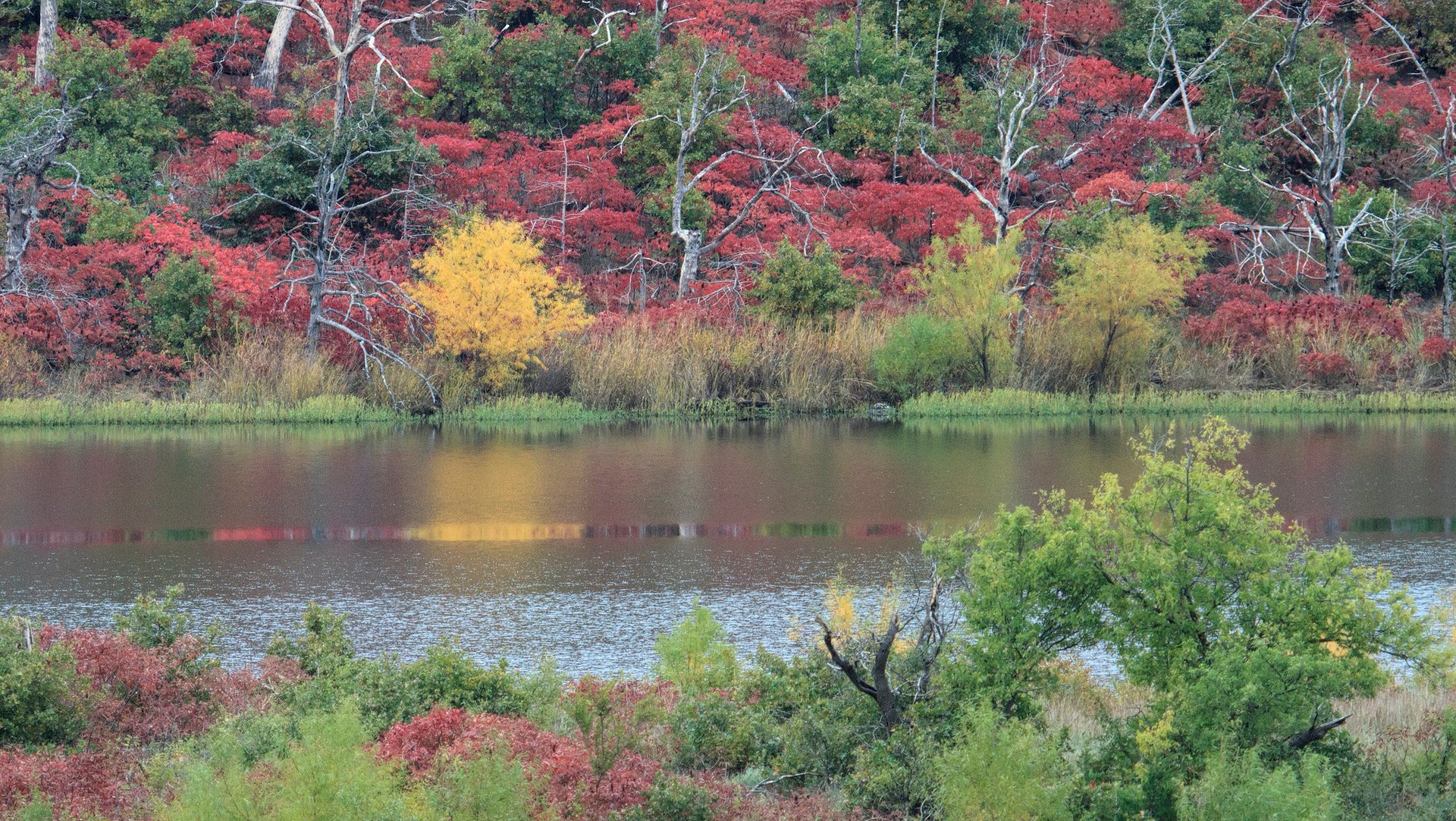 Young white-tailed deer in Wichita Mountains Wildlife Refuge, SW Oklahoma
Every fall Oklahoma is dressed in warm golden hues creating stunning displays along its scenic trails and byways. From the Ouachita mountains in the east to the Wichita Mountains in the south, there are dozens of stunning destinations for a leaf peeper. The season of fall foliage in Oklahoma lasts from October to early November.
Eastern Oklahoma
The eastern part of Oklahoma, which borders Arkansas, is undoubtedly the premier fall destination of the region. Take a ride on 54-mi (86-km) Talimena Scenic Drive that stretches across the Ouachita Mountains. Visit the Winding Stair Mountain Recreational Area with numerous trails, campsites, and historical towns. Foliage season peaks in Ouachita National Forest in mid-October and early November with a beautiful display of yellow, orange, and red colors. Robbers Cave State Park is another scenic leaf peeping location along the Arkansas border. The Sans Bois Mountain Range, part of the larger Ouachita chain, provides stunning vistas with picturesque cliffs and creeks. Don't forget to visit the famous Robbers Cave, where Jesse James and Belle Starr would hide from authorities. The last stop on the scenic drive in southeast Oklahoma is Beavers Bend State Park where a mix of pine trees, maples, and oaks create beautiful displays.
Southern and Central Oklahoma
As you move away from the border of Arkansas, there are a few beautiful parks worth visiting. Chickasaw National Recreational Area is famous for its stunning fall foliage. The park has hiking and biking trails as well as camping options. Check out the Lake of the Arbuckles that is a popular destination for anglers, birders, and nature photographers. Wichita Mountains Wildlife Refuge is one of the most popular hiking destinations in Oklahoma. With its vast prairies and abundant wildlife, the park offers great opportunities to any nature enthusiast. The park is home to American bison, Rocky Mountain elk, and white-tailed deer. Every November, the park conducts special 'Fall Foliage Walks' for leaf peepers. Lake Murray State Park surrounds a huge lake near Ardmore, in central Oklahoma. It is the largest state park within the state, containing over 12,500 acres (5,058 ha) of wilderness. Take a walk along the vast shoreline of Lake Murray and enjoy postcard fall views.
Northern Oklahoma
Osage Hills State Park is the best leaf peeping spot near Pawhuska, in northeastern Oklahoma. The park is most beautiful in late October and early November. The area is home to wild turkey and white-tailed deer. Osage Hills State Park, which was once a settlement site of the Osage nation, offers a gateway to the past.
Where to stay
Most state parks in Oklahoma have camping areas and lodging. Robbers Cave State Park offers beautiful vistas at Belle Starr View Lodge. These natural areas also feature various cabins.
Find hotels and airbnbs near Oklahoma Fall Foliage (Map)