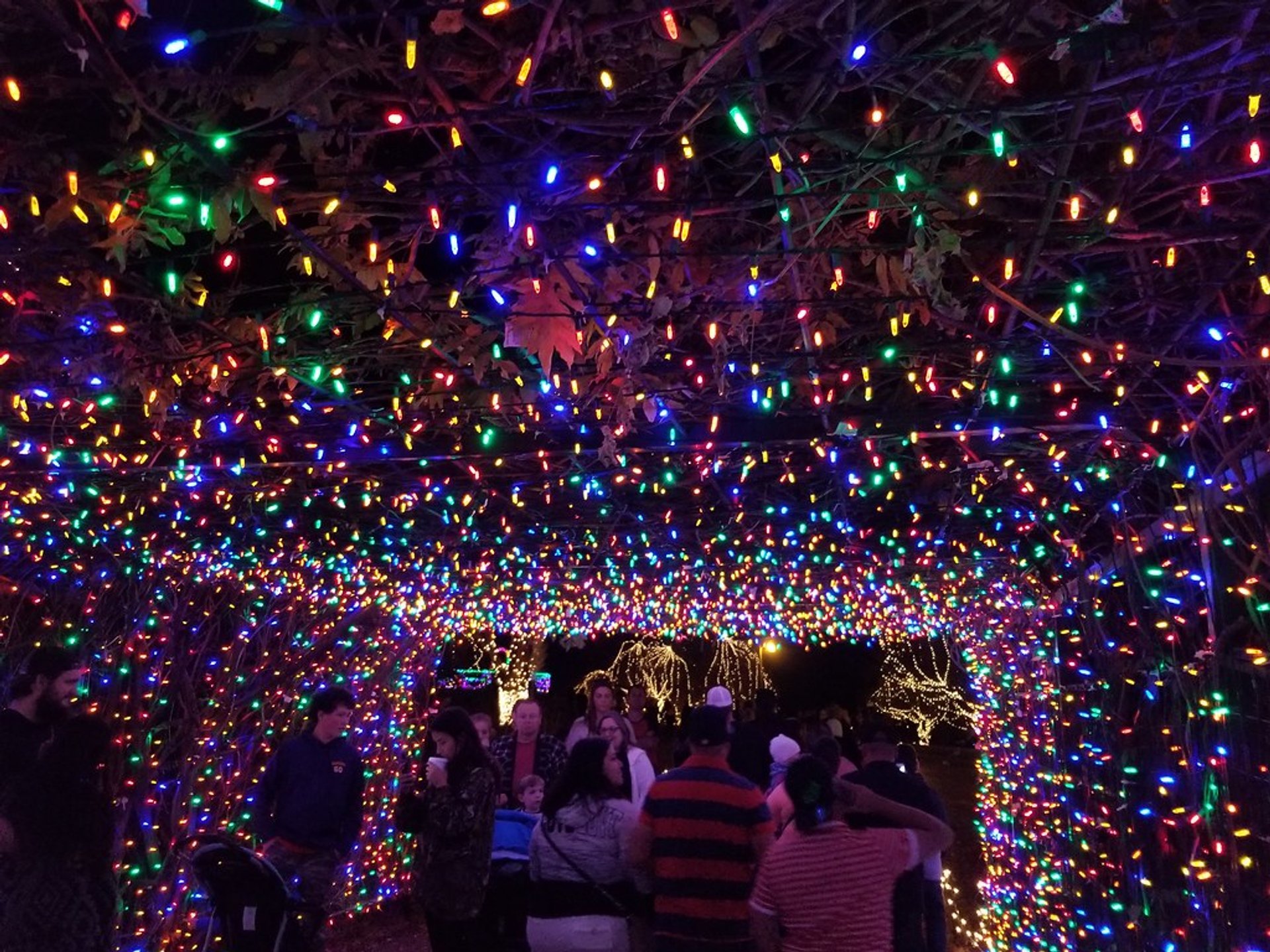 Show accomodations nearby
Oklahoma natives strongly believe that light displays are one of the best ways to get into the Christmas spirit. The state features some of the largest light installations in the country. So take your family and friends and immerse yourself in the magic of Christmas. Hot cocoa, Santa Claus and lots of fun activities will keep everyone warm and happy!
Downtown in December Oklahoma City (November 8, 2019–January 11, 2020)
Beat this winter gloom at Downtown in December with holiday celebration in the heart of Oklahoma City. Plenty of winter fun activities will keep you entertained—ice skating, free holiday light festival, Santa visits, and many other activities. There is a festive holiday run, free water taxi excursions, performances and shows, holiday shopping, and parties. Check out the fantastic Bricktown Canal Lights display or cruise down Automobile Alley with stunning Lights in Broadway show while dining and shopping along downtown Oklahoma entertainment district. Most events and displays are free to the public.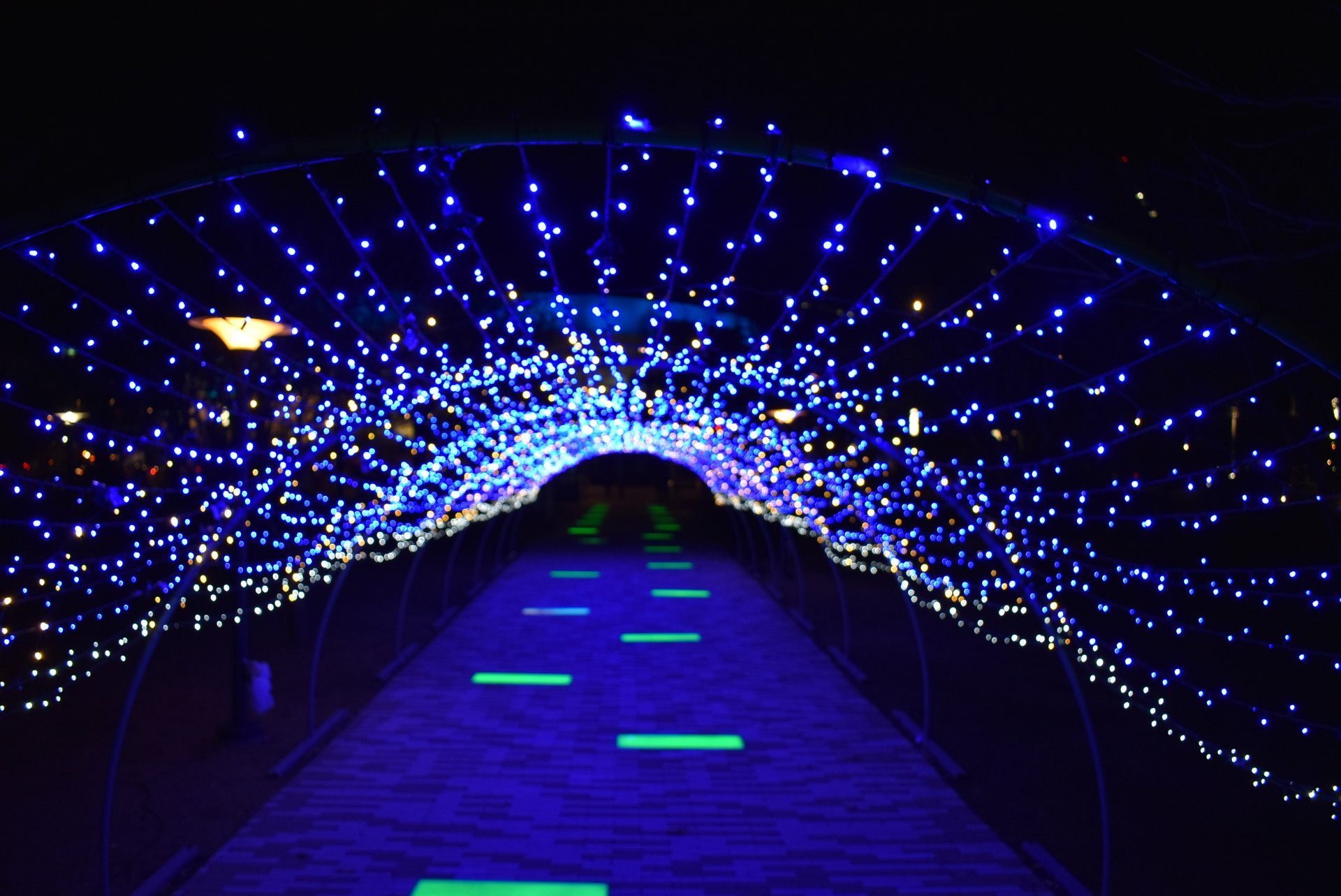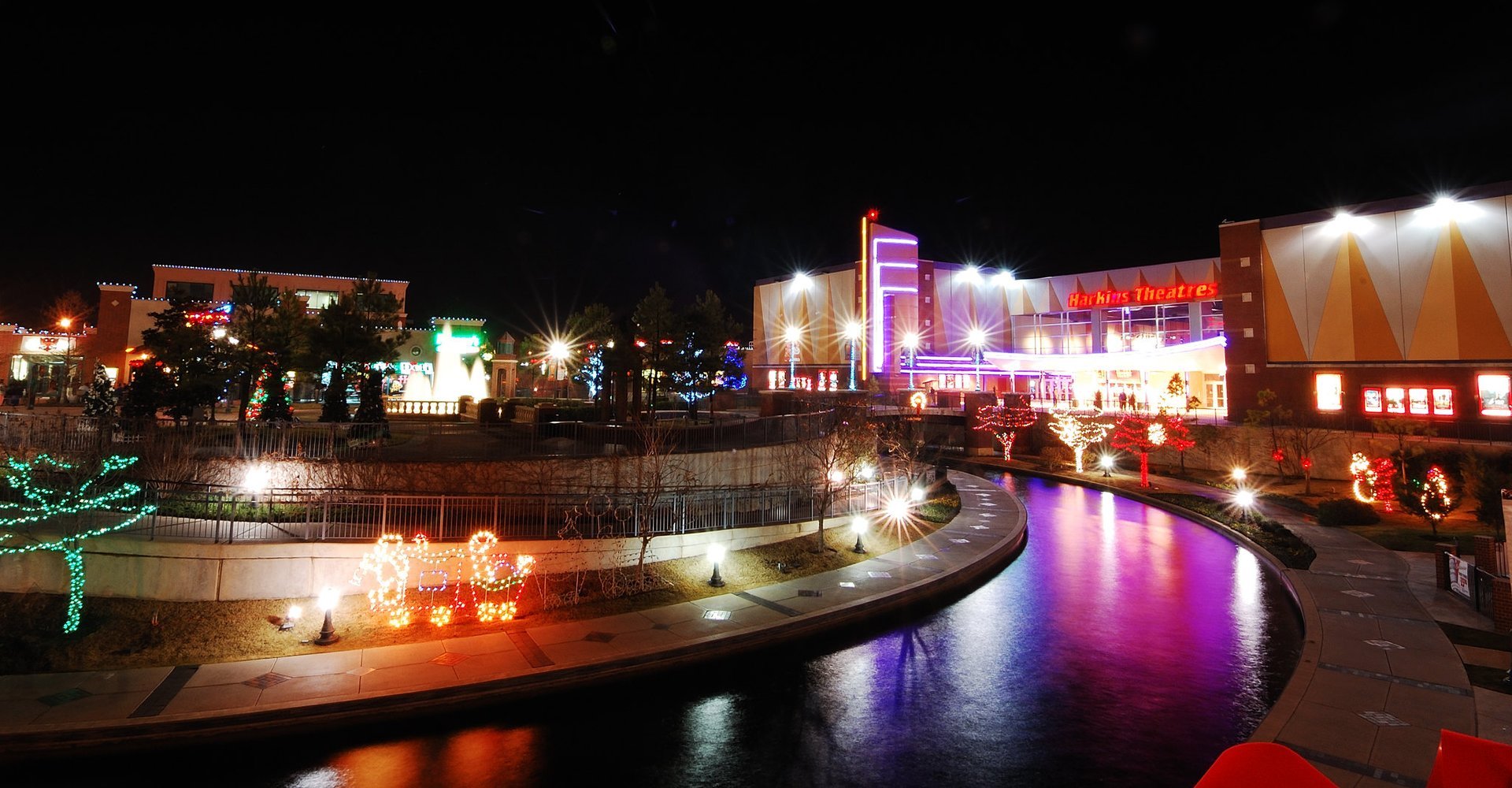 Yukon's Christmas in the Park (November 23–December 31, 2019)
There is no better holiday destination in Yukon than spectacular Christmas in the Park, about 30-minute drive from Oklahoma City. Every night during the holiday season the park turns into a magical wonderland of visual entertainment. Drive through about three miles of illuminated light displays in three inter-connected city parks—Yukon City Park, Freedom Trail, and Chisholm Trail Park. They feature over 4.5 million twinkling lights and about 500 unique light displays. Visitors can also walk through light displays or ride the Santa Express Train. There are many selfie stations throughout the parks, which are also perfect backdrops for family photos. Kids would definitely like Gingerbread Family Photo Cutouts and the singing Christmas tree. Also, you can't miss the 9-m (30-ft) main Christmas Tree, which features animations and dancing lights, synchronised Christmas tunes, a majestic unicorn and juggling dragon.

Midwest City's Holiday Lights Spectacular (November 22–December 25, 2019)
Holiday Lights Spectacular in the heart of the Joe B. Barnes Regional Park in Midwest City is the largest animated lights display in a five-state region. It features more than 100 animated light displays along the 2,5-km (1.5-mi) drive. Over one million lights and the fantastic 36-m (118- foot) Christmas tree lit up with over 9,000 LED blights are the main attractions of the show. Also, check out the tunnel of lights and watch Santa fly fishing in a 4.5-m (15 foot) waterfall, and elves in the candy factory. Dancing lights are synchronized to all-time favorite Christmas classics. On Friday, November 22, the lights will officially open for vehicles at 6 p.m.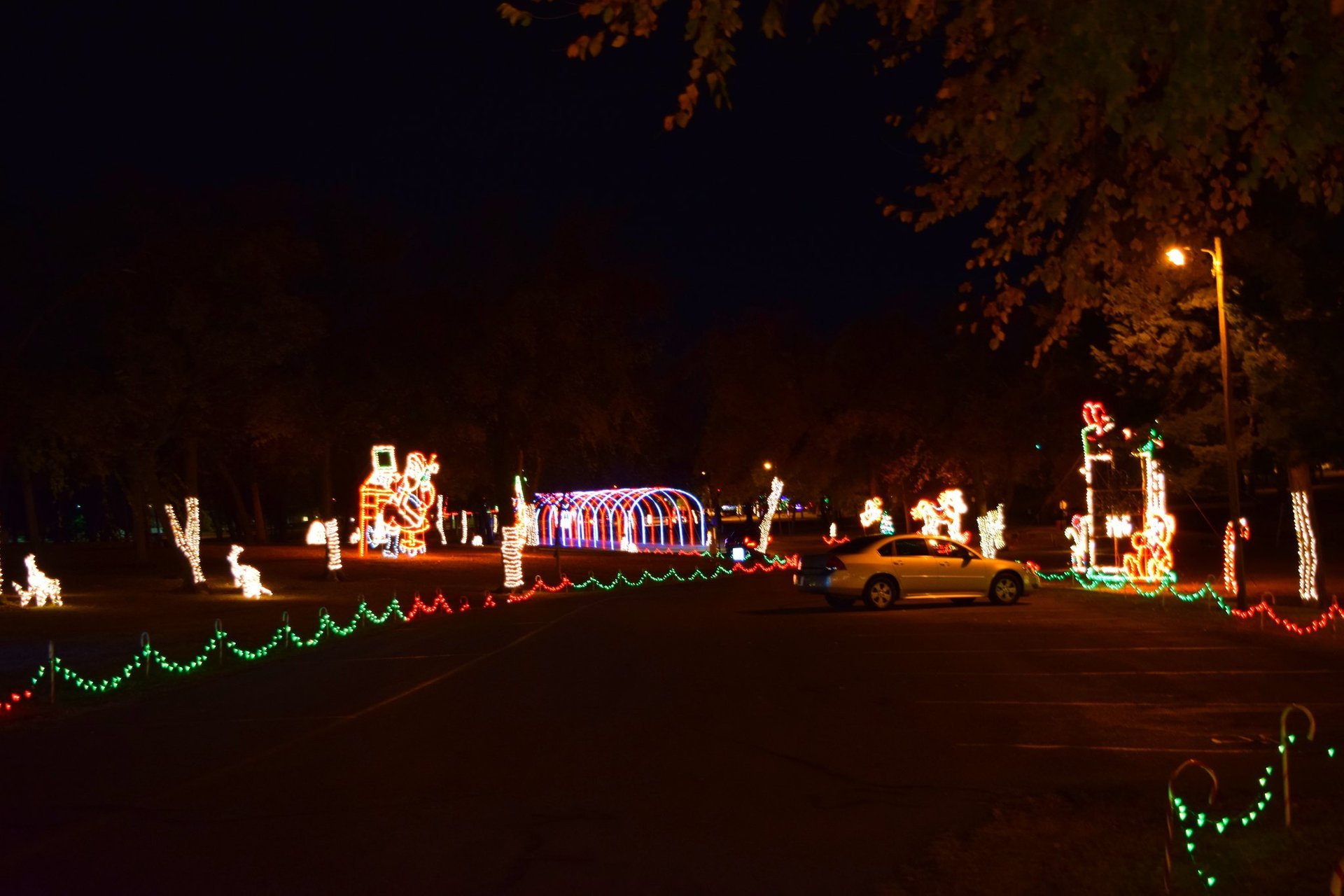 Rhema Christmas Lights, Broken Arrow (November 27, 2019–January 1, 2020)
Rhema Christmas Lights in Broken Arrow, Oklahoma, is a spectacular display of twinkling lights and some favorite holiday attractions for local families. It began with 60,000 lights in 1982 and has grown to more than two million lights decorating the campus of Rhema Bible College throughout the holiday season. Running from 5:30 to 11:30 p.m., the seasonal display typically attracts more than 200,000 visitors from all over Oklahoma and Midwest. Check out 7-m (22-ft) Christmas Tree, surrounded by smaller illuminated trees. The colorful Rhema Park bridge is a perfect backdrop for a family picture.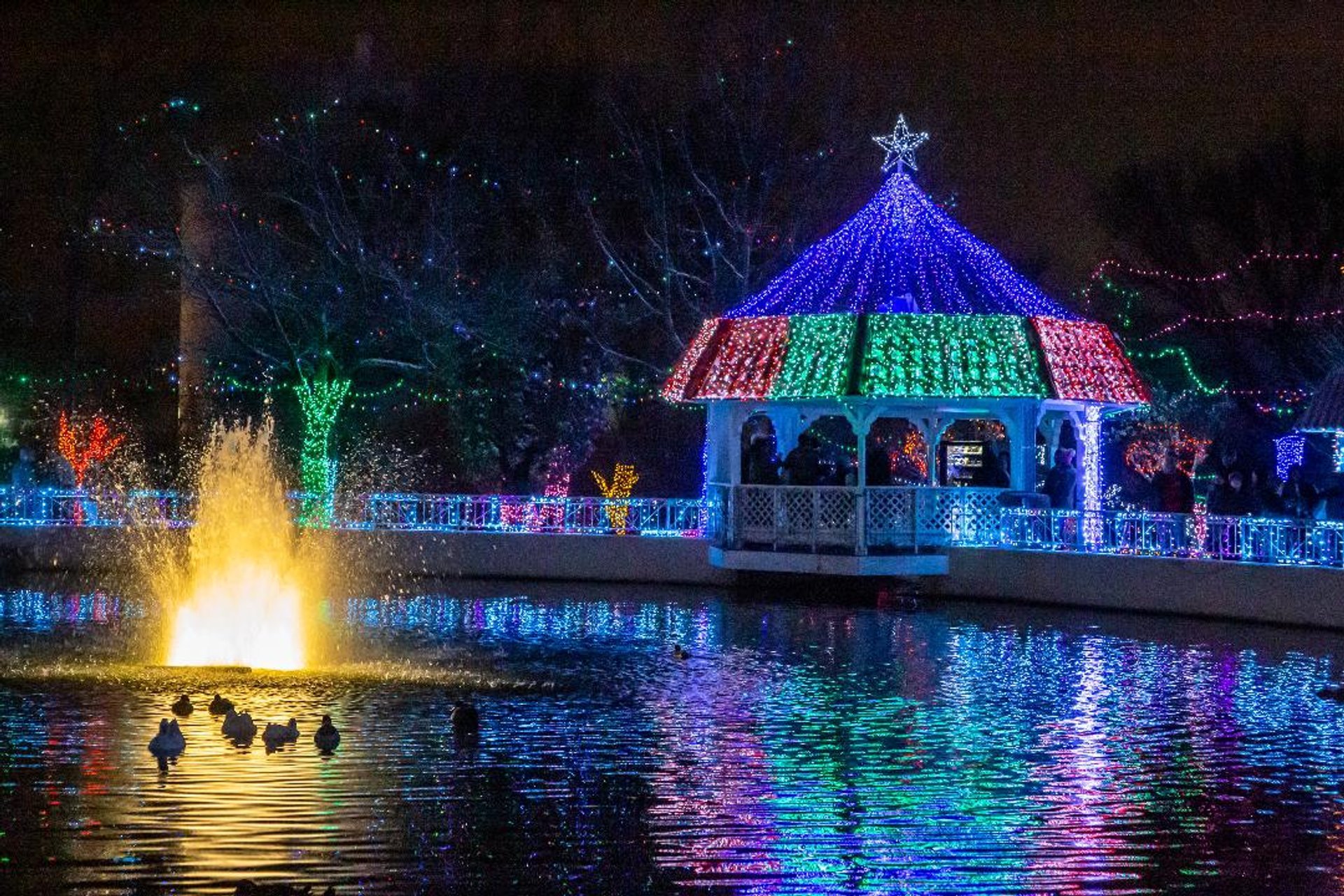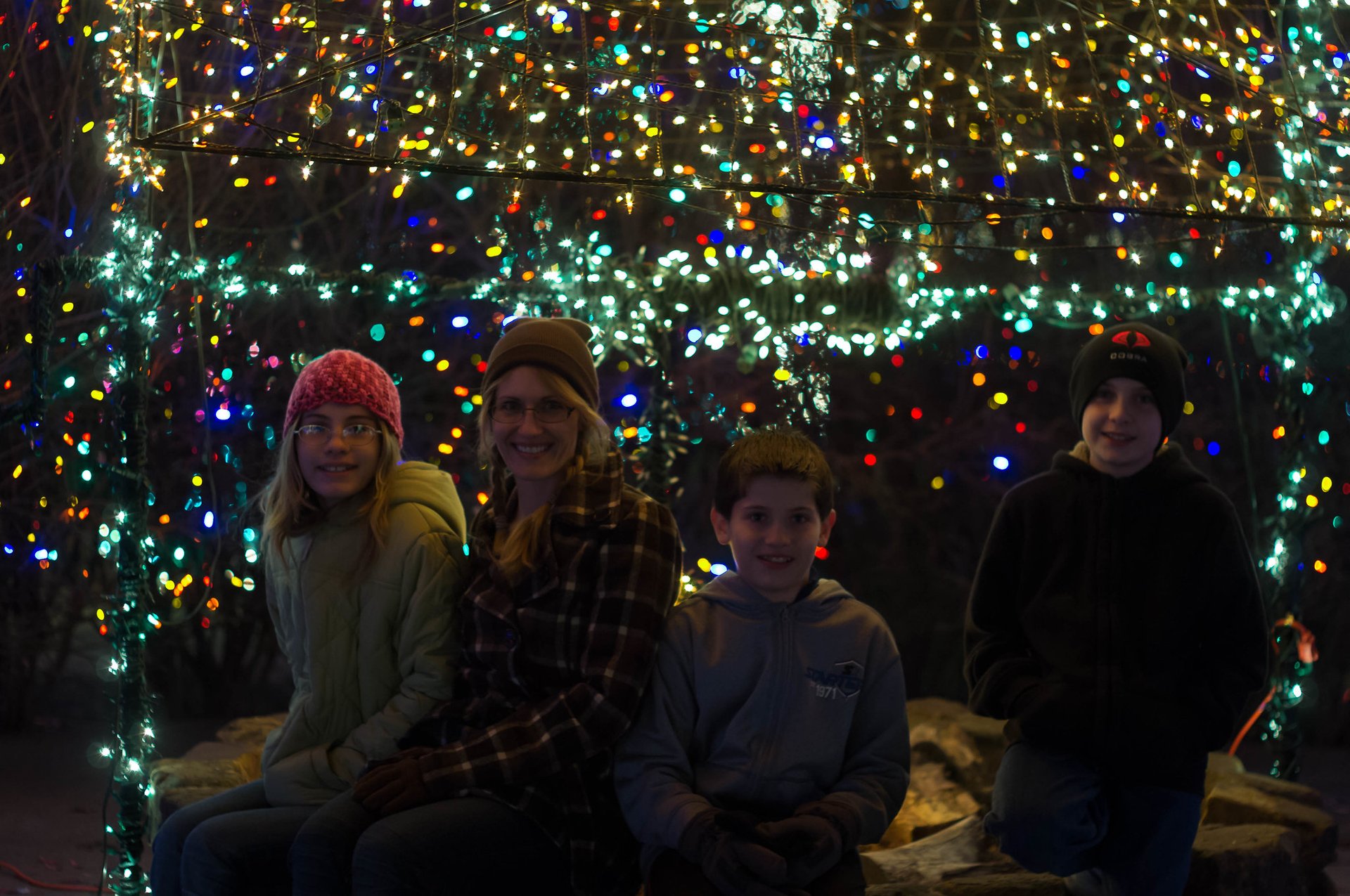 Chickasha Festival of Light, Shannon Springs Park (November 23–December 31, 2019)
One of the largest in the Midwest, Chickasha Festival of Light features over 3.5 million lights. A stunning drive-through light display is located in Shannon Springs Park in Chickasha, featuring more than 100 light installations and scenes. A computer-animated light show synchronized with holiday music is definitely going to make an impression. You can't miss the large 172-ft Christmas tree visible for miles around the town. The park also has a Ferris wheel, a live nativity scene, many food trucks, a holiday gift shop, a carriage, and even camel rides. Santa residence is open for kids.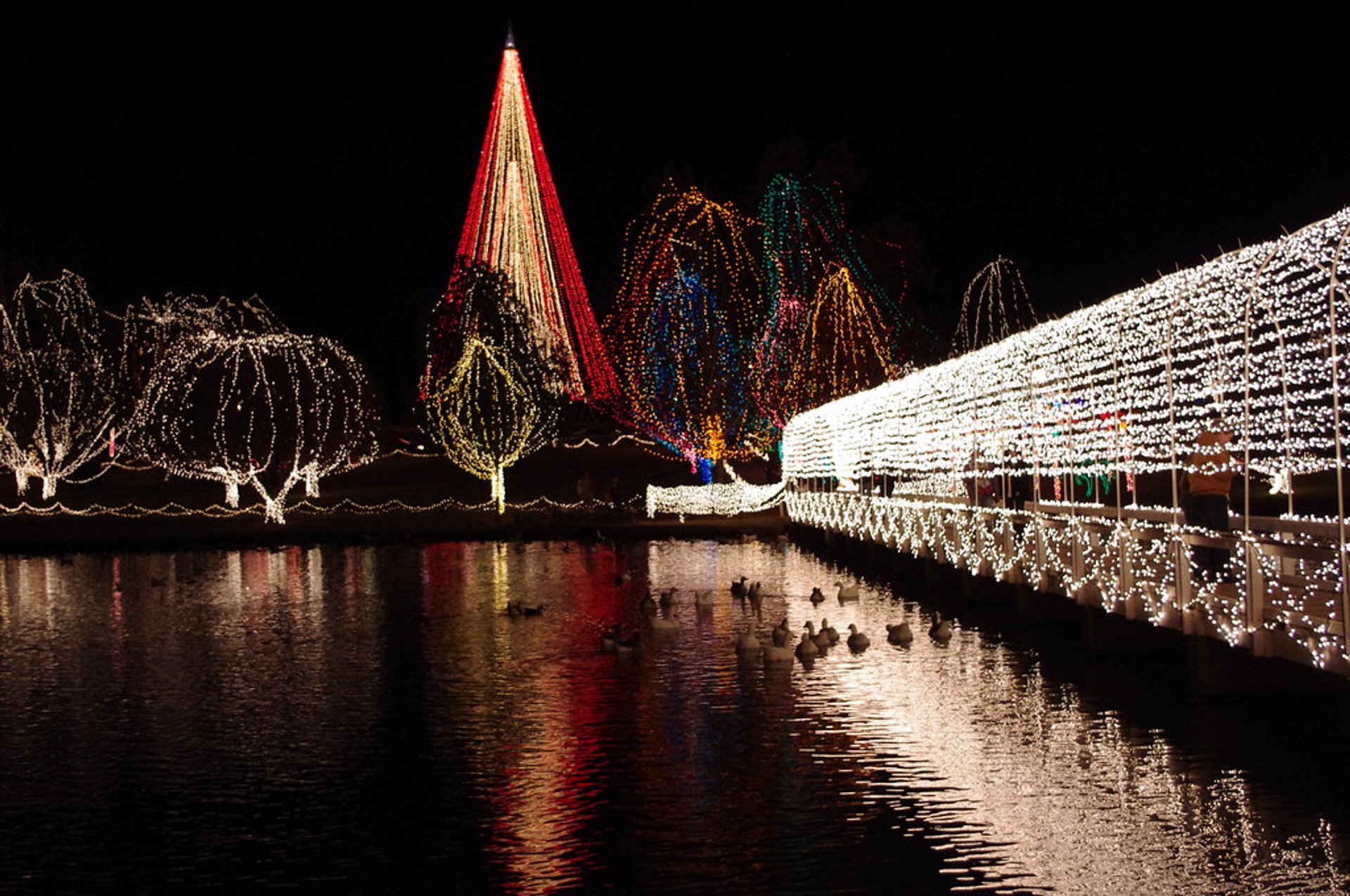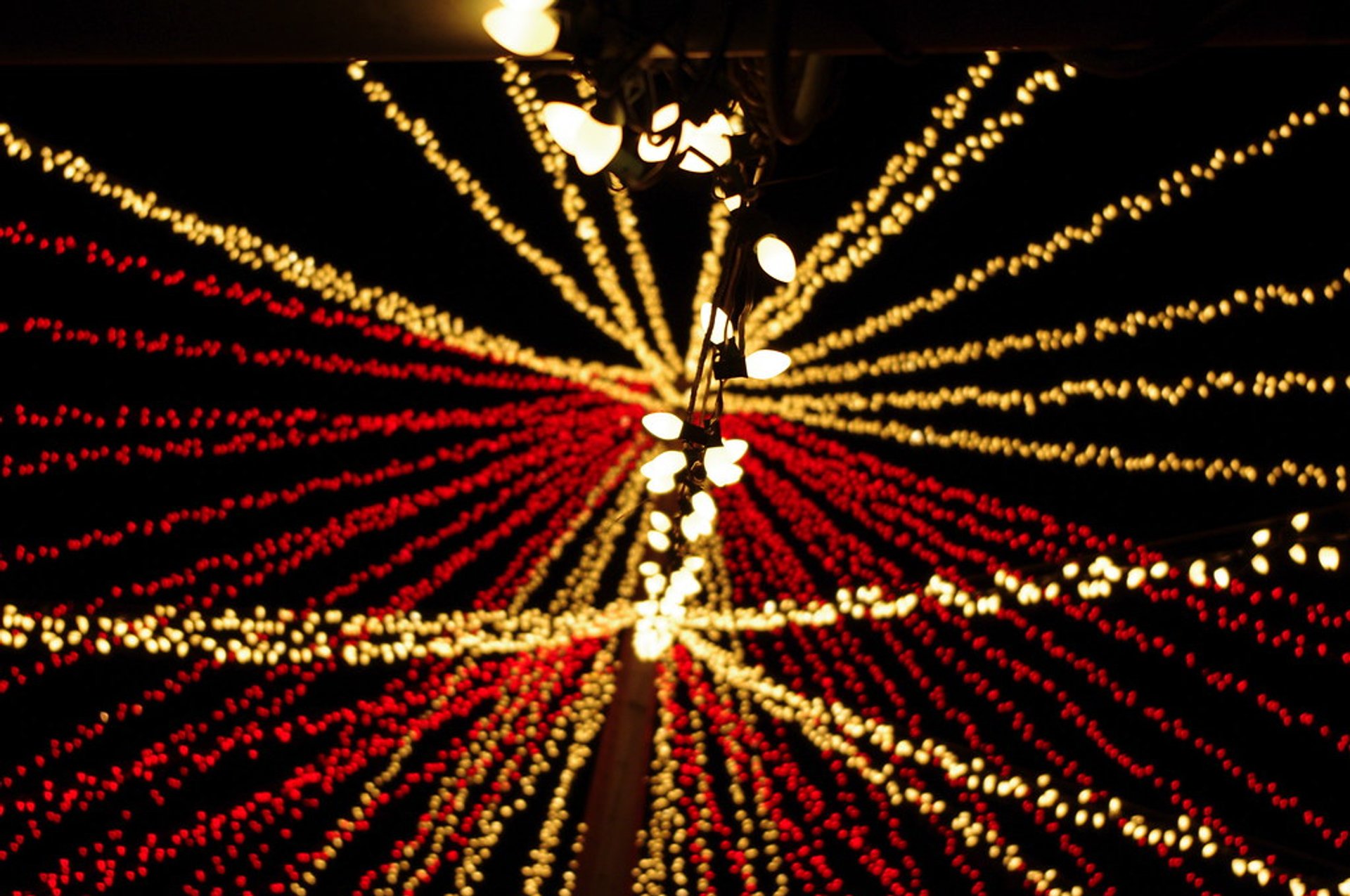 Ardmore Festival of Lights, Ardmore Regional Park (November 23–December 30, 2019)
Ardmore Festival of Lights is an impressive 1.5-mile drive through beautiful, vibrant Christmas lights. One of the biggest holiday light events in southern Oklahoma offers more than 150 animated displays in a sparkling winter wonderland. The Ardmore Regional Park can entertain visitors of all ages. Tune your car stereo to a favorite Christmas music station and enjoy rows and rows of lights as a holiday fairy tale comes to life. Admission to the park is free; however, donations are appreciated.
Show accomodations nearby
Show accomodations nearby
Woodward's Crystal Christmas, Crystal Beach Park (November 29–December 31, 2019)
Crystal Beach Park in Woodward attracts families from all over Oklahoma when it sparkles with over two million Christmas lights and displays. Crystal Christmas is one of the main annual events in Woodward. It opens with a large celebration, fireworks, carol singing, concessions and a countdown. On Thursdays and Fridays, Chrystal Beach Park features family nights with plenty of kid-oriented activities like lighted train rides, Christmas characters, live nativity scenes and, of course, Santa Claus.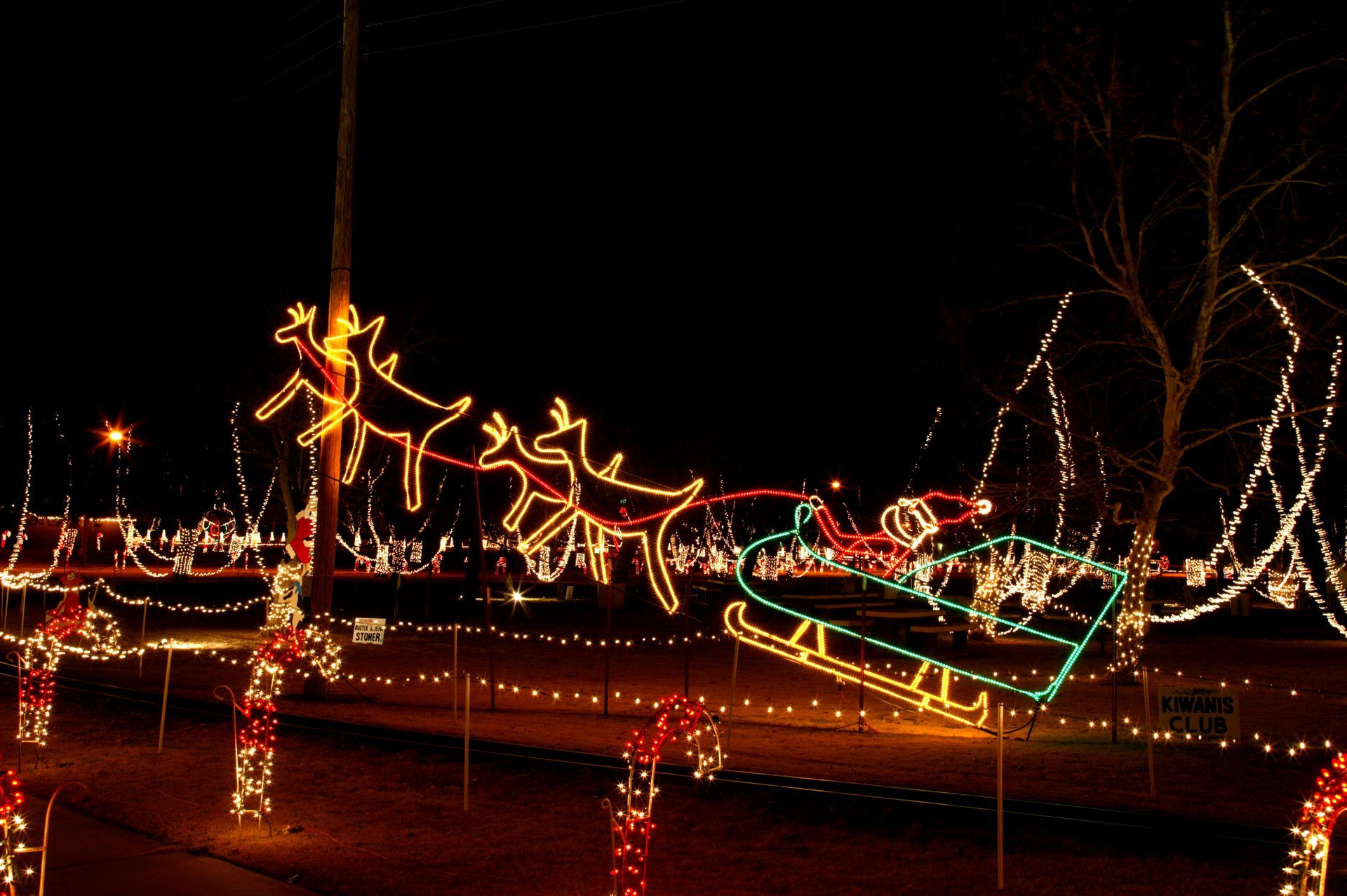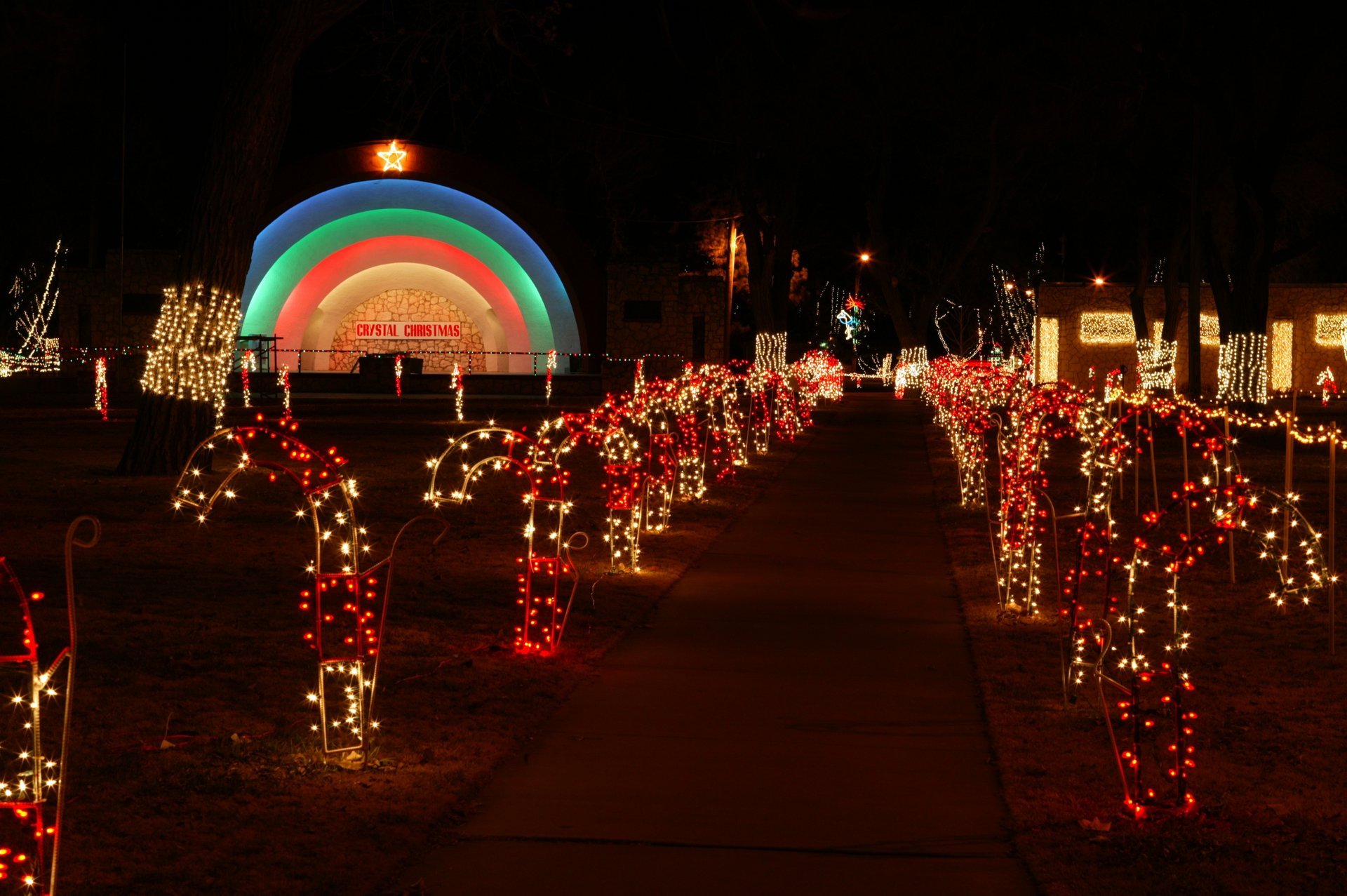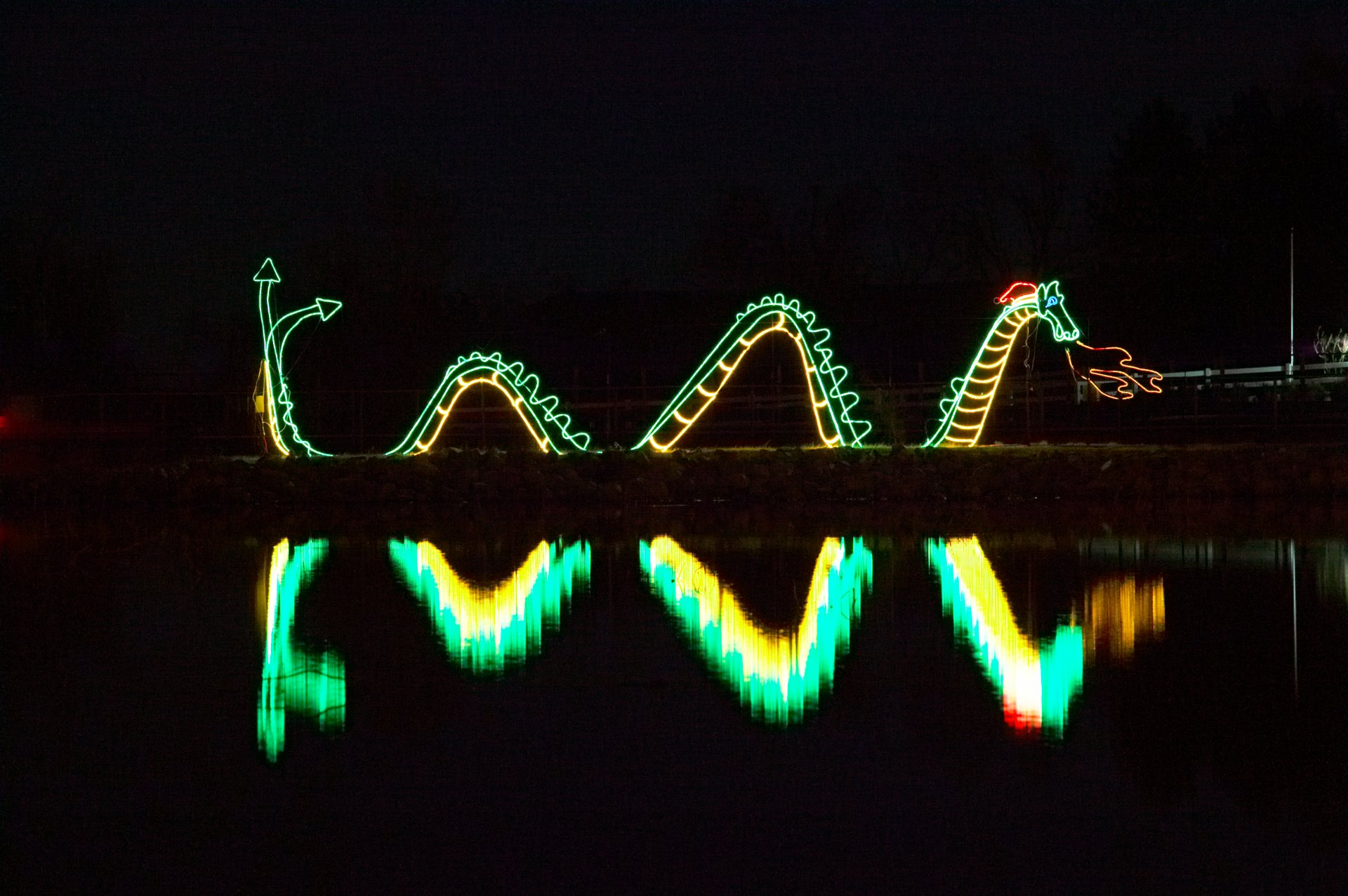 Woolaroc Wonderland of Lights, Woolaroc Museum & Wildlife Preserve (November 29–December 22, 2019)
Wonderland of Lights at Woolaroc Museum & Wildlife Preserve in Bartlesville is a cherished local holiday tradition. The park transforms into the spectacular Wonderland of Lights when its historic buildings and grounds are adorned with over 750,000 lights. The historic Woolaroc ranch becomes the epicentre of magic. Check out live entertainment in the Heritage Theater almost every Friday and Saturday night. The scenic trail starts from the Front Gate, through the main drive to the campus, with a stunning view of the illuminated buildings across from Clyde Lake.
Show accomodations nearby
Castle Christmas, Muskogee (November 29–December 31, 2019)
The Castle of Muskogee becomes a true fairytale land during the holiday season. Visitors can take a drive through the Village, illuminated with thousands of sparkling lights. There are plenty of fun activities for kids outside of the castle. Enjoy an old-fashioned hayride or the ride on festive Castle Train. There are cute holiday ponies available for the most little riders and camels for the taller ones. Inside the Castle, guests can warm up and enjoy a variety of family-friendly activities—Santa's workshop crafts, candle workshop, and face painting. There are plenty of unique gifts from the Christmas Shoppe or the Castle gift shop, free family movies, and the Cafe.
Show accomodations nearby