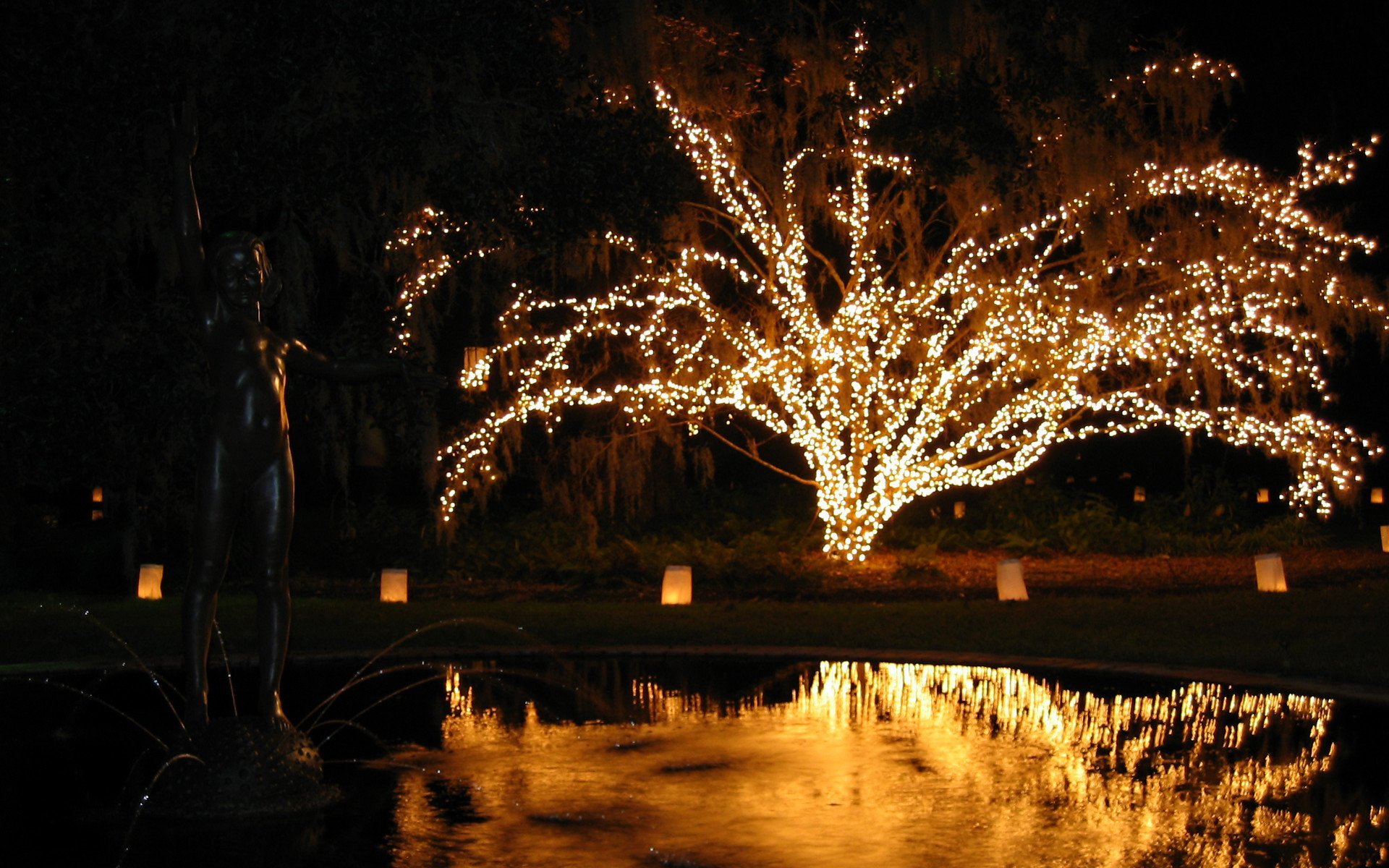 Show accomodations nearby
It's probably not gonna snow in Charleston, Greenville, Columbia, or Myrtle Beach, South Carolina in December, but you can count on tons of Christmas spirit coming from amazing light displays, holiday music and famous Southern cooking. Wonder through millions of lights in parks, botanical gardens and zoos or enjoy miles of light tunnels from the window of your car.
Holiday Lights Safari at Hollywild Animal Preserve, Wellford (November 15, 2019–January 4, 2020)
Holiday Light Safari is a spectacular drive through a 100-acre (40-hectare) Hollywild Animal Park, a non-profit zoo in Inman, South Carolina. The park is decorated with hundreds of thousands of twinkling lights for the holidays. Marvel colorful holiday themes, light sculptures, tunnels of lights, and don't forget about more than 500 live animals! You can buy some food and feed them in the park. Stop by the Enchanted Deer Forest, a favorite for all ages.
Anderson Christmas Lights, Old Country Farm Circle (November 28–December 25, 2019)
A spectacular light display at Old Country Farm Circle in Anderson, South Carolina, is a local holiday tradition with over 20 years of history. Anderson Christmas Lights cover about 45 acres (18 hectares) with a 2.5-mile (4-kilometer) drive-thru. Can you imagine being surrounded with over a million lights in Santa Village? It's a magical place filled with snowflakes, reindeer, and don't forget the Big Man himself! With over 250 displays, 3.5 million light bulbs, and nightly entertainment, the annual Anderson Christmas Light Show is indeed a local landmark. No wonder it was voted #40 in the nation by Destination Magazine. Drive-through opens on Thanksgiving Day and closes on Christmas Day.
Show accomodations nearby
Fantasy of Lights at Swan Lake Iris Gardens, Sumter (December 1–31, 2019)
The beautiful Swan Lake Iris Gardens in Sumter, South Carolina, is home of the amazing Fantasy of Lights, one of the largest Christmas displays in the state. Every holiday season lighted imagery surrounds the lake with thousands of twinkling lights. A Christmas train, swans pulling Santa's sleigh and angels, these and many other images will get you in a holiday spirit as you drive through. For the whole month of December, the gardens are illuminated with more than a million lights. Don't miss its main highlight -The Pilot Club's floating Christmas tree. After the tour, stop at Santa's Village and meet holiday characters. The display is free for the public.
Show accomodations nearby
Show accomodations nearby
Upstate Holiday Light Show at Greenville Pickens Speedway (November 28–December 31, 2019)
Greenville Pickens Speedway celebrates the holiday season with the largest Christmas light show in the area. A spectacular drive-through with 32 million colorful lights setting the sky ablaze is a unique experience. It features animated scenes synchronized to holiday classics as well as other attractions. There is a holiday-themed petting zoo, Christmas trees for sale, a skating rink and Santa's Workshop, where Santa meets children to hear their Christmas wishes and share cookies and hot chocolate.
Celebrate the Season at Old Santee Canal Park, Moncks Corner (November 29–December 30, 2019)
Celebrate the Season is an annual event held at Old Santee Canal Park in Moncks Corner. It includes a month-long Holiday Lights drive-through with dozens of festively lit displays and twinkling lights. So hop in the car and follow a trail through brilliant lights. Other holiday events include The Tinsel Trot Holiday Fun Run that takes place on Saturday before Thanksgiving at the illuminated trail of Old Santee Canal Park in Moncks Corner. This can be an evening run or walk or dance through the 2-mile (3.2-kilometer) course. A special guest Santa Claus and activities for children follow the run. Costumes are encouraged. Holiday Fairs take place on long weekends in December at the Moncks Corner Regional Recreation Complex. Visits with Santa Claus, carnival rides, holiday foods, and fun activities will be provided.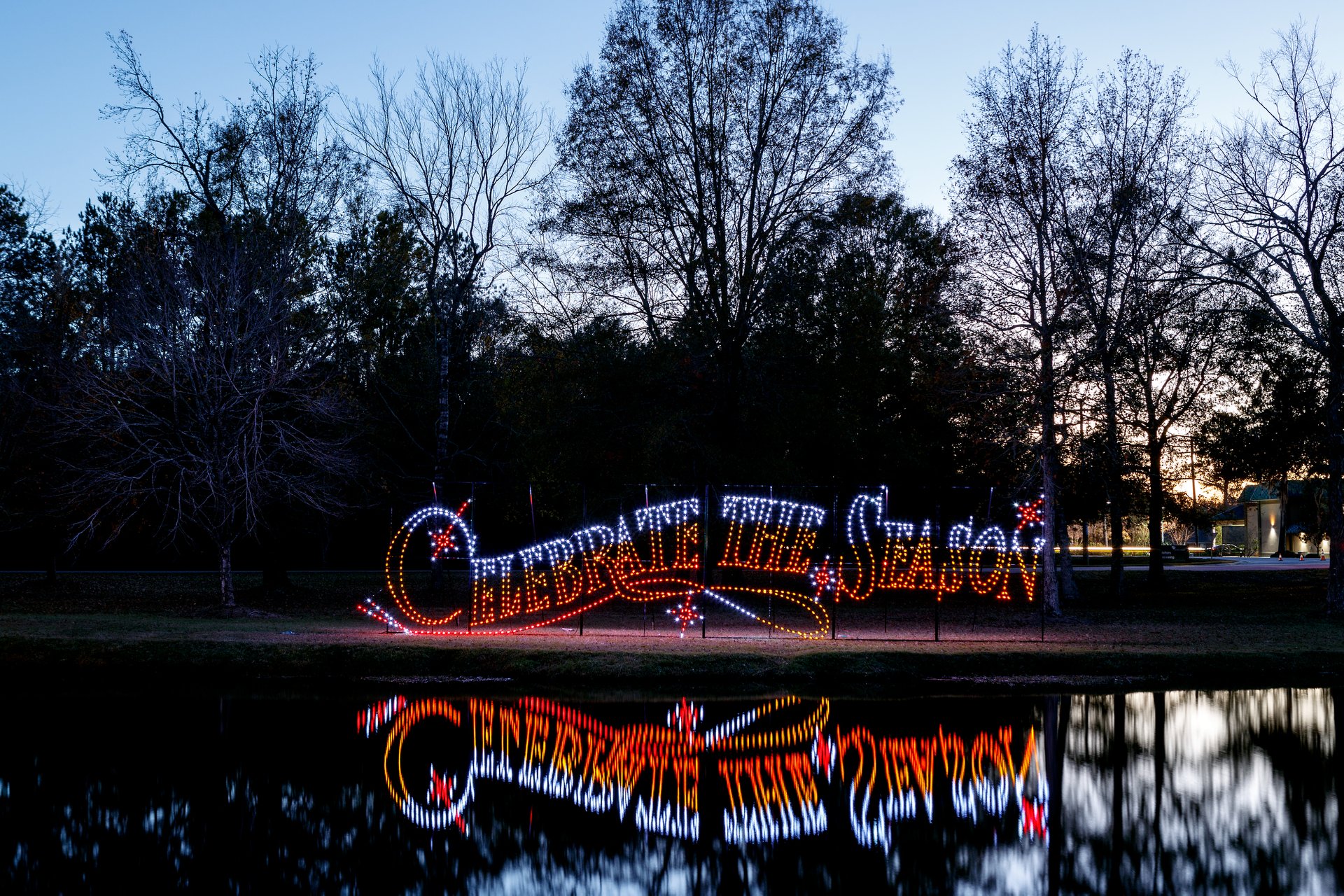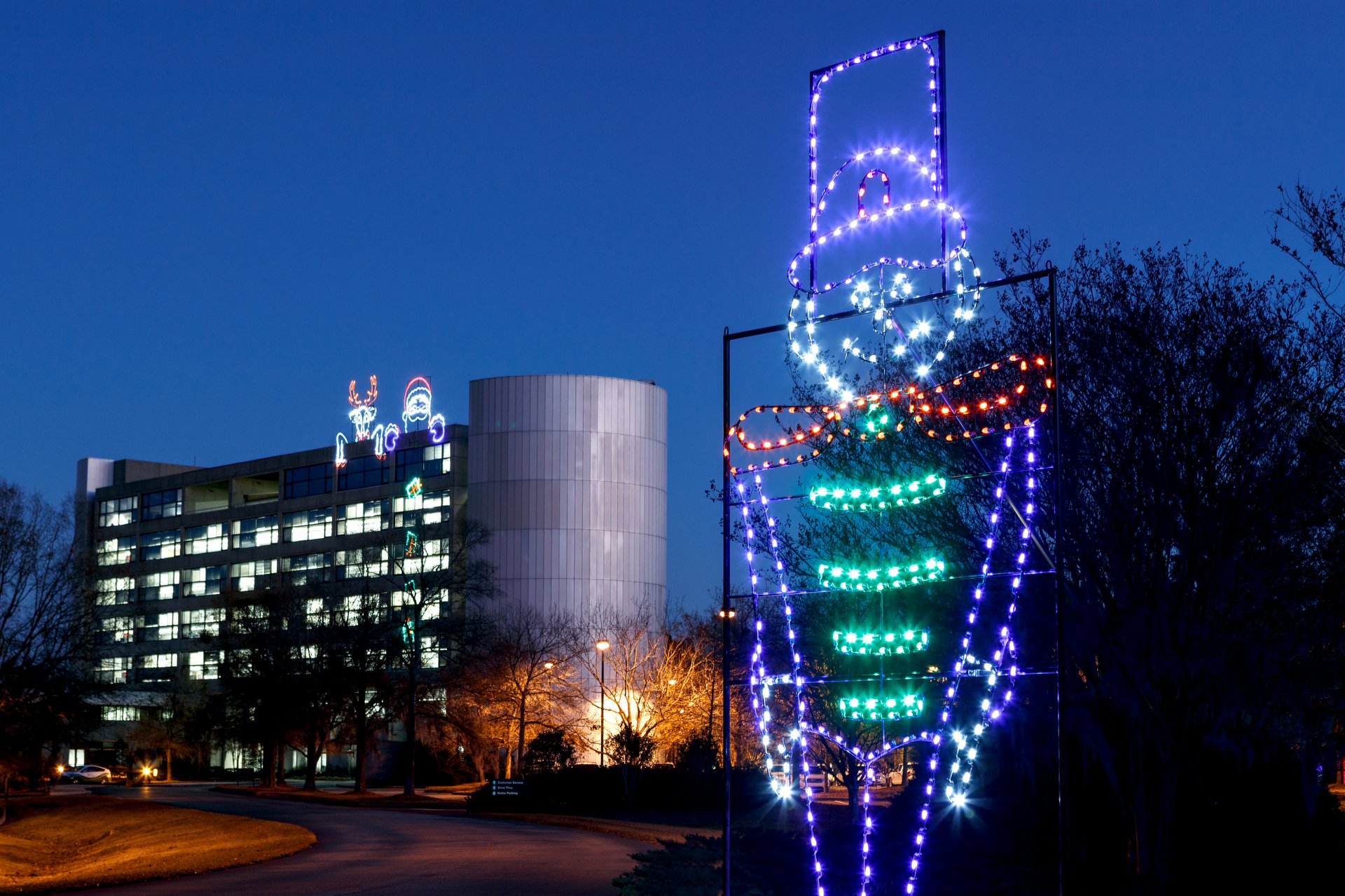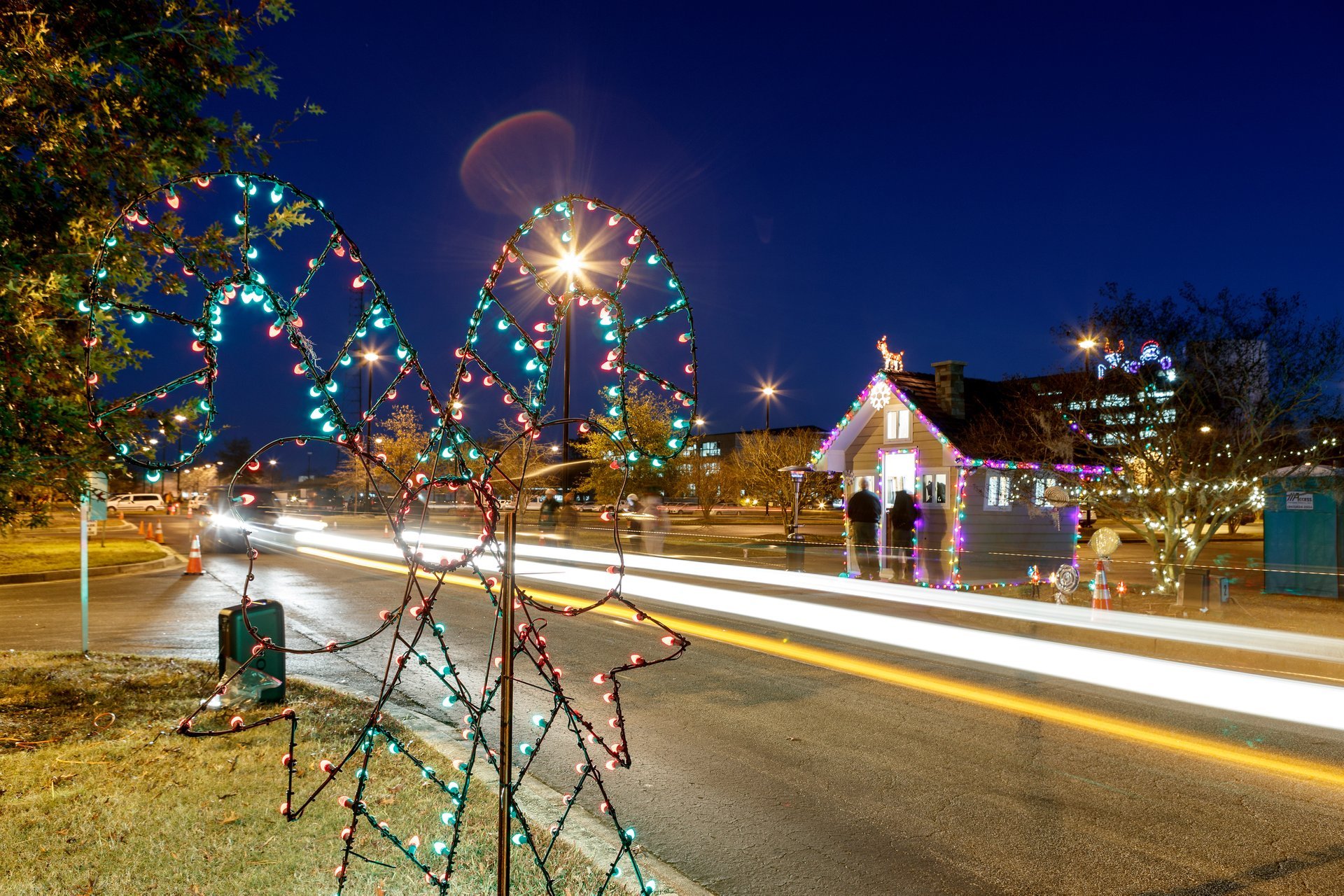 Nights of a Thousand Candles at Brookgreen Gardens, Murrells Inlet (December 5–22, 2019)
Every Christmas season, Thursday through Sunday, Brookgreen Gardens near Myrtle Beach come to life with a magical glow of more than 2,700 candles and twinkling lights. Walk the illuminated trail from 3 to 10 p.m., enjoy a cup of warm cider, cocoa, or wine, listen to holiday music and live chorus singing carols. This amazing display with high-quality entertainment is a must-see. It was named "Best Christmas Lights in South Carolina" by Travel+Leisure Magazine.
Show accomodations nearby
Show accomodations nearby
Lights Before Christmas at Riverbanks Zoo & Garden, Columbia (November 23–December 30, 2019)
For more than 30 years, Riverbanks Zoo and Garden in Columbia, South Carolina, put on a festive light display for the holidays. A month-long Lights Before Christmas runs from 5 to 9 p.m. Thousands of families come to wander through the Zoo under the bright lights and enjoying the festive spirit and music of the season. More than one million twinkling lights illuminate the zoo. Other attractions include magical snow, visits with Santa, toast s'mores and live entertainment.
Show accomodations nearby
Holiday Festival of Lights at James Island County Park, Charleston (November 15–December 31, 2019)
James Island County Park is the popular Charleston outdoor getaway in the summer and a magical fairytale land in the winter. The annual Holiday Festival of Lights has been one of Charleston's most cherished Christmas traditions for over 30 years. With about two million dazzling lights decorating the park this award-winning light show runs from mid-November through December from 5:30 to 10 p.m. Millions of families have enjoyed the Holiday Festival of Lights 3-mi (5-km) display. After the tour, visitors can try various attractions and activities like marshmallow roasting, train rides, an old-fashioned carousel, Santa's Sweet Shoppe, climbing wall, live music storytelling, and much more. Winter Wonderland is home of the area's largest holiday sand sculpture, formed from over 50 tons of sand. Festival shops offer merry gifts, collector series ornaments, toys, decorations and stocking stuffers. Take a ride on the train for an up-close view of the festival, and see even more light displays.