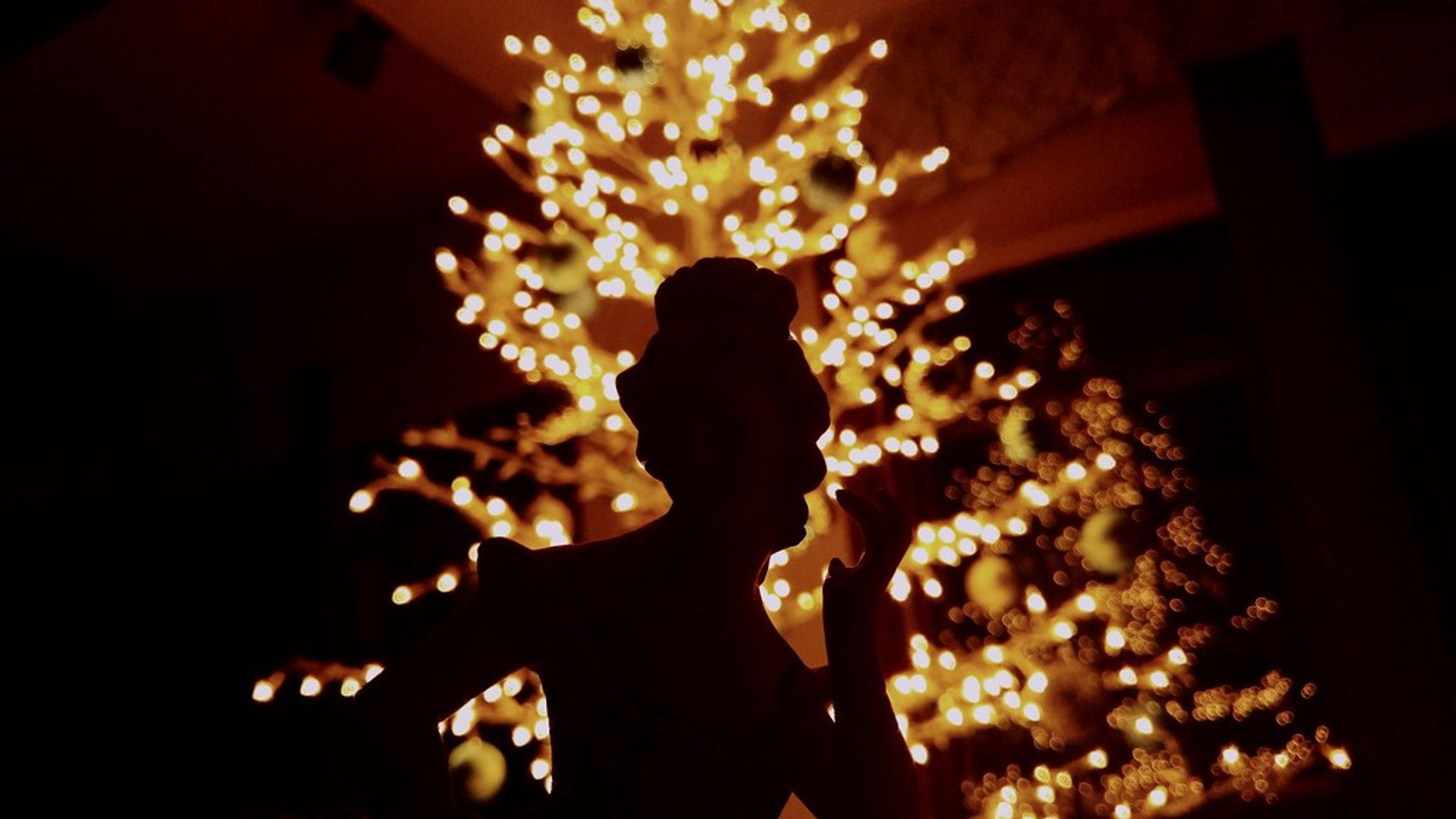 Show accomodations nearby
Every year Ohio lights up the with colourful Christmas lights in late November to warm up people's hearts before the holidays. There are many walk-in and drive-through displays where families can get into the holiday spirit with the cup of hot chocolate and a gingerbread cookie. The most impressive Christmas displays can be spotted in Cleveland, Columbus, Clifton, Morrow, and Hamilton.
Wildlights at Columbus Zoo and Aquarium (November 15, 2019–January 5, 2020)
Columbus Zoo and Aquarium Wildlights is one of the most popular holiday displays for Columbus families. Several animated light displays sparkle with thousands of twinkling lights. There is everything from music and ice skating rink to Santa's Holiday Home. Kids will enjoy Holiday Star Light Star Bright Seek-n-Find. Disney on Ice presents Reach for the Stars, with new winners and magical prizes each week. Wildlights rides include the Polar Bear Express through the North America winter wonderland, camel rides, and the 1914 Mangels-Illions Carousel. And of course, there are animals in their heated, indoor shelters!
Clifton Mill Christmas Lights (November 29–December 31, 2019)
Famous Clifton Mill Christmas Lights is the cherished Miami Valley tradition bringing lots of joy to families. Clifton Mill light display is one of the largest in the U.S. featuring over 3.5 million lights illuminating the historical buildings, the riverbanks, bridges and gorges. Its highlight is a 30-m (100-ft) waterfall of twinkling lights. A fantastic winter wonderland hosts a Miniature Village, a Santa Claus Museum, and musical light show at the old Covered Bridge. Santa's Workshop invites kids to see him at work and going up the chimney to load his sleigh.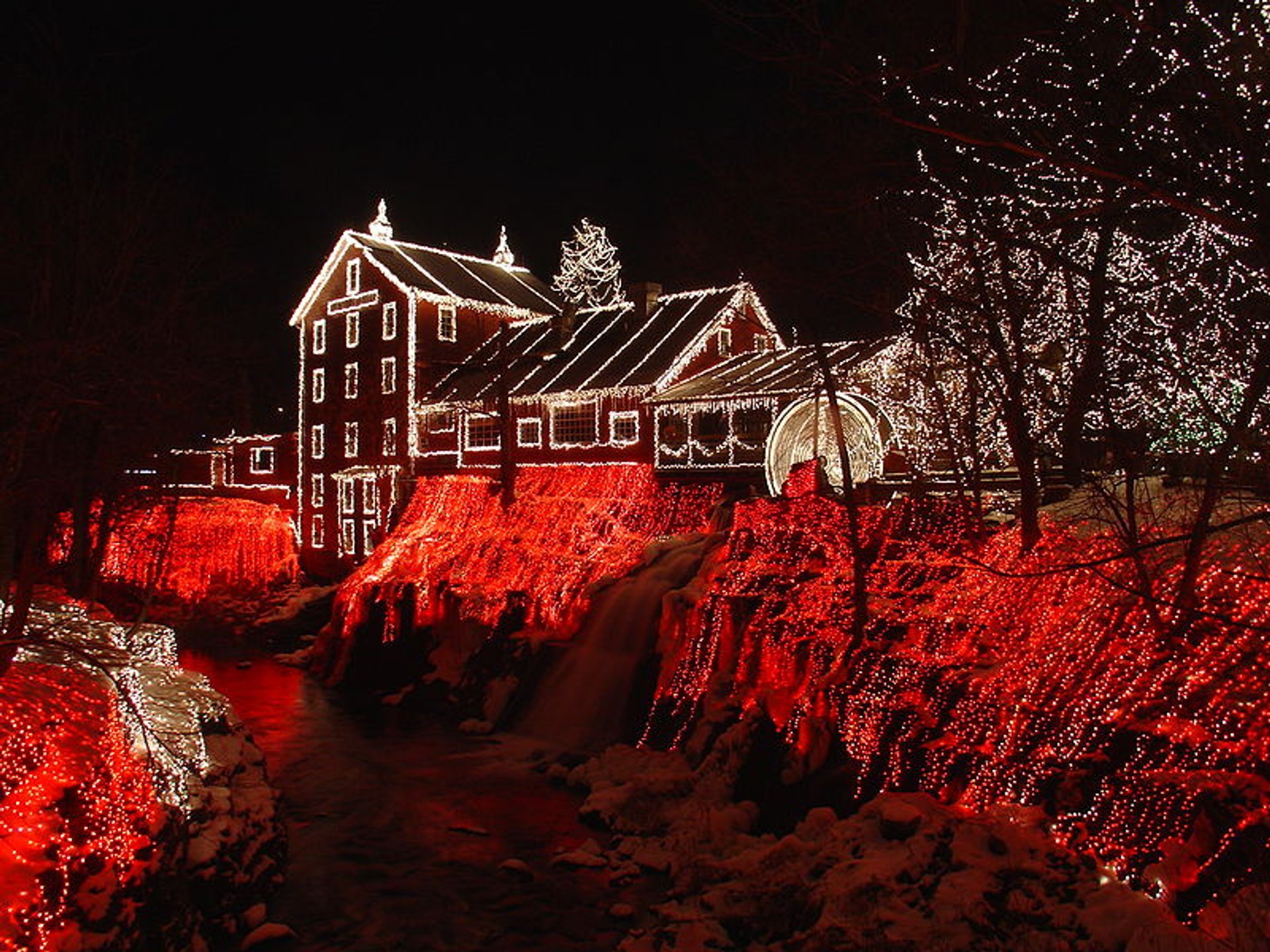 The Christmas Ranch, Morrow (November 22–December 23, 2019)
The Christmas Ranch on South Waynesville Road in Morrow, Ohio, is one of the favorite holiday destinations in the state. The spectacular ranch is decorated with over 350,000 lights, synchronized to music. Thanks to the state-of-the-art technology, The Christmas Ranch "The Gift of Lights" display is a truly memorable experience. Occupying 5 acres, The Christmas Ranch features an illuminated drive-thru route which ends in the magical Christmas Village. Stop in the barn for some hot beverages, watch the Jingle Bell Show, and take a walk through a forest full of animated Christmas trees decorated with 15,000 synchronized lights. Dozens of Santa's and Snowmen bop and spin to the sounds of Bing Crosby and Trans-Siberian Orchestra.
Lights Before Christmas at Toledo Zoo (November 22–December 31, 2019)
Lights Before Christmas is Toledo's favorite holiday tradition. Merry and bright display features over a million sparkling lights, animated figures, ice slide, and much more. The Big Tree at the Toledo Zoo is a true state-of-the-art creation. Add here over 200 illuminated animal displays across the Zoo, and you will get the formula for the perfect Christmas-time fun. Stop in the ProMedica Museum of Natural History for a hot cup of cocoa or a treat from the Café at the Museum while checking out the unique Ohio natural resources. An interactive LED display lets visitors move or dance on the Amphitheatre floor and see their silhouettes in lights on the stage.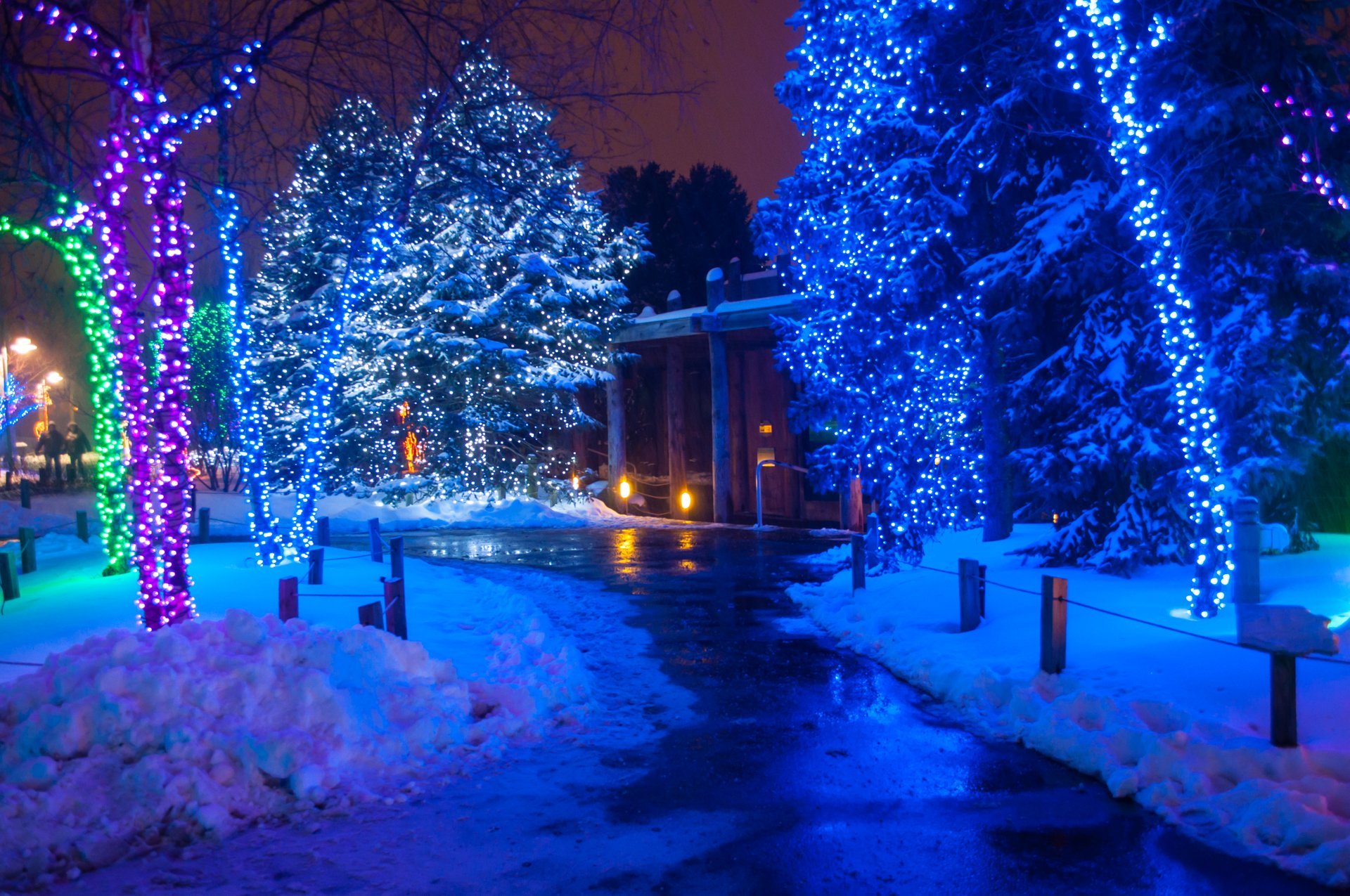 Conservatory Aglow at Franklin Park Conservatory, Columbus (November 16, 2019–January 5, 2020)
Conservatory Aglow at Franklin Park in Columbus is one of the biggest and brightest holiday shows in the city. The park as well as the Scotts Miracle-Gro Foundation Children's Garden and the Grand Mallway sparkle with lights and whimsy displays. The Conservatory, with its unique plant collection, is the main attraction in the park. Kids' favourite displays include the Rainbow Tunnel, the Whirly Tree, topiary flamingos, gingerbread houses and the illuminated Sandstone Creek. The Grand Mallway is another festive area featuring The Pool, an interactive environment by artist Jen Lewin with giant rings of circular pads that change colors with movement and pressure.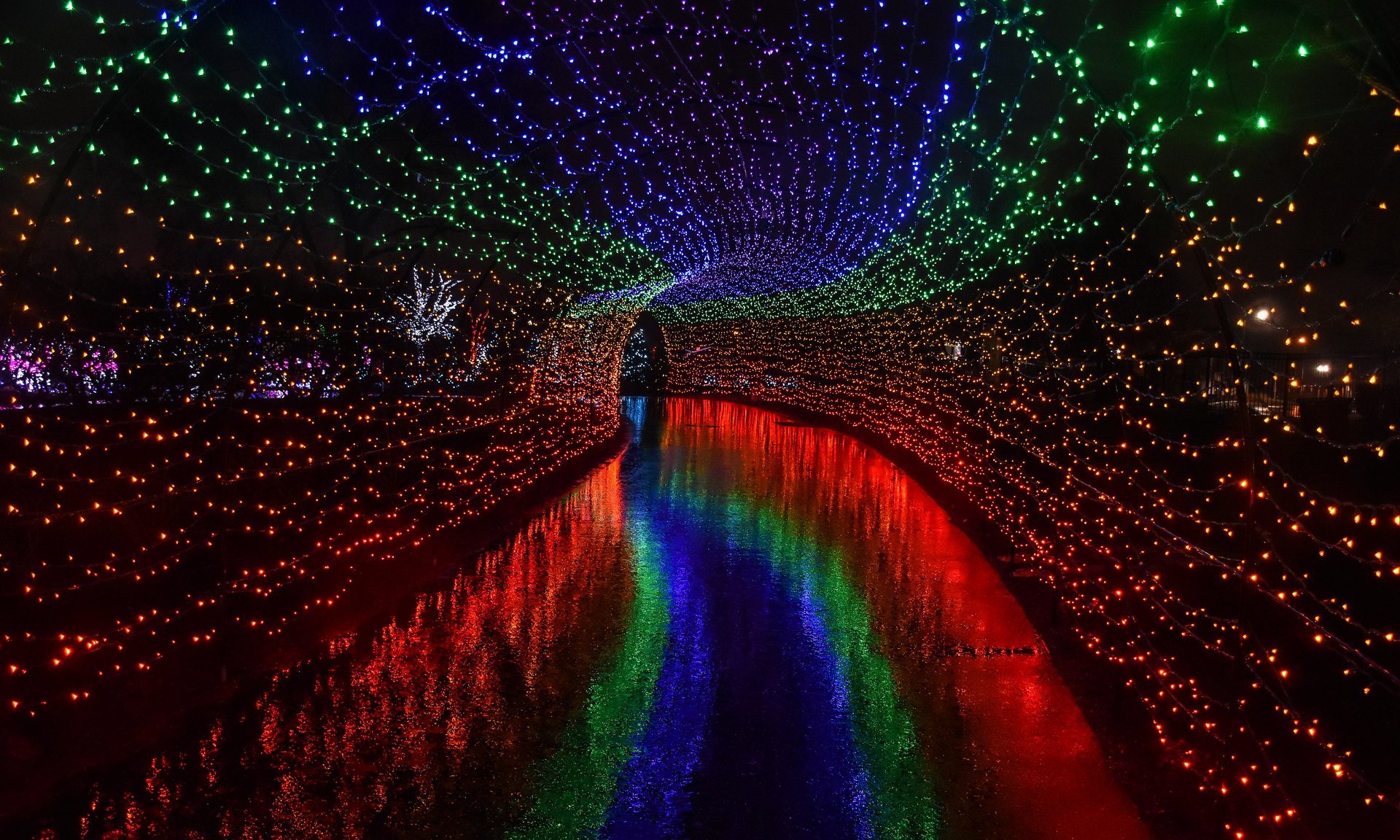 PNC Festival of Lights at Cincinnati Zoo (November 16, 2019–January 4, 2020)
The annual Cincinnati Zoo Festival of Lights is a dazzling holiday display and a favorite local holiday tradition. Running since the 1980s, it has over 3 million LED lights and several displays. The Cincinnati Zoo is transformed into a "wild wonderland" where visitors can watch a puppet show, ride the Toyland Express, look for fairies in Fairyland, wander in Candy Cane Forest, visit Frozen characters, and a Gingerbread Village. Santa is available for visits every day from 4 p.m. No additional ticket is required, as Festival of Lights is included in the Zoo Admission.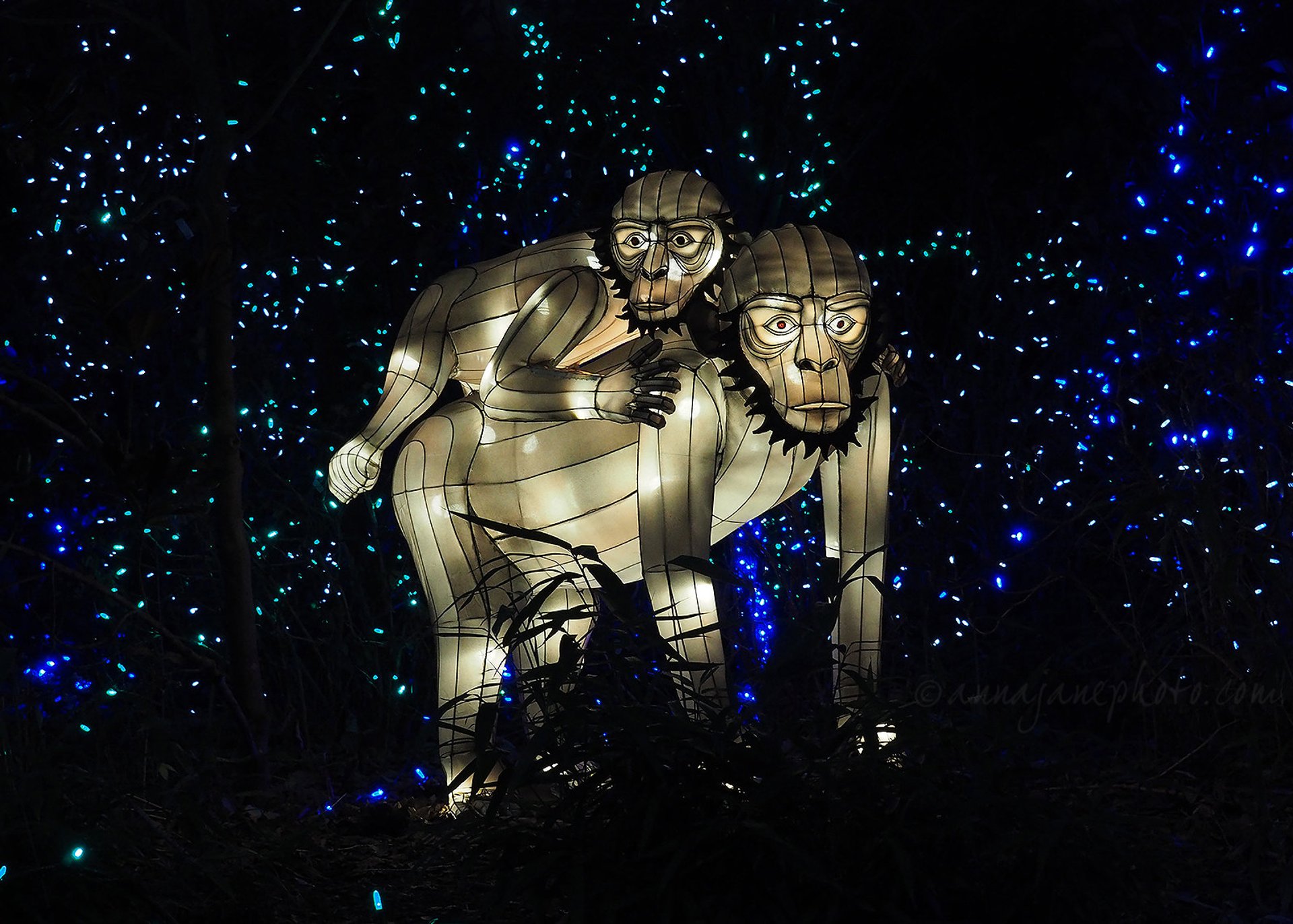 Butch Bando's Fantasy of Lights, Delaware (November 15, 2019–January 1, 2020)
More that one million LEDs light up the Fantasy of Lights at Alum Creek State Park in Delaware, Ohio, a real winter wonderland attracting thousands of people from all over the state. Over 130 light displays include Santa, reindeer, and other popular holiday characters. Enjoy the lights and warm up with hot chocolate and cookies. You'll also get a chance to meet Santa himself. Admission to Butch Bando's Fantasy of Lights, formerly known as Alum Creek Fantasy of Lights, starts at $20 per vehicle on weekdays to $30 per car on weekends.
Wild Lights at Akron Zoo (November 29–December 30, 2019)
The wildest light display of the year, Wild Lights at Akron Zoo in the city of Akron, Ohio, promises plenty of fun activities for the whole family. Kids can visit Santa Land, make a photo, and tell him about their holiday wishes. Also, visit the Snow Queen, the Snow Princess and the Snowman. Entertainment includes performances from local choirs, Holly Jolly Hillside with lighted North American animals & trees synchronized to music, and Classic Holiday Town in Grizzly Ridge. Rockin' Lighted Spectacular is a wall of animated lights synchronized to holiday music. Roast s'mores and try other treats. Adults can get a glass of beer or wine, or add some jolt in their hot chocolate or coffee.
Deck the Hall at Stan Hywet Hall & Gardens, Akron (November 29–December 30, 2019)
The iconic Stan Hywet Hall & Gardens is a famous country estate in Akron, Ohio. One of the largest homes in the United States and a National Historic Landmark features a classic comic hero Christmas every year from late November through December. Deck the Hall nights take place in 19 rooms in the Manor House that are themed with the stories of classic comic heroes—Batman, Wonder Woman, Superman, Spiderman, and others. Ninja Turtles and Power Rangers are also present. Other attractions include the giant interactive snow globe in Gingerbread Land. Visitors can walk into the snow globe, that features a winter scene with gingerbread elements, candy canes and holiday lights.