0
Show accomodations nearby
With lush parks, gardens and beaches, Virginia is beautiful even during the winter months. Especially after dusk when the waterfront walkways and shady gardens start to light up with colorful LEDs and get filled with laughter from kid-friendly festive events.
Busch Gardens Christmas Town, Williamsburg (November–January, dates TBA)
One of the most charming theme parks in the country, Busch Gardens in Williamsburg becomes especially festive during the holidays when it puts on a giant Christmas light display. Visitors can try various Christmas foods, do their holiday shopping, and watch heart-warming shows. One of the largest in the country, Busch Garden Christmas Town features over ten million lights. Enjoy walking across western Europe, starting near the golden glow of London's Big Ben. Also, don't miss Douglas O'Fir's Tree Lot and wonderful Twelve Days of Christmas display taking visitors to France. Ride Christmas Town Express or head to O'Tannenbaum to get a hearty meal and watch the show. Check out the Tree of Light at Italy Gardens and get inside a snow globe at the Polar Pathway.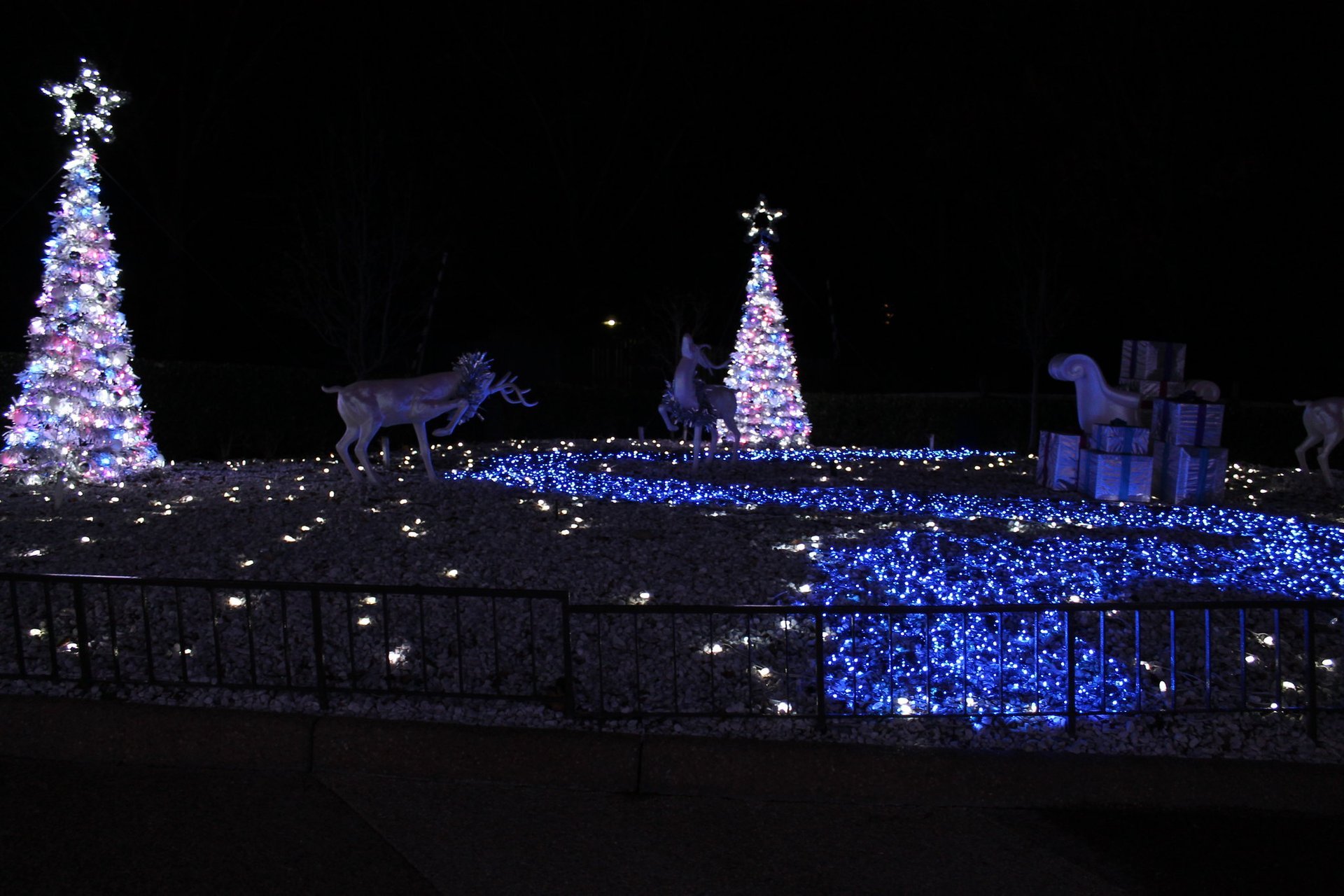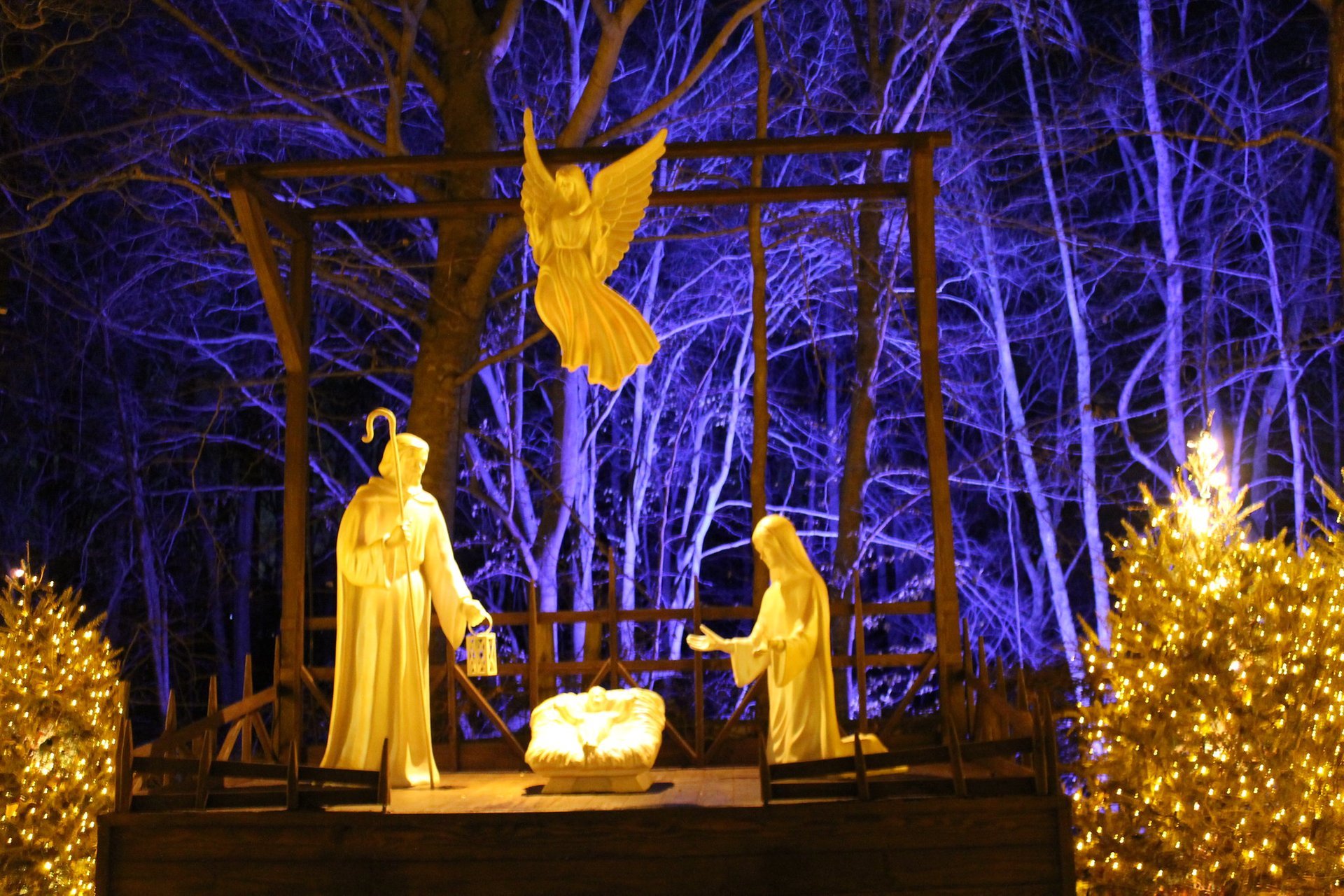 BayPort Credit Union Holiday Lights Merry Mile, Virginia Beach (November 20–December 31, 2020)
Virginia Beach Boardwalk becomes irresistible and dazzling during the BayPort Credit Union Holiday Lights Merry Mile. One of the Hampton Roads favorite traditions, it starts at 5:30 p.m. each night and continues until 10 p.m. from Sundays–Thursday and until 11 p.m. Fridays-Saturdays throughout the Christmas season. The drive-through display consists of Holiday, Nautical, and Adventure Lands, where lights are synchronized to holiday music on your car radio. See the giant "Twelve Days of Christmas" display, elves, holiday fish, musical crabs, Santa and a forty-foot (10-m) Christmas tree. Over 25,000 families visit this incredible light show every year.
Winter Walk of Lights at Meadowlark Botanical Gardens, Vienna (November 11, 2020–January 3, 2021)
The enchanting Winter Walk of Lights at Meadowlark Botanical Gardens in the town of Vienna, Virginia, is a perfect holiday destination for the whole family. A magical half-mile walk of lights transforms the garden into a winter wonderland. Stroll by the animated Lakeside Lights and the Fountain of Lights, experience the Holiday Nature Walk and warm up by the fire, roasting marshmallows and sipping on hot beverages. If you are looking for original Christmas gifts, check out festive light-up jewellery, hats, scarves, sabres, and wands at the Snowflake Shop. The beautifully illuminated garden receives about 80,000 visitors each year. The Gardens are only a half-hour drive from Washington, D.C.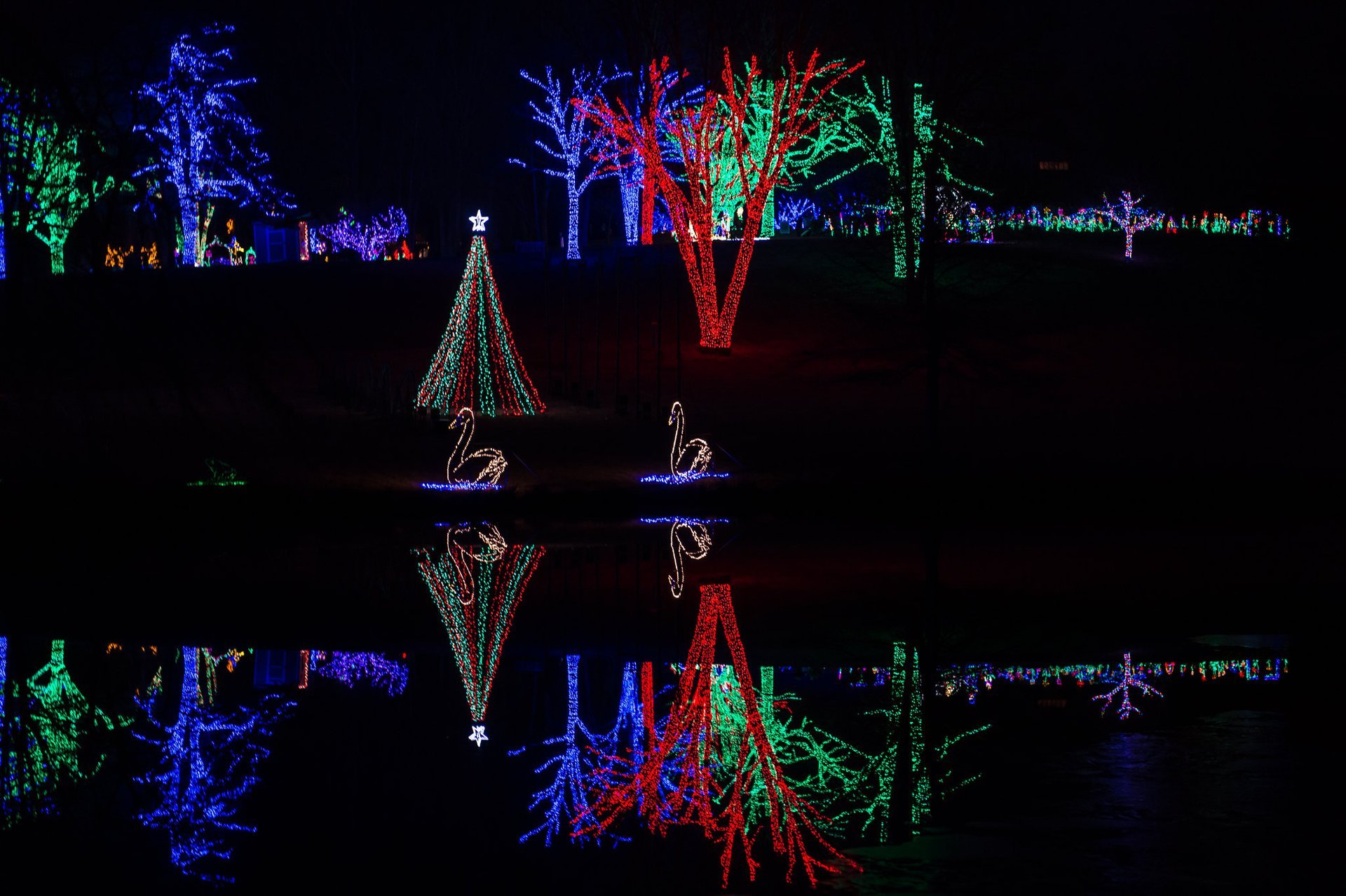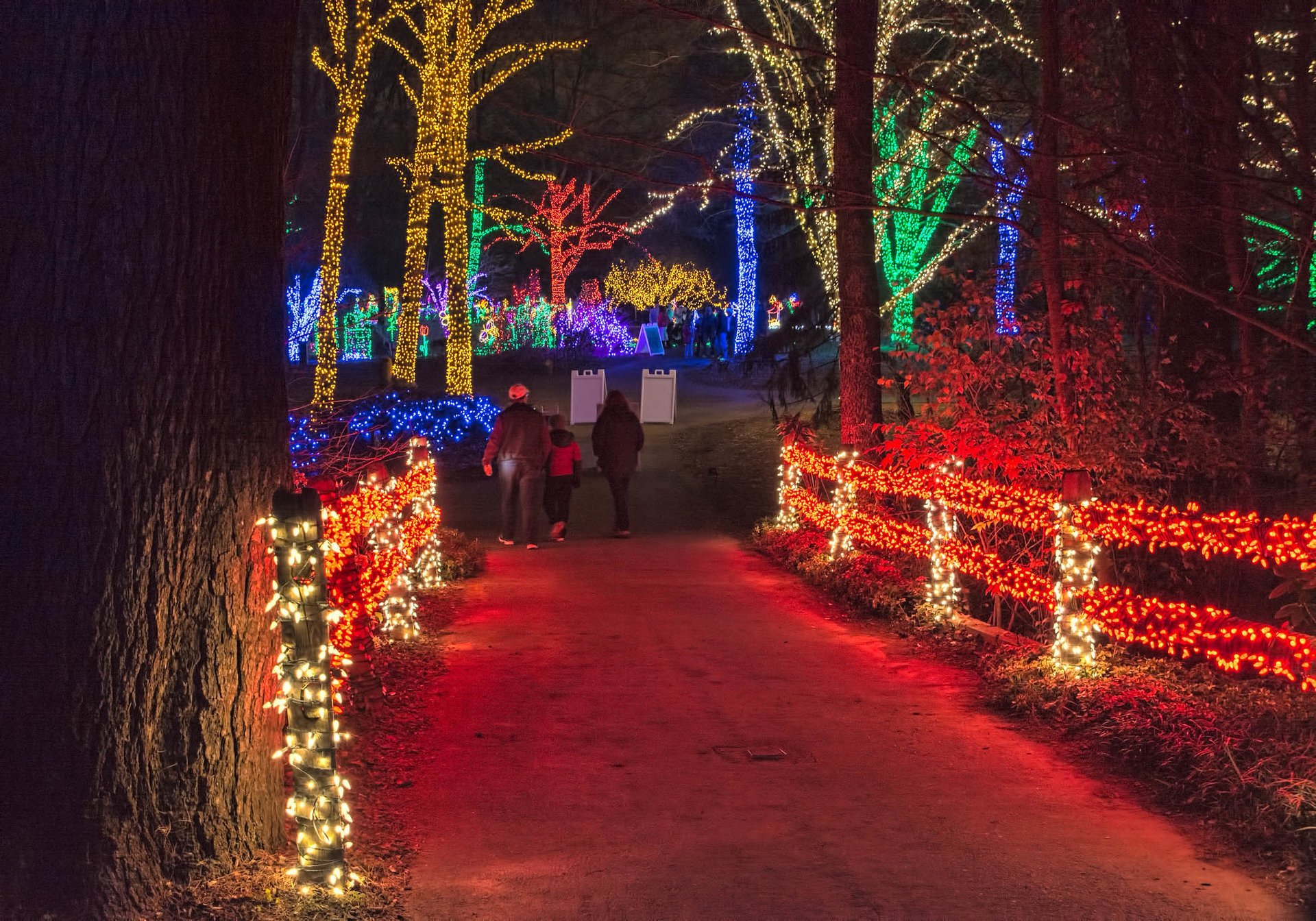 Illuminate Light Show & Santa's Village at Meadow Event Park, Doswell (November 13, 2020–January 3, 2021)
Meadow Event Park in Doswell, Caroline County, Virginia, hosts the dazzling Illuminate Light Show every holiday season. A magnificent drive-through journey starts by the tall purple-lit Christmas tree and continues through the amazing course illuminated by nearly a million LED lights synchronized to music from your car radio. This drive-thru Christmas light show is regarded as the largest in central Virginia. The tour usually takes 20-45 minutes. After the Light Show, visitors can stop by Santa's Village to take pictures with the Old Man, enjoy some tasty foods and sweet treats, and do some holiday shopping at craft stalls.
Dominion Energy GardenFest of Lights at Lewis Ginter Botanical Garden, Richmond (November 20, 2020–January 4, 2021)
Dominion Energy GardenFest of Lights is the annual holiday event at Lewis Ginter Botanical Garden in Richmond that features more than one million twinkling lights. Other attractions include handcrafted botanical decorations, model trains, a firepit to roast s'mores, and hot chocolate as well as nightly family entertainment, live music, and family fun craft activities. The magical garden showcases all things that fly—fireflies, flying pigs, spaceships, dragons, and unicorns. Dominion Energy GardenFest of Lights is among the most popular family-friendly events in Richmond.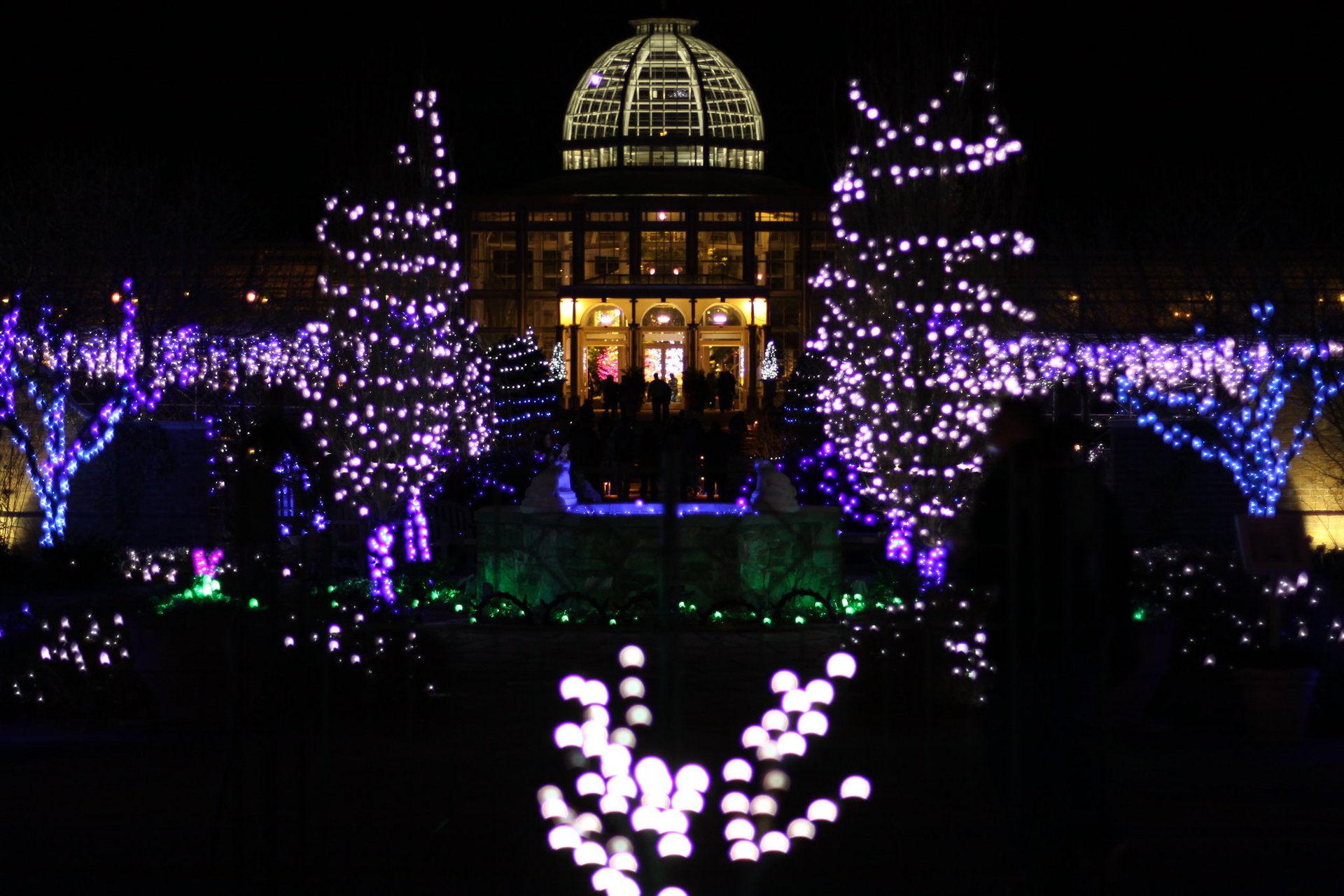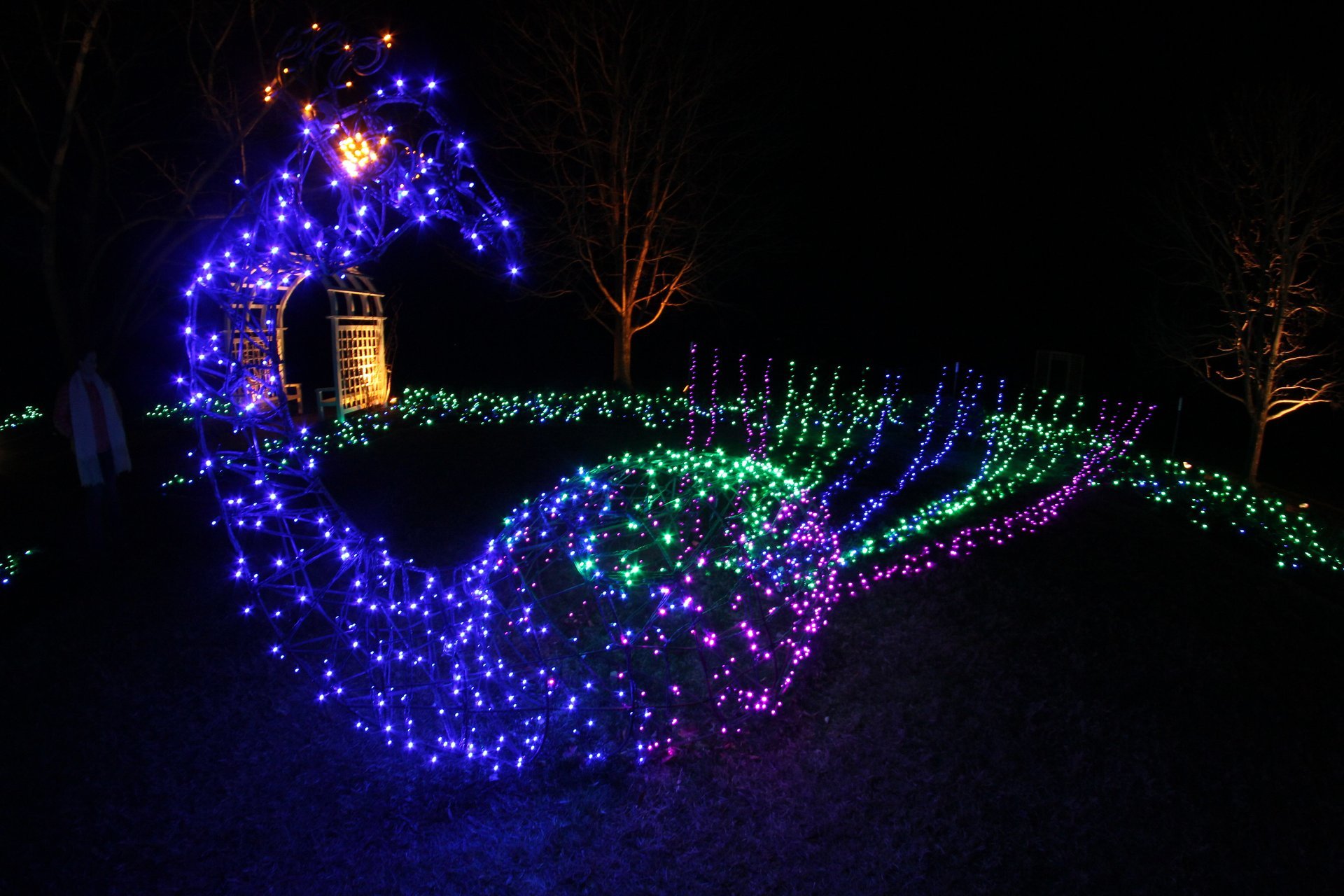 Celebration in Lights at Newport News Park (November 26, 2020–January 1, 2021)
Celebration in Lights is a premier drive-through holiday light event in Newport News with over twenty-five years of history. Newport News Park transforms into a winter wonderland with over a million lights that create animated scenes. The light display expanded to the Newport News Golf Course at Deer Run area and the Newport News arch. The festival features over 350 display pieces, more than fifty arches, and over three miles of rope lighting along the two-mile drive. Most displays use efficient LED lights.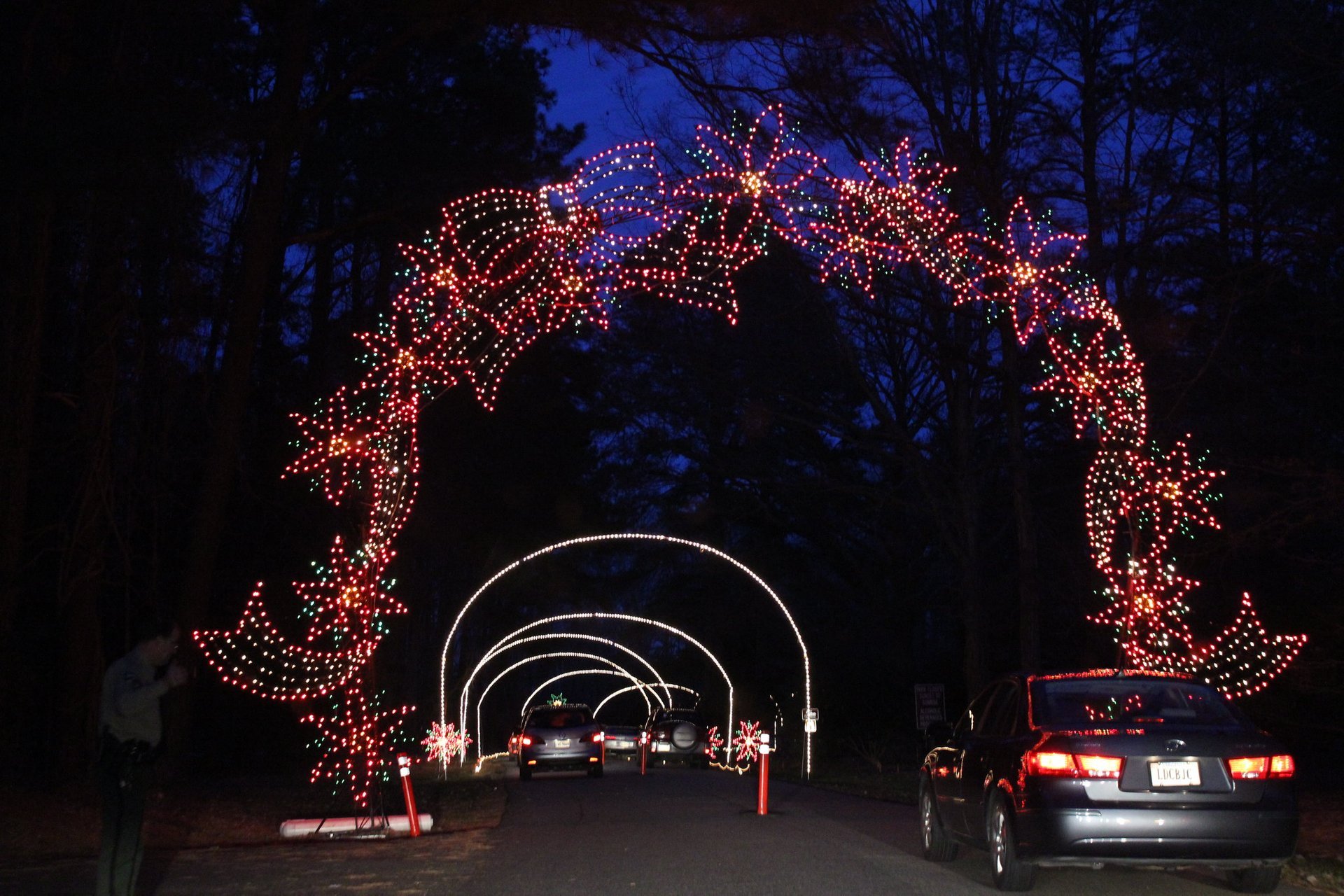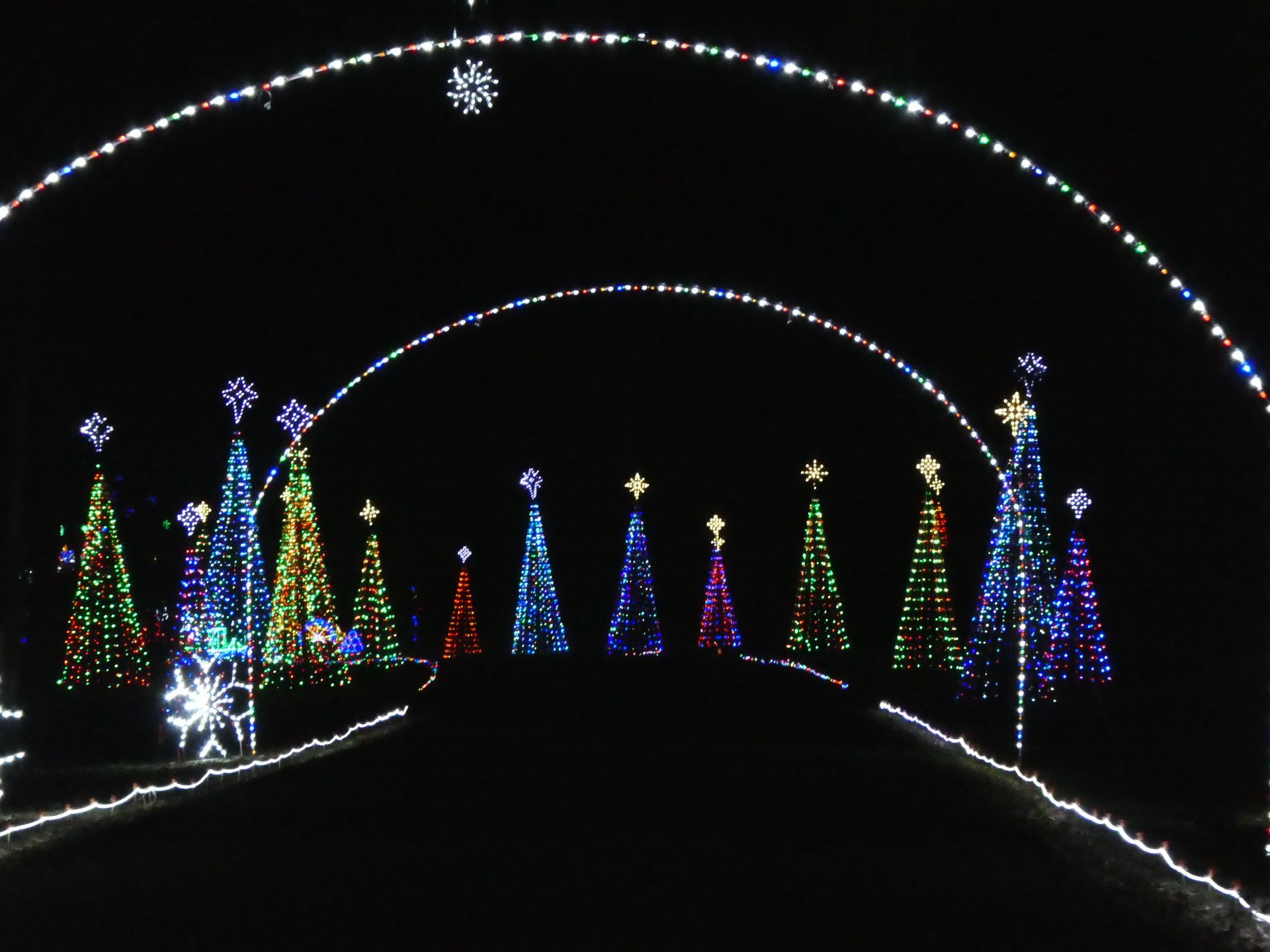 Bull Run Festival of Lights, Centreville (November–January, dates TBA)
A magical experience at Bull Run Regional Park in Centreville, Virginia, is available from Thanksgiving untill after New Year's Day. The Bull Run Festival of Lights is 2.5-mile (4-km) illuminated holiday light display featuring thousands of colorful shimmering lights. After enjoying the extravaganza guests can stop at the holiday village to try carnival rides, snacks and take photos with Santa Claus.
Holidays at Norfolk Botanical Garden: Million Bulb Walk (November 8–December 14, 2019) | Dominion Energy Garden of Lights (December 15–31, 2019) | Garden 2.020 Fun Run (January 1, 2020) | Barks and Bulbs (January 3 & 4, 2020) – 2020-2021 dates TBA
The Botanical Garden in Norfolk has been voted one of the best botanical garden holiday lights in the country through USA Today's 10 Best contest. With over twenty-five years of history, it has become a favorite Christmas tradition in the area. Family holiday programs include visits with Santa, a Cookie Plate, holiday crafts, and tram rides. Children can build holiday cookie houses in the garden on select days. After the holiday activities, families are invited to complete the Million Bulb Walk. The route is about a mile long and is accessible for wheelchairs, strollers, and mobility assistance devices. There is a tram at the end of the route that will take guests back to the parking lot. The alternative is Dominion Energy Garden of Lights drive-through that can be completed in a car. Other holiday events at the park include Garden 2.020 Fun Run on January first to kick off the New Year with a healthy attitude, and Barks and Bulbs when visitors are encouraged to bring their pets.
Christmas Lighting of the Tunnel at Natural Tunnel State Park, Duffield (November–December, dates TBA)
The Christmas Lighting of the Tunnel is a unique holiday experience at Natural Tunnel State Park in Duffield, Virginia. The special event features thousands of lights lining the way to the mouth of the mysterious tunnel. There are mobile Christmas displays, hot chocolate and roasted marshmallows to warm you up. Kids' activities such as cookie decorating, Christmas karaoke, and ugly sweater night are also part of the program. And, of course, Santa and Christmas carols will be there to get everyone into the Christmas spirit.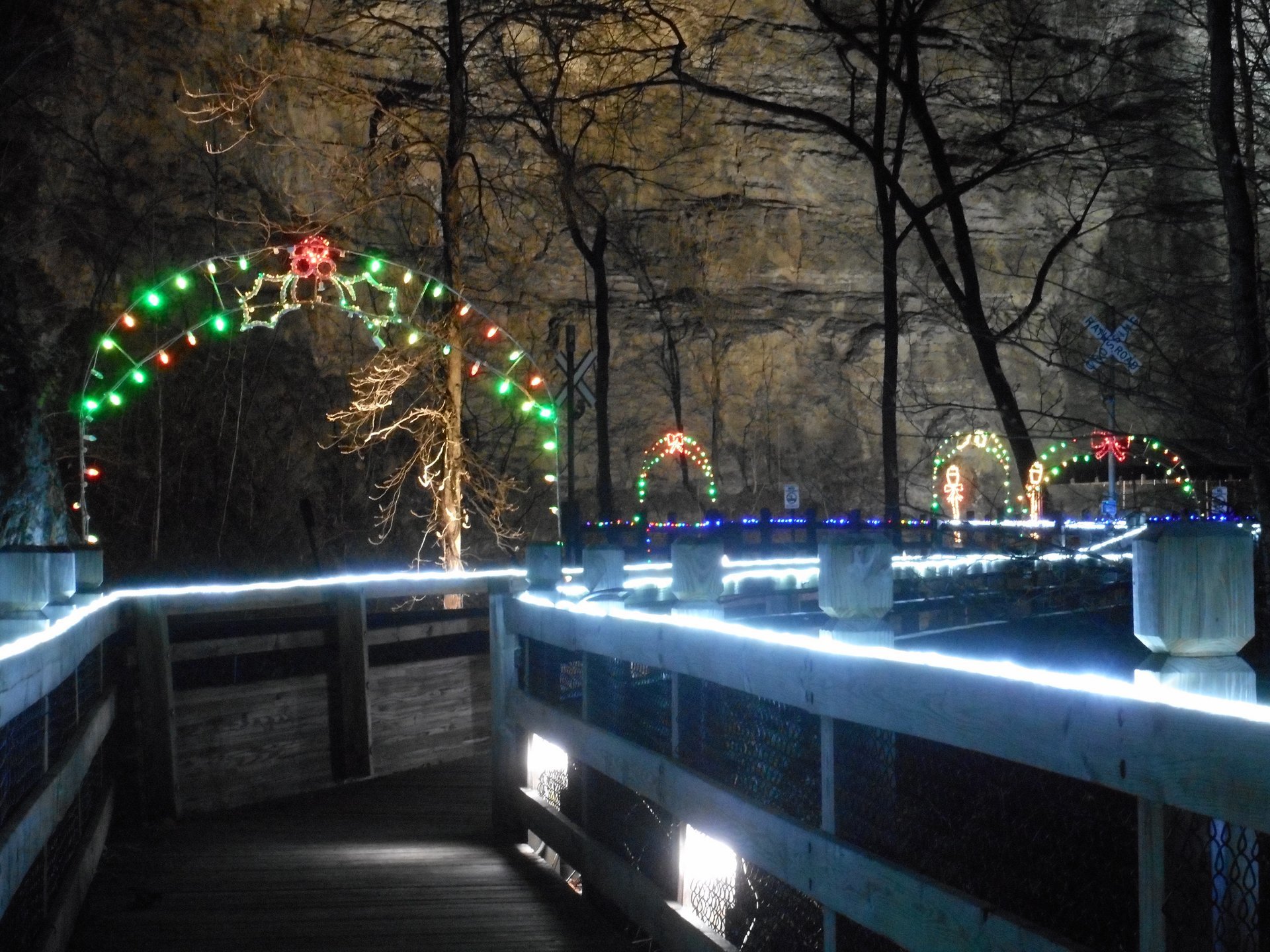 Find hotels and airbnbs near Christmas Lights across Virginia (Map)
Christmas Lights across Virginia Featured in