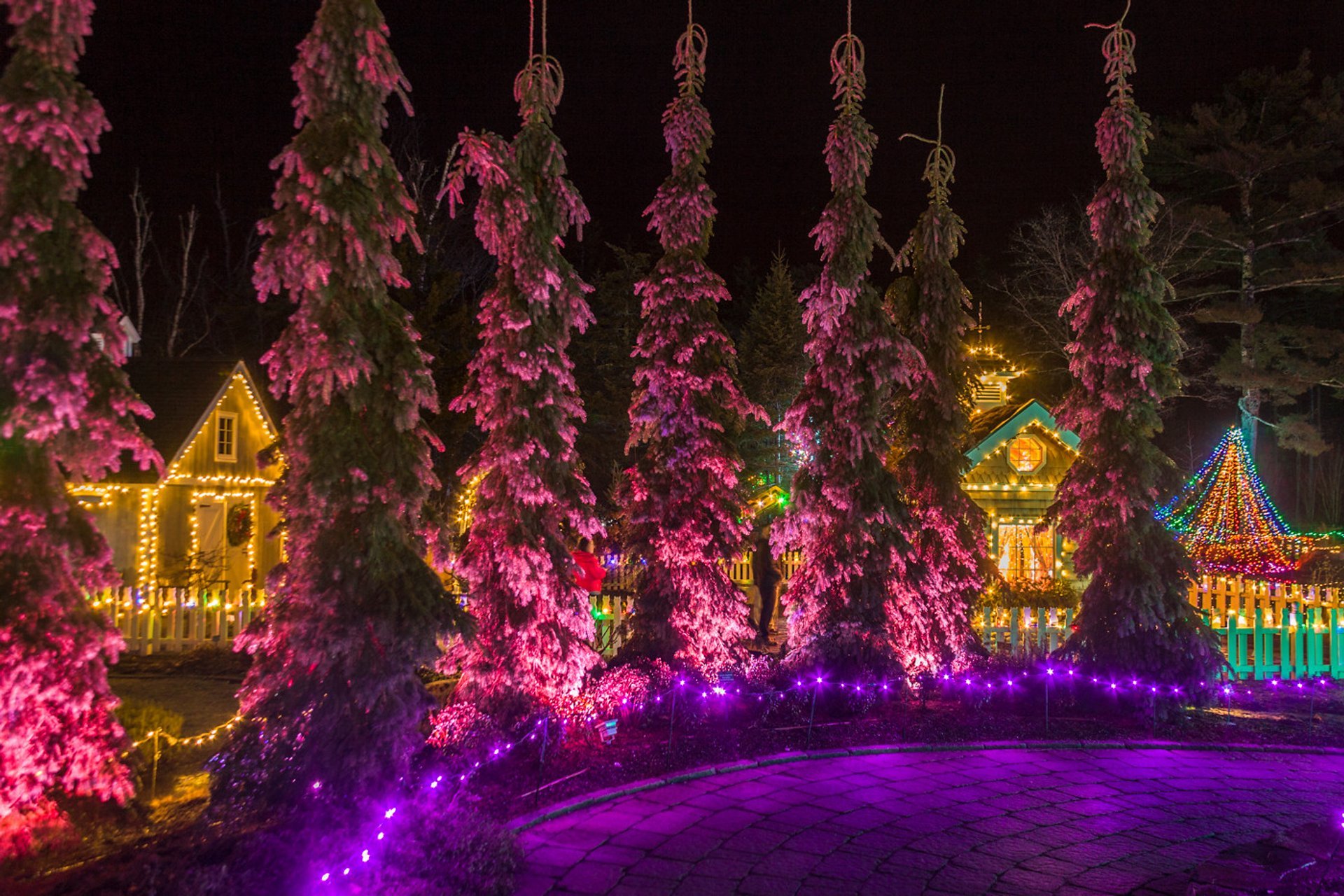 Show accomodations nearby
Christmas is a truly special time in New England. To see illuminated streets and trees of downtown Portland and historic Freeport is indeed magical. With beautifully illuminated ship parades along the waterfront and wonderful decorations everywhere, Christmas is the time when you can see Maine at its best and brightest.
Monument Square Tree Lighting, Portland (November 29, 2019)
The Monument Square tree lighting is the annual Portland tradition that kicks off the Christmas season in the city. The celebration features live entertainment and Santa Claus appearance. Bundle up in warm clothes and enjoy dazzling Christmas lights in downtown Portland. Try some complimentary eggnog, take a family picture in Photo Frame created by SubZero Ice Carvings, and watch amazing ice-carving demos. Take a horse & wagon ride through the historic downtown, try holiday treats from The Marshmallow Cart, and warm up in the warming hut or Portland Public Library's cozy atrium.
Gardens Aglow at Coastal Maine Botanical Gardens, Boothbay (November 14–December 31, 2019)
As the night falls on Coastal Maine Botanical Gardens in Boothbay, it turns into a winter fairytale land. One of New England's largest and brightest light displays illuminates the beautiful garden with over 650,000 lights. A dramatic display of color incorporates not just natural beauty, but also a magnificent sculpture exhibit. Besides the magnificent lighting display, visitors can also take advantage of gift shopping in the Garden shop and other activities. So dress up warmly and get into Christmas spirit at wonderful Gardens Aglow. To avoid overcrowding the Gardens capped attendance for each night, so make sure to buy your tickets early.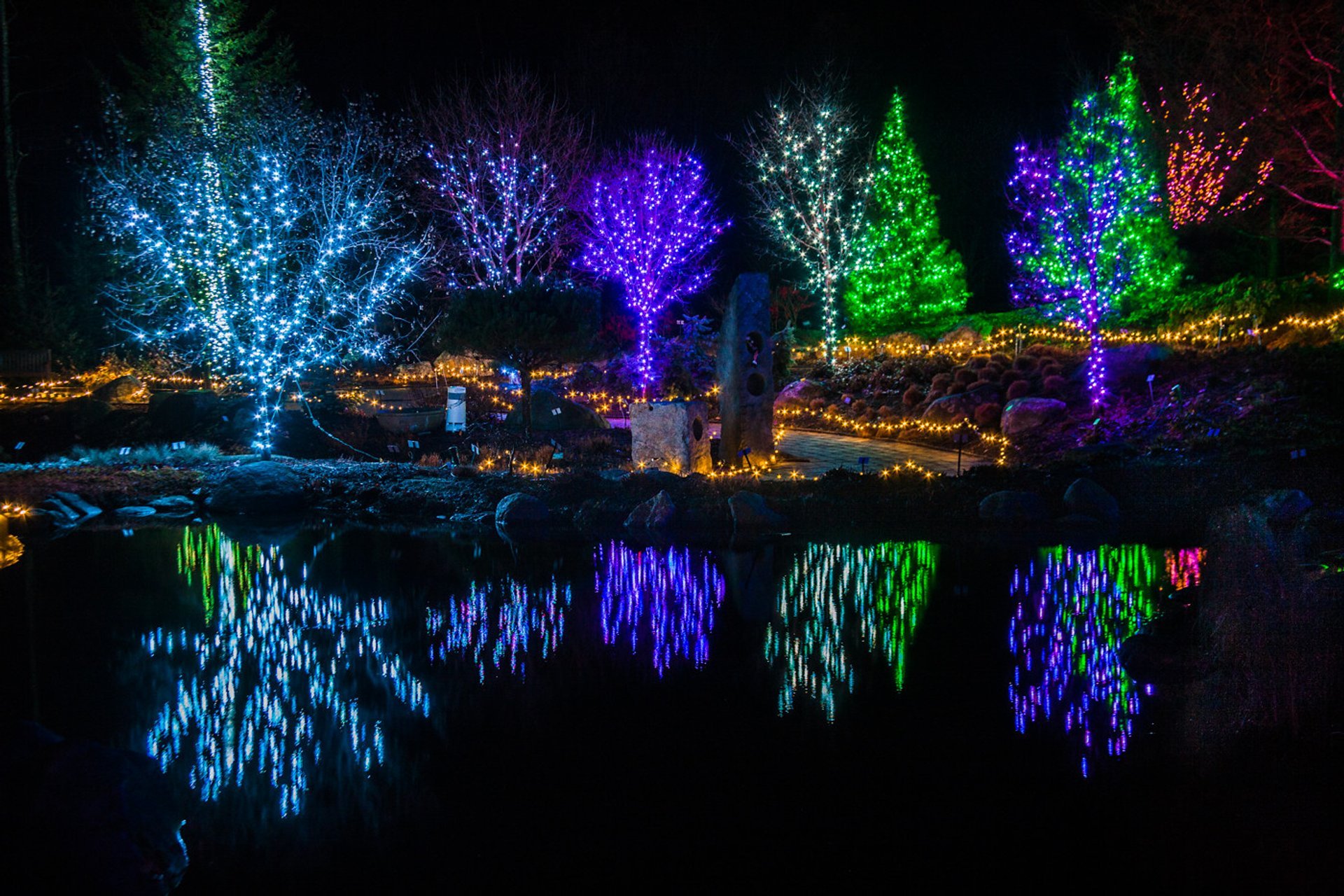 Gardiner Parade of Lights on Water Street (December 7, 2019)
Parade of Lights on Water Street is a premier holiday event in Gardiner, Maine. The favorite family event kicks off with Small Business Saturday when local stores have open houses with various activities and refreshments. The Lighting Saturday starts with the festival at Johnson Hall Park. There will be live entertainment, hot cocoa, bake sale and Christmas carolling. Children can meet Santa Claus in Gardiner City Hall Council Room from 5:30 to 6:30 p.m. Parade of Lights usually travels along Water Street from Winter Street to Waterfront Park. The parade has a different theme every year.
Sparkle Weekend in Freeport (December 6–15, 2019)
Sparkle Weekend is a massive Christmas celebration in Freeport. Maine's historic village gathers thousands of people every year for the region's most popular family-friendly holiday festival. The main attraction of Sparkle Celebration is Freeport Parade of Lights that travels down Main Street to the iconic Talking Christmas Tree. The festivities last throughout the whole week and offer many free activities, such as visits with Santa, carriage rides, Christmas movies screenings, and a Tuba Christmas Concert. Visitors can also enjoy shopping and L.L.Bean's Northern Lights Celebration that takes place at the same time.
Show accomodations nearby
L.L. Bean Northern Lights Celebration, Freeport (November 22–December 31, 2019)
The L.L. Bean Northern Lights Celebration holds one of the most popular Christmas festivals in Maine, taking place at its flagship campus in Freeport. With thousands of twinkling lights and visits with Santa and his reindeer, the festival has fun activities for all ages. Illuminated forested trails feature over 600 evergreens and one giant Christmas tree. Kids would love to Santa's post-and-beam workshop where they can share their holiday wishes. Warm-up in a festive 30-ft (9-m) yurt and enjoy the famous Model Train Village. Marvel Freeport's dazzling Christmas lights on free horse-drawn wagon rides, that depart from the flagship store on Main Street.
Show accomodations nearby
Lighting of the Nubble Lighthouse, Cape Neddick, York (November 30, 2019–January 1, 2020)
If you want to see the classic American lighthouse, head to Cape Neddick in York, Maine. Nubble Lighthouse dating back to 1879 is a real New England's icon. A 41-ft (12-m) building send light 88 ft (27 m) above the sea level. The lighthouse now serves as a hotel or bed-and-breakfast. During the holidays, it also features a beautiful Christmas light display. Nubble Lighthouse is an excellent spot for writing, painting, photographing, meditating and other activities that require solitude and beautiful views.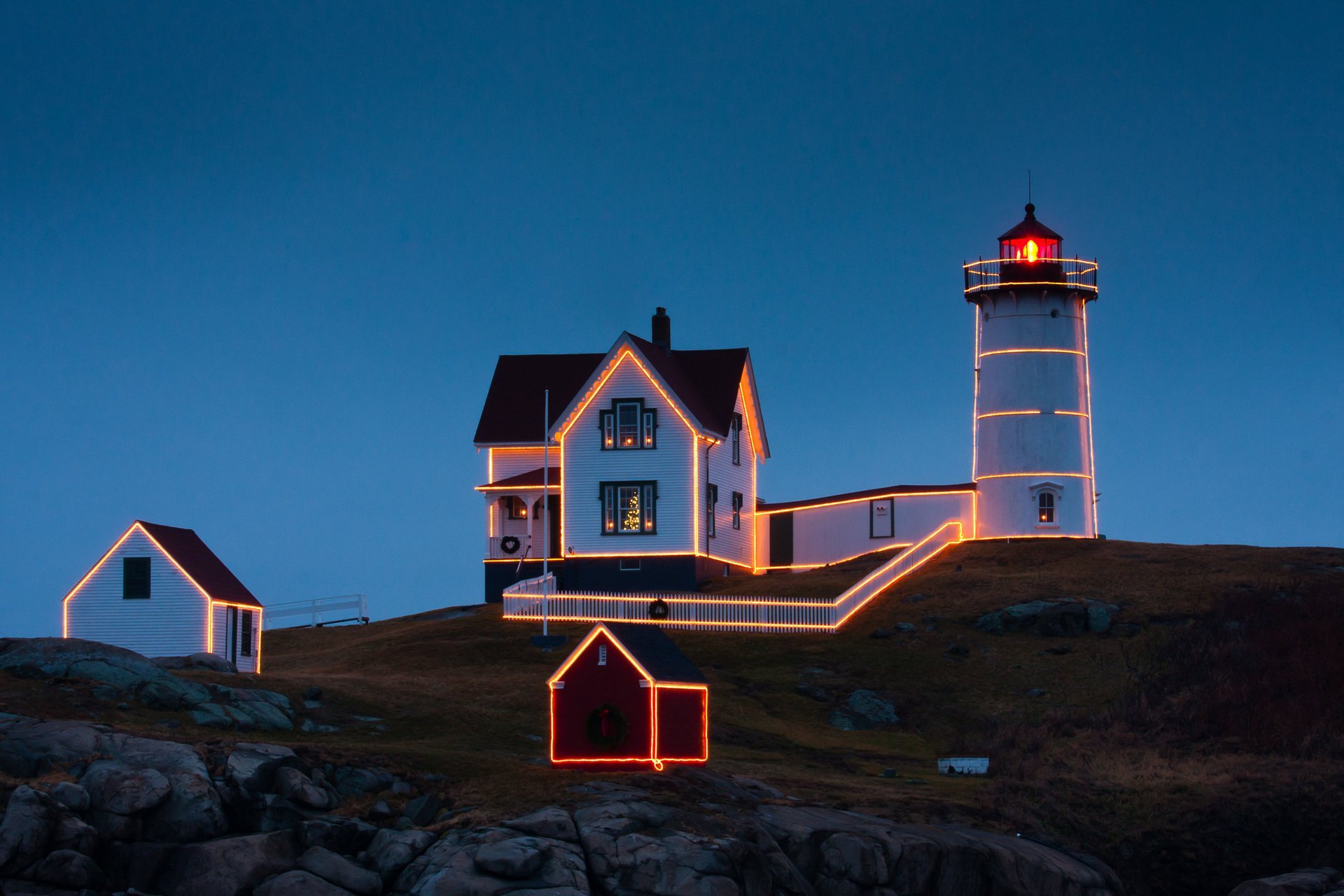 The Portland Harbor Christmas Boat Parade of Lights (December 14, 2019)
The Portland Harbor Christmas Boat Parade of Lights is probably one of the most famous holiday events in Maine. The annual spectacular is watched by thousands of spectators on the Portland waterfront. Another great option to see the parade is to book a special cruise with Casco Bay Lines. There are many speciality and music cruises that serve food, wine, and champagne to get everyone in the Christmas spirit. If you have no intention to board a boat or a ferry, the large parade of illuminated boats is perfectly visible from the Maine State Pier.