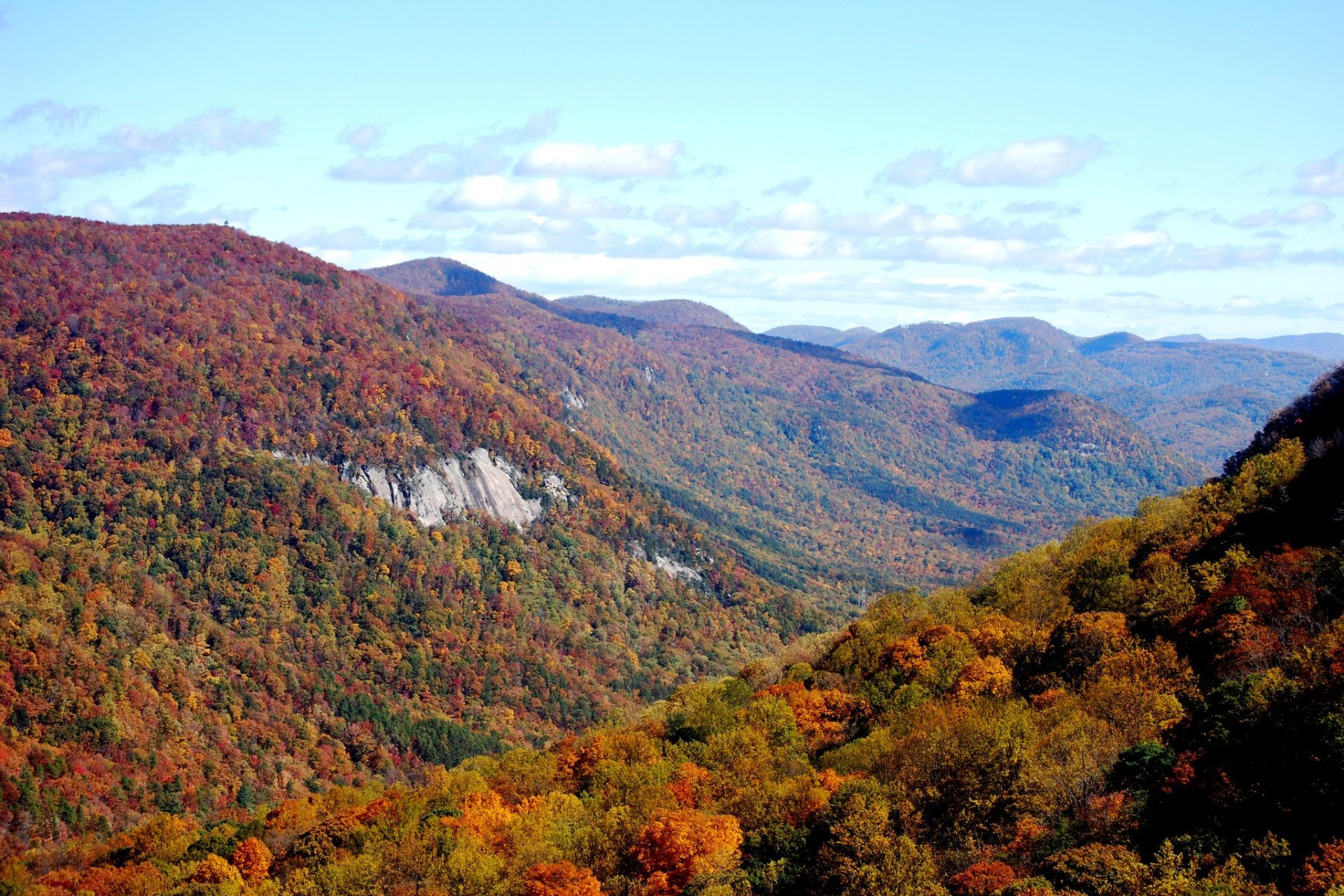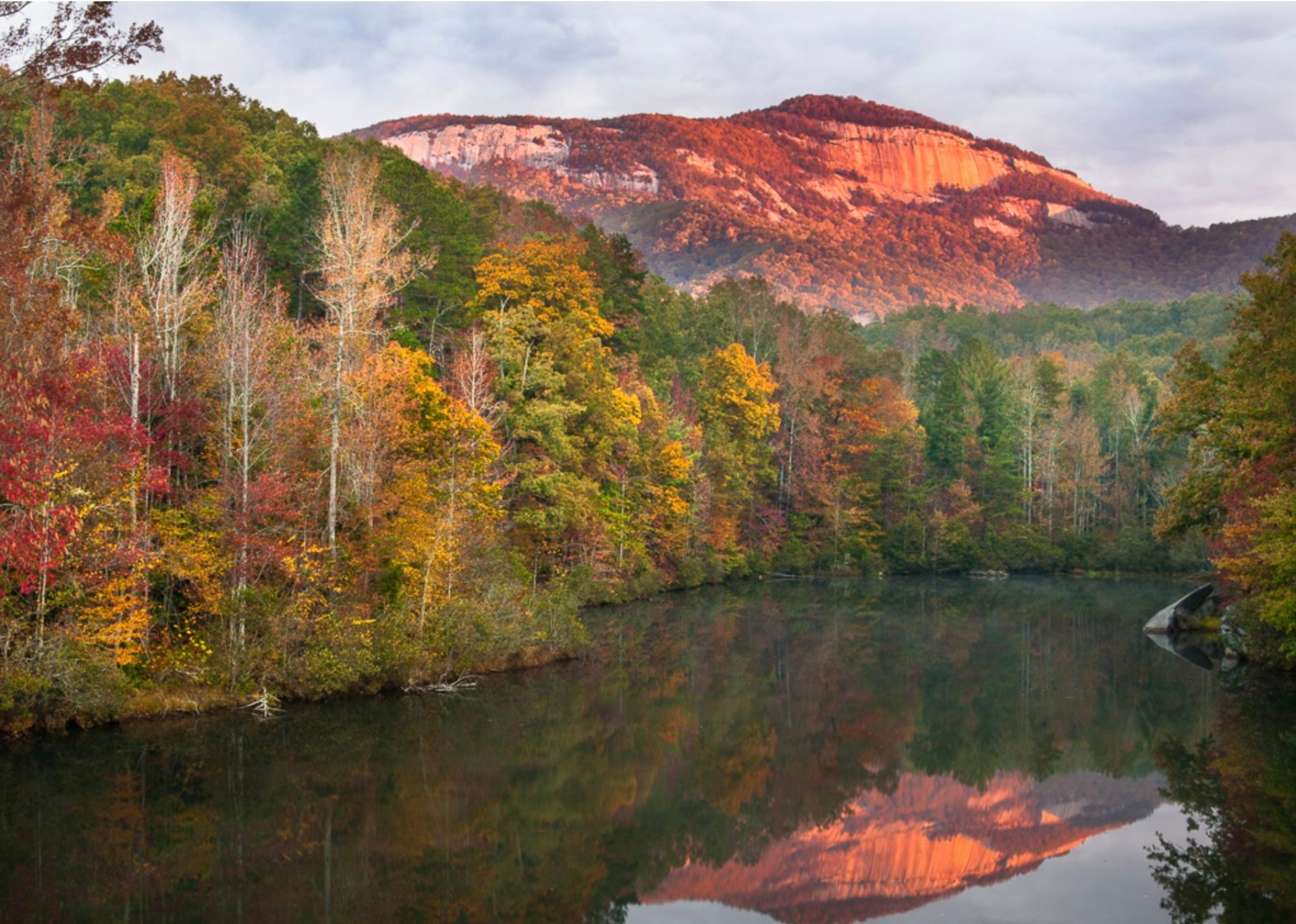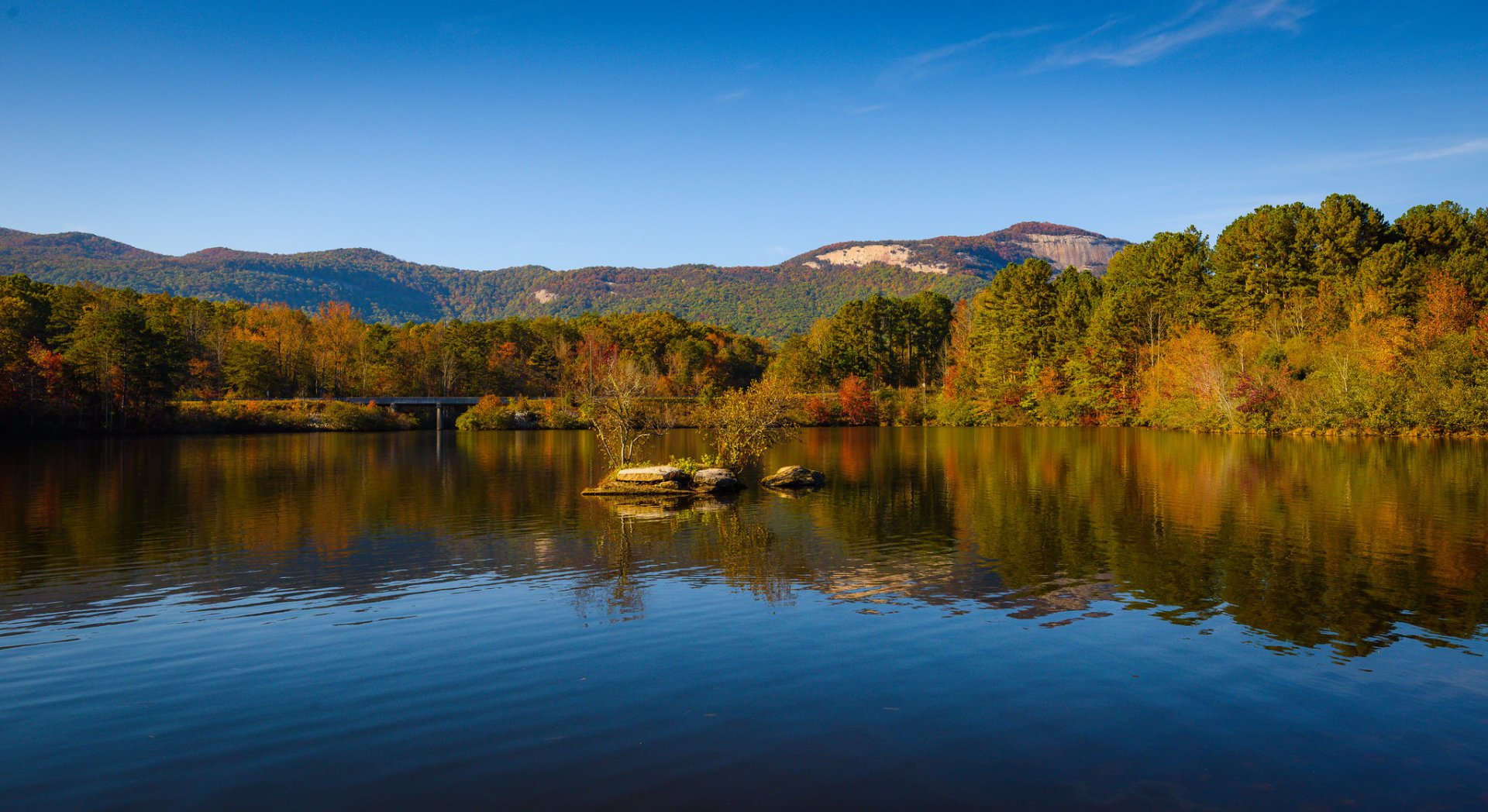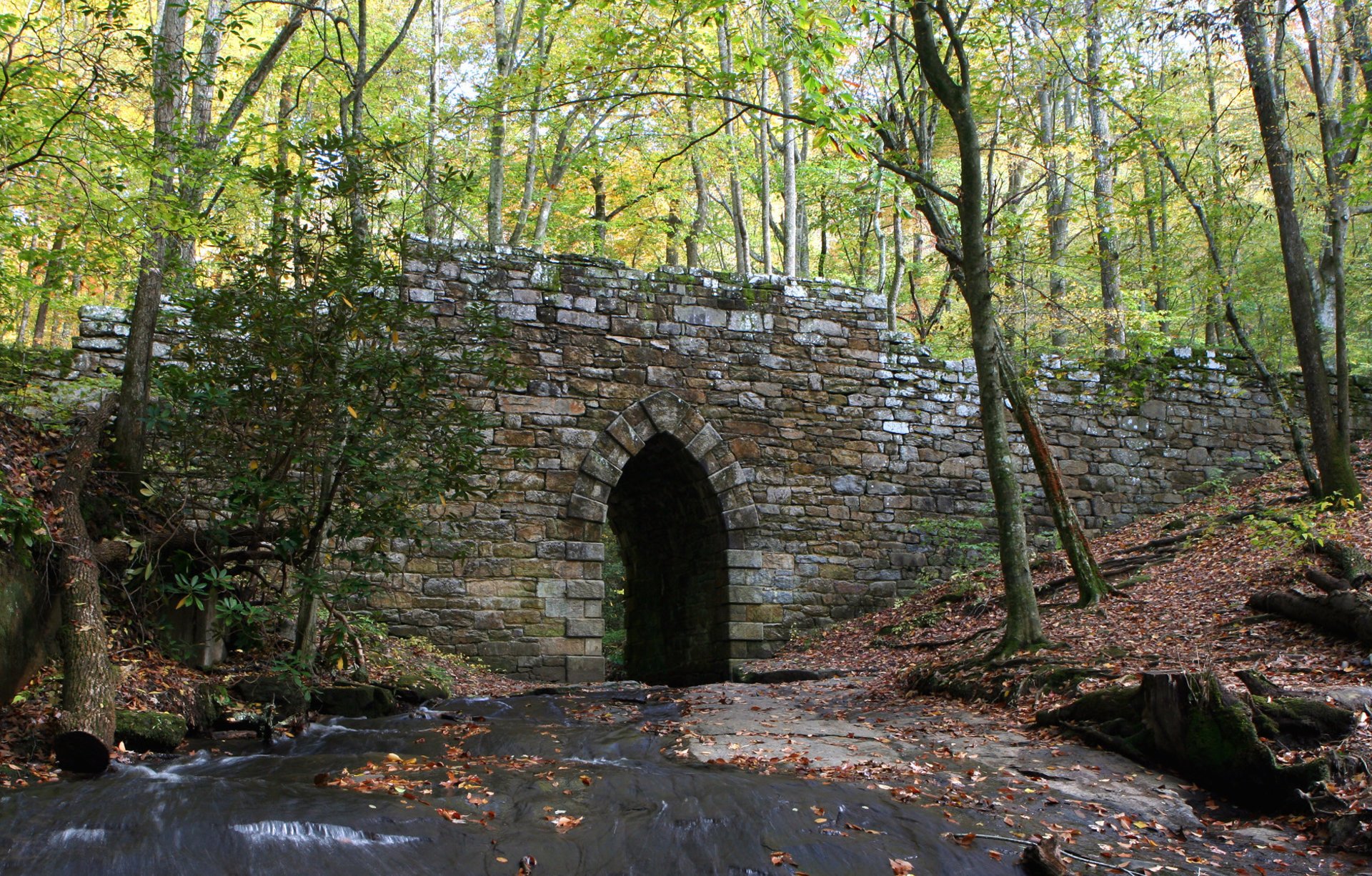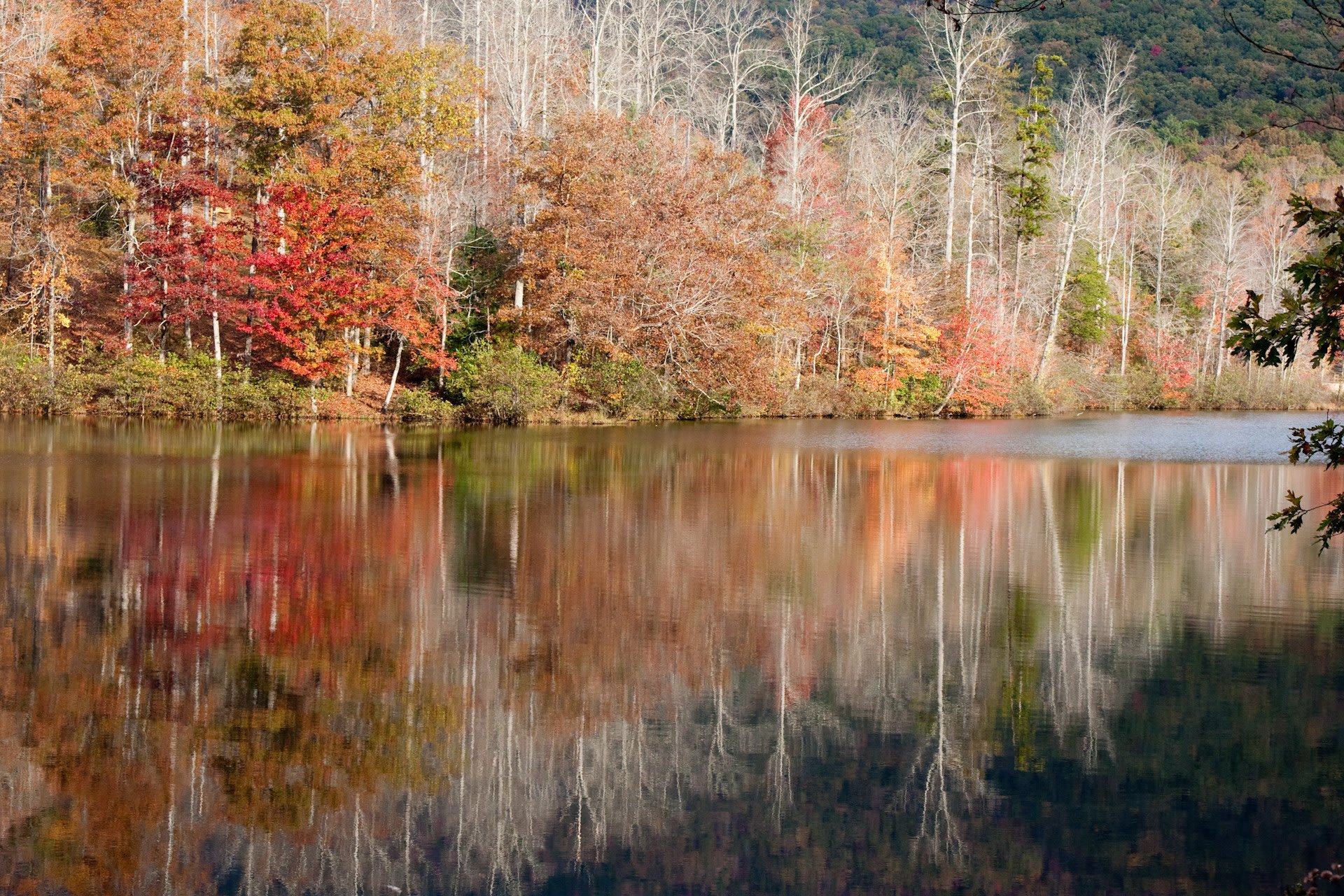 Fall colors at Mountain Bridge Wilderness Area
From Piedmont to the Blue Ridge Mountains and coastal plains, South Carolina has quite a diversity of landscapes. With 47 state parks, it turns into a leaf-peeping heaven every fall, colors bursting in every corner. Red maples, box elders, hickories, scarlet and black oaks, birches, and serviceberries create an amazing palette, from golden to bright red.
When is the best time to see fall foliage in Southern Carolina
Fall colors become visible around early October, particularly at elevations above 5,000 ft (1,524 m). Dogwood and sourwood trees usually turn first. Later, brilliant maples, oaks, and hickories join in, forming a sea of gold and bronze carpeting the landscapes in every direction. On lower elevations, the peak time to see fall foliage throughout the state falls in late October and runs through early November. However, every year might be slightly different.
Scenic Drives
The Cherokee Foothills Scenic Highway, running along the border with North Carolina, is a must-see in the fall. Passing through quite a few state parks, Cherokee Foothills Scenic Highway is also known as Highway 11 or Keowee Path. The Cherokees and European fur traders once used it. The highway stretches for 130 mi (209 km), starting near Gaffney and ending by Lake Hartwell.
Best places to see fall foliage in Southern Carilona
Jones Gap State Park
If you start your trip on Highway 11, near the border with North Carolina, you will soon reach Jones Gap State Park, rich with oak, hickory, and maple trees. Jones Gap State Park is part of South Carolina's Upstate Mountain Bridge Wilderness Area. The area boasts quite a few historical sights including Campbell's Covered Bridge and stone Gothic Poinsett Bridge, the oldest in South Carolina. Additionally, there are several waterfalls that look stunning in the fall: Rainbow Falls, Jones Gap Falls, Buckeye Falls, and Falls Creek.
Caesars Head State Park
The vast Caesars Head State Park is considered one of the best leaf-peeping destinations in the state. The park borders North Carolina and is comprised of dense hardwood forests. Take a hike to Raven Cliff, which leads to 420 ft (123 m) Raven Cliff Falls. You will be treated to stunning views framed with golden foliage.
Table Rock State Park
Table Rock State Park, just southwest of Caesars Head, is another spectacular fall foliage spot with miles of hiking trails. The Pinnacle Mountain Trail and Foothills Trail are the most scenic, with plenty of oaks, maples, and hickories forming beautiful color combinations. Stop by the Kemberling Bridge over Table Rock Lake on the north side of the park for a stunning panoramic shot.
Jocassee Gorges
Lake Jocassee, the north part of Lake Keowee, and Devils Fork State Park belong to the fall bucket list in South Carolina due to the stunning Jocassee Gorges that were featured by National Geographic in "50 of the World's Last Great Places". Mountains surrounding the lake are completely covered with orange and bronze foliage, forming a unique landscape, perfect for fall photography.
Oconee State Park
Located in the Blue Ridge Mountain region, Oconee State Park boasts beautiful mountainous scenery, particularly, the popular Foothills Trail, the Palmetto Trail, and the half-mile scenic Station Cove Falls trail. The park has two lakes and plenty of cabins to spend time in.
The abundance of waterfalls, scenic parks, and mountainous foothills, make Sothern Carolina a great choice for a fall-time trip. The northwestern part known as the Upcountry lies off the beaten track and away from the crowds, a great secret leaf-peeping destination to discover!
Find hotels and airbnbs near South Carolina Fall Foliage (Map)