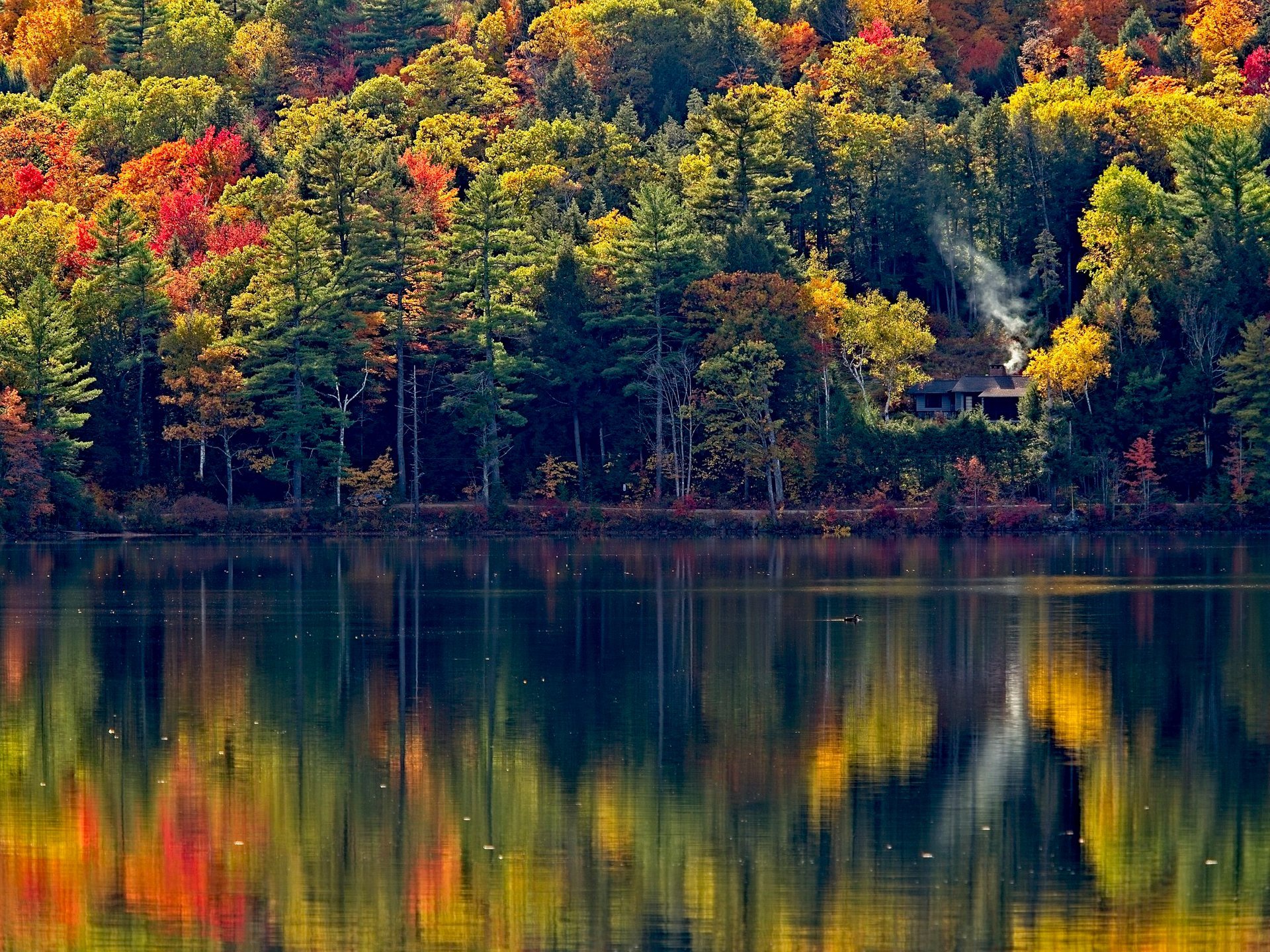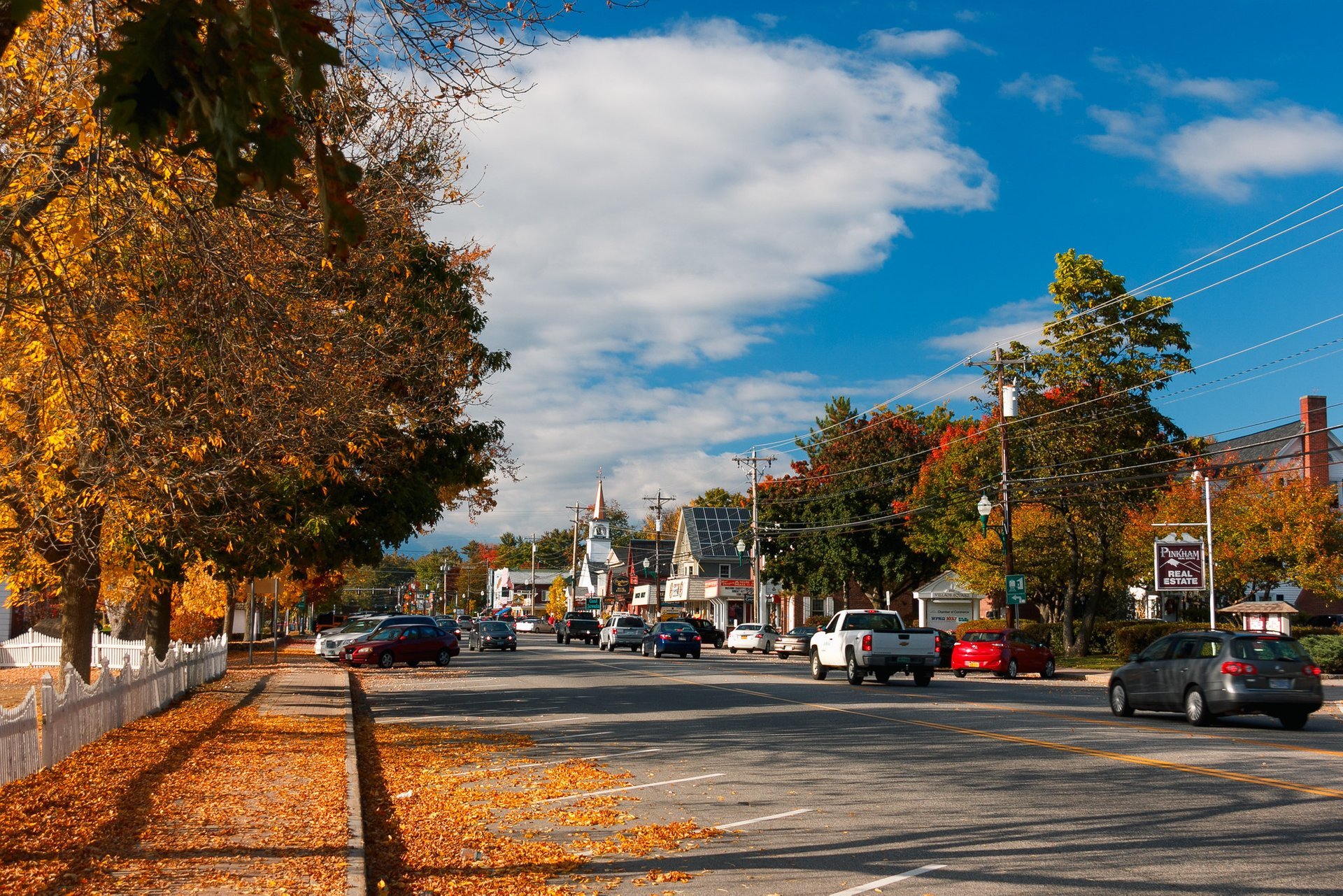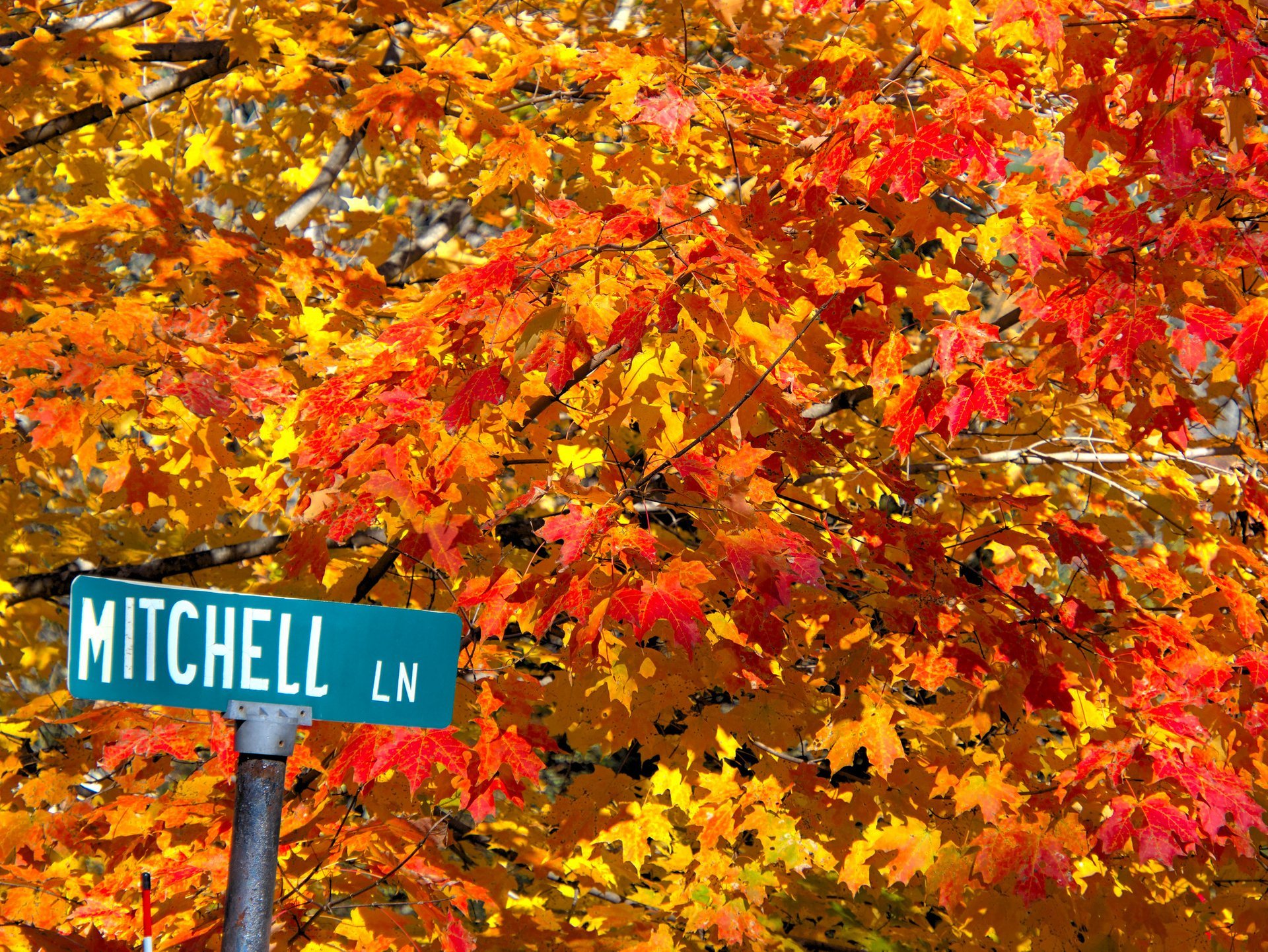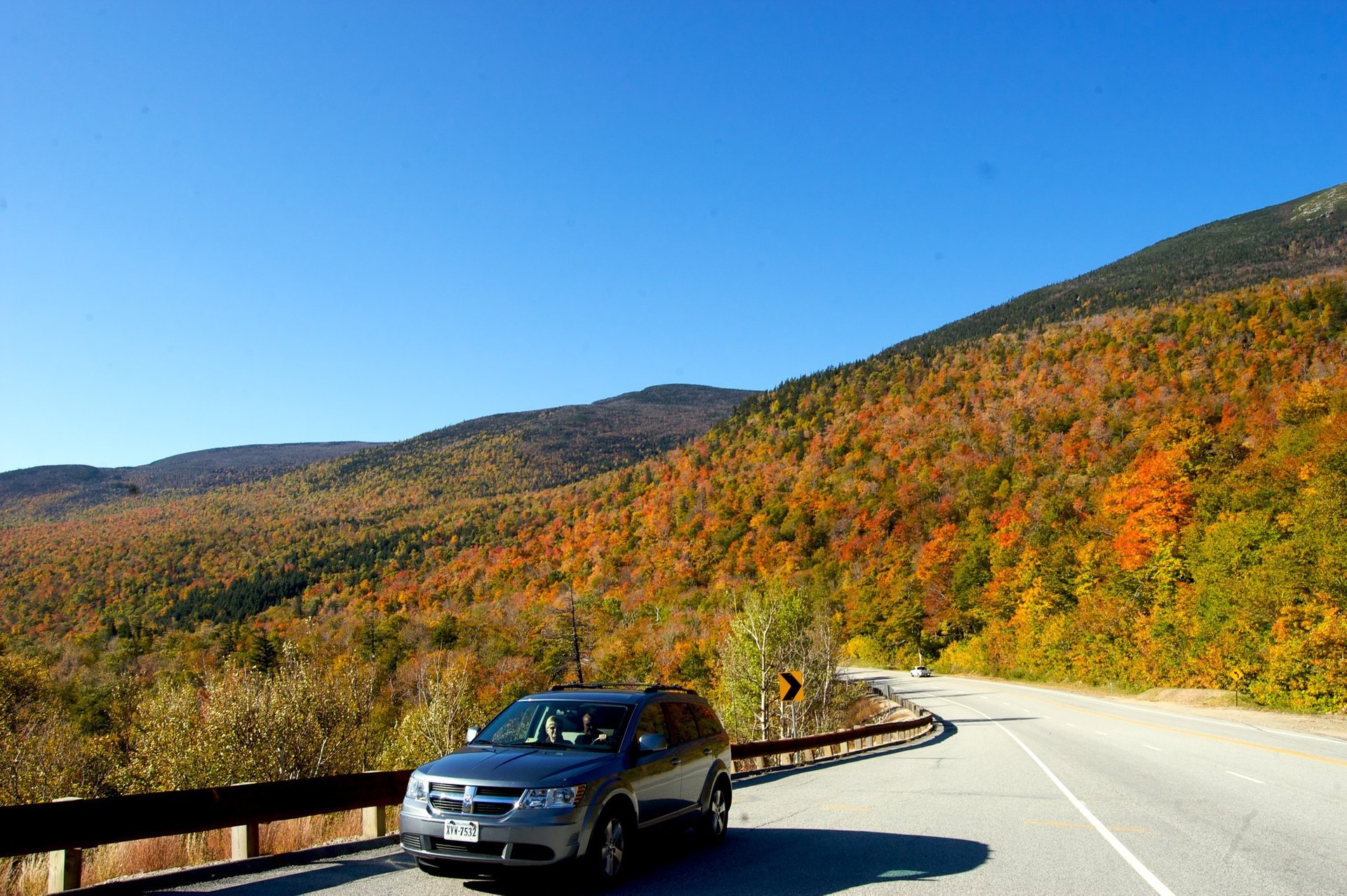 Franconia Notch State Park, New Hampshire
Mid-September through mid-October is when colorful fall foliage rushes over New Hampshire, and it usually unveils itself from northwest to southeast. For a true leaf peeping adventure, take a scenic drive along Route 112 or the so-called Kancamagus Highway winding between Lincoln and North Conway.
You will find Crawford Notch and Franconia Notch state parks a bit further north, where vistas are at their finest. Here, you will also find a cluster of crystal lakes in the area's Lakes Region. Squam and Winnipesaukee lakes add some blue to the autumnal landscapes of The Granite State.
New Hampshire boasts an abundance of towns for leaf peepers. Just look through the list below, bring your camera, and go on an adventure!
Conway
There may be no better way to see foliage than by train, and the Conway Scenic Railroad is your ticket to unforgettable views. Jump on board and go through White Mountain clefts lit by the colors of fall. Also, consider trekking to Diana's Baths, a picturesque chain of swimming holes and waterfalls.
Waterville Valley
Discover an unbelievable U-shaped mountain range that cradles Waterville Valley. This region becomes especially beautiful as the autumn colors light up the slopes. That's why this region's abundant hiking pathways look so inviting for so many outdoor enthusiasts.
Sandwich
Pleated between the woody foothills of the White Mountains and the loon-rich banks of Squam Lake, Sandwich village offers plenty of driving routes, hiking trails, and an alluring downtown scene. But if your visit coincides with the 100-year-old Sandwich Fair, you would have even more fun: livestock competitions, midway rides, and much more.
Walpole
Welcome to a beautiful village bordered by 19th-century buildings, accompanied by orchards, farms, and the Connecticut River, of course. The views at Alyson's Orchard, one of the best orchards in the country, are definitely heart-stopping. Just come and see for yourself.
Hanover
Hanover is famous for its lush landscapes. The Appalachian Trail, the Connecticut River, and all the nearby mountains will certainly take your breath away. To take in all the beauty around, you can rent a kayak or canoe from the nation's oldest boating club—Ledyard Canoe Club.
Jackson
Surrounded by the White Mountains and girded by numerous hiking paths, Jackson is the gem of the Whites. The town sees its inns filled with skiers throughout the winter, but you've never seen a place like this before during fall. Here you can take in 5 mi (8 km) of the stunning mountain scenery along Jackson Scenic Loop. You can discover it by car, by bike, or on foot.
Fall Foliage Drives
New England can offer a load of amazing fall foliage drives, but the Kancamagus Highway or simply the Kanc in the White Mountains is the most famous. Evans Notch (Route 113) provides a quieter alternative to the Kanc. It begins and ends in Maine, but along the New Hampshire border, this route is winding, steep, and truly unforgettable. You can also choose to drive around Squam Lake and Lake Winnipesaukee, which offer outstanding views of mountains and water altogether.
Where to Stay
If you've made a choice to visit New Hampshire during the fall foliage period, the state has an endless list of hotels, lodgings, and inns to offer. But campsites continue to be particularly popular around New Hampshire. All-time favorites are Mead Explorer Base Camp near Sandwich and Hampton Beach State Park Campground near Walpole.
New Hampshire Fall Colors Map
The map below depicts top fall foliage viewing locations across New Hampshire. These places are mentioned above with more details. Pick your destination and hit the road!
Find hotels and airbnbs near New Hampshire Fall Colors (Map)