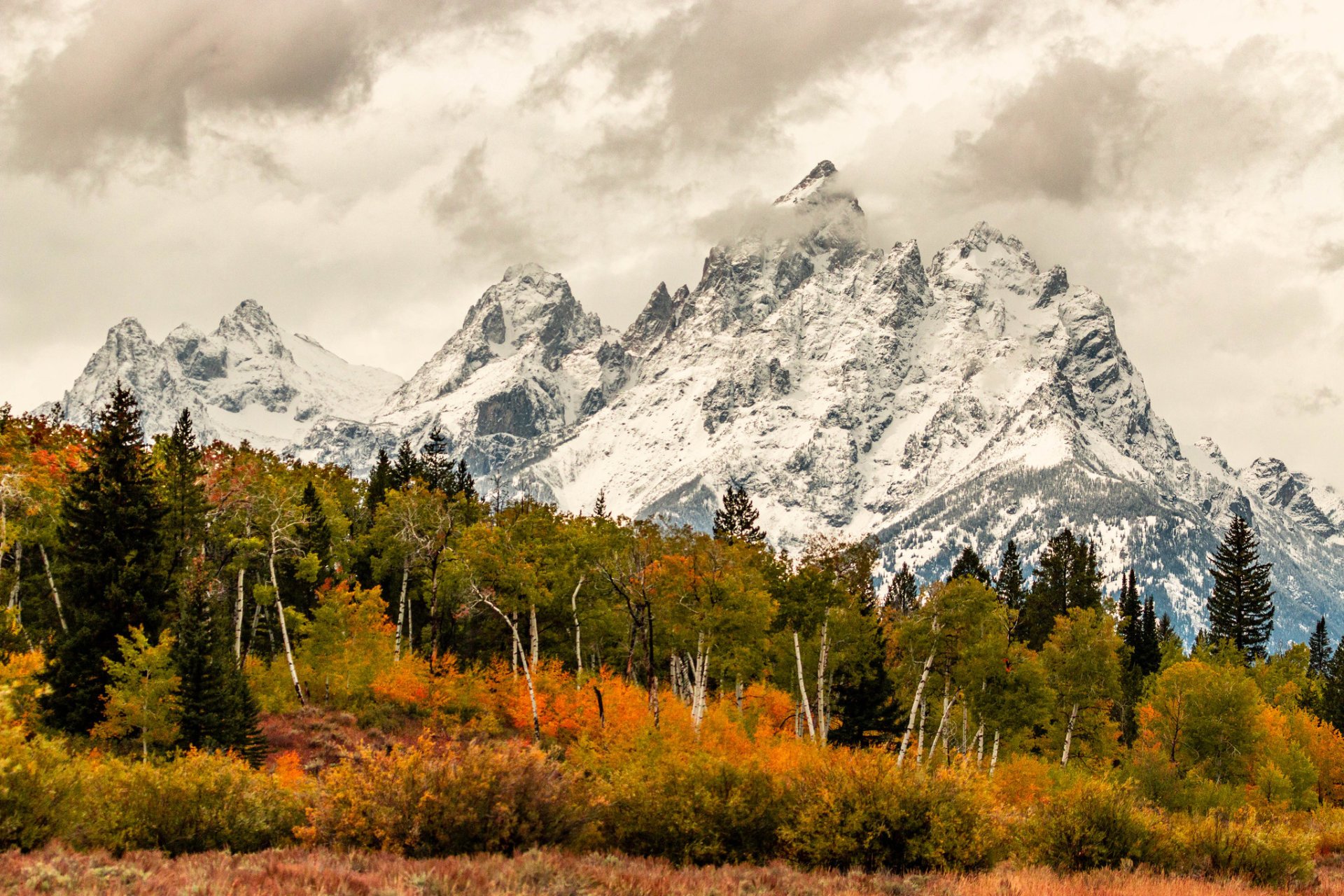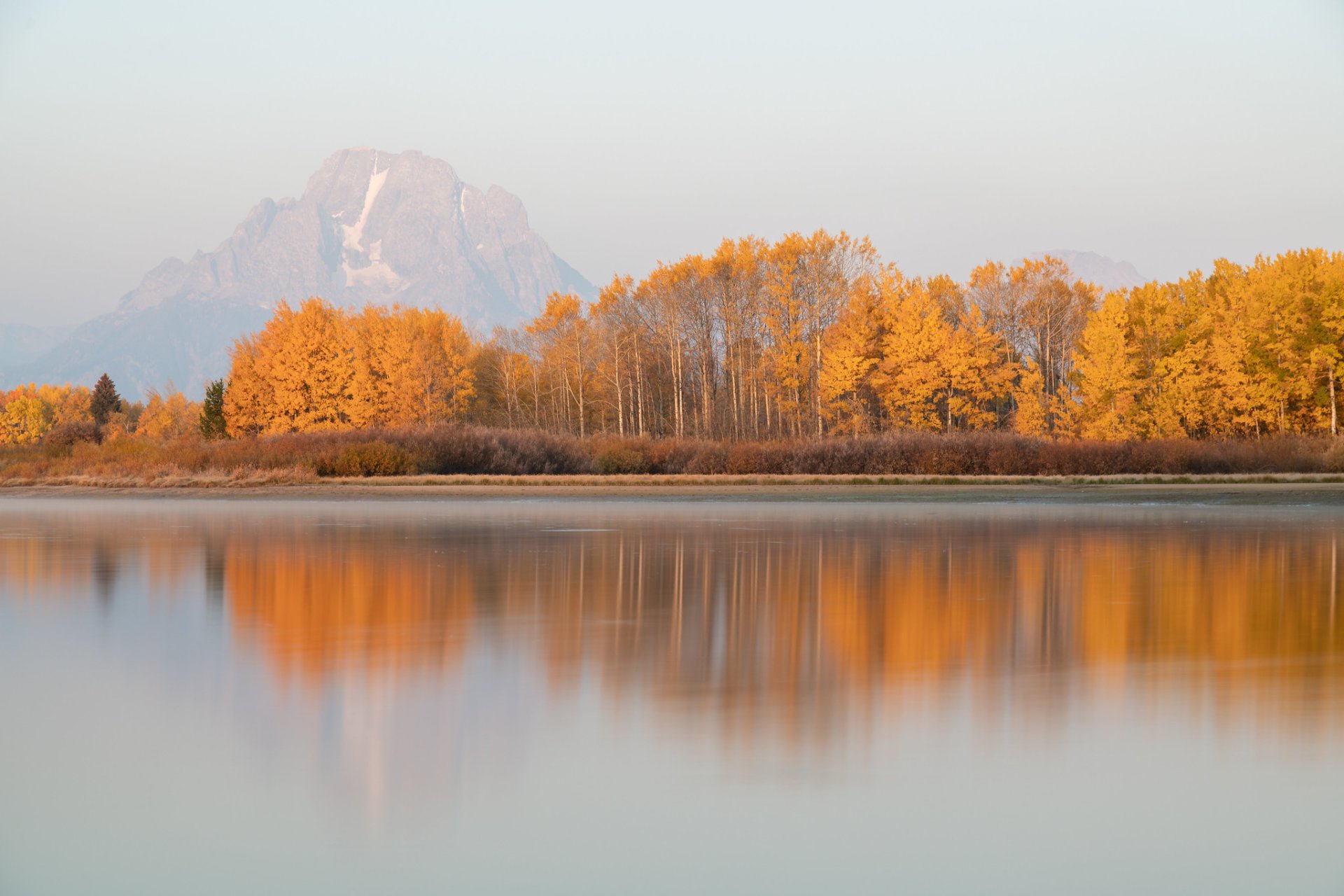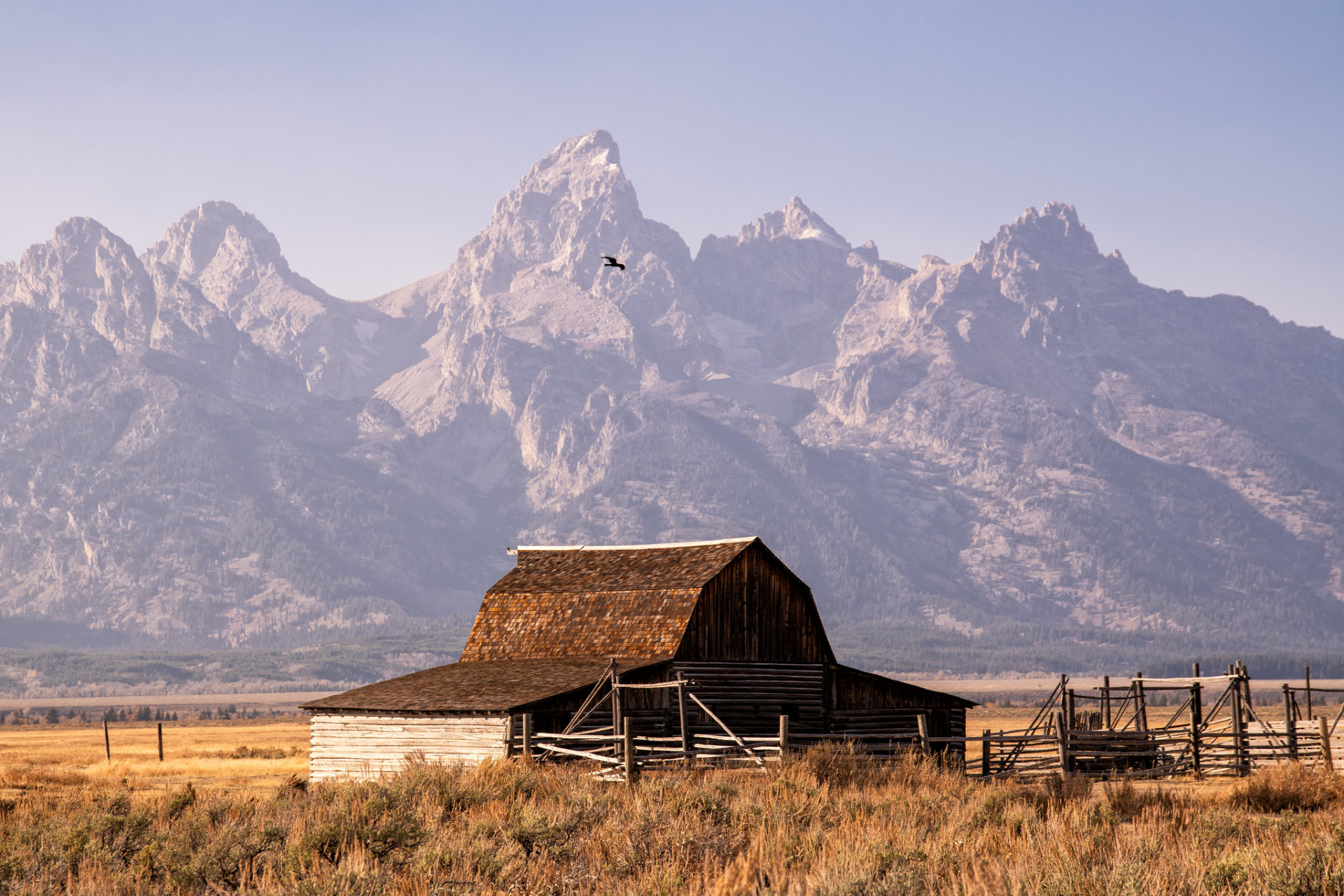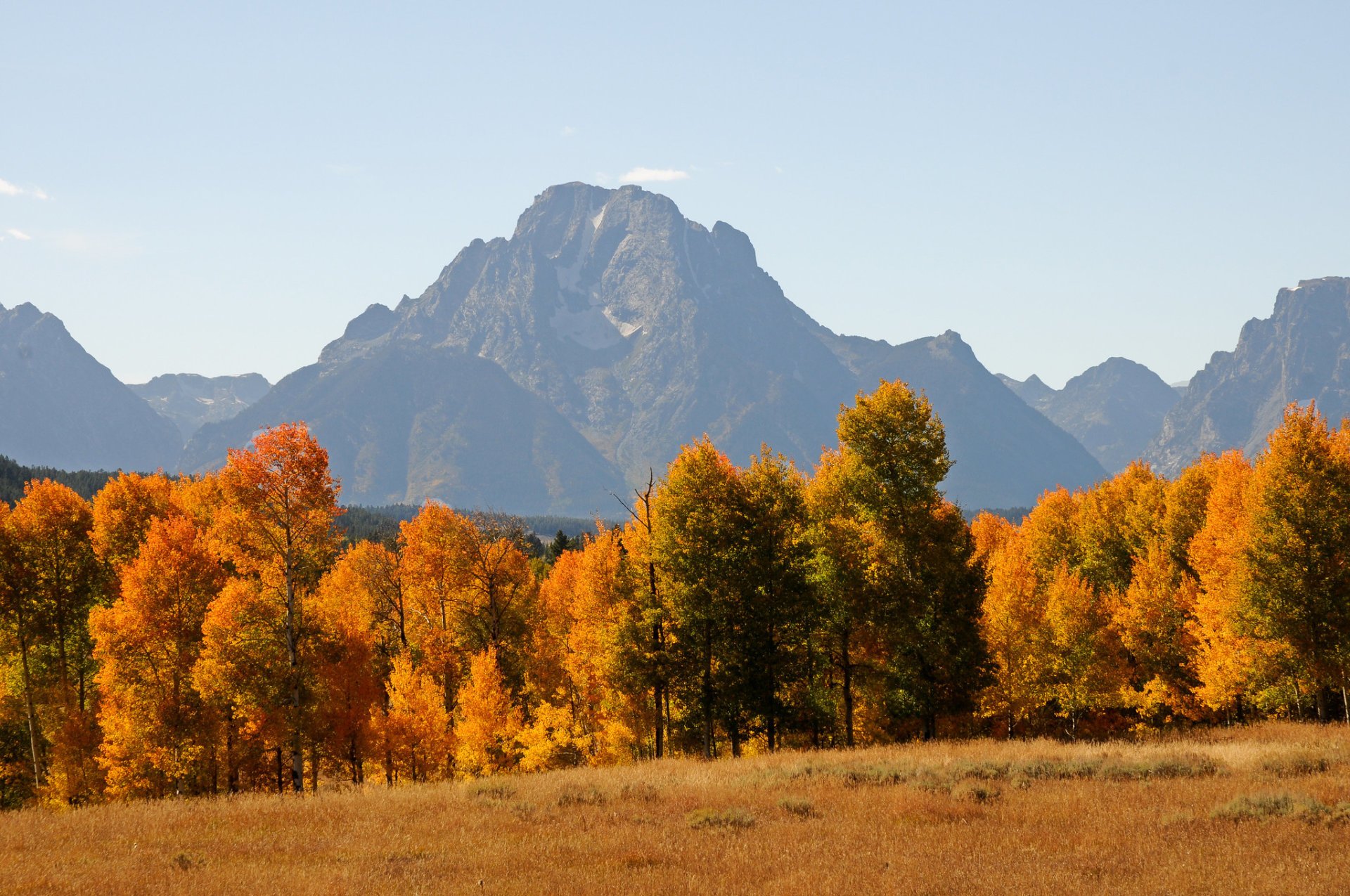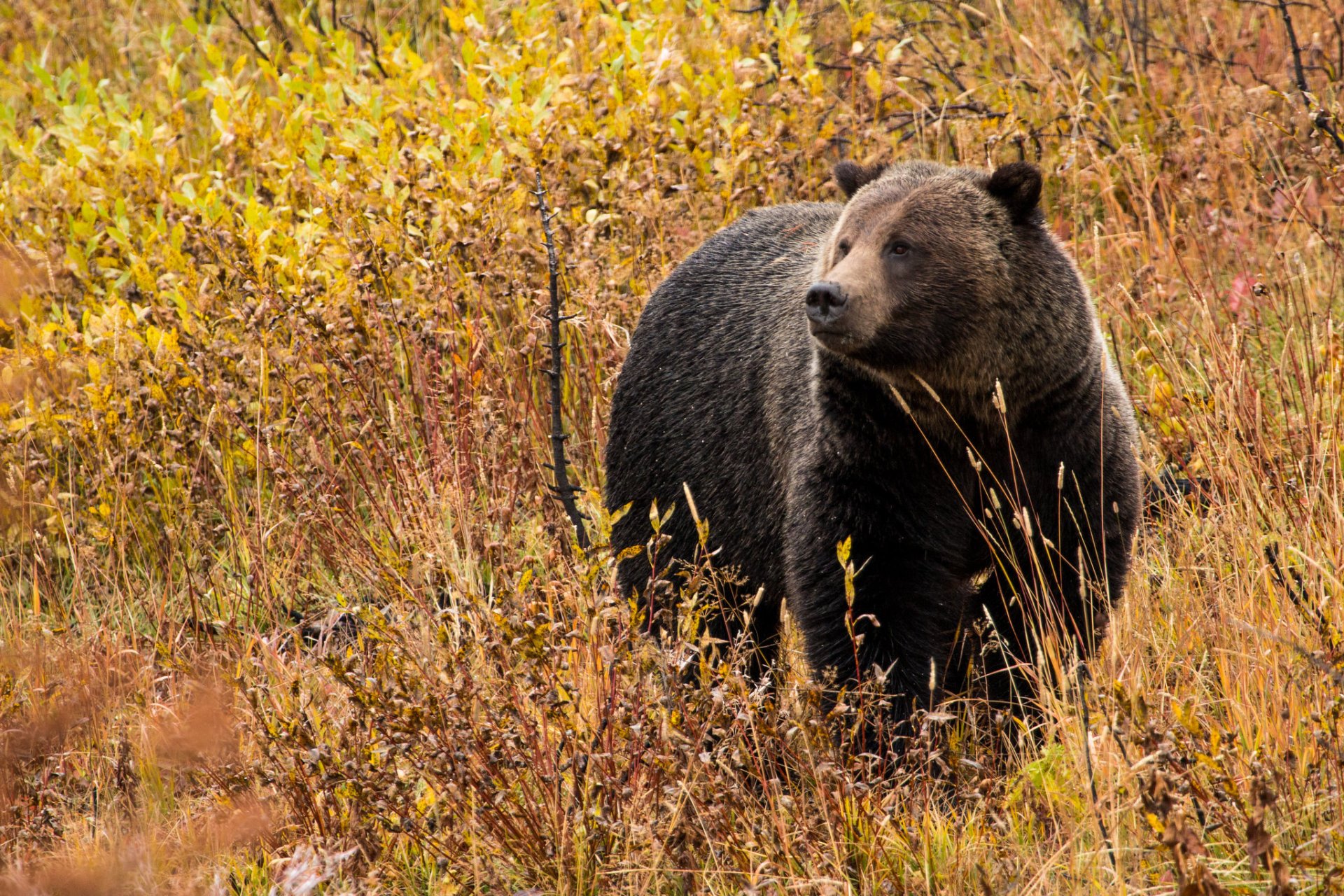 Fall Snow Storm in Grand Teton
Located north of Jackson, Wyoming, and south of Yellowstone, Grand Teton National Park is a top fall foliage destination in Wyoming. Fall colors here are absolutely spectacular thanks to a variety of deciduous trees that create a stunning contrast to snow-capped rugged Teton peaks. Aspen groves paint the slopes yellow and orange. Cottonwoods and willow provide more golden hues along the Snake river, while black hawthorns and various shrubs add scarlet notes at the bottom of the picture.
How long do fall colors last in Grand Teton
Fall colors start to appear in Grand Teton National Park in early September and last for about five weeks till mid-October. The trees on higher elevations turn first, while in the lower areas fall arrives a bit later. Generally, peak fall colors can be observed in Grand Teton National Park from the last week of September and through the first week of October. However, each year is slightly different, depending on temperature and rainfall.
Best places to see fall colors in Grand Teton
Oxbow Bend belongs on every leaf peeper's bucket list. A scenic overlook is located at the crescent-shaped section of the Snake River, between Jackson Lake and Mount Moran. One of the most photographed spots in the park, Oxbow Bend looks breathtaking in the fall due to the abundance of quaking aspens and cottonwoods with a complimentary backdrop of mountains.
Snake River Overlook is another beautiful point off highway US-191 with stunning views of the Jackson River Valley and gorgeous Tetons, covered with evergreens.
Laurance S. Rockefeller Preserve is located on Moose-Wilson Road, providing access to several picturesque hikes. Aspen groves show off blazing colors on the 5.8 mile Aspen Ridge-Boulder Ridge Loop, which lies near Phelps Lake, surrounded by hawthorns, cottonwoods as well as boulder fields.
Schwabacher's Landing is another scenic area on the Snake River, east of Grand Teton. It can be reached by I-89 and then a dirt road. The area is used by anglers and river rafters and features trailheads for several hikes. Take a walk along Snake River to enjoy the abundance of cottonwoods and perfect reflection views.
Scenic drives
When exploring Grand Teton by car, you have an opportunity to enjoy amazing views and spot wildlife, which is especially active in the fall. Take a drive on a beautiful Moose-Wilson Road that connects the towns of Moose and Wilson. Drive slowly since moose often walk across the road. From Moose, continue on Teton Park Road, which goes along the base of the Teton Range to Jackson Lake. Many beautiful mountain vistas open up from the 12 mile Fall Creek Road, running from Wilson straight through the heart of Teton Range. If you don't feel like driving, take a float on the Snake River to enjoy all the best views from the water.
Find hotels and airbnbs near Fall Colors (Map)