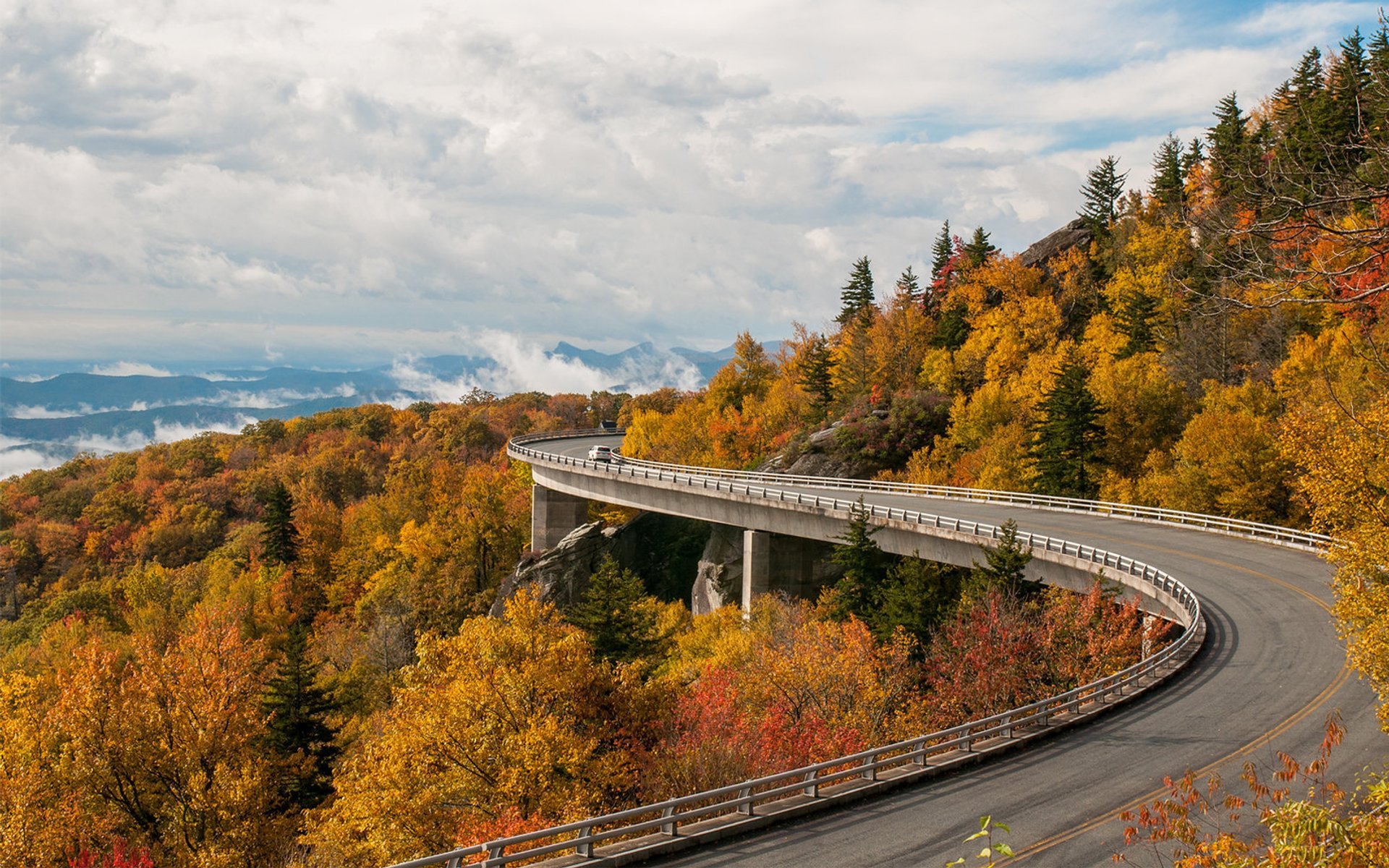 North Carolina puts on a kaleidoscopic palette of fall colors in October. More than 200 tree species under blue skies promise striking colors and beautiful leaf peeping memories. Experience the glory of the fall season in North Carolina in a myriad of ways, from the Blue Ridge Parkway in the west to Atlantic Ocean piers in the east.
Best time to see fall colors in North Carolina
The rich fall display usually starts at the highest elevations in early October, gradually progressing to the lowest elevations by late October or early November. Peak season across North Carolina occurs around mid-October. The highest areas of the Appalachian Mountains, including Grandfather Mountain and Mount Mitchell, at 4,500 ft (1,300 m) and above, are the first to welcome the vibrant fall colors in the first weeks of October. You can simply drive along the Blue Ridge Parkway or hike in the Great Smoky Mountains National Park to capture the beauty of autumn. At these elevations, red, crimson, and orange colors are seen among mountain and sugar maples; yellow hues are displayed with yellow birch and beech; and a palette of red shades are displayed with red oak, serviceberry, and high-bush blueberry leaves. Fraser fir, red spruce, and Catawba rhododendron provide a green backdrop of evergreen foliage across high-elevation areas. A week or two later, in mid-October, the levels of 2,500–4,500 ft (700–1,300 m) see the change of colors. This is the time to explore places like Pisgah National Forest and Nantahala Gorge. Prominent trees at mid-elevation include tulip poplar and black birch (yellow); hickory species, sourwood, and flowering dogwood (red); and numerous oaks (red, yellow, and scarlet). These colorful deciduous trees are interspersed with a green carpet of evergreen trees such as white pine, pitch pine, and table mountain pine. Late October through early November is the best time for leaf peeping at elevations of 2,000 ft (600 m) and below. Drive to Biltmore Estate in Asheville for fall foliage combined with the colorful blooms in the gardens and grounds of the Estate. Or go for a hike to Chimney Rock with stunning fall foliage views. At the lowest elevation, the deciduous colors tend to be more dispersed and the fall carpet is composed of many of the mid-elevation species with an addition of the scarlet hues of southern red oak. All this is seasoned with the tans and whites of flowering grasses such as plume grass, little bluestem, and Indian grass.
Best places for fall colors viewing in North Carolina
Great Smoky Mountains National Park, on the border of North Carolina and Tennessee, is one of the prime areas for leaf peeping in the state. Take a fall foliage ride with the Great Smoky Mountains Railroad that departs from Bryson City, NC, and follows a historic rail line across river gorges and valleys and then through tunnels carved into the slopes of the majestic mountains. The Blue Ridge Parkway is one of the most scenic fall foliage drives in the state. The road will take you across the Blue Ridge Mountains with breathtaking vistas reaching 50 mi away on a clear day. The beauty of the Parkway is that it varies in elevation, which ensures one of the longest-running fall color seasons in the world, from early to late October. Off the parkway, you can find an endless list of scenic places like Graveyard Fields, Wildcat Rock Overlook, and Linn Cove Viaduct. Biltmore Estate in Asheville is particularly gorgeous in October. This 8,000-ac (3,200-ha) estate takes its visitors on a fairy tale adventure, where they can live a day as the late 1800s wealthiest families. The estate has it all, from the iconic Biltmore House and Gardens to riding stables, ponds, and a winery. Enjoying fall landscapes in combination with wine tastings and tours in the winery included in the Biltmore Ticket—could you imagine a better fall foliage viewing experience? Chimney Rock State Park, Lake Lure, NC, spans over 7,000 ac (2,800 ha) and offers stunning views of fall foliage in late October–early November. The park offers excellent trails, scenic waterfalls, and the postcard view of the famed Chimney Rock. Fall colors at Chimney Rock usually peak in late October to early November.
Find hotels and airbnbs near North Carolina Fall Colors (Map)