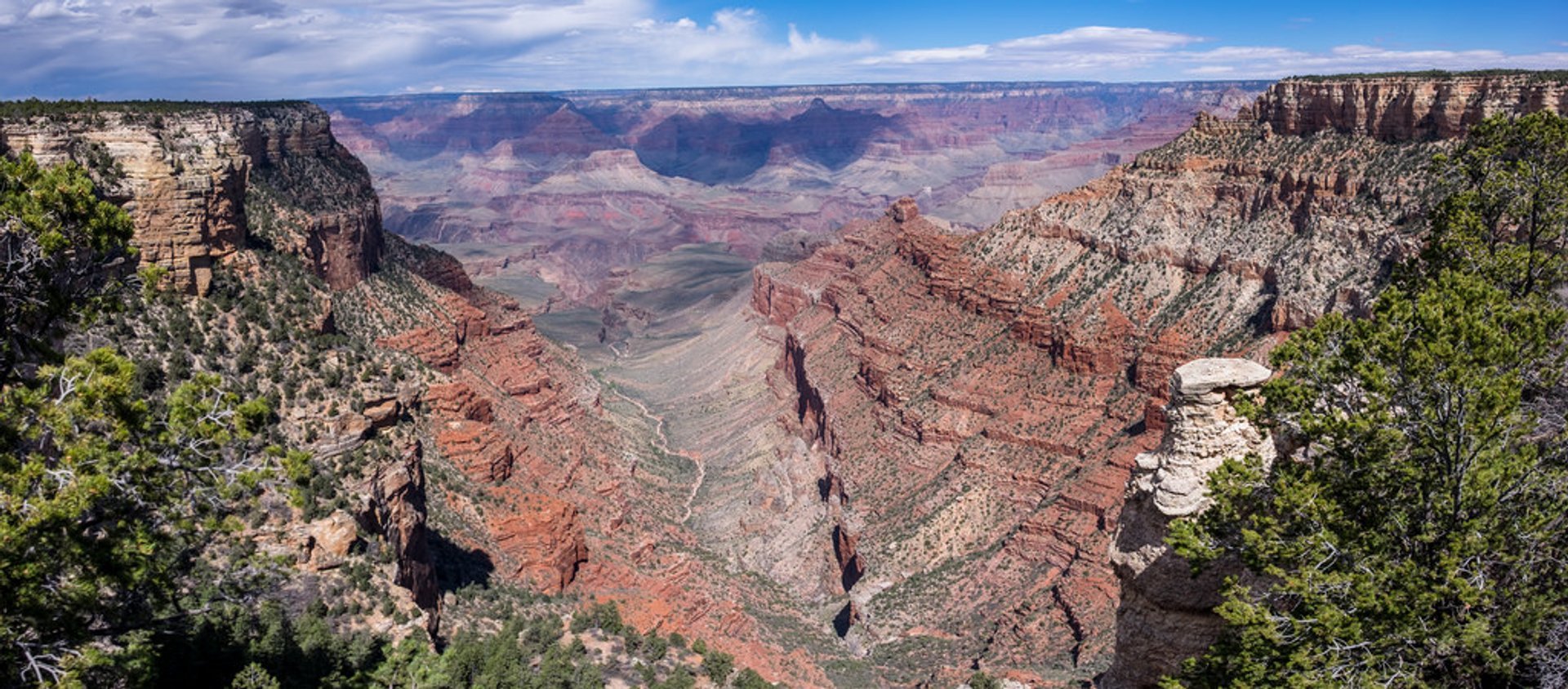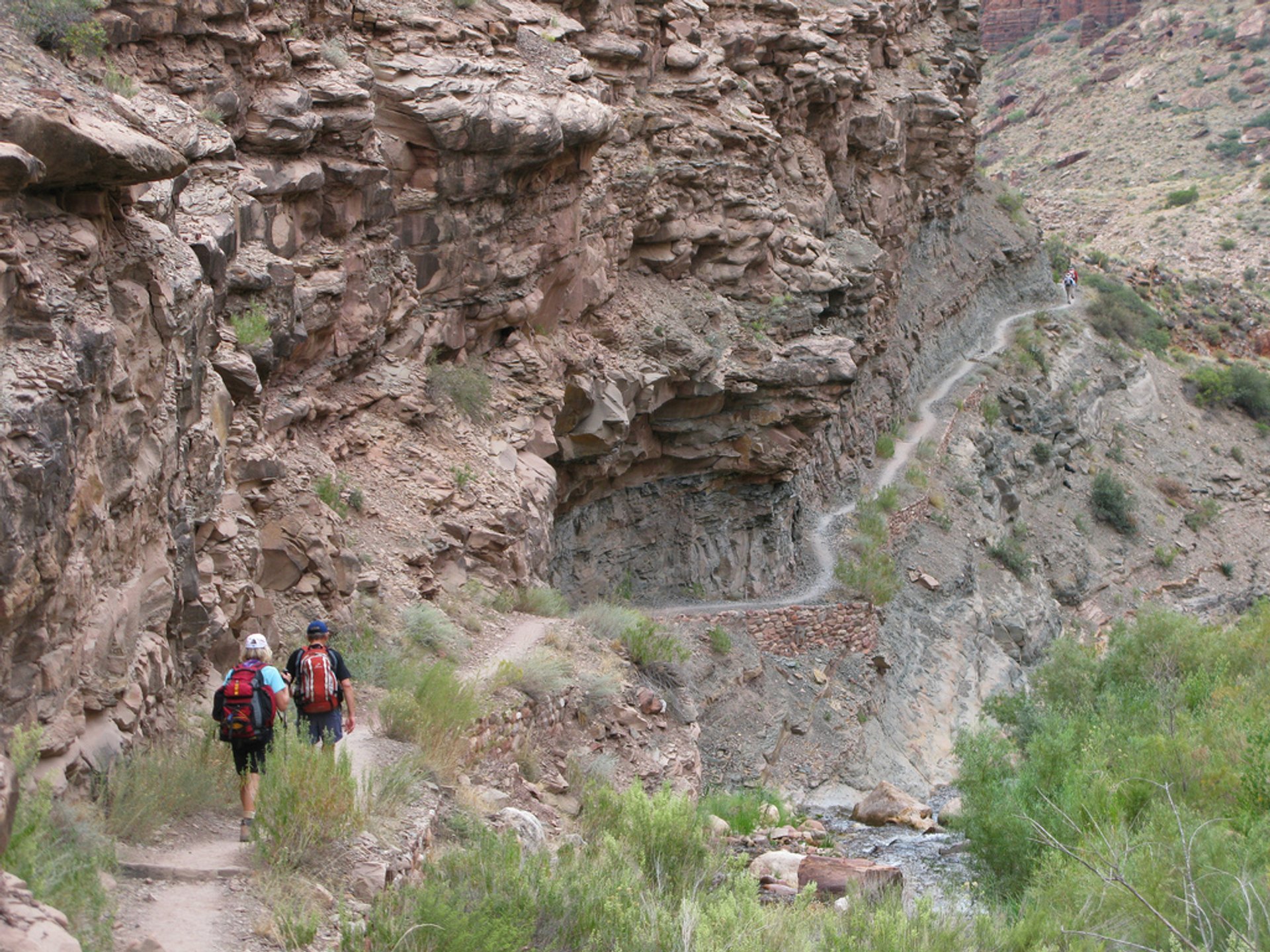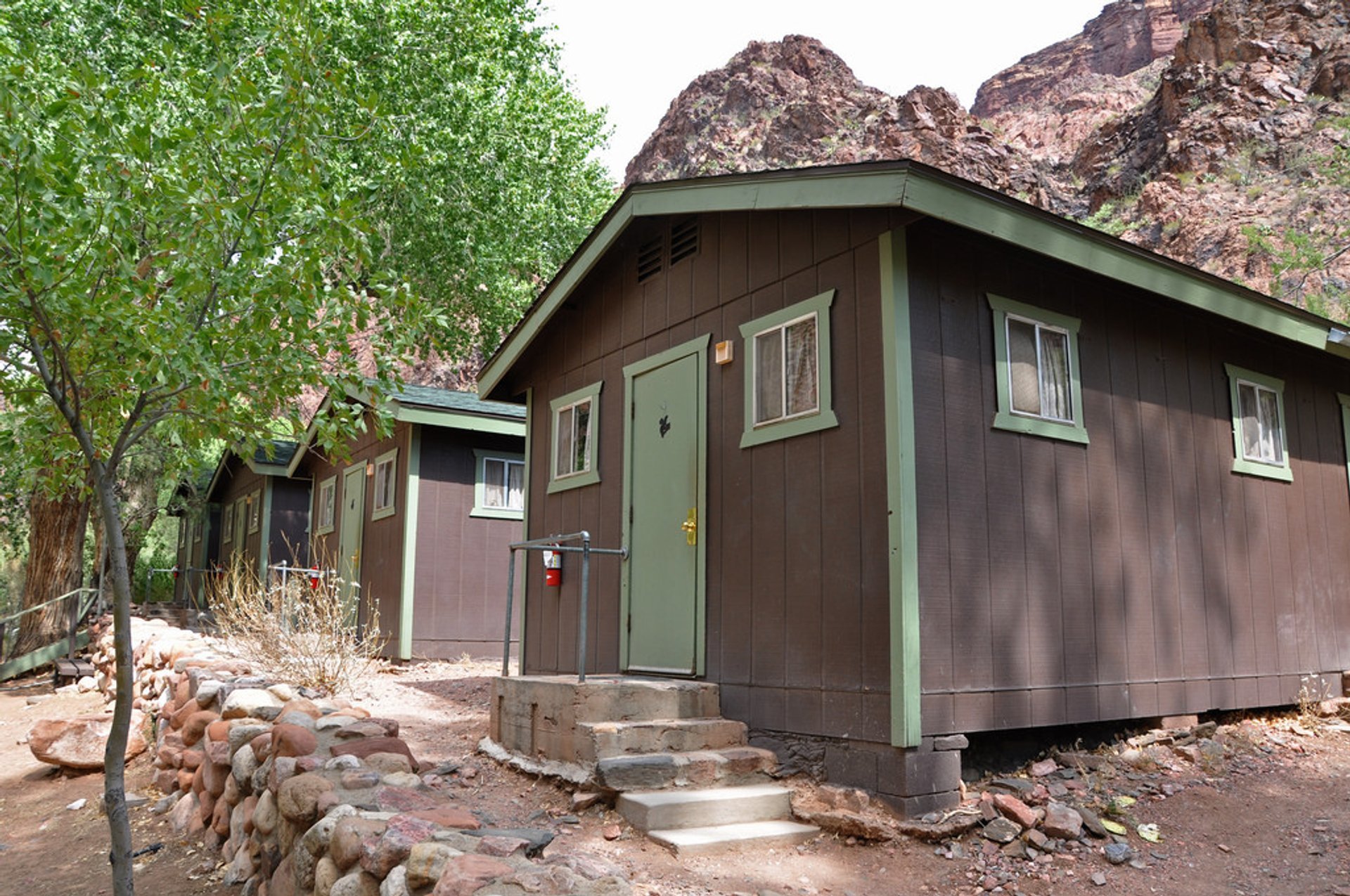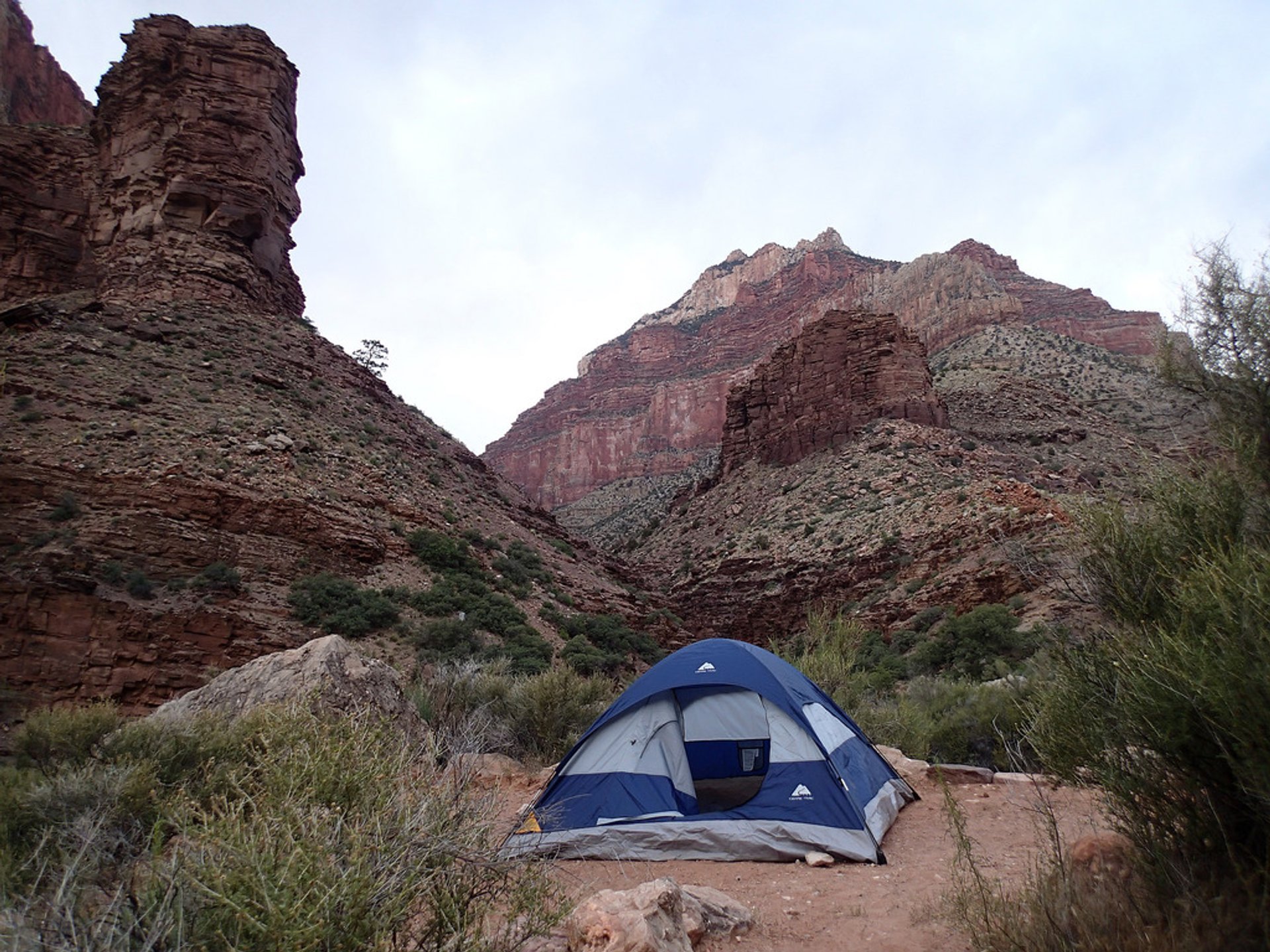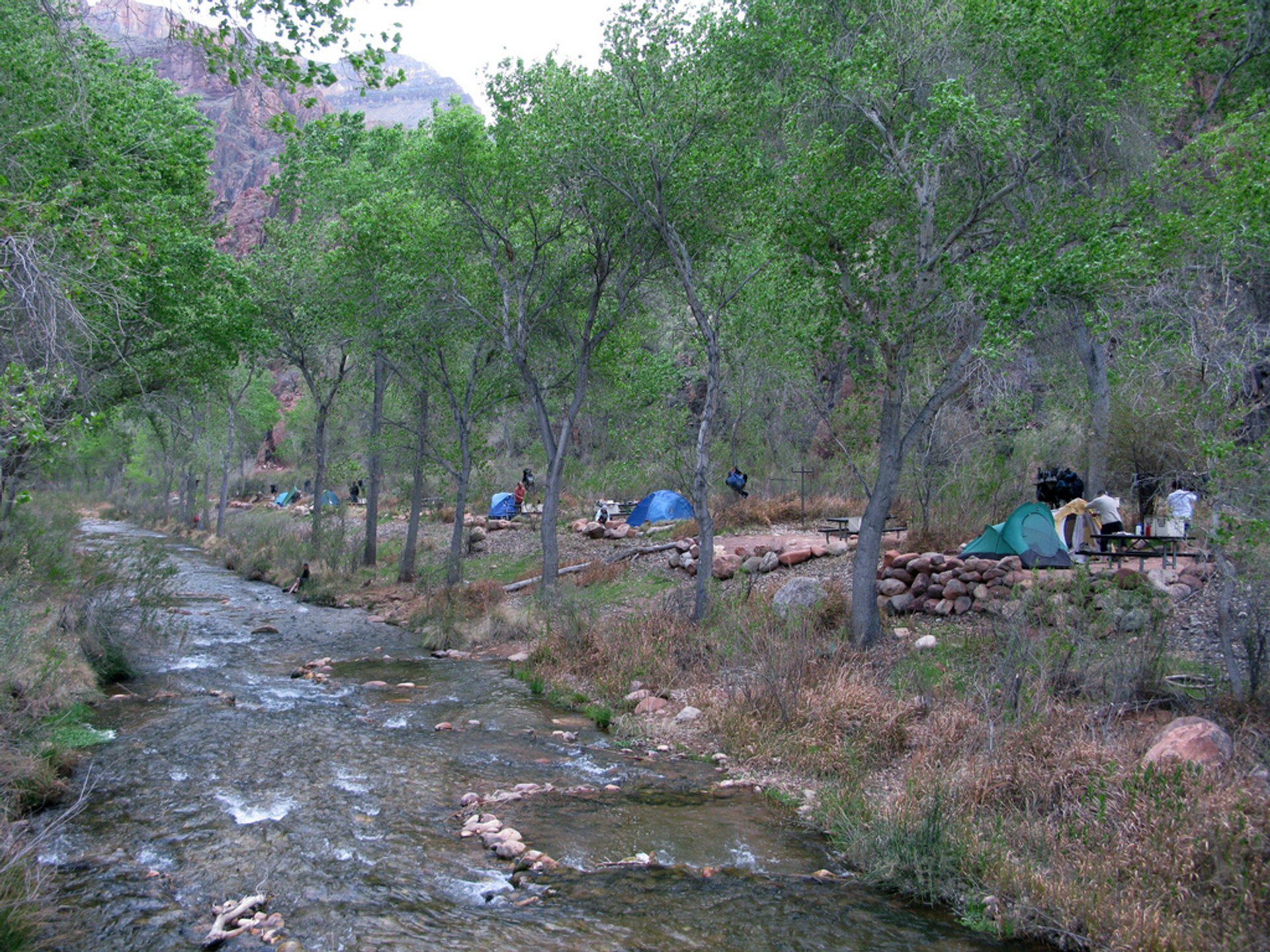 The Rim-to-Rim Hike is for the experienced adventurers. The hike takes you along the North Kaibab Trail down to Bright Angel Trail, adding up to 24 miles of incredible views and memories. It is a rather strenuous adventure, so it's better to join the hike only if you are well-prepared. If you are fit enough and have all the necessary gear, it might become the best adventure in your lifetime.
Why North to South? The North Rim has a higher elevation, so the southward hike is more reasonable. Also, North Rim offers a limited choice of accommodations and restaurants, so you need to book in advance, thus, it's easier to plan it as a starting point. South Rim offers more hotels and restaurants to reward yourself with food and drinks after the hike.
North Kaibab Trail takes you through the mesmerizing landscapes full of two billion years of the Earth's history carved in ancient rocks. After hours of a knee-pounding walk, you reach the sandy banks of the Colorado River in the heart of Grand Canyon National Park. Here, dozens of massive rock formations tower above on all sides.
The first rest comes at the bottom of the Grand Canyon, some 2,550 feet above sea level, 5,800 feet lower than the North Rim and 4,600 feet lower than the South Rim. Here, you can enjoy some rest and an overnight stay at Bright Angel Campground, or at one of the unique lodges in America—Phantom Ranch, where hikers can pre-book a warm meal and a cold drink and rest in a cozy bed afterwards. This is just the beginning of the adventure. Dorm reservation opens a year in advance, so book early.
From there, the ascending part begins along the Bright Angel Trail. It is famed as the park's premier trail, but it's no easy stroll. The southward hike from Phantom Ranch starts with crossing the Colorado River (too cold and speedy to swim in). Seasonal water sources and ample shade make this part rather convenient to conquer. There are a few resthouses and campgrounds along the way, but make sure to book them in advance.
Experienced hikers can choose to camp out at Cottonwood, Bright Angel, and Indian Garden campsites. To do so, you must obtain a backcountry permit about four months in advance. If you are not lucky to get a permit, you can try a last-minute option at the North Rim Backcountry Office or South Rim Backcountry Office.
All in all, the hike usually takes two days. Some people manage to do it in a day, while others spend a few nights at the bottom, so they have more time to absorb Rim-to-Rim memories. Hikers say there are sufficient bathrooms and water stops on the way. Before starting the hike, stop by the Backcountry Information Center for a trail update.
The prime time for hiking rim to rim is mid-May to October when all the camping and information facilities are running in full swing (North Rim businesses usually close down for the winter season). Also, Highway 67 in North Rim area is closed in winters. Late May and September could be the best months as they are not as hot as the summer months, and the chance of monsoon thunderstorms is lower.
Find hotels and airbnbs near Rim to Rim Hike (Map)