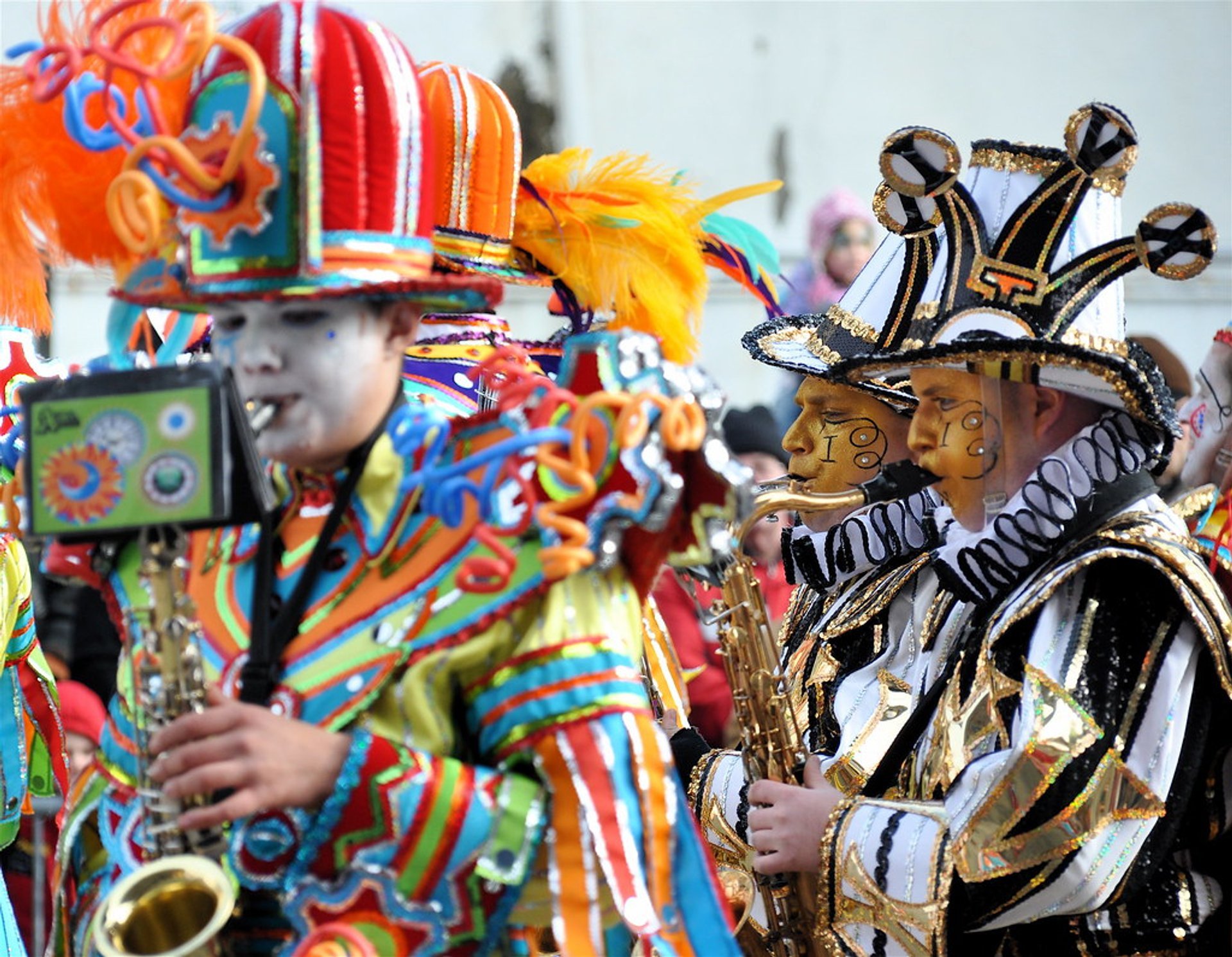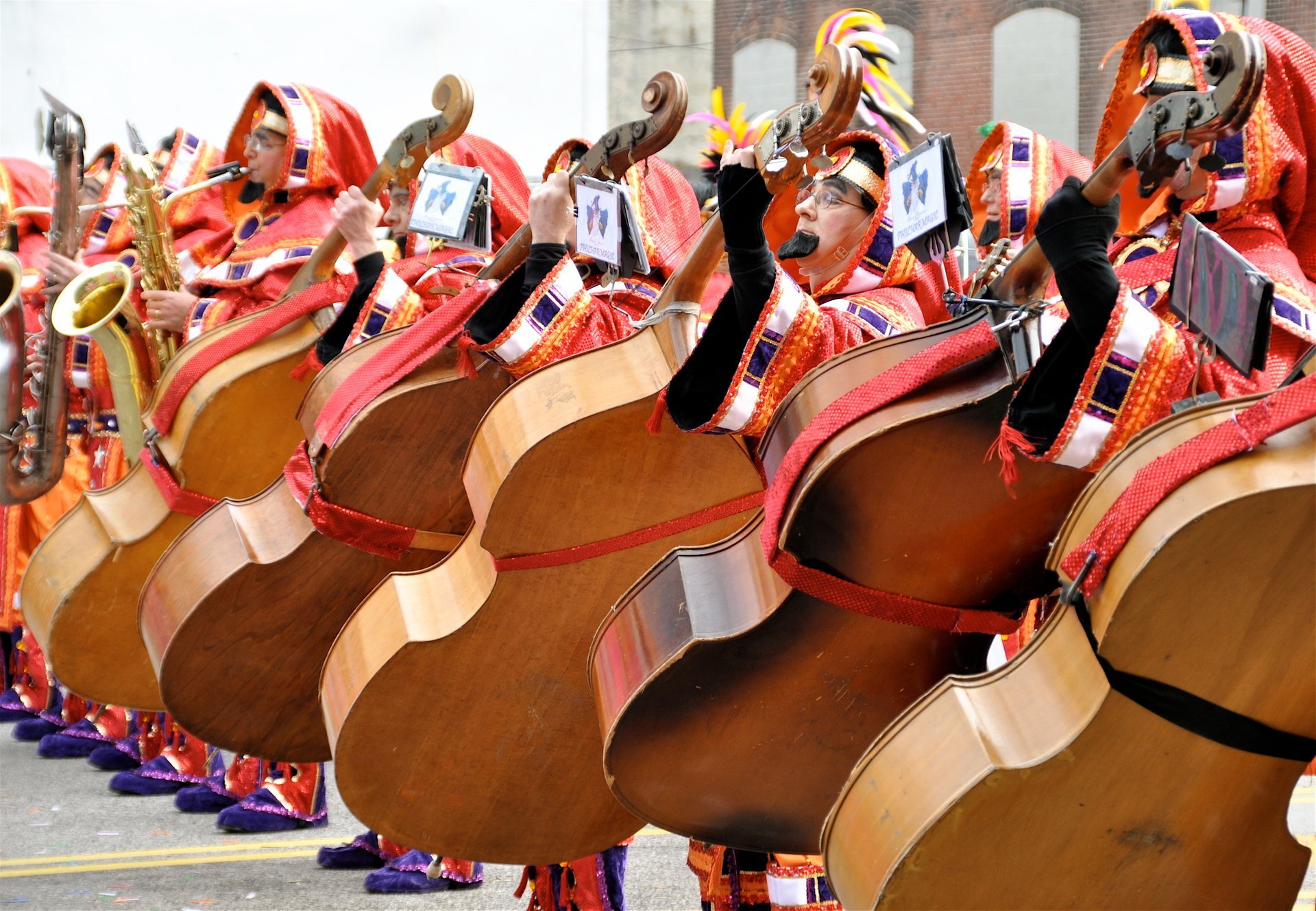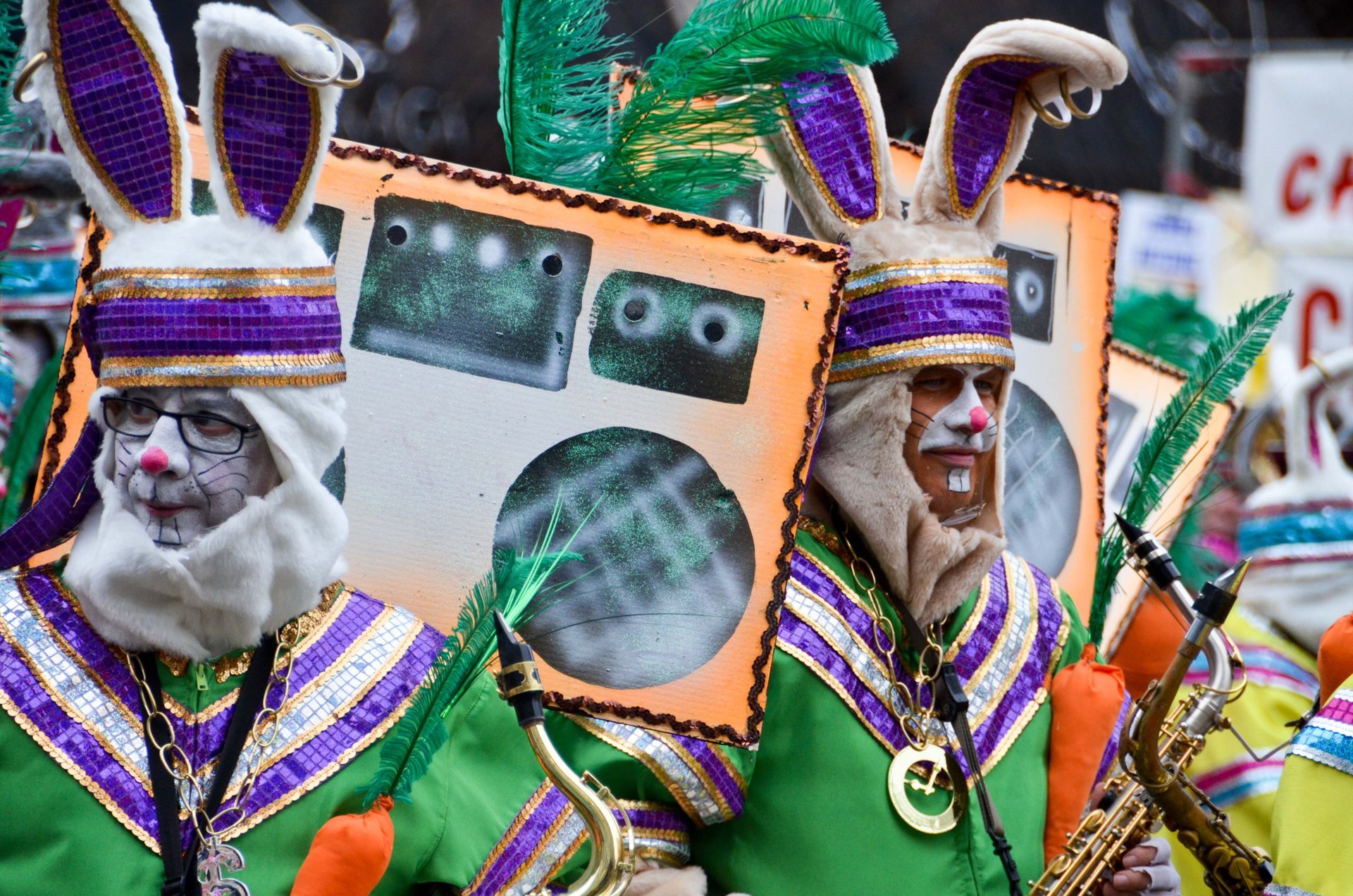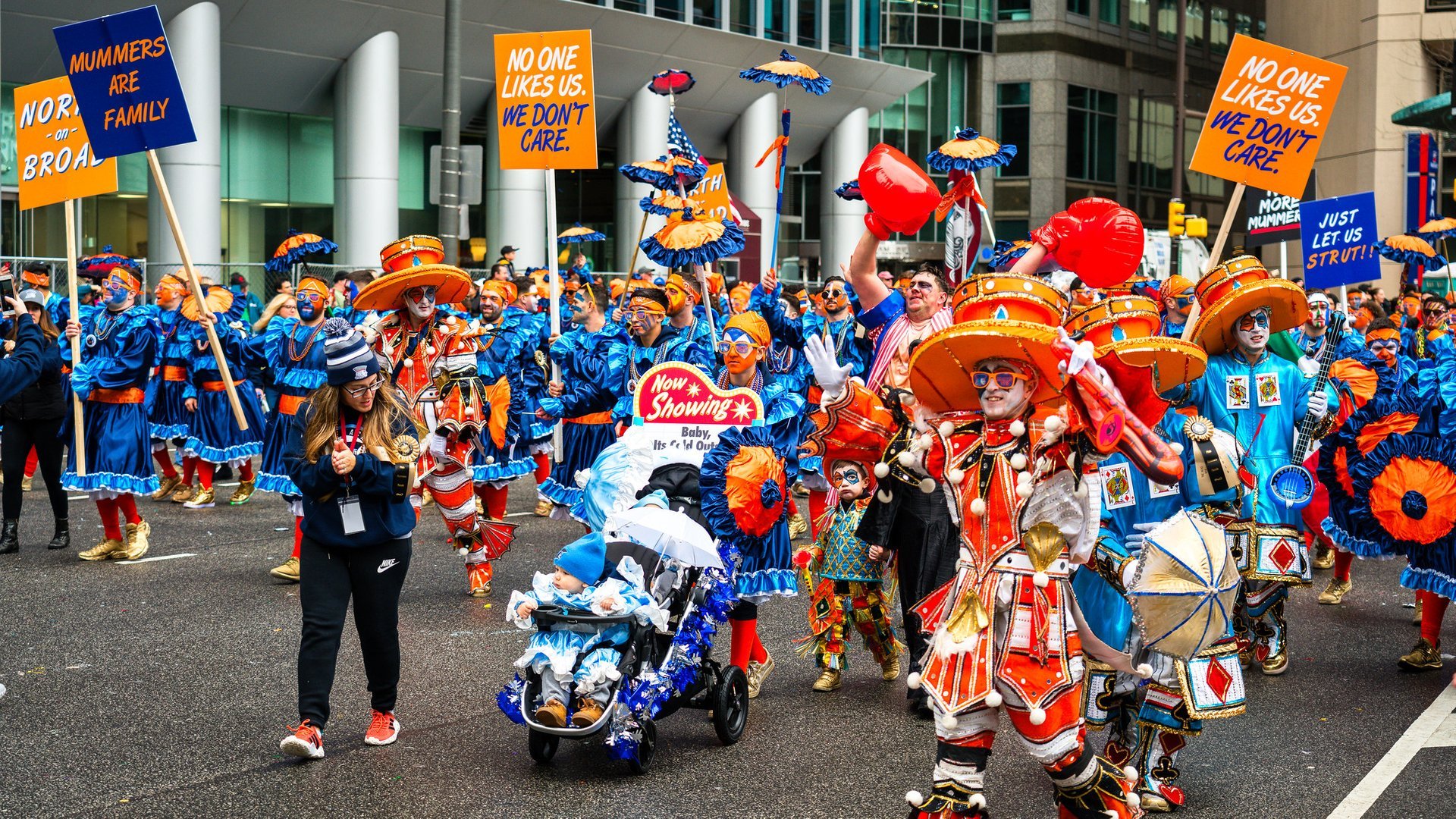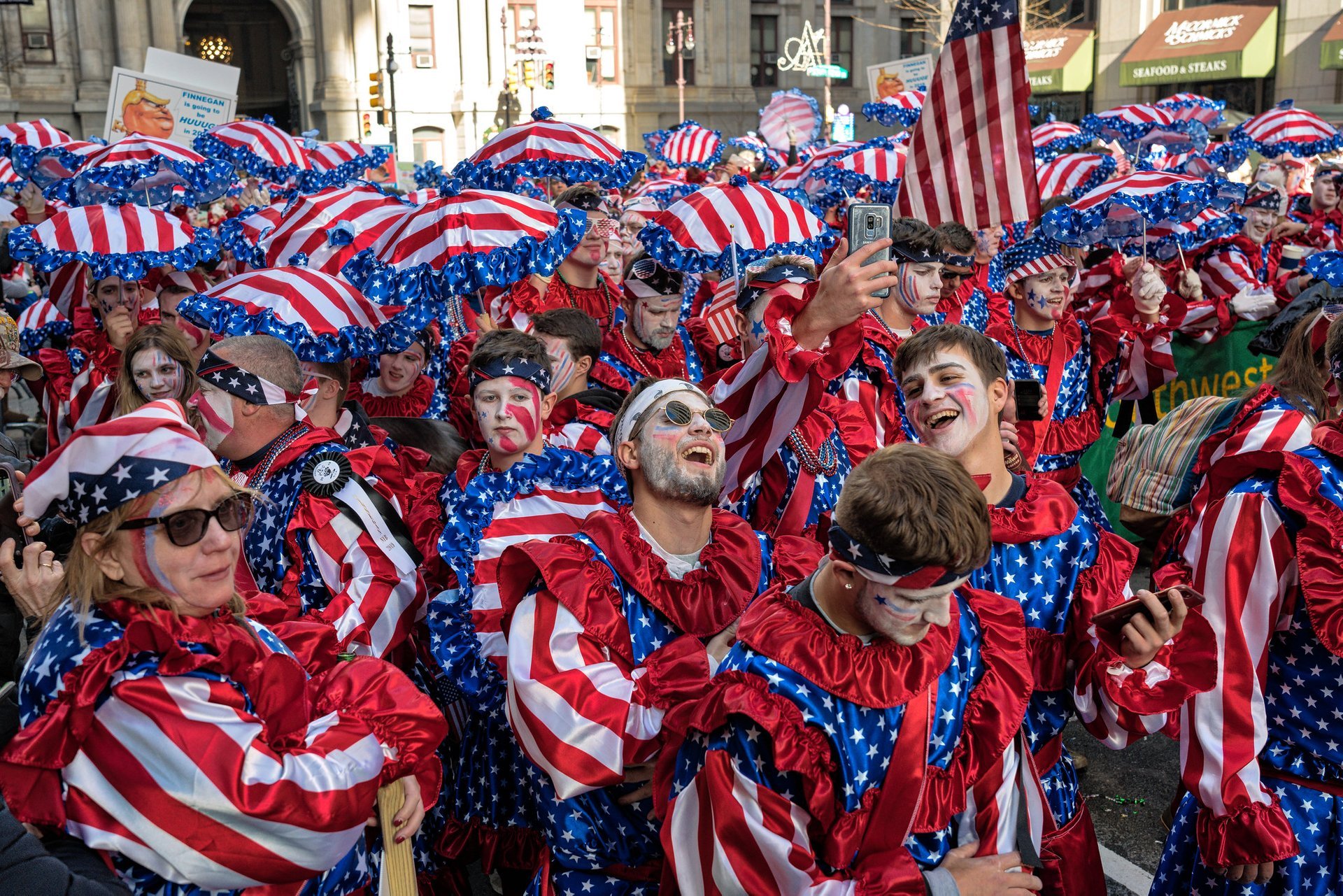 See accommodations nearby
Every New Year's Day hundreds of mummers take over downtown Philadelphia, Pennsylvania. The Mummers Parade has been a Philadelphia tradition since 1901. Throughout the year local clubs, many of which are located on 2nd Street in Pennsport, prepare their costumes, performances, and setting in which they perform.
The parade participants are divided into five unique divisions—Comic, Fancy, Fancy Brigade, String Band, and Wench Brigade. Each division has a dedicated role to play: the Comics and Wench Brigades satirize social issues and institutions; the Fancies impress visitors with their glamorous outfits with a royal twist; the String Bands bring music to the parade playing saxophones, banjoes, percussion, and other instruments; the Fancy Brigades perform tightly choreographed theatrical shows. The Parade lasts from about 9 am. to 5 pm and crowds start gathering quite early, thus, early birds get the best viewing spots.
The Philly Mummers Parade is full of humor, fun, and folklore. It's one of the most popular and massive events in Philadelphia with the atmosphere of a street carnival. About 10,000 people dressed in creative and colorful costumes march down the streets lined by thousands of spectators. Mummers sing, recite poetry, and perform on their way.
The parade starts by the City Hall on Market Street & North 15th Street and then goes south on Broad Street to Washington Avenue. On the route, there are a few major performance areas along Broad Street, also labeled the Avenue of the Arts.
As soon as the Fancy Brigades finish their route, the marchers head to the Pennsylvania Convention Center to perform the Mummers Fancy Brigades Finale. You need to purchase a separate ticket to attend the Fancy Brigade Shows.
It is believed that mummers processions date back to the medieval period in Europe, where they entertained commoners on central squares and streets. The tradition was brought to the U.S. by Swedish immigrants in the 17th century. The rivalry between neighborhoods quickly made mummers tradition very popular in Philadelphia. Since the early 1900s, Philadelphia Mummers Parade has become almost an annual tradition drawing lots of visitors to the city.
Find hotels and airbnbs near Philadelphia Mummers Parade (Map)