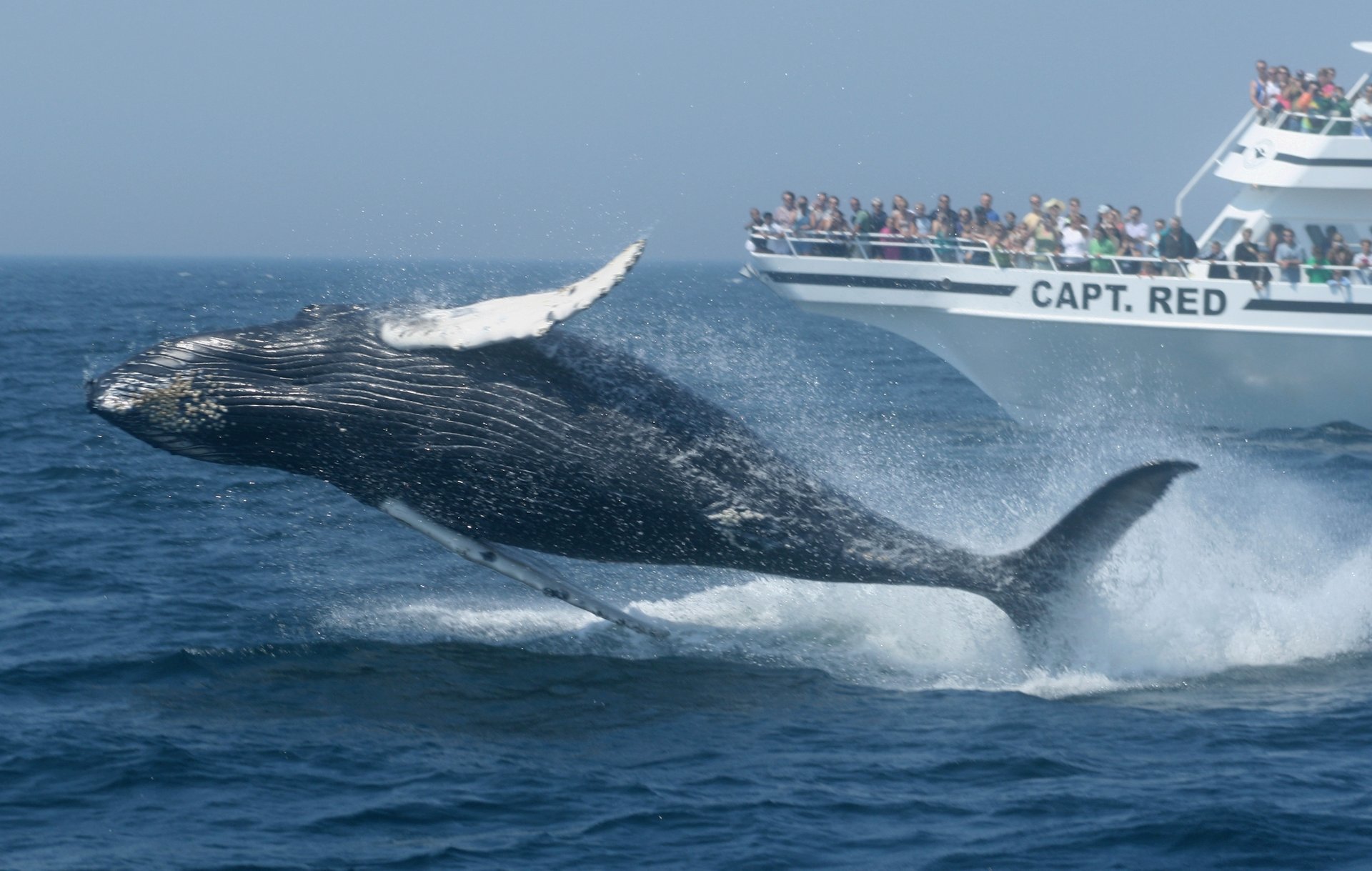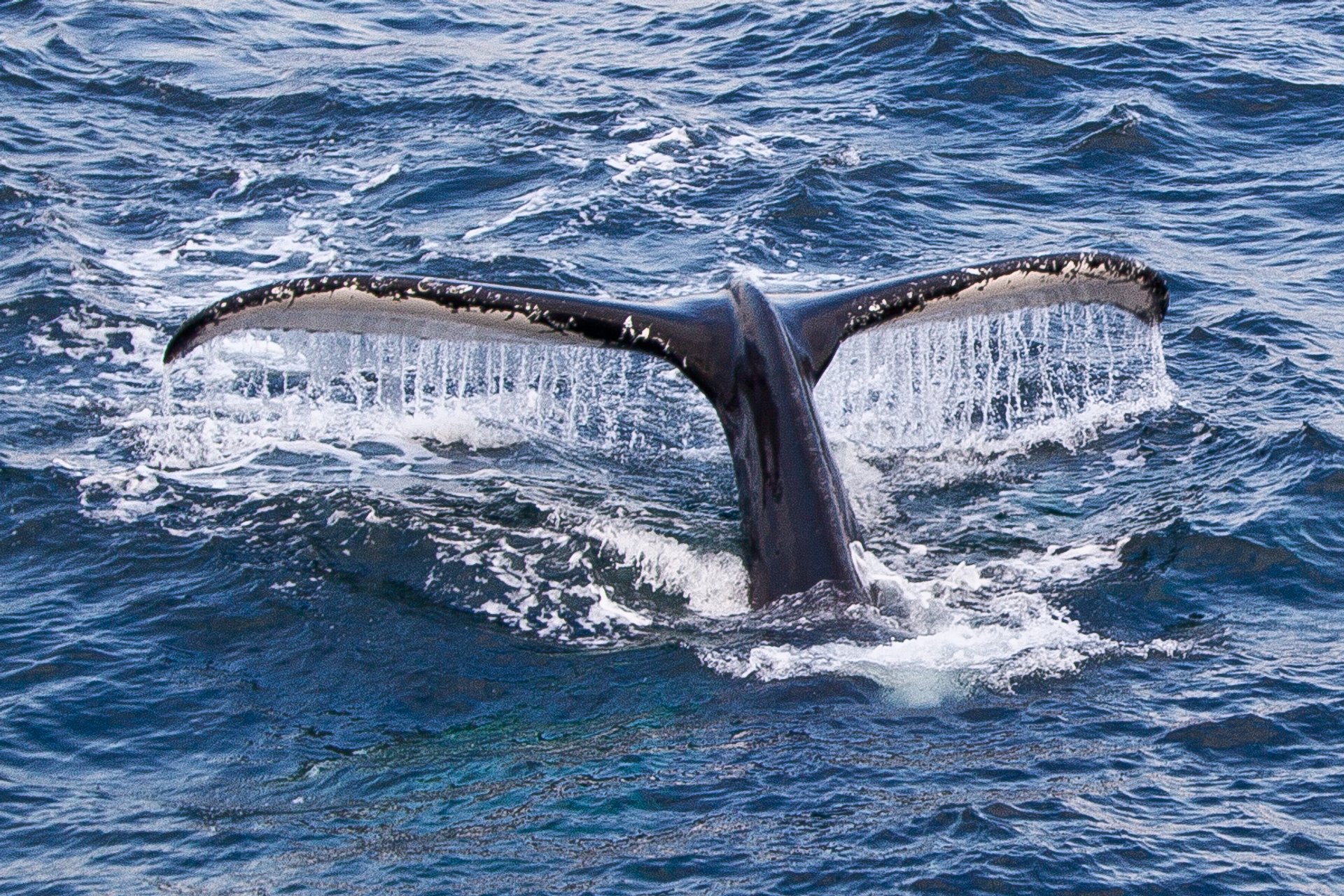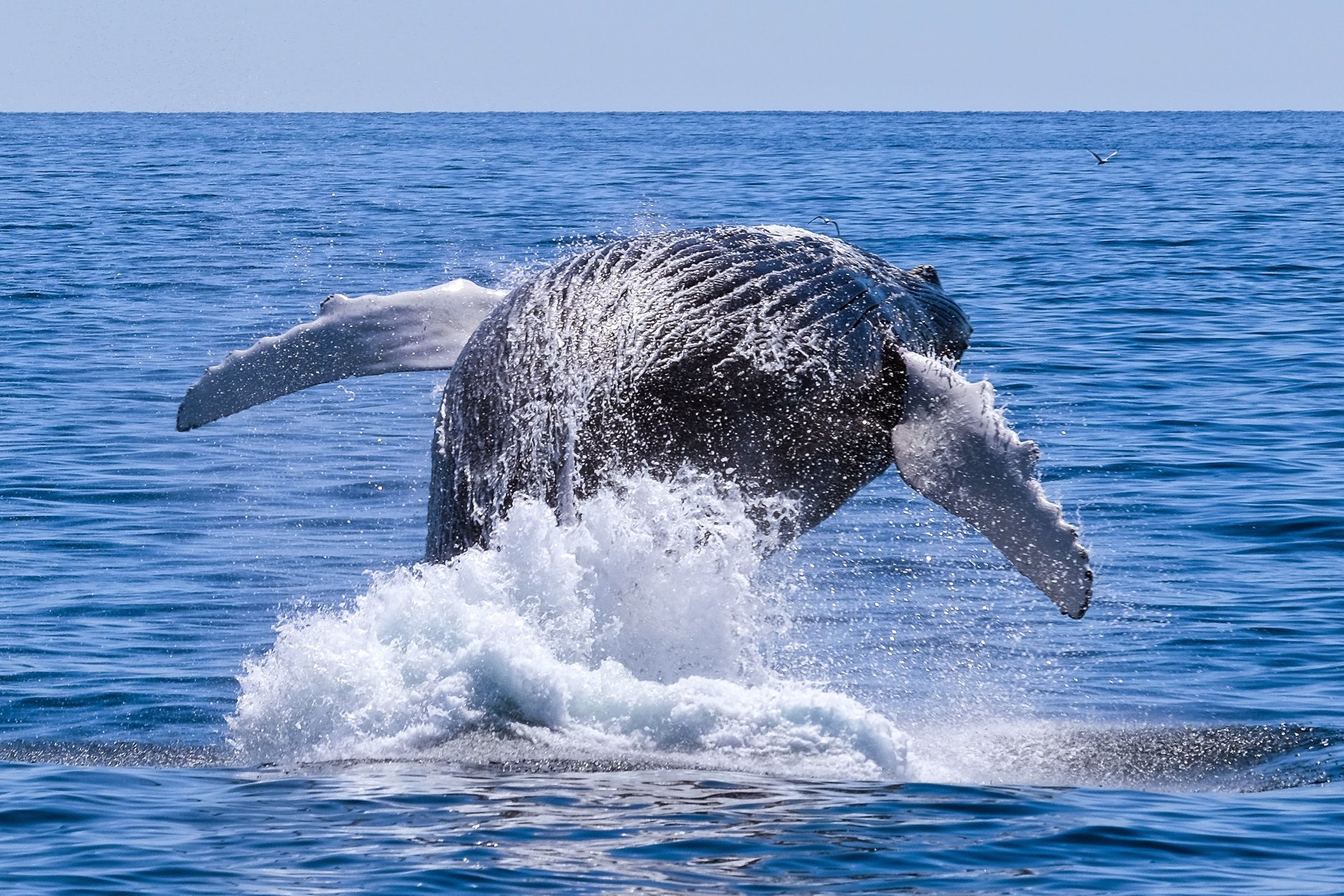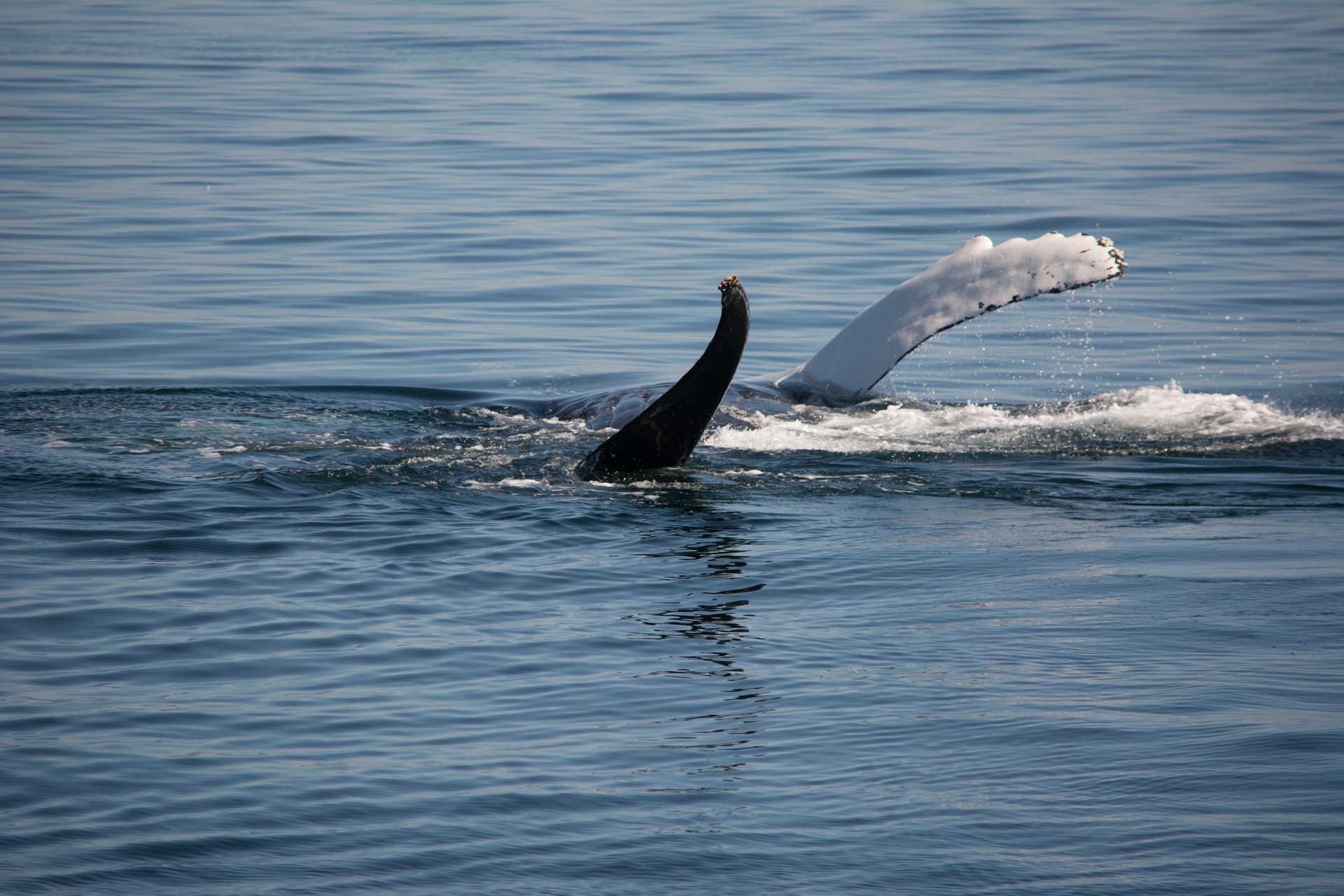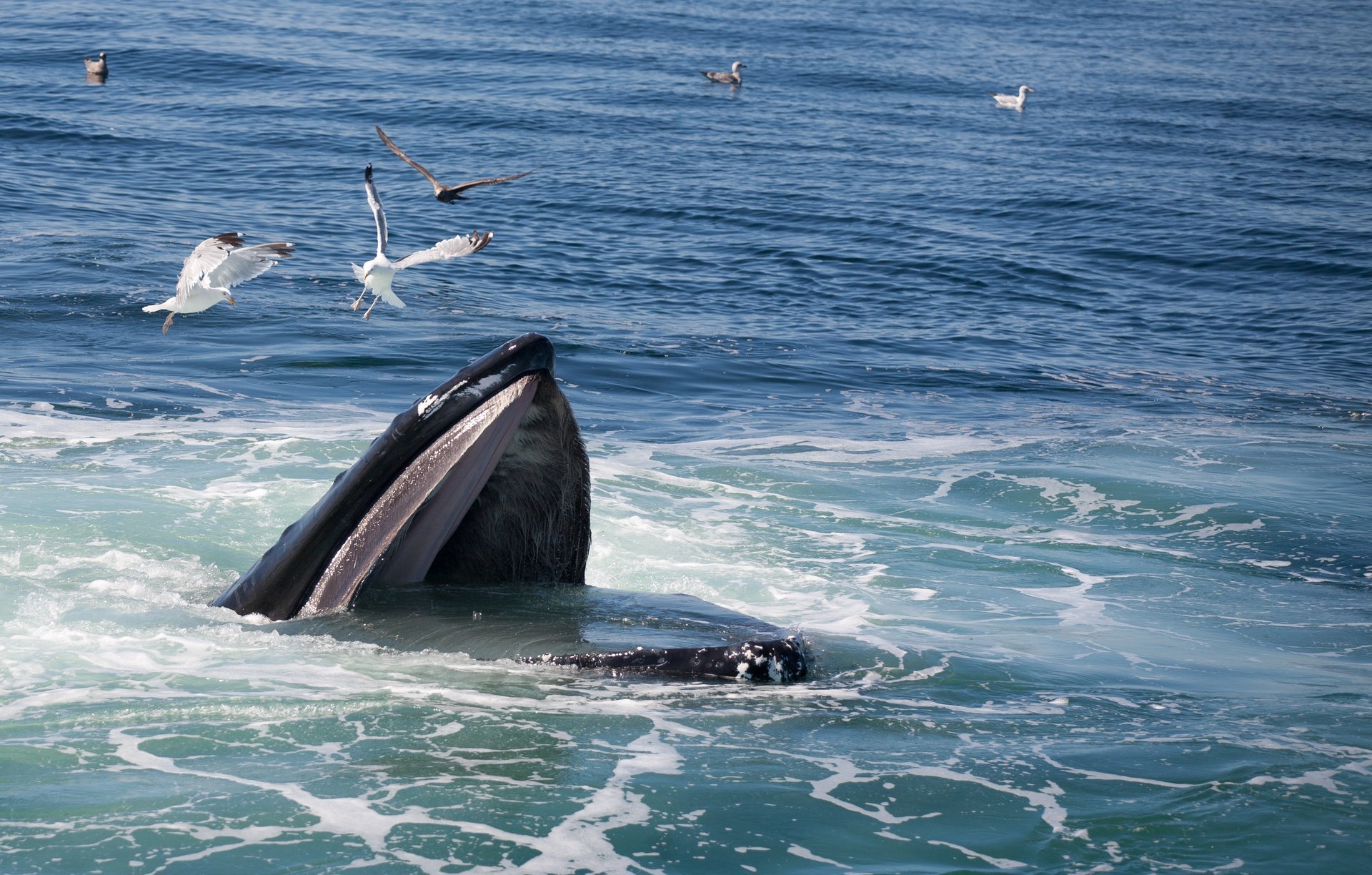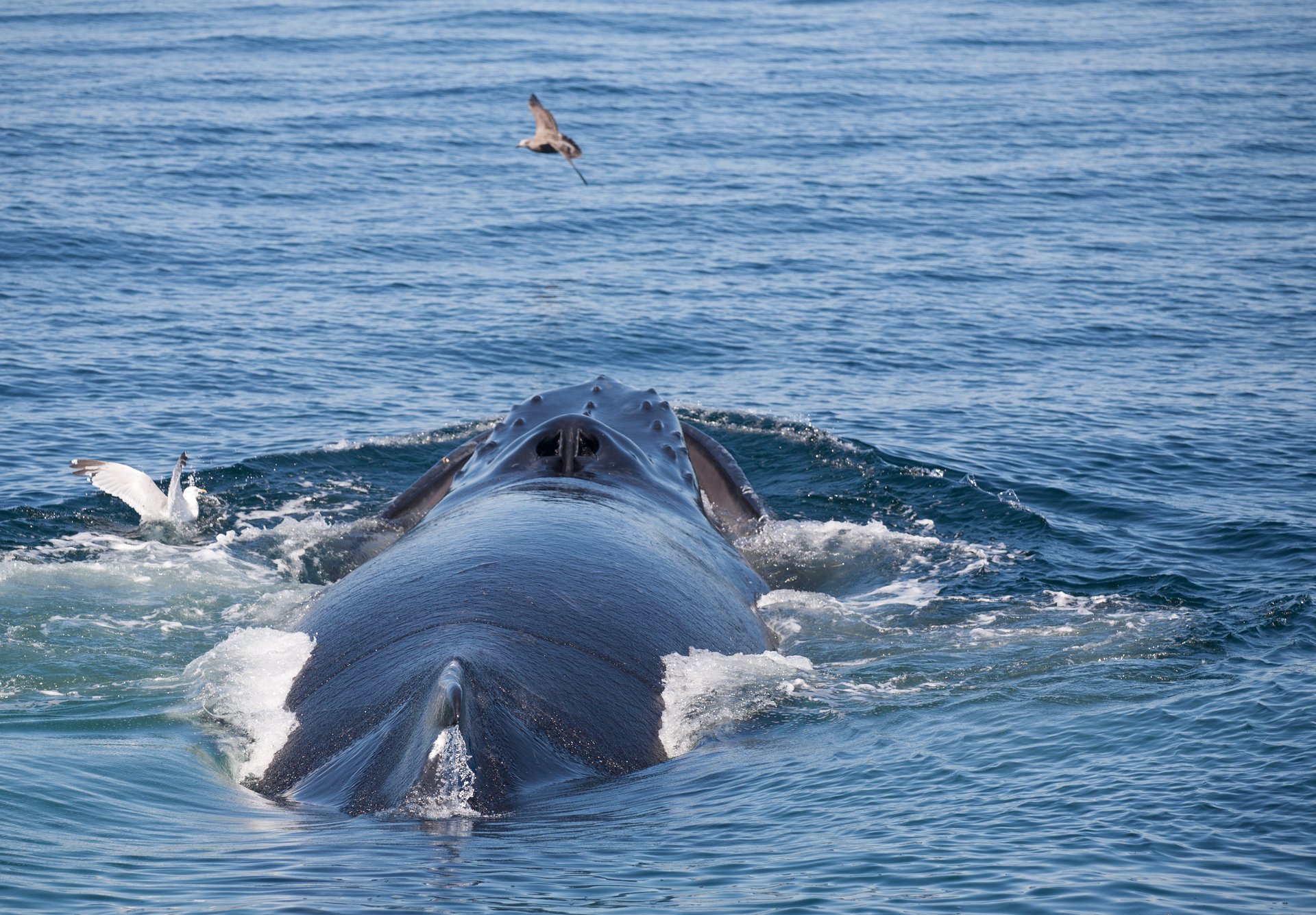 Kim Hojackni / Massachusetts Office Of Travel & Tourism
Massachusetts is a top whale-watching destination in the United States and the world. In just about 40 km (25 mi) off the coast, one can see pods of humpback, fin, sperm, and pilot whales. Sei, right and blue whales have been also spotted occasionally. Whales migrate to New England due to an abundance of mackerel, herring, and krill in its waters during warmer times. They feed off the coasts of Boston, Cape Cod, and along the North Shore. Whale-watching tours usually run from April to October, when the weather is warmer, though whales appear in mid-March and stay until November.
Best whale-watching location
Stellwagen Bank National Marine Sanctuary in Massachusetts Bay is one of the largest feeding grounds for giant sea mammals. This underwater plateau is 19-mi (31-km) long stretching from north to south. Its shallow water is home to over 100 fish species, including the Atlantic cod, bass, blue-fin, and yellow-fin tuna, and even the great white shark. It's the favorite summer playground for humpbacks, finbacks, minkes, pilots, Northern right whales, and dolphins. The sanctuary, which occupies the area of 842 sq. mi (2181 sq. km), is also a nursing territory for several whale species. Tour operators from Boston, Plymouth, and Gloucester take thousands of visitors to this unique place every year. The only place where you can watch whales from the shore is the tip of Cape Cod whish is located in just a few miles from Stellwagen Bank. However, a sea cruise offers a much higher chance to spot whales.
Whale-watching tours
Many whale-watching tours operate out of Boston Harbor. Harbor cruises take tourists to various locations, about 22 mi (35 km) offshore, in particular, to Stellwagen Bank. Large whale watch catamarans used for tours have the capacity to board up to 400 passengers and travel at speeds of 35 knots (37.5 mph). Tours last from 3.5 to 4 hours. The vessel has restrooms and a galley with food and drinks.
The North Shore area and Gloucester have several whale-watching tour operators. In particular, Cape Ann Whale Watch runs guaranteed whale watching tours to Stellwagen Bank. That means, if no whales are seen during your tour, you can repeat your trip one more time for free. The vessel is a 115-ft (35-m) Hurricane II with two observation decks.
Cape Cod is one of the prime whale-watching spots in the U.S, offering a sighting rate of 99%. The largest operators in this area include Hyannis Whale Watcher Cruises. Whale-watching cruises on small boats up to 6 people are available at Sea Salt Charters. Whale Watch Dolphin Fleet of Provincetown offer sunset cruises. In Plymouth, regular whale watching excursions depart from Town Wharf, heading to the waters around Cape Cod Bay and Stellwagen Bank, rich with humpback, finback, pilot, and the endangered Northern right whales. Whale watching is often combined with deep-sea fishing expeditions for mackerel, haddock, and cod. The tours usually last around 4 hours. Tickets start from $60.
Whale-watching season
Whale-watching season in Massachusetts starts in April and runs into October. Some popular tours, such as whale-watching sunset cruises, are only available during the high season from June to August. Meanwhile, charter cruises are available from mid-March into November.
Humpback whales
The chance to see humpback whales off the Massachusetts coast is over 90%. They arrive in New England in March and stay up to November feeding on krill and plankton. Being quite large in length (55 ft or 16 m), humpbacks are a joy to watch. They are quite playful leaping out of the water, splashing and flipping their tails. By the way, humpbacks have patterns on their flukes that are absolutely unique to each individual. Stellwagen Marine Sanctuary has a population of 50 humpback whales that they observe and study over the years, learning about their behavior, "songs" through which whales communicate, and migration routes. Humpbacks usually spend winter close to Galapagos Islands in Ecuador.
Fin whales
Fin Whales are also quite common in New England waters. Being the second largest animal on earth, fin whales have a body length of 85 ft (25 m). They usually prefer deeper waters and cooler temperatures so it's easier to spot them during the fall months. Fin whales are more shy than humpbacks and usually don't put on a show. It's not easy to get a glimpse of them because they can move at an amazingly fast speed, about 30 mph. Fins have quite unique asymmetrical coloring and body patterns that vary from dark grey to light grey and white. The patterns are especially visible on a fin's right side. The left side of fin whales is dark grey and doesn't match his right side. In the winter fin whales travel to the Caribbean, the Gulf of Mexico, and Bahamas.
Minke Whales
Minke is one of smaller whales, reaching 30 ft (9 m) in length. They are quite common off New England coast, being seen on 75% of the trips. Minke are most frequently spotted during rough sea and choppy waves weather. They can be identified by two white stripes on their pectoral fins called "Minke mittens".
Right whales
Right whales are quite hard to spot as they are one of the world's most endangered sea mammals. North Atlantic right whale population is about 300 individuals. Right whales live up to 70 years and reach 52 ft (16 m) in length. They have no dorsal fin, black body, and white patches on the head
Whale-watching tips
Whales are spotted on 99% of the trips to Stellwagen Bank and Jeffrey's Ledge areas off New England Coast. However, when the weather is sunny and clear, there's a better chance to spot more sea mammals during your trip so if you haven't reserved your tour in advance, opt for sunny and clear weather. Binoculars or a camera with a telephoto lens will help to get a better whale-watching experience.
What to wear
Even though summer weather may seem quite warm onshore, when you get 35 km (22 mi) into the ocean, it gets chilly, and the wind can be pretty strong too. That's why it's advised to take a jacket and warm layers on your whale-watching trip. Shoes must have rubber soles and closed toes like, for example, sneakers. A hat, sunglasses, and sunscreen are also needed. You can pack some water and snacks, however, most boats have a galley with food and beverages. Make sure to take some cash for the snacks since they don't always accept credit cards.
Where to stay
To immerse in an authentic New England atmosphere it's best to stay in one of the small traditional inns, preferably with an ocean or harbor view. Another good idea is to spend the night at one of Massachusetts' famous lighthouses. You can stay at Wings Neck Lighthouse in Cape Cod or The Lighthouse Inn - In West Dennis on the shore of Nantucket Sound. Historic Bakers Island Lighthouse in Salem is open for overnight stays from mid-July to September.
Find hotels and airbnbs near Whale Watching (Map)