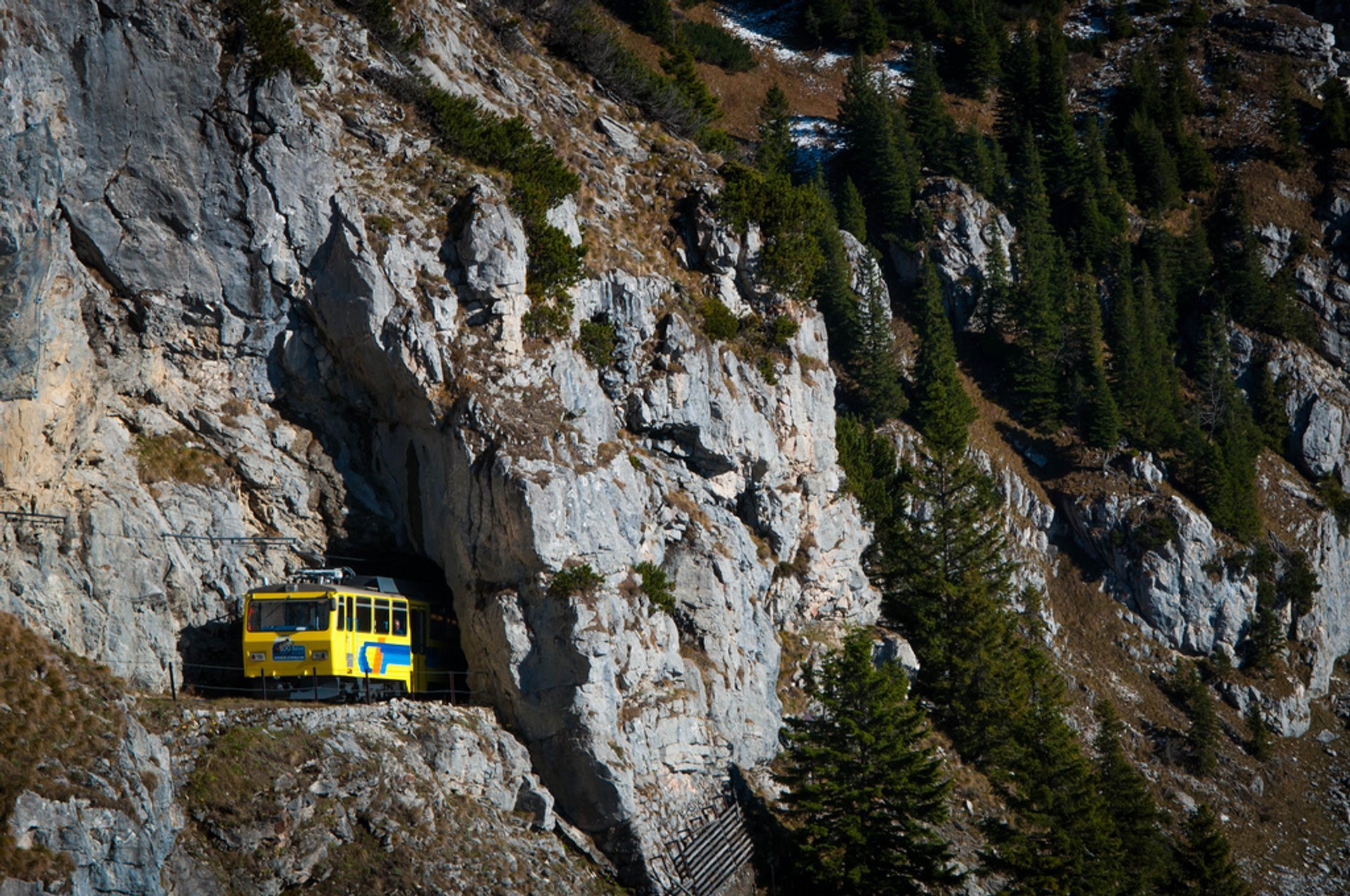 See accommodations nearby
Want to enjoy panoramic views from the top of the mountain, but it looks too difficult to climb? Just use a train! This 48-tonne cogwheel train, having been operating for more than a hundred years, will take you up to the top of Wendelstein. It's a 6,030-foot-high (1,838-m) mountain and the main attraction in the Upper Bavarian Limestone Alps.
The whole 30-minute ride is done at a speed of 12,5 miles (20 km) per hour, ensuring you have some time to enjoy the scenic route. The ride is 4,7 miles (7,6 km) long and takes you through seven tunnels, twelve bridges, beautiful alpine meadows, gorgeous woodlands, and massive rock formations. The final station is located at an altitude of 5,653 feet (1,723 m) above sea level. The railway operates every day from 9 am to 3 pm.
What to do at the top of Wendelstein
At the top of the mountain, you can find various things to do. For instance, you can visit the university observatory, a geopark, or the highest church in Germany. Another option is to explore an impressive cave or just enjoy the alpine view on 200 mountain peaks. The best view can be found at Gacher Blick—a spectacular platform with an unforgettable panorama.
The best time to visit Wendelstein Rack Railway
Some of the highlights, like the cave, operate only from May till November. Special events are held during this period as well. October is the driest month, while July is the wettest. During the winter months, there can be around 3 feet (1 m) of snow. Thus, if you want to explore every part of this majestic mountain top, the most suitable period is from May until November.
Find hotels and airbnbs near Wendelstein Rack Railway (Wendelsteinbahn) (Map)