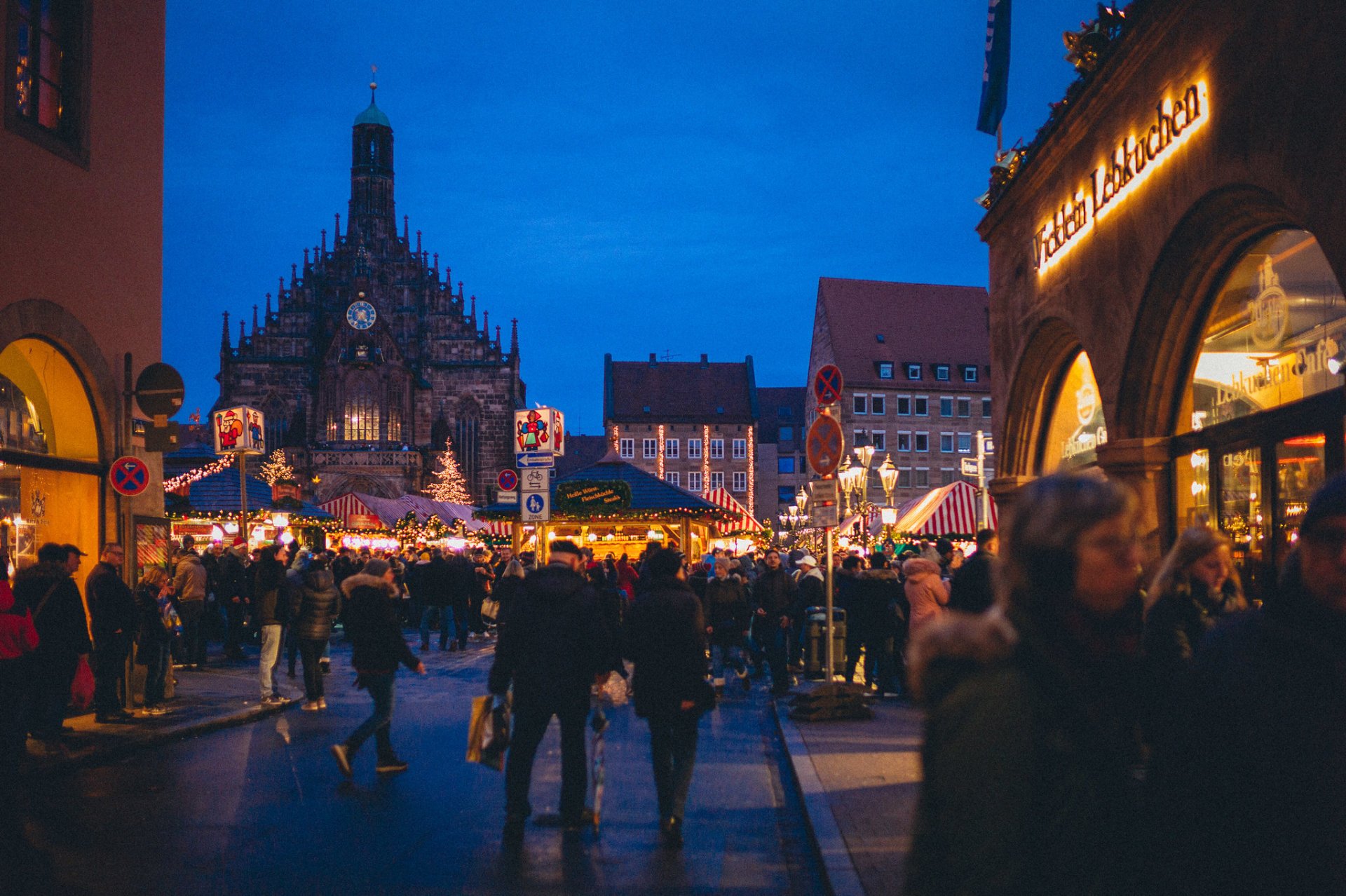 Christmas Market in Nuremberg
See accommodations nearby
Germany is well-known for some of the best Christmas markets in Europe, and Bavaria takes pride in the most magical and elaborate community celebrations. Munich, Nuremberg, Rothenburg, Regensburg, and dozens of smaller Alpine villages are irresistible during the festive season. Feel free to explore the region's Christkindlmärkte and feast on classy wintry specialties. You'll easily get into the spirit with the legendary Nuremberg bratwurst, handmade gingerbread Lebkuchen, and a mug of hot Glühwein.
Best Christmas markets in Bavaria
Munich Christmas Market (November 22–December 24, 2021)
Munich is home to the king of Bavarian Christmas markets—Christkindlmarkt on Marienplatz. This best-in-class German holiday fair spreads across 5 ac (2 ha) and houses nearly 150 stalls, filled up with seasonal delicacies and crafts. The market welcomes about 3 million visitors yearly. Yet, it remains cozy and charming anyways. You can reserve an entire day to explore this fairytale spot with a giant Christmas tree and magnificent architecture. But if you plan a longer stay, check out other Christmas markets around the city, such as Christmas Village in the Kaiserhof of the Residenz or Weihnachtsmarkt at Chinese Tower. Also, a pint of beer in the world-famous Hofbrauhaus is always a wonderful idea.
Nuremberg Christmas Market (November 26–December 24, 2021)
Praised for gorgeous medieval charm, Nürnberg draws about 2 million visitors to its Christkindlesmarkt in Hauptmarkt square. The Nuremberg Christmas market boasts about 180 stalls, festooned with white-and-red cloth—hence comes the fair's fancy name "Little Town from Wood and Cloth." Besides traditional entertainment, the youngest guests are invited to delight in a special children's market Kinderweichnacht, with a vintage carousel, a Ferris wheel, and a steam train. The opening ceremony by the Christkind takes place at 5:30 pm on Friday preceding the first Advent Sunday. The fair is on until Christmas Eve.
Regensburg Christmas Market (November 22–December 23, 2021)
The medieval city of Regensburg also ranks among the top choices when it comes to Christmas markets in Bavaria. The city boasts four excellent holiday fairs, located within a 20-minute walk from one another. The main market is located at Neupfarrplatz. But you can also take a leisurely stroll to Haidplatz, then visit Arnulfsplatz, continue to Wurstkuchl, and finally Stadtamhof. Prepare to be carried away by dazzling holiday lights illuminating the streets. What's more, each of the places on the list typically has its own Christmas tree.
Rothenburg Christmas Market (November 26–December 23, 2021)
Lastly, we suggest visiting Rothenburg ob der Tauber, the most romantic timber village in the region. Make sure to see Rothenburger Reiterlesmarkt (Rider's Market) in all its glory in the evening. Besides traditional holiday activities, consider visiting the Medieval Torture Chamber and the City Wall Walk.
For the latest announcements, check out the official websites in the External Resources below. Also, check out the map if you want to book accommodations nearby. And remember to pack warm clothes to ensure a comfortable stay in Bavaria.
Find hotels and airbnbs near Bavaria Christmas Markets (Map)