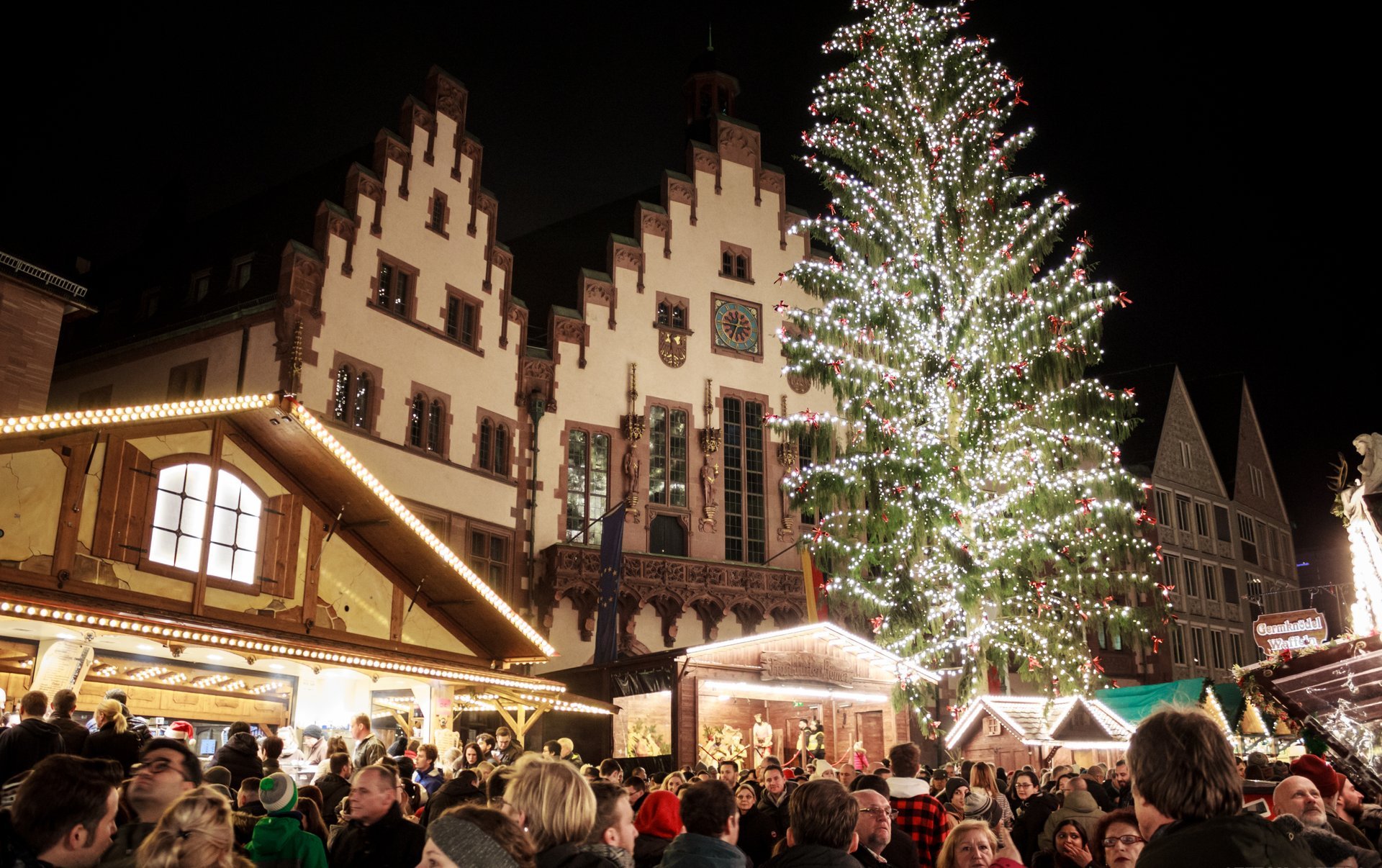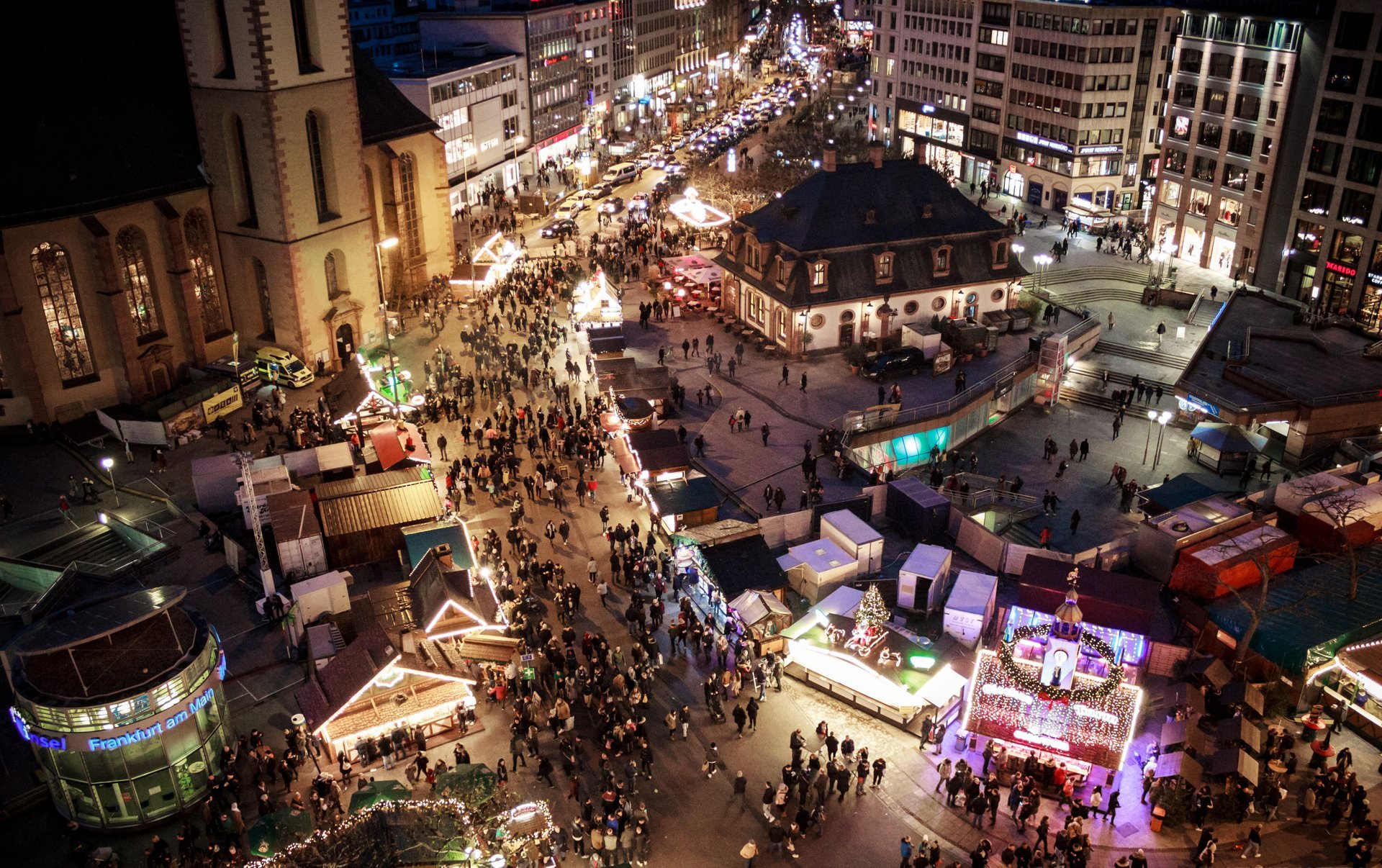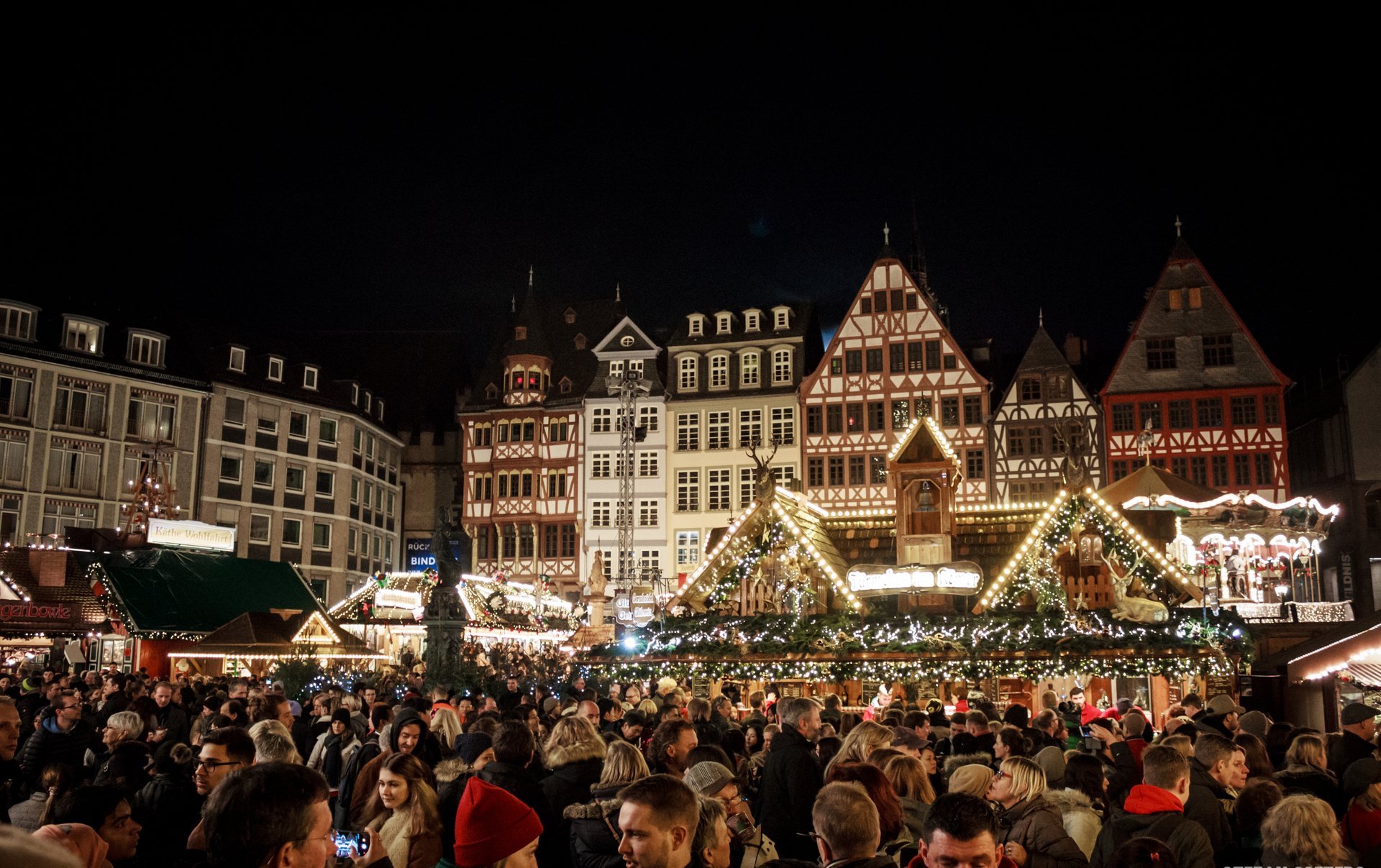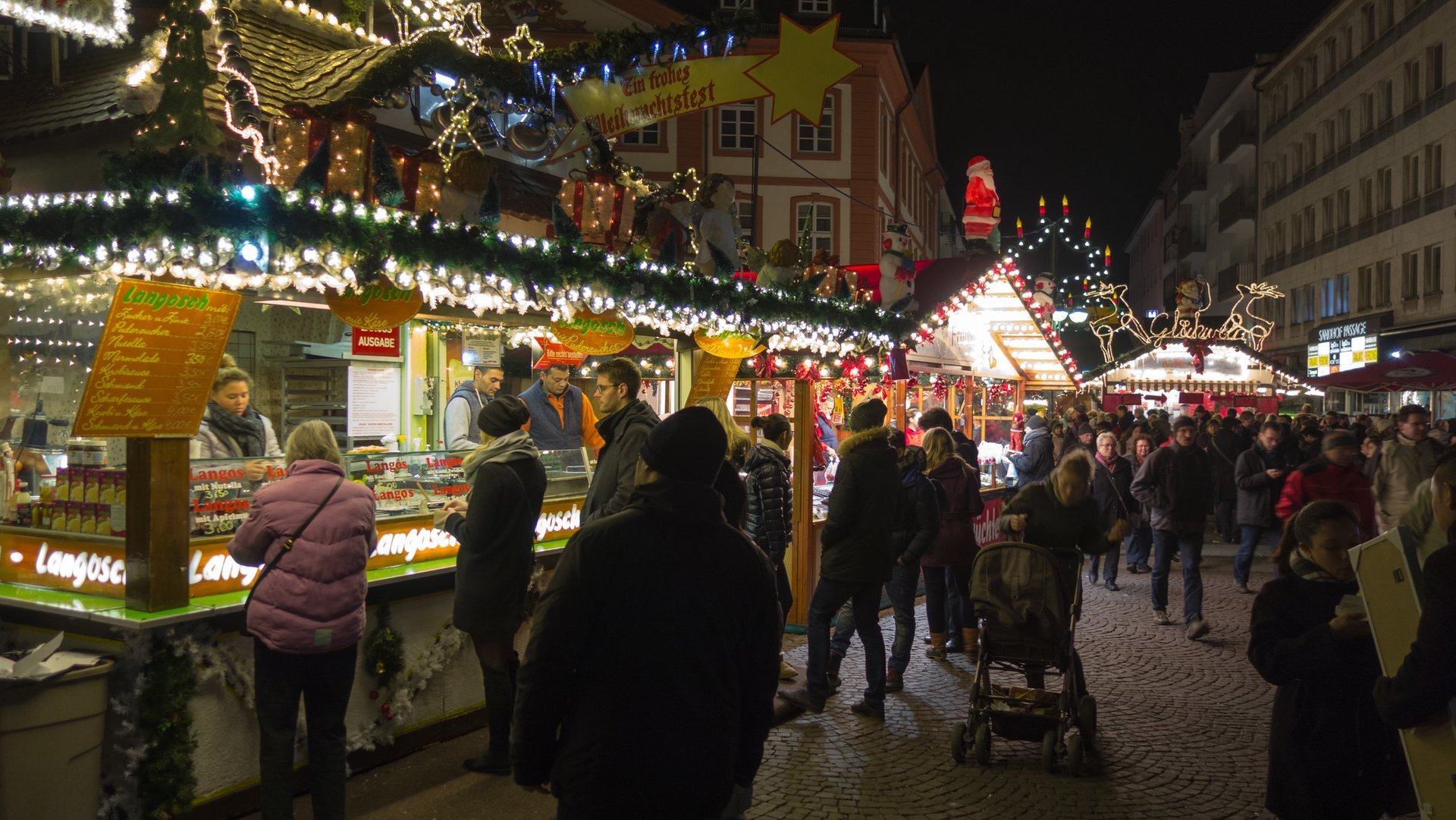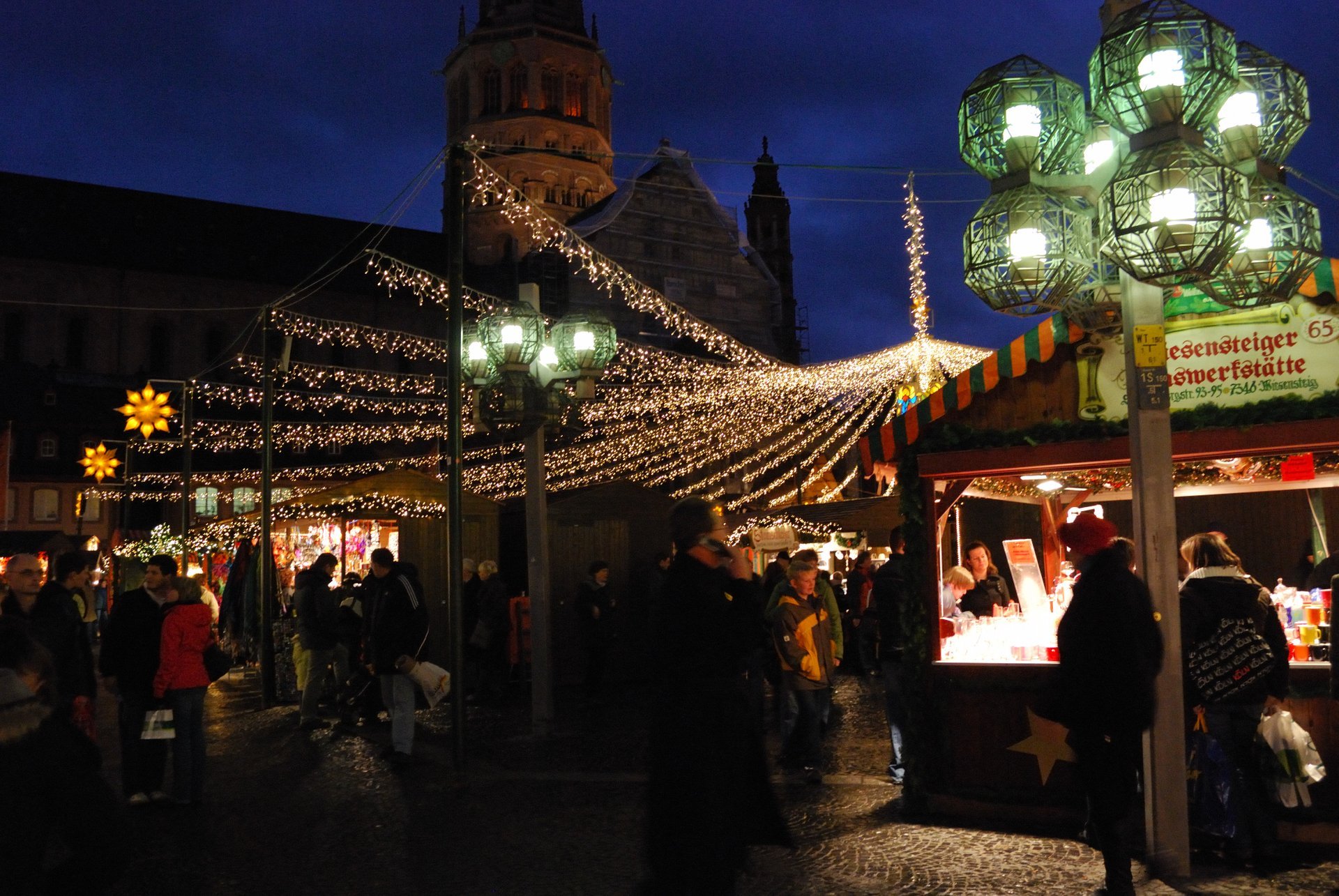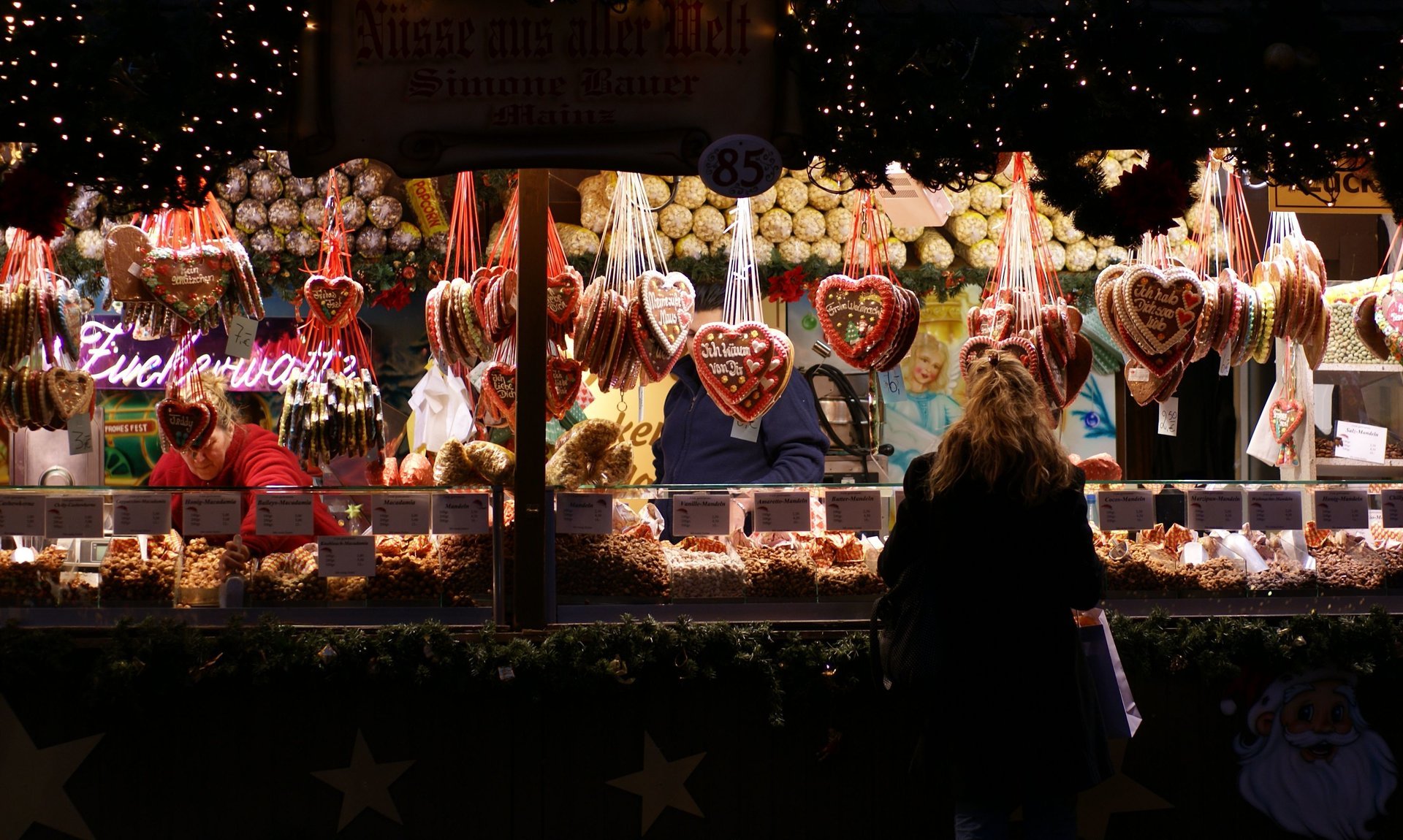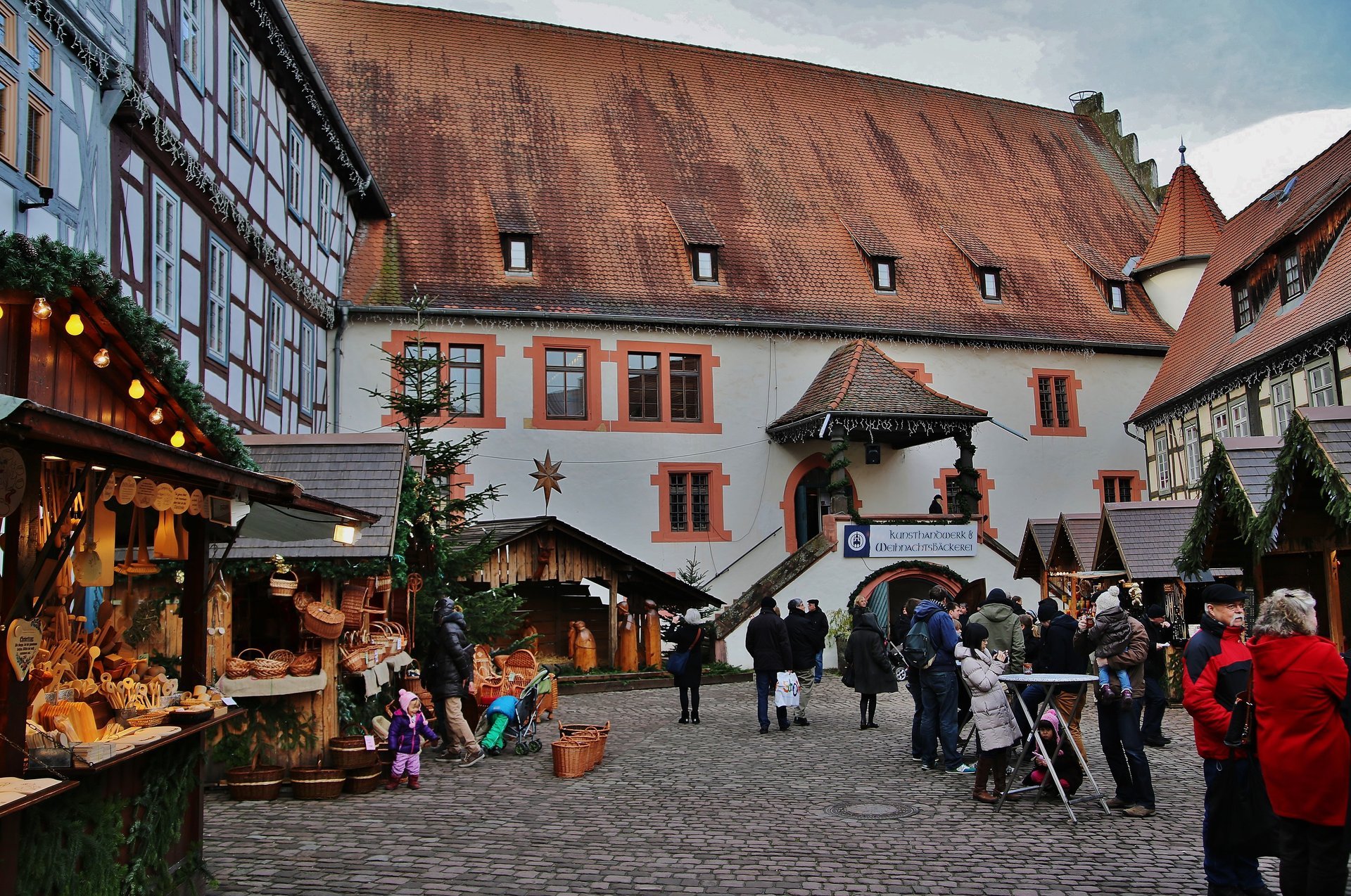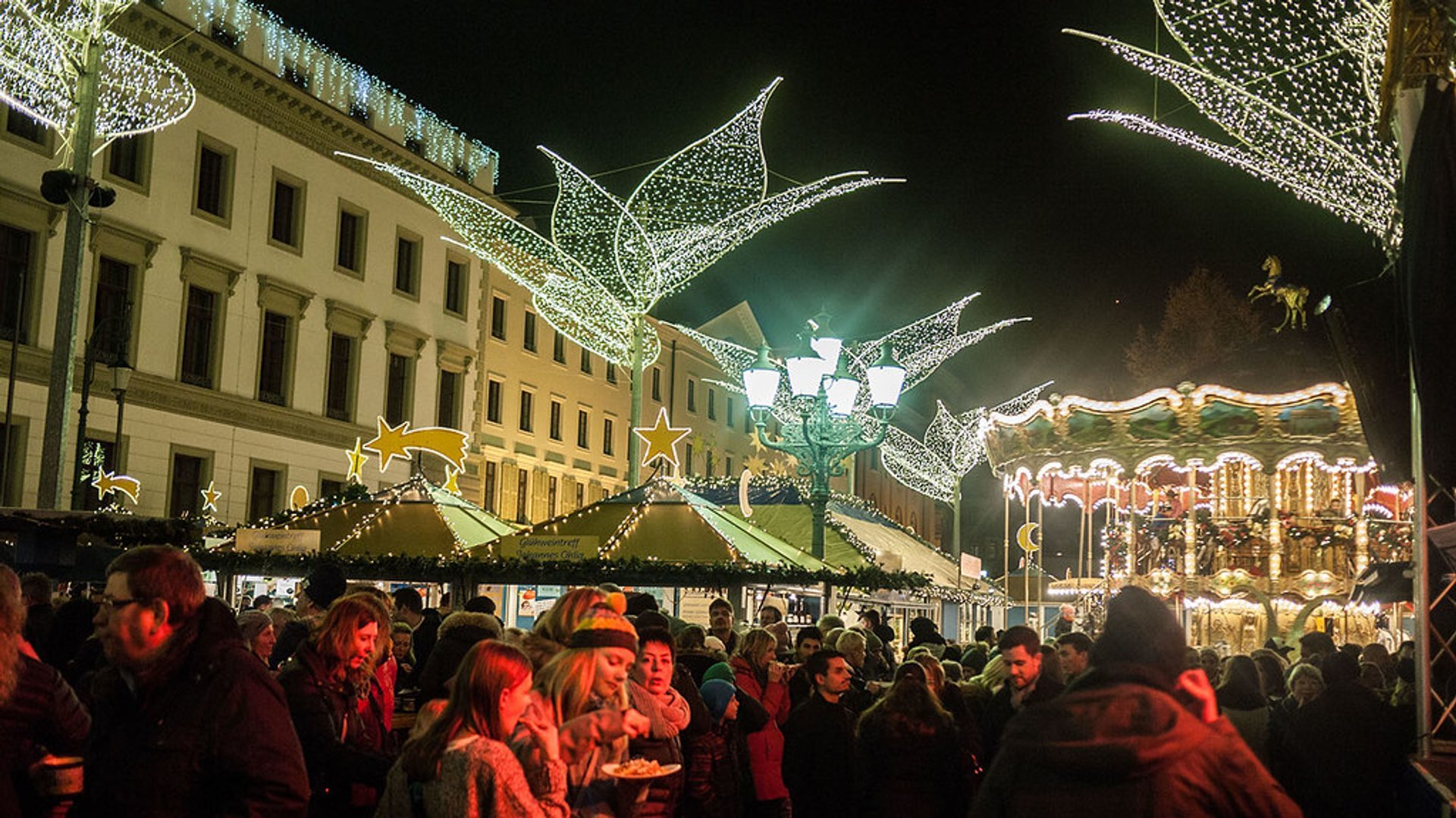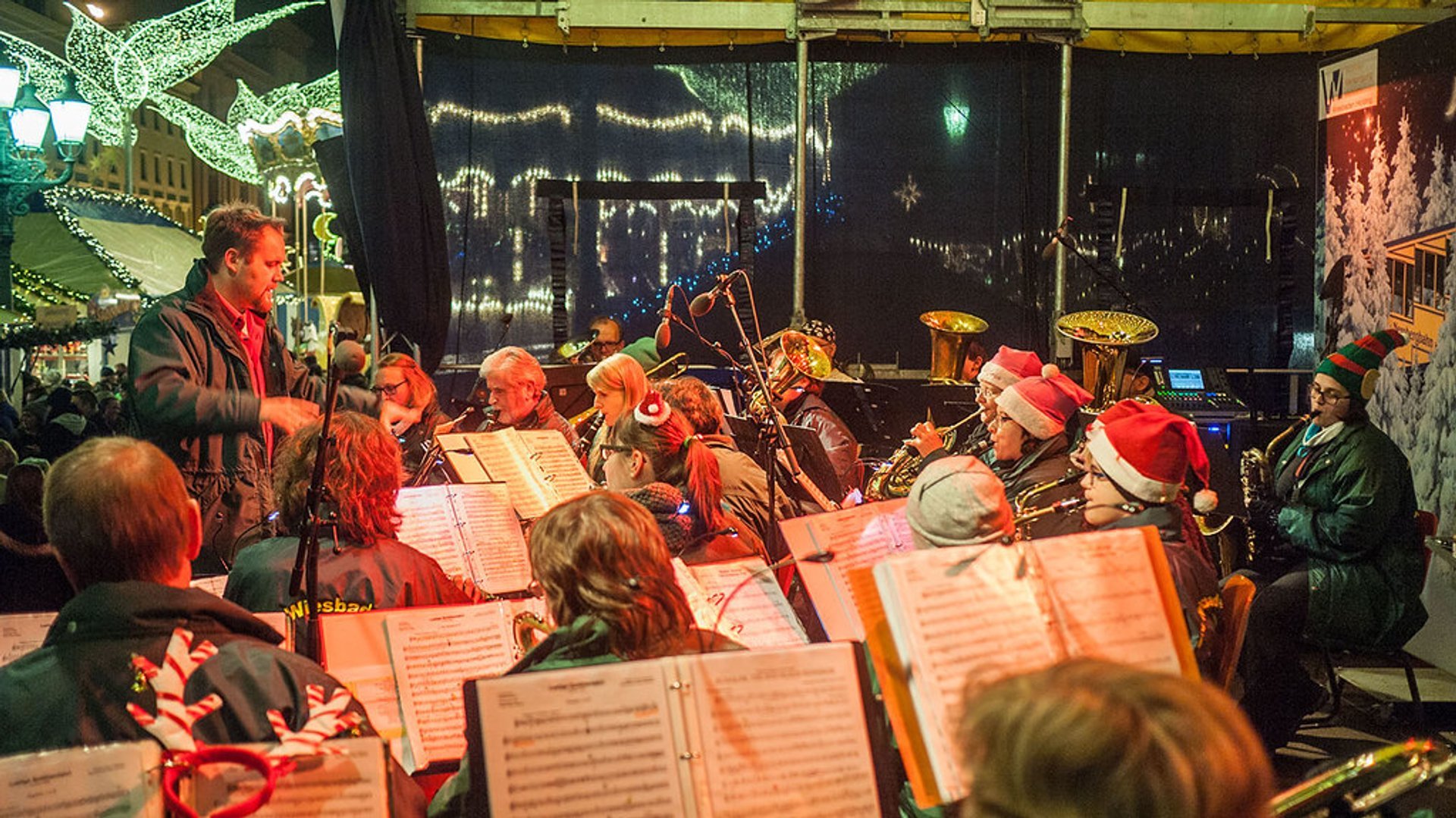 Römerberg Market
Stefan S | Römerberg Market
See accommodations nearby
Frankfurt boasts one of the oldest Christmas markets in Germany, and a careful look beyond the city limits reveals a range of enchanting alternatives. In this part of Germany, the markets lure visitors with historical settings, traditional food and drinks, and handmade gifts for a festive start to the holiday season. Most of the markets listed below are within an hour's drive from Frankfurt.
Hanauer Weihnachtsmarkt (November 25–December 22, 2022)
Hanau's beautiful town center is filled with aromas of mulled wine, cinnamon, and vanilla during the traditional Christmas market season. The town is the birthplace of Brothers Grimm and provides a true fairy tale atmosphere during the holidays. The market features over seventy-five stalls with gifts, handicrafts, and delicious foods. Kids would love the mini Ferris wheel, two vintage carousels, and a fairytale train. Every day, there is live music and other entertainment. For the last twenty years, the town hall building is transformed into the world's largest advent calendar, where a new scene is revealed to eager spectators at 18:00 every evening. Hanau is thirty minutes east of Frankfurt.
Frankfurt Christmas Market (November 21–December 22, 2022)
The Frankfurt Christmas Market, or Frankfurter Weihnachtsmarkt in German, is one of the largest in Germany. Being a large financial center, the city attracts thousands of travelers, so Frankfurter Weihnachtsmarkt is among the country's most visited. Held at the Römerberg, St Paul's Square, Hauptwache, Mainkai (Main Quay), and Friedrich-Stoltze-Square, it features a giant Christmas tree and dozens of stalls with delicious food and drinks. From late November to Christmas eve, a lavishly decorated central Frankfurt is the prime meeting and entertainment spot in Frankfurt. Frankfurter Weihnachtsmarkt dates back to 1393 is one of the oldest in Germany. In 1498 it witnessed a historic Royal Christmas Wedding.
Mainzer Weihnachtsmarkt (November 24–December 23, 2022)
Christmas Market in Mainz immerses visitors in a magical atmosphere of a fairy tale. Featuring over one hundred beautifully decorated stalls and set against the backdrop of the 1000-year-old Martinsdom (Martin Cathedral), Mainzer Weihnachtsmarkt is a great spot for holiday shopping. The artists' factory produces unique handmade items. There is also a large program of concerts, performances, workshops, postcard printing, and carousels. Richly decorated 36-foot (11-m) high Christmas pyramid and the nearby hand-carved Nativity scenes by the Gotthard chapel of the Cathedral create magical Christmas memories.
Michelstädter Weihnachtsmarkt (November 25–December 23, 2022)
Christmas market in historical Michelstadt features over one hundred picturesque wooden stalls near the famous town hall building, which dates back to 1484. The highlight of the market is traditional nativity scenes with life-sized figures. There is also a seven-meter Christmas pyramid and a musical box adding to the magical atmosphere. Kids will be delighted to visit the Toy Museum and see Father Christmas, while adults attend the castle's wine tasting hall or enjoy Christmas concerts and the art fair.
Sternschnuppenmarkt Wiesbaden (November 22–December 23, 2022)
The Christmas market in Wiesbaden stretches from the town hall to the neoclassical city palace, as well as the area around the Marktkirche. Twinkling Star Christmas Market features the entertainment stage in front of the Rathaus and a fair with almost 130 stalls featuring a wide variety of traditional Christmas gifts, decorations, and delicious treats for all.
Aschaffenburger Weihnachtsmarkt (November 24–December 22, 2022)
Aschaffenburg Christmas Market takes place near the beautiful Johannisburg Castle. It looks magical when glowing with Christmas lights and hypnotizes visitors with the smell of cardamom and mulled wine. Get yourself a glass of Äpplewoi or apple wine and explore the stalls with various traditional German crafts. Aschaffenburg Christmas Market attracts visitors with local specialties and unique decorations. There is a large nutcracker at Schloßplatz, life-size nativity scenes, and two Christmas pyramids. Kid rides include a Christmas train and an old-fashioned Ferris wheel. The entertainment program in Aschaffenburg offers theatre performances, pipe organ concerts, and other special events.
Darmstädter Weihnachtsmarkt (November 21–December 23, 2022)
Every winter, the Darmstadt Christmas Market welcomes visitors to Darmstadt's royal castle. With bright decor, crafts, and the homey scent of roasted almonds and mulled wine, there is no better way to give your Christmas spirit a boost. Explore colorful stalls offering German food as well as international specialties. The highlight of the market is impressive ice sculptures, fire shows, and the diverse cultural program.
Find hotels and airbnbs near Christmas Markets (Map)