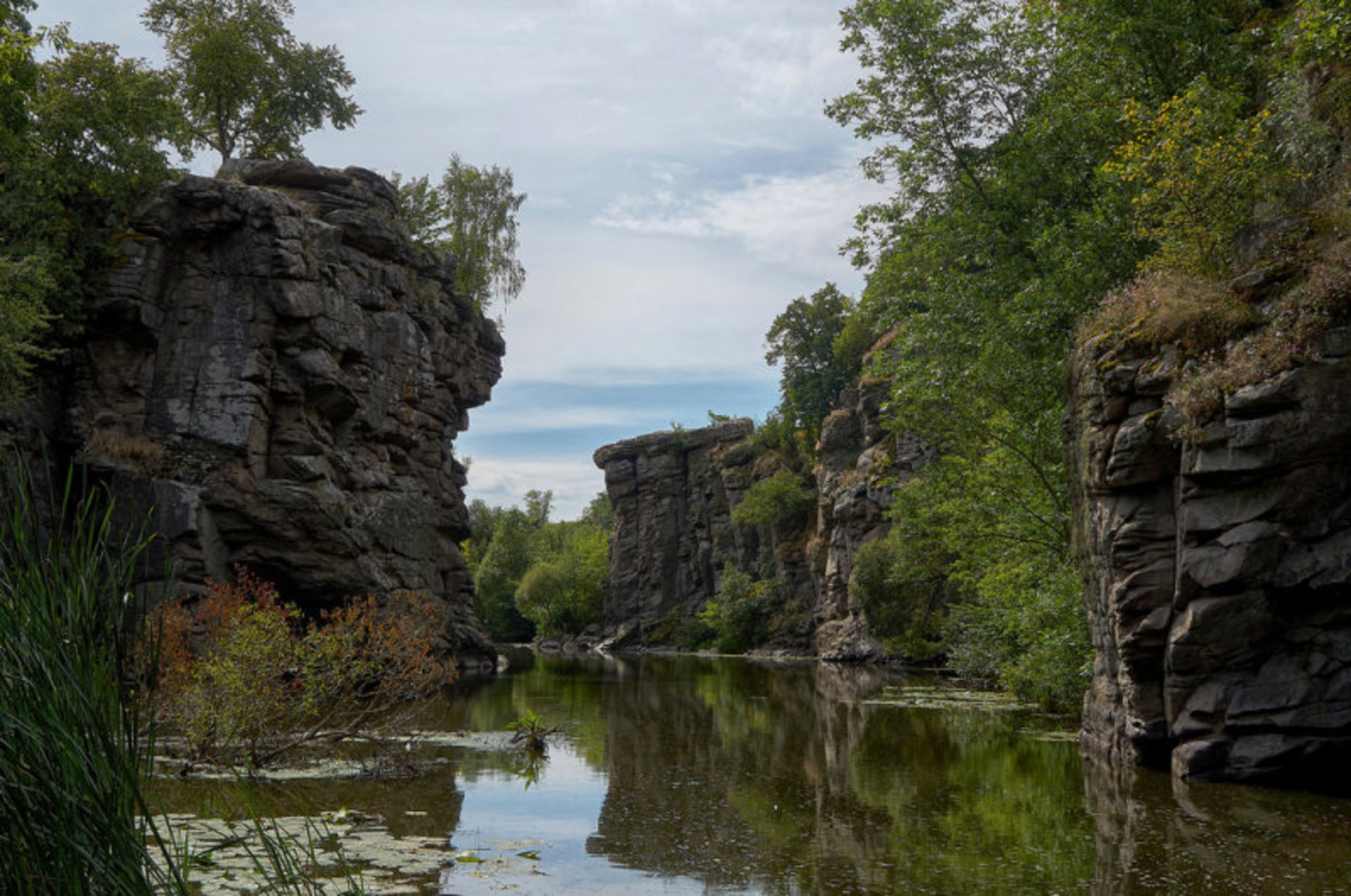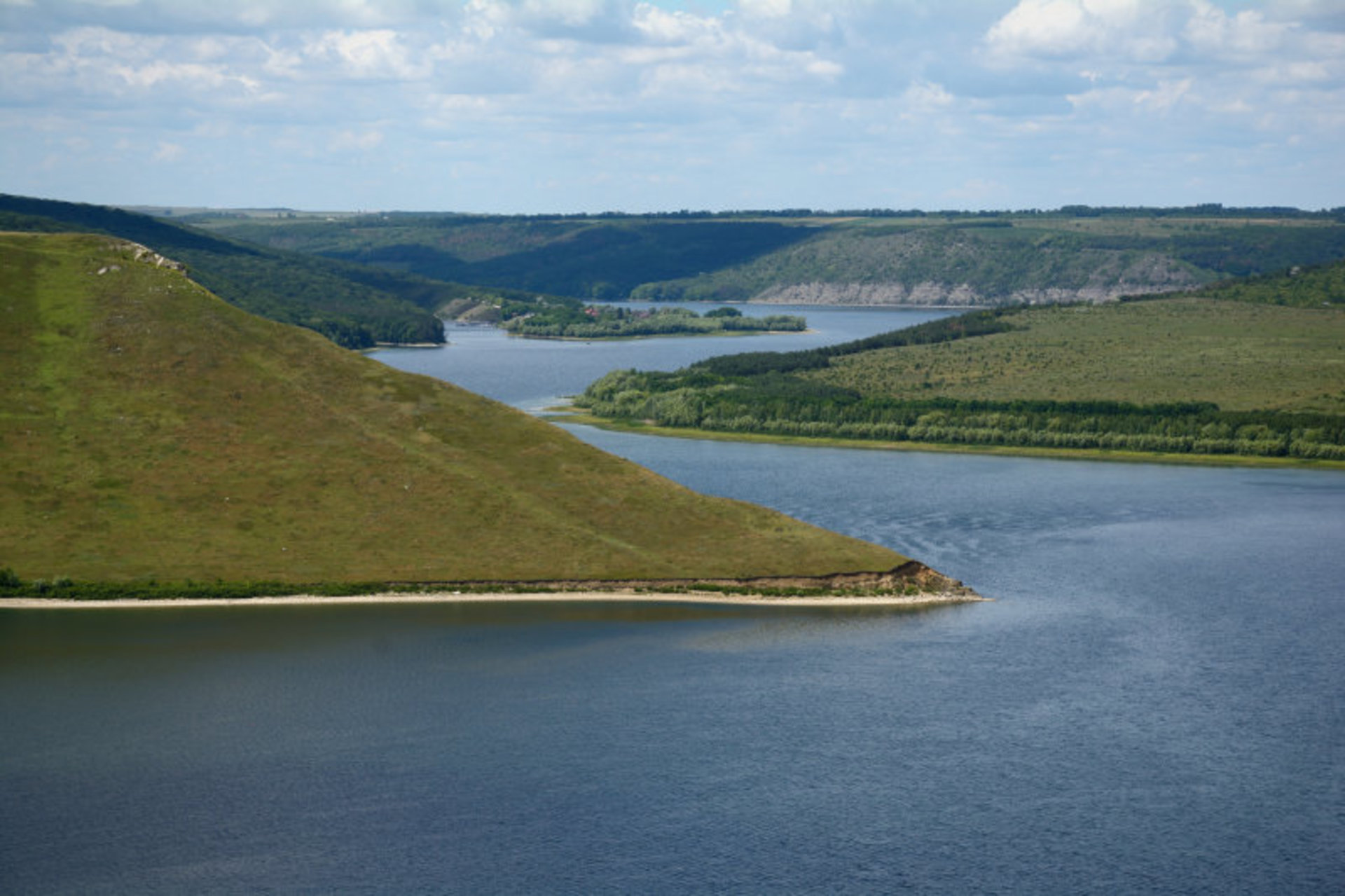 Few people, including locals, know the multiple gorgeous canyons hidden in the river gorges throughout Ukraine. Yet, thanks to the developing tourism industry, travelers can reveal unique places like Aktove Canyon, Dniester Canyon, and Buky Canyon. The best time to explore these gems is between April and October when the weather is favorable for camping, hiking, rafting, and fishing.
Aktove Canyon
Aktove Canyon, aka Aktovo / Aktovskyy Canyon or Devil's Valley, is the most famous ravine on the Mertvovod river near Aktove village in Mykolaivska oblast. The area's main attraction is its four billion old and up to 200 feet (60 m) deep basalt cliffs. Plus, the area is distinguished by unique and rare flora and fauna, protected by Bugsky Grad National Park. You can stay at the riverside camp and take your time to explore the natural beauty thereabout.
Mertvovod is literally interpreted as the one who carries the dead. Such a sinister name must have originated from the ancient Scythian past. According to legends, Scythian kings who passed away were sent on the river's last journey afloat, and this valley became home to dozens of burials.
The Mertvovod river used to be full of water until the Soviets came into power. The communists constructed dams and brought collective farms onto the river banks, so the river became shallow and muddy, and nowadays can even be crossed on foot at some points.
Petropavlivka, Arbuzynka, and Mygia
When visiting Aktove, you can also check out two smaller canyons nearby: Petropavlivka and Arbuzynka. Also, consider the beautiful village of Mygia, tucked among the Ukrainian steppes on the banks of the Pivdennyi Buh River. This place is famed for fascinating rocky landscapes and island clusters. Mygia hosts rafting and kayaking competitions and is also popular among cliff climbers.
Dniester Canyon
Dniester Canyon is located on the Dniester river, the cleanest and the second-longest river in Ukraine and also among the most beautiful in Europe. You'll be carried away with its spectacular twists and curves. What's more, the river's left banks are dotted with astonishing 500 million-year-old cliffs, which must have served as pagan altars. And numerous caves and caverns tucked inside those rock formations could serve as shelters for hermit monks.
Buky Canyon
Another impressive location to check out is Buky Canyon, set on the mountain river of Tickych. The canyon's steep cliffs will leave you breathless. The area is also known for the ruins of Ukraine's first hydroelectric power plant and the remains of the large 19th-century watermill.
Korostyshiv, Teteriv, and Smotrytsky
Lastly, if you prefer to venture to less popular sites off the beaten track, opt for Korostyshiv Granite Quarry and Teteriv Canyon, located in Zhytomyrs'ka oblast, or Smotrytsky Canyon in Khmel'nyts'ka oblast. Just note that the latter is a bit dirty.
Find hotels and airbnbs near Canyons (Map)