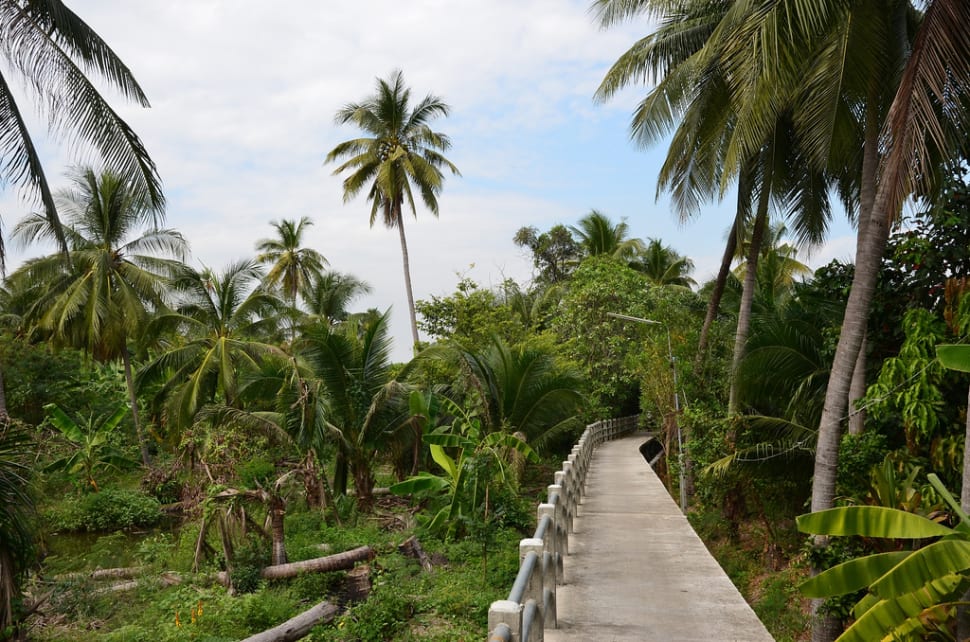 Bang Krachao is an artificial island which lies in the south part of Bangkok in Phra Pradaeng District in the province of Samut Prakan on the Chao Phraya River. Bang Krachao is often named a green lung of the Bangkok, and it's the naked truth. There are indeed lots of exciting things to do and sights to see!
Once you get there, the best way to explore the area is to rent a bicycle (the price will vary around ฿100 ($3) per day). Be ready that riding paths are very narrow which makes biking a bit dangerous, sometimes it's better to jump off your bike not to end up in the bushes.
You can explore Sri Nakhon Khuan Khan Park. It's the best spot to enjoy birdwatching, beautiful gardens and, native trees in the area. Flower Road is a big highlight of the island. But don't expect the real flowers. In reality, it's a concrete surface covered with painted colourous flowers that look very sweet! You can also visit floating markets (they are situated on the land, not on the canals) to buy some tasty Thai food, sweets, souvenirs, and homemade stuff. By the way, the area of Bang Krachao hosts nine spiritual houses!
You can visit Bang Krachaoin any time, but it's better to avoid rainy season from June to October with the worst wet months September and October. Rainy season brings lots of fall-outs what makes paths very muddy, what makes riding very uncomfortable and challenging. During the cool season which runs from November until February, the weather is enjoyable with lush and green nature. Remeber that it's peak season in Thailand so that Bang Krachaoin can be pretty crowded at that time. You can also go cycling during hot season from March to May, but be prepared to extremely scorching heat and nature won't be in the best condition.
Cycling in Bang Krachao Map & Location