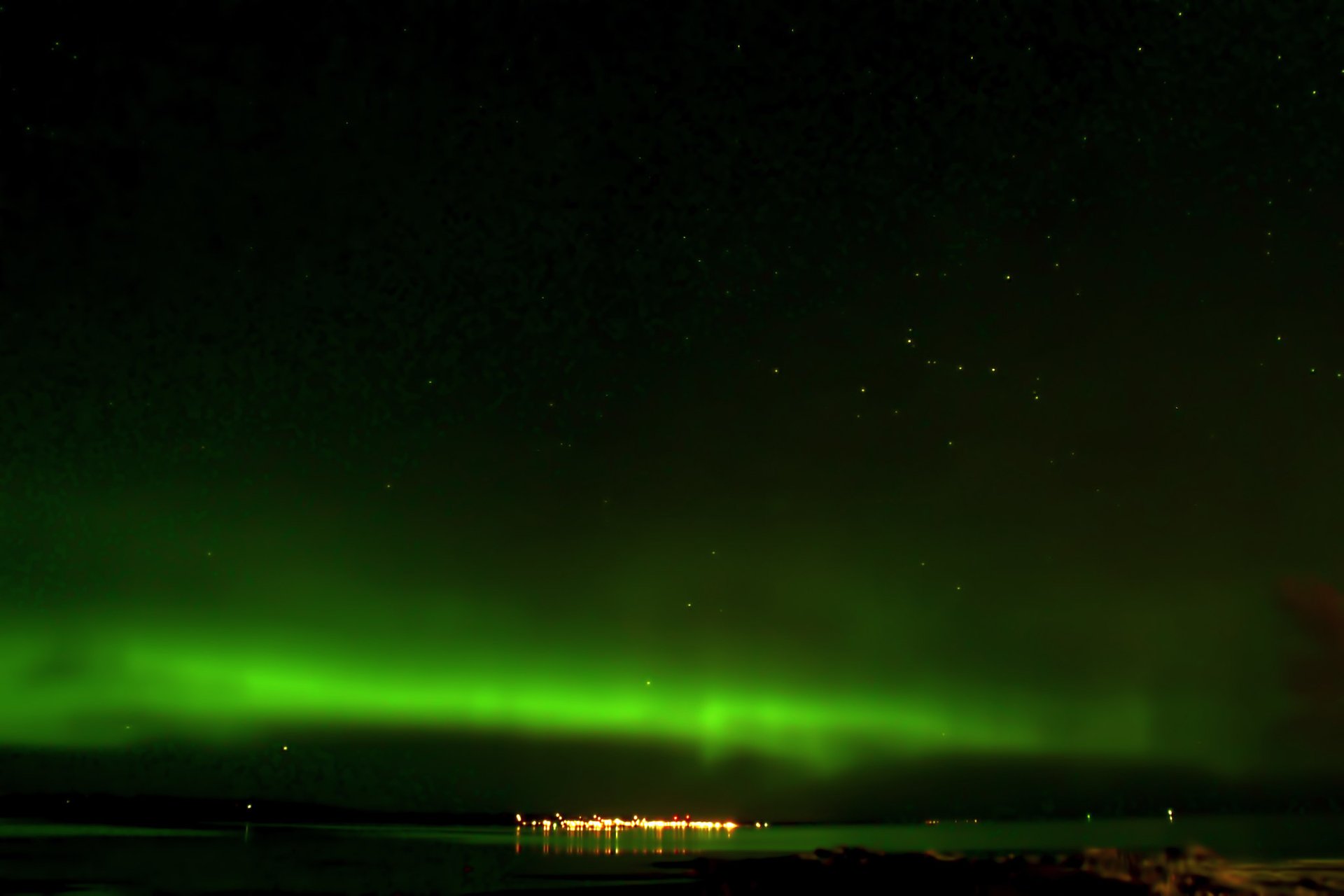 Wisconsin is well-positioned to enjoy the rare sight of aurora borealis. Beautiful dancing lights, coloring the skies in green, red, and purple, can be seen the best in the northeastern part of the state when the skies are dark, and there is enough geomagnetical activity that causes the natural phenomenon. Aurora chasers have to check special websites measuring geomagnetical or solar activity in KP-index. You need KP to be more than 5 to be able to see something in Wisconsin.
When you are expecting a solar storm that may cause auroras, try to get out of the city to minimize the impact of light pollution. You will most probably see a faint green glow on the horizon which will not be as impressive as auroras in Alaska or Yukon. However, if you photograph the phenomenon with a long exposure, you can actually see more glow and colors on camera than with a naked eye.
The season for aurora borealis in Northern Hemisphere generally runs from September through March. Autumn and spring are often experiencing solar storms so there are more chances to see aurora borealis. Summer skies are quite dark in Wisconsin, so seeing aurora is a possibility.
Aurora Borealis by Lake Michigan
Door County is the premier destination for aurora chasers in Wisconsin. Surrounded by waters of Green Bay on one side and Lake Michigan on the other side, Door County has dark skies and low light pollution, especially as you move north. Aurora can be seen from an observation tower near Potawatomi State Park in Sturgeon Bay. Or you can move further north and see it near North Bay and Rowleys Bay. Visit Newport State Park, a designated dark-sky reserve in Wisconsin. Washington Island is another iconic spot in north Door County where locals enjoy the beautiful phenomenon on a regular basis.
Aurora Borealis by Lake Superior
Lake Superior is one of the best locations for observing northern lights in the Midwest. And Wisconsin coast also boasts quite a few scenic spots by the water where aurora enthusiasts can see the elusive lights. Most good locations to see aurora borealis are in Ashland and Bayfield counties. Apostle Islands National Lakeshore featuring 21 islands and 12 mi (19 km) of Lake Superior coast is an ideal spot to go on an aurora borealis hunt. Also, you can visit the Nourse Sugarbush State Natural Area with dark skies and beautiful scenery. Your best chance to catch a glimpse of aurora will be during a clear dark night with a young moon.
Find hotels and airbnbs near Northern Lights (Map)