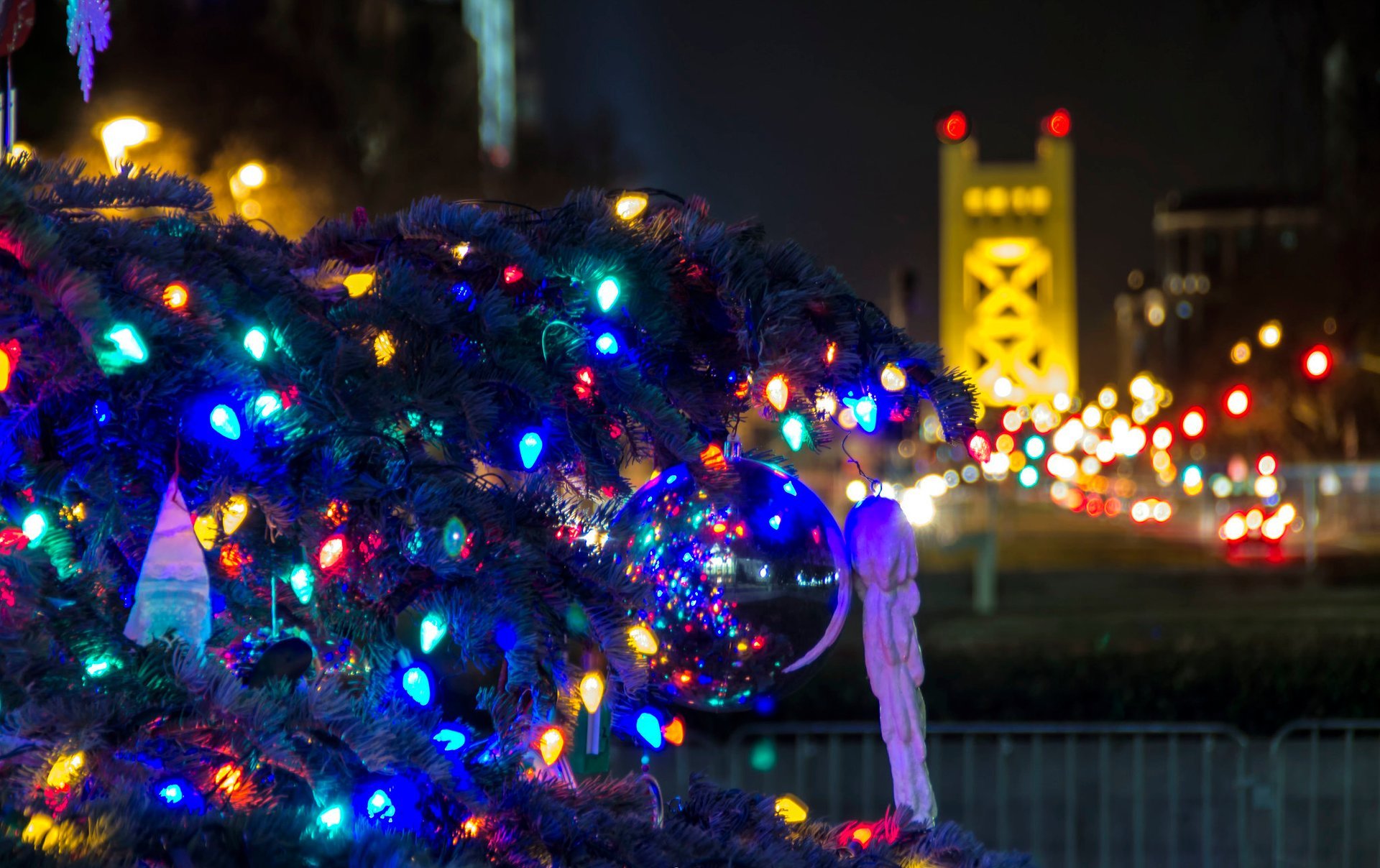 See accommodations nearby
Sacramento Christmas Lights
Featured in
Sacramento is one of those cities where you don't have to look for winter holiday events to get into the Christmas spirit. Locals create some of the most lavish festive light displays in California. See it yourself, as you walk or drive across the finest blocks with houses bathed in Christmas lights and music.
The Fab Forties on Christmas Display
Set off to the famed East Sacramento neighborhood, known for the best holiday illumination in the city. In particular, discover the magic on 38th-47th streets between J St. and Folsom Blvd. Hence the name "The Fab Forties." The houses and trees of the neighborhood will be generously adorned with Christmas lights. Prepare to stroll around 20 blocks on a chilly winter night, so you might like to bundle up and take a coffee-to-go at one of the midtown coffee shops.
Old Sacramento's Christmas Tree Lighting (unconfirmed in 2023)
Browse Old Sacramento, which is nearly 3 miles (5 km) northwest of The Fab Forties. There you'll find the city's official Christmas tree set up on K St. between Front St. and Second St. The 60-foot (18-m) tapered white fir tree will be decorated with 24,000 lights, 550 icicles, and 400 strobes. The lighting ceremony traditionally takes place around Thanksgiving Day, at about 6 pm. The Christmas tree and festive decor across the district will sparkle daily till New Year's Day.
Pebble Creek Christmas Lights
The Greater Sacramento area, or Sacramento–Roseville, is no less charming during the holiday season. Take a short drive to Rocklin, 23 miles (37 km) northeast of downtown Sacramento, and find the mesmerizing Pebble Creek Drive at Strand Rd. The street residents cunningly decorate their houses with hundreds of handcrafted Disney and Christmas characters. Some also turn on classic Christmas tunes and offer hot cocoa for only $1 that goes to charity. Enjoy the wonderland while being respectful of other vehicles moving in the opposite direction—turn off the headlights when you enter Pebble Creek.
Christmas Lights Drive-Thru at Bayside Church (unconfirmed in 2023)
Wish for more glare? Then head to the Bayside Church area in Roseville, located less than 4 miles (6 km) west of Pebble Creek Drive. Immerse yourself in holiday lights and music during a mile-long Christmas Lights Drive-Thru. The track opens at 6 pm through 9:30 pm and is closed on December 24–25. The vehicles enter the course at no cost. Yet you'll have to reserve a free ticket—this is done to control traffic flow.
Arcadian Village (unconfirmed in 2023)
Also, if you take a southward direction to the Elk Grove, you might discover another Christmas gem at Arcadian Village. Go to 8486 Mainstay Ct and you'll see the house decked out in 80,000 lights! Tune to 107.9 FM and enjoy a synchronized show of reindeers and penguins dancing to 22 festive songs. Sunday through Thursday, the lights go on from 5:30 pm to 10 pm, while Friday and Saturday offer extended hours till 11 pm and also seasonal treats, such as candy canes.
After all, feel free to explore other neighborhoods in and around Sacramento to discover some hidden treasures.
Find hotels and airbnbs near Sacramento Christmas Lights (Map)
Sacramento Christmas Lights
Featured in