0
Show accomodations nearby
With its cozy traditional Christmas markets and beautiful balls, Vienna is a great Christmas destination. At night the city sparkles with millions of LED lights. You won't see too many cartoon and popular culture characters or multiple colours. Vienna keeps the displays simple and elegant. The city centre is illuminated by shimmering cascades and glowing arches. Giant crystal chandeliers of Graben consisting of 200,000 LED lights is one of the most iconic Vienna Christmas light displays. From Graben, you can walk to Stephansplatz to look at the cathedral and the Haas Haus illuminated facade. The Christmas market is a good spot to warm yourself up with some mulled wine.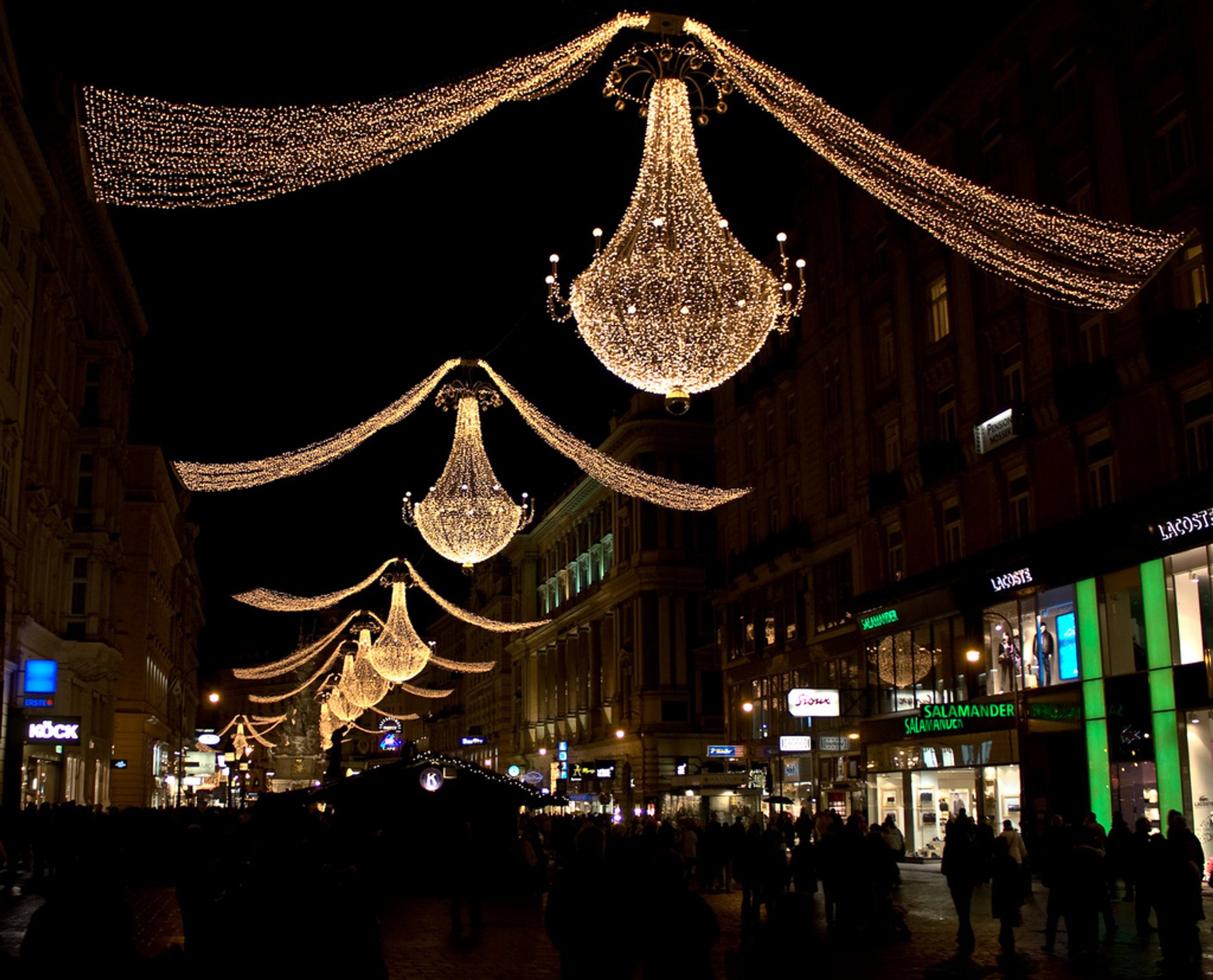 Light displays along the streets of Vienna
From Stephansplatz you can walk along the beautifully decorated Kärntnerstraße with hanging light displays created by 550,000 LED lights and about 50 km of crystals.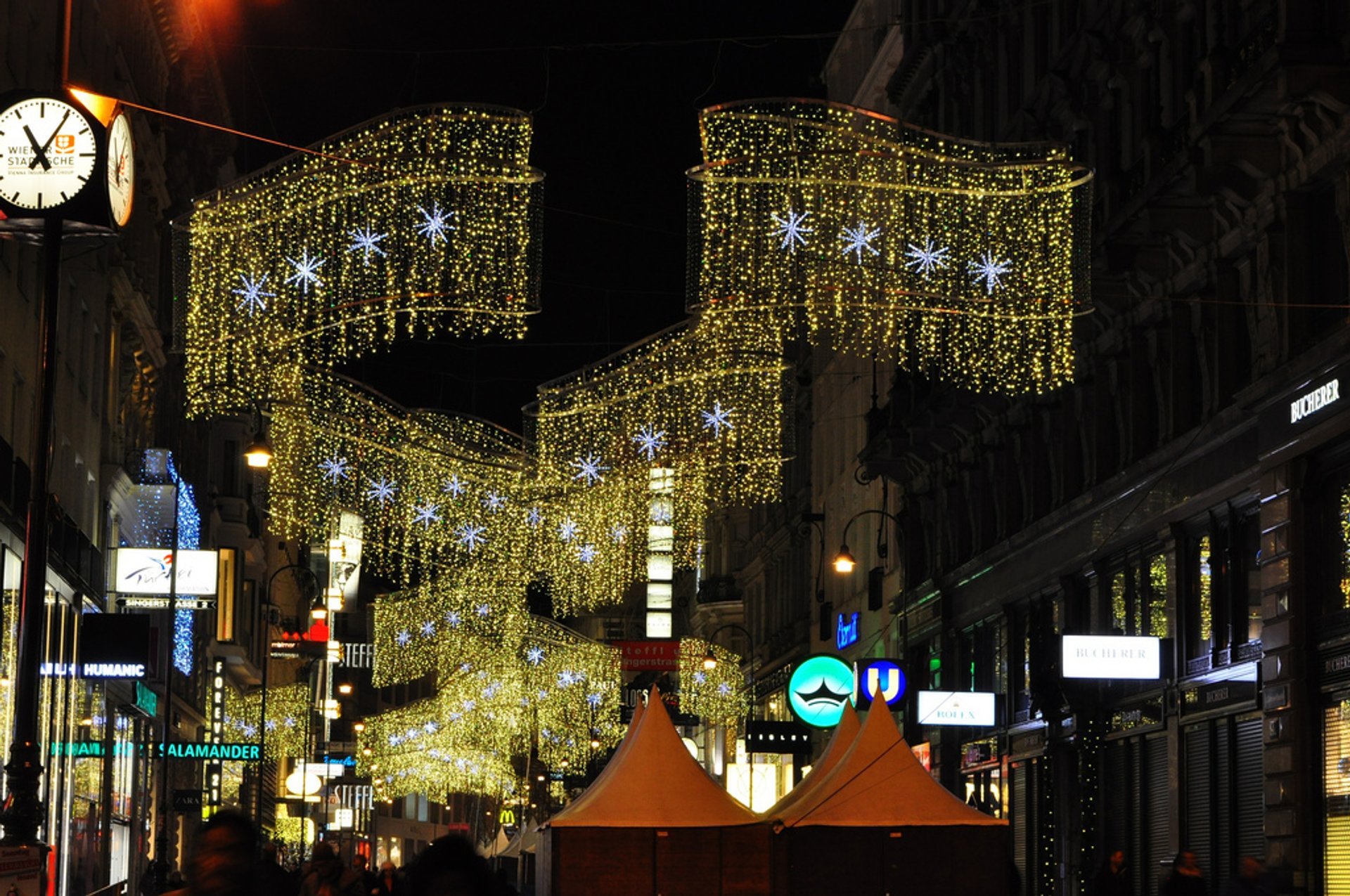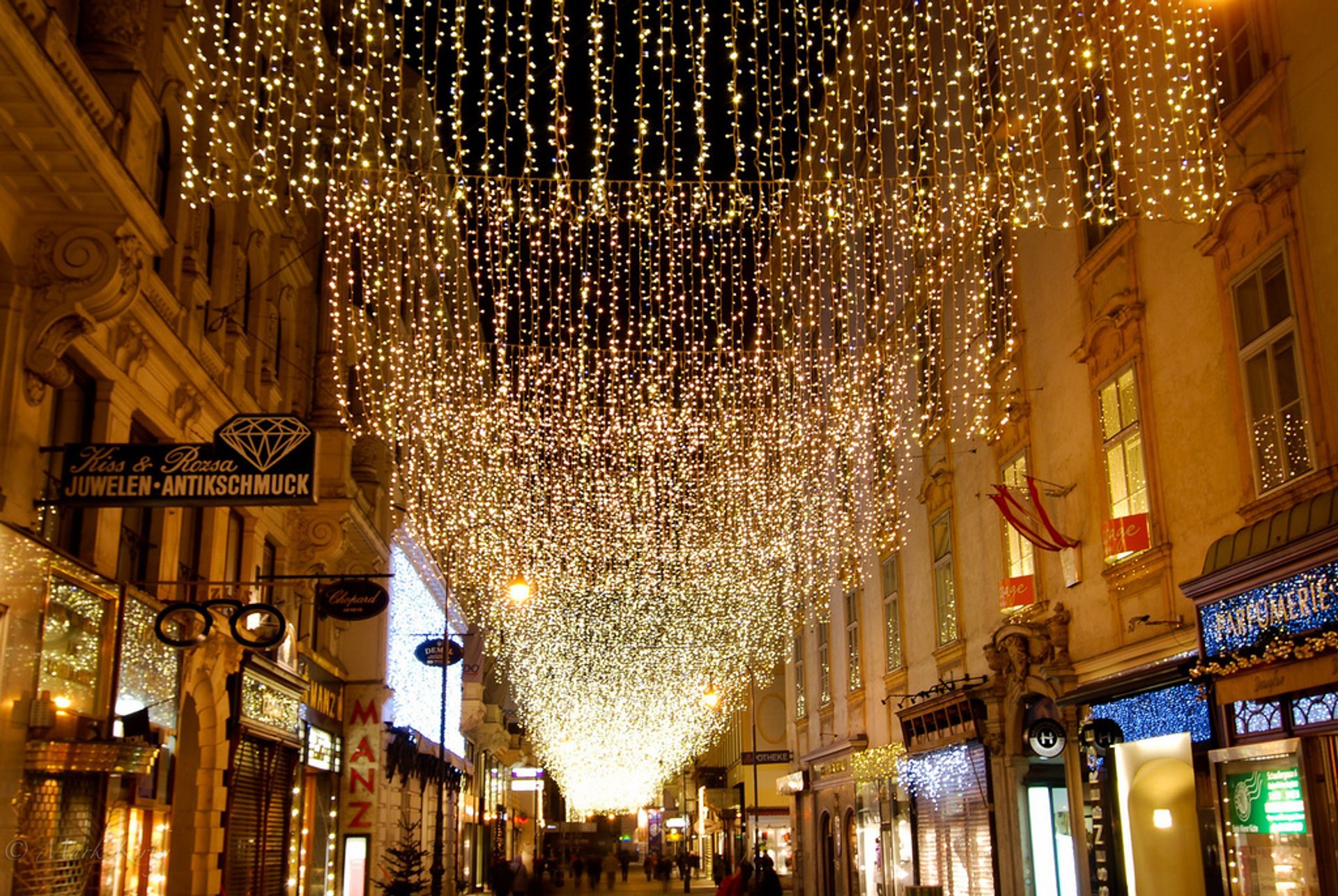 If you walk from Stephansdom to Rotenturmstrasse you can see light displays with colour—large red shimmering balls are decorating the street.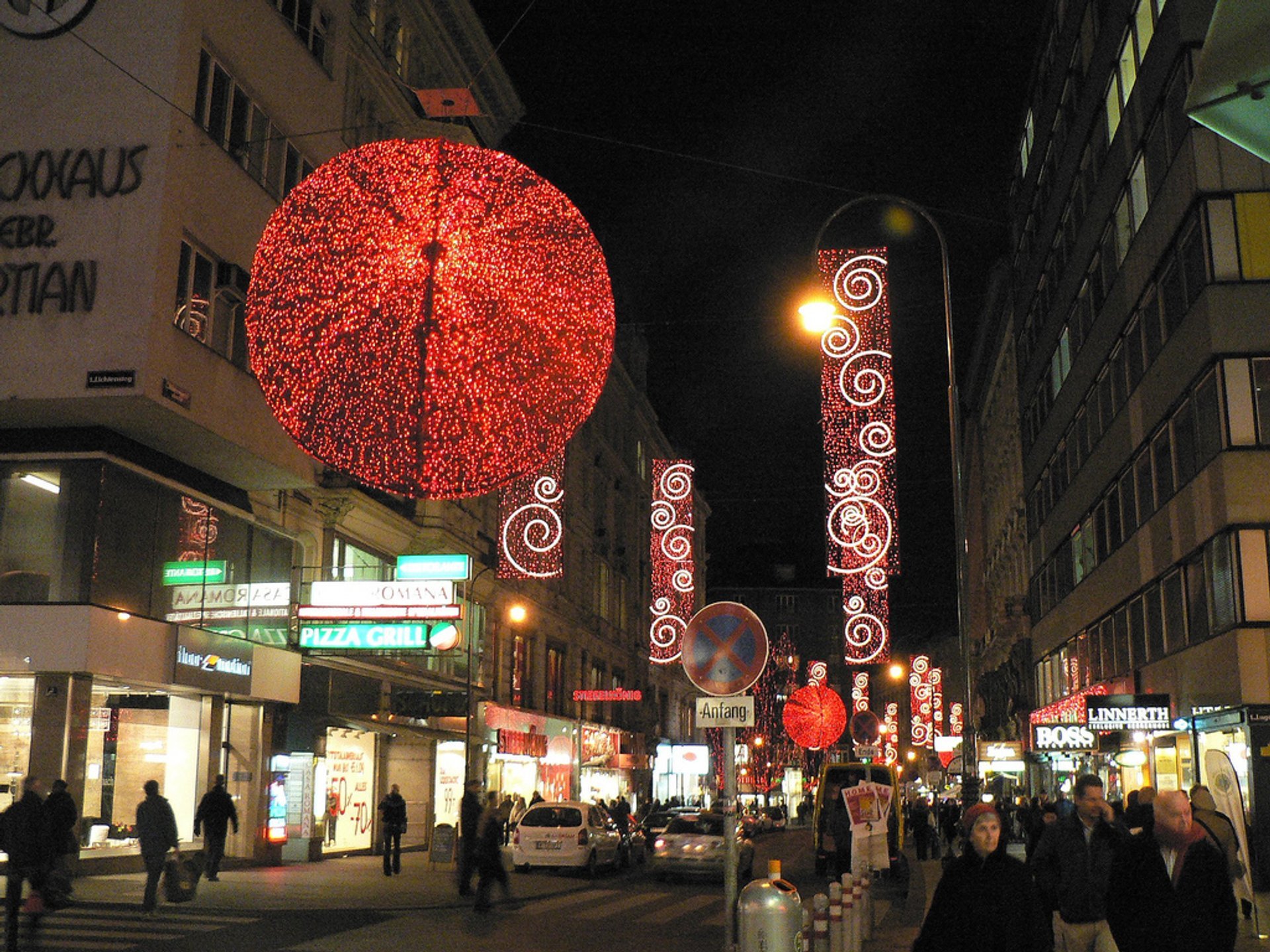 The Ring Lights
Lights of the Ring is another display worth seeing. To warm up, you can do it on the Ring tram; passing many decorated shops, luxurious hotels, and markets.
Christmas Village at Belvedere Palace (November 20–December 31, 2020) and Christmas Market & New Year's Market at Schönbrunn Palace (November 21, 2020–January 03, 2021)
Vienna winter fairy-tale walk is not complete without visiting two palaces, the Belvedere and Schönbrunn, their sight will leave you in awe. At the Belvedere, there is a Christmas market which is worth checking out. Schönbrunn palace has a large lavishly decorated Christmas tree.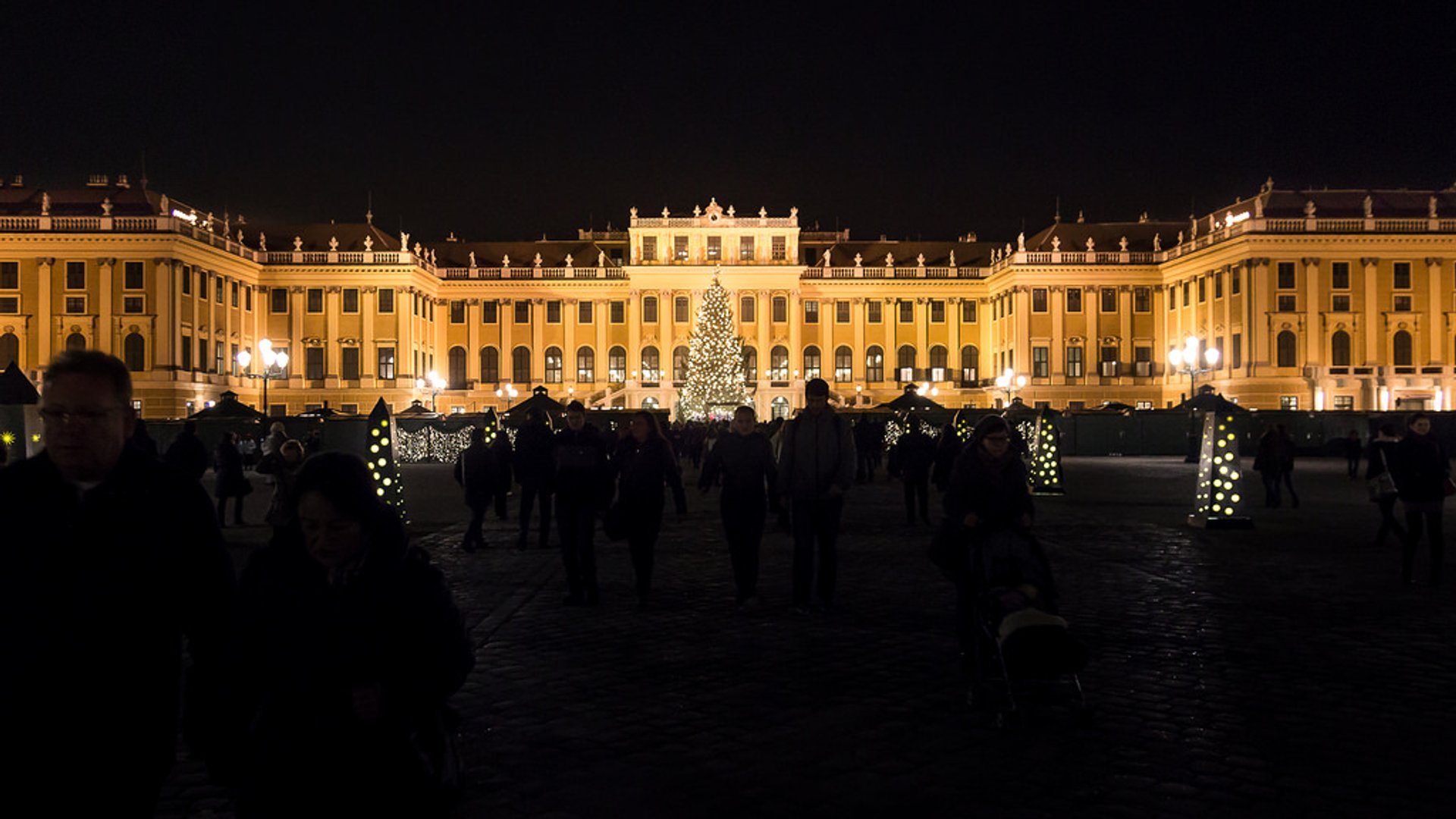 Vienna Christmas World on Rathausplatz (November–December, dates TBA)
Karlsplatz Lights and Christmas market is another Christmas-time must-see. The park in front of the Rathaus, City Hall, is a great stop to look at the lights and grab some warm food and drinks. The Rathaus lights are changing every year, bringing new styles to the city.
Find hotels and airbnbs near Christmas Lights (Map)
Christmas Lights Featured in