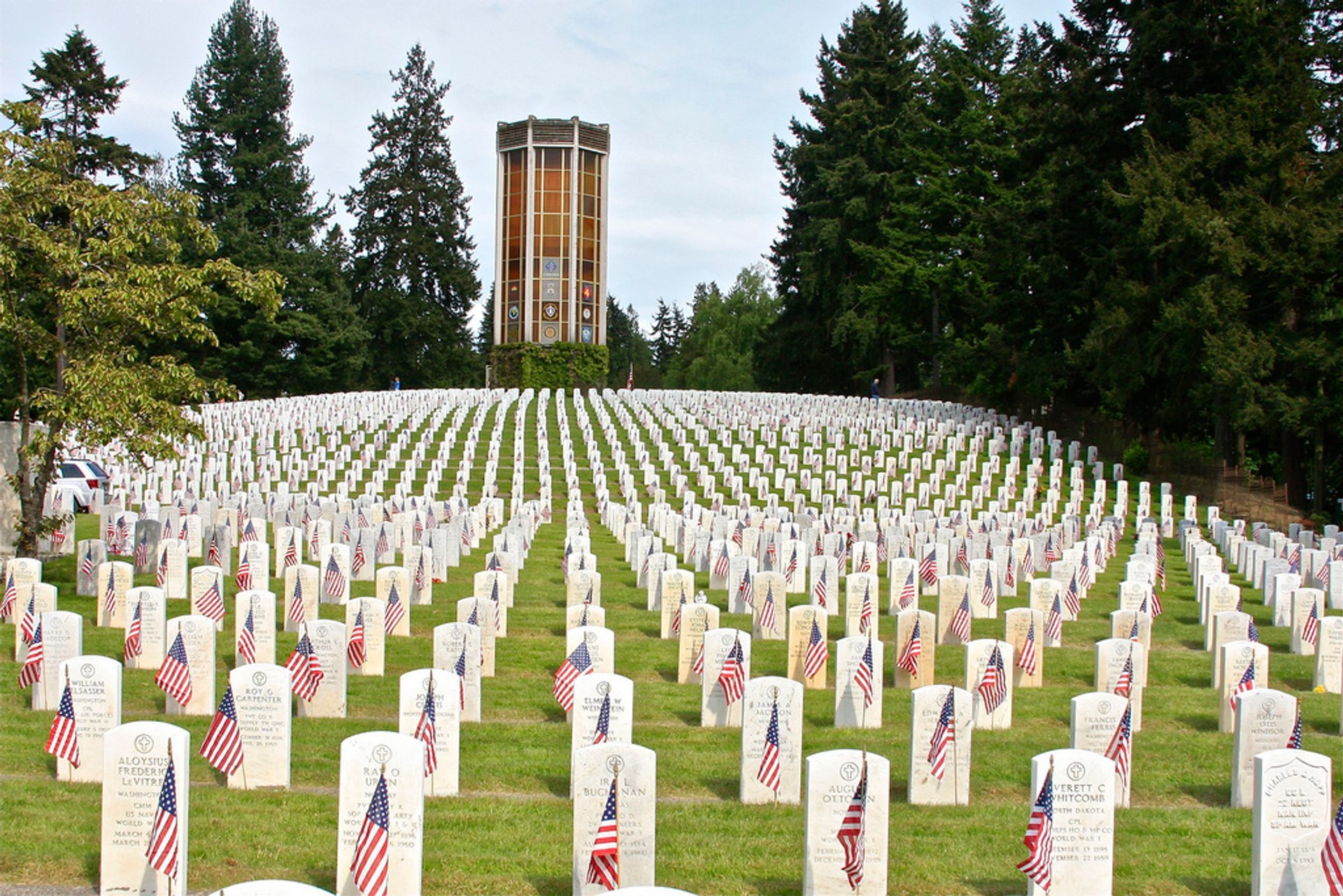 Memorial Day is observed on the last Monday of May, but celebrations extend over a weekend. It marks the start of the summer festival season with several events happening simultaneously in Seattle. But first of all, it is the time to remember servicemen and women of the U.S. armed forces who died for their country. The Veterans Memorial Cemetery at Evergreen Washelli Memorial Park holds an official commemoration service since 1927.
Mill Creek has a Memorial Day program that starts with a solemn ceremony at the Veterans Monument. On Monday a patriotic parade marches at 11 a.m. through Mill Creek Town Center, featuring Veterans of Foreign Wars, the American Legion, Civil Air Patrol, military vehicles and a flyover by military jets.
See festive decorations on Main Street that include vintage military cars and historical exhibits. In downtown Seattle stop by The Garden of Remembrance at Benaroya Hall to honor Washington State citizens who were killed in service during World War II and wars in Korea, Vietnam, the Persian Gulf, Iraq, and Afghanistan. The Museum of Flight offers a special program of Memorial Day starting with a concert by the Boeing Employee Concert Band, that is followed by a memorial service and presentation of the special exhibit.
Memorial Day weekend also means that the Northwest Folklife Festival is underway. The annual event attracts 250,000 attendees to the Seattle Center. With more than 5,000 performers during four days, Northwest Folklife is one massive hippie festival where people can learn to dance, listen to world music, try street food from different countries, and shop for arts and crafts. Previous lineups included Naomi Wachira, Tomo Nakayama, and Astro King Phoenix. Jazz music fans can enjoy the Annual Couth Buzzard Jazz Festival held over Memorial Day Weekend. The festival featured artists like Kenny Mandell, Orville Johnson, and Julie Criswell.
If you are ready for a jog around picturesque Lake Washington, take part in the Memorial Day Weekend Run in Magnuson Park. Choose from a 5K, 10K, and 15K distance. The course and nature around will not disappoint you.
Memorial Day Weekend Featured in