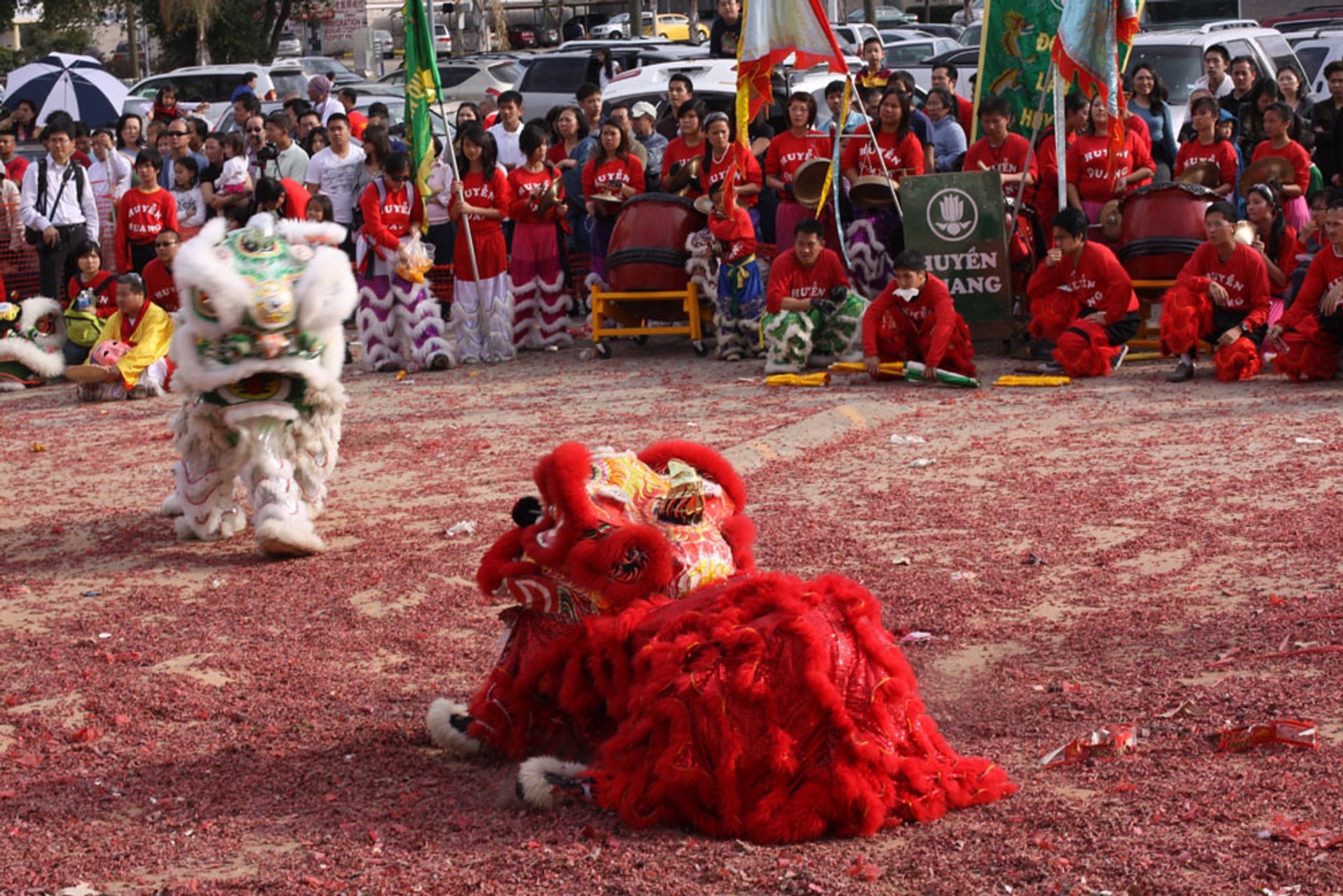 Fighting Lion Dance, Chinese New Year in Houston
Houston's Asian-American community celebrates Chinese New Year at multiple festivals and parties. Special events kick off a week before and continue for a week after the Lunar New Year Day, which can land between late January and late February.
Lunar New Year Houston at Viet Hoa Center (February 5–6, 2023, unconfirmed)
One of the prime annual occasions to honor the holiday is Lunar New Year Houston at Viet Hoa Center. Over a weekend, you'll experience a hundred lions and dragons, a million red firecrackers, martial arts, live music, dances, theatre, puppetry, and delectable foods. This pan-Asian outdoor party celebrates Chinese, Vietnamese, Korean, Cambodian, Japanese, and Filipino cultures. Free festivities run from 10 am through 6 pm.
Lunar New Year Festival at the Chinese Community Center
Houston Chinatown is also an ideal place to ring in the Chinese New Year. At the Chinese Community Center at Lunar New Year Festival, you'll likewise enjoy lion and dragon dances, local artists, cultural performances, foods, games, and other businesses. The entertainment is open from 10 am to 4 pm, is free of charge, and suitable for families.
Texas Lunar Festival on Bellaire
Also, check out another free annual bash located in front of the Southern News Group Building on Bellaire Boulevard. Texas Lunar Festival on Bellaire runs from 10 am to 5 pm. The program includes traditional dance performances, martial arts, a fashion show, food trucks, and vendors.
Other festivities
Besides the annual festivals, you can browse the Houston area and find more exciting events running about. Typically Hong Kong City Mall and Asia Society Texas Center hold some activities. Additionally, some museums, breweries, eateries, galleries, and other establishments provide special offers for the season. So be assured you'll have quite enough options to mark the occasion.
Find hotels and airbnbs near Chinese New Year (Map)