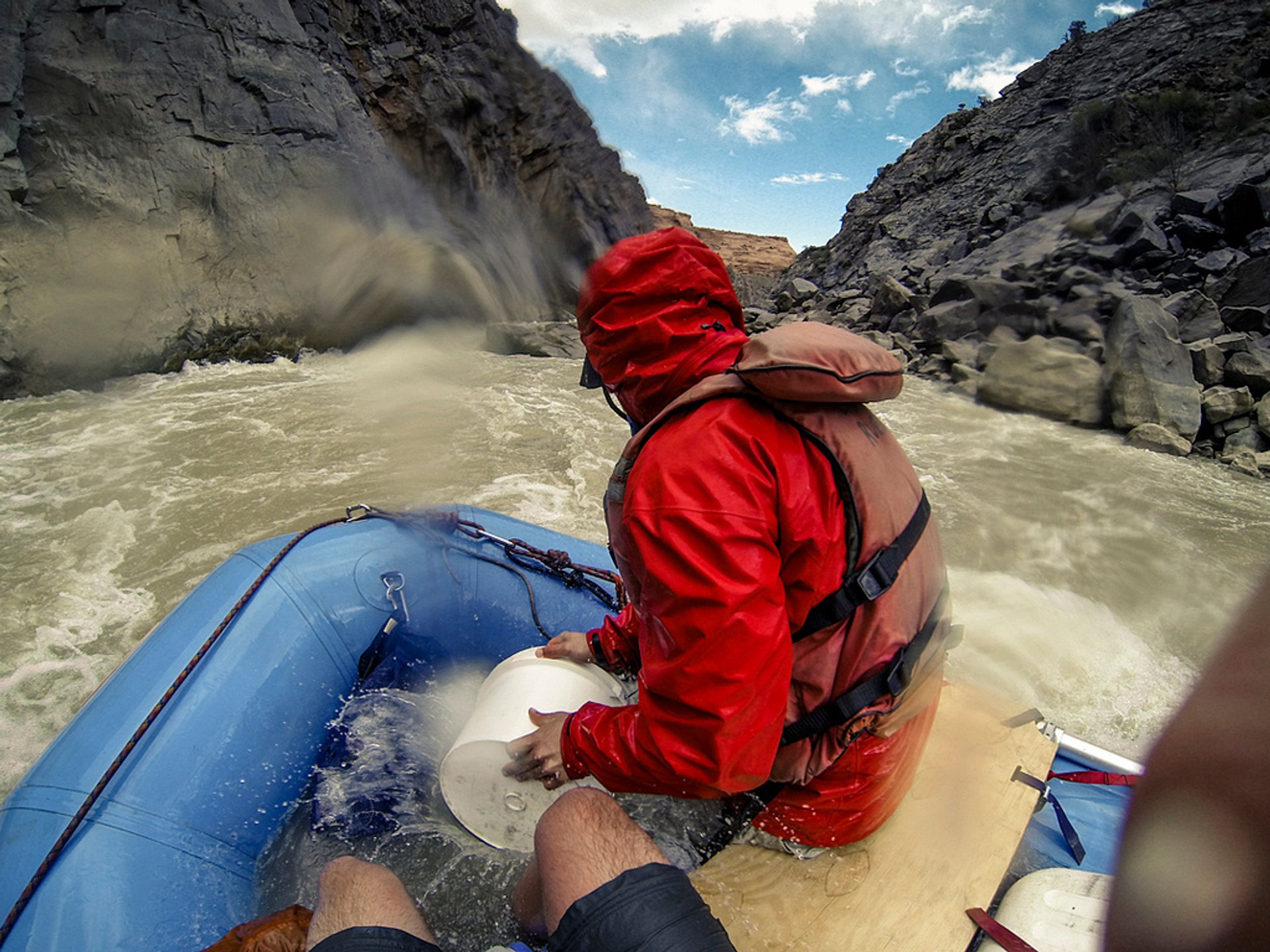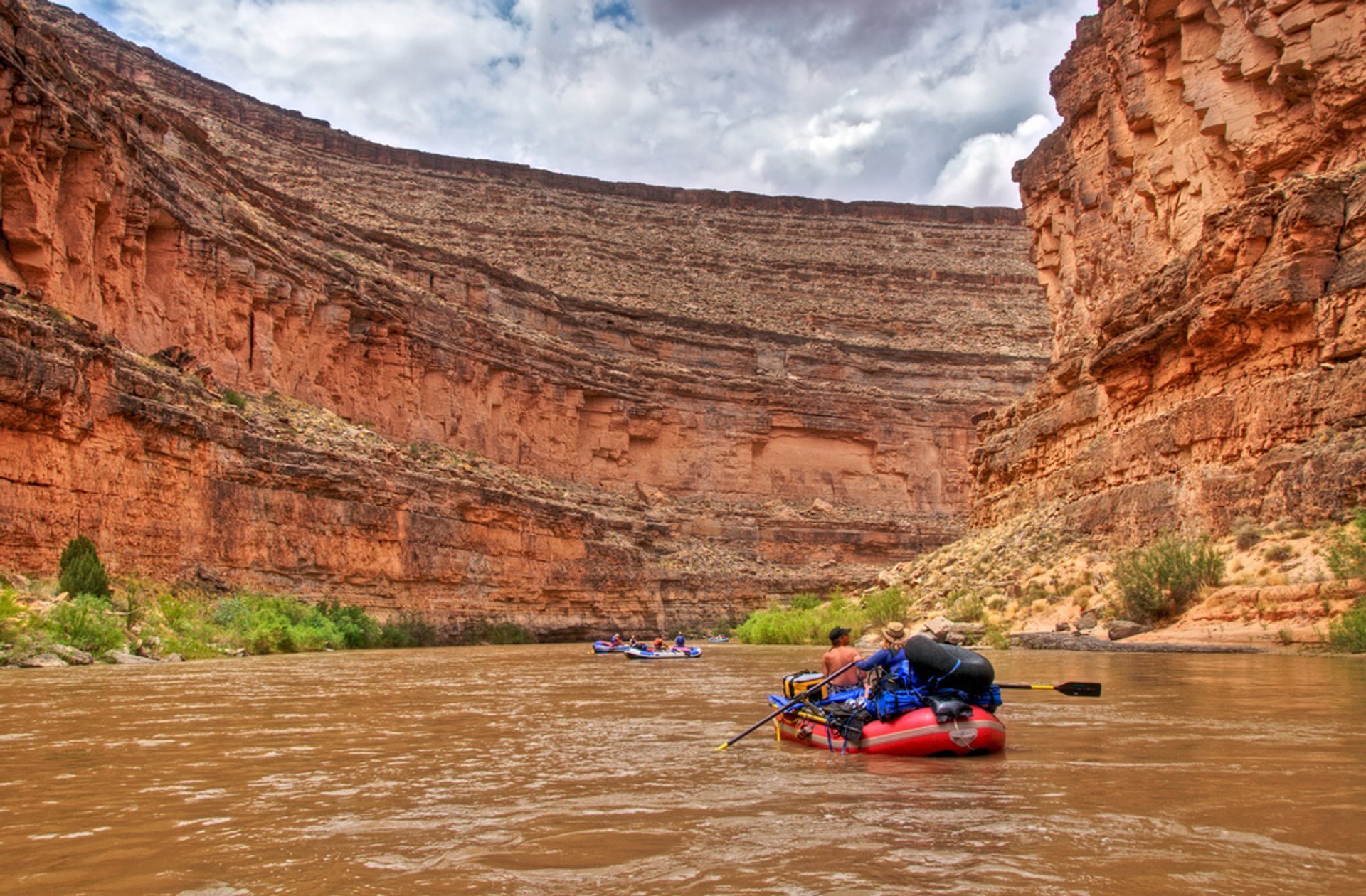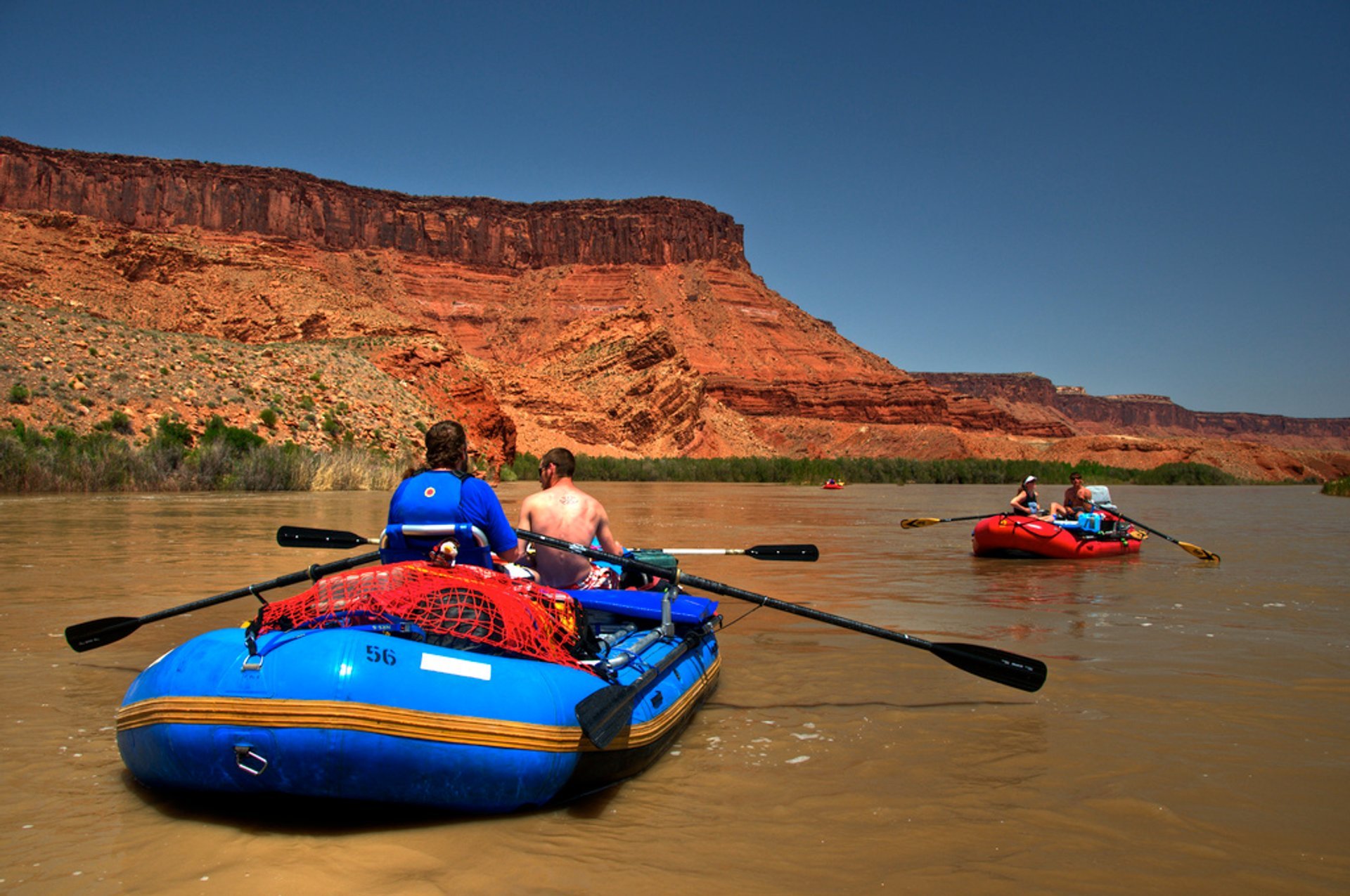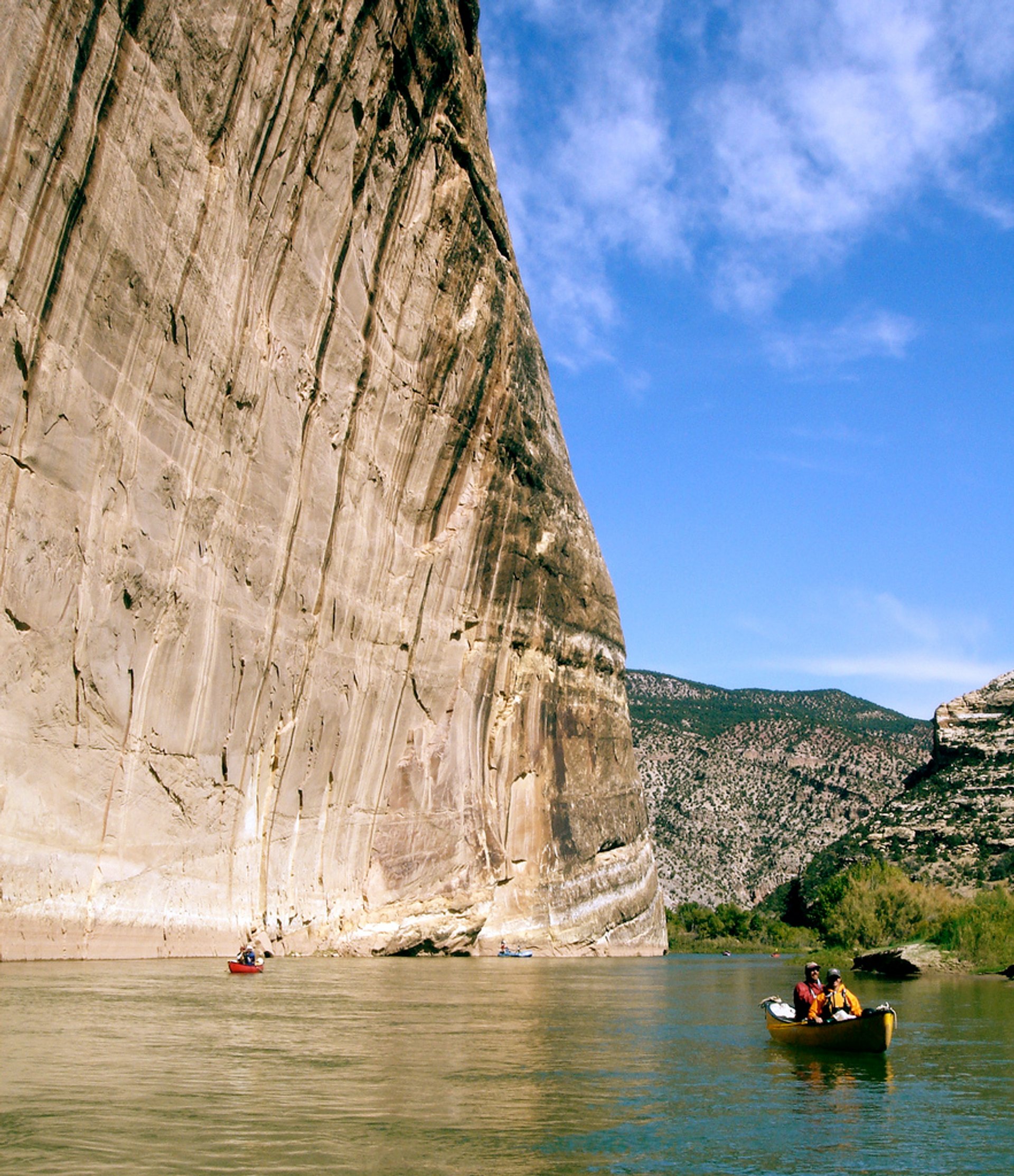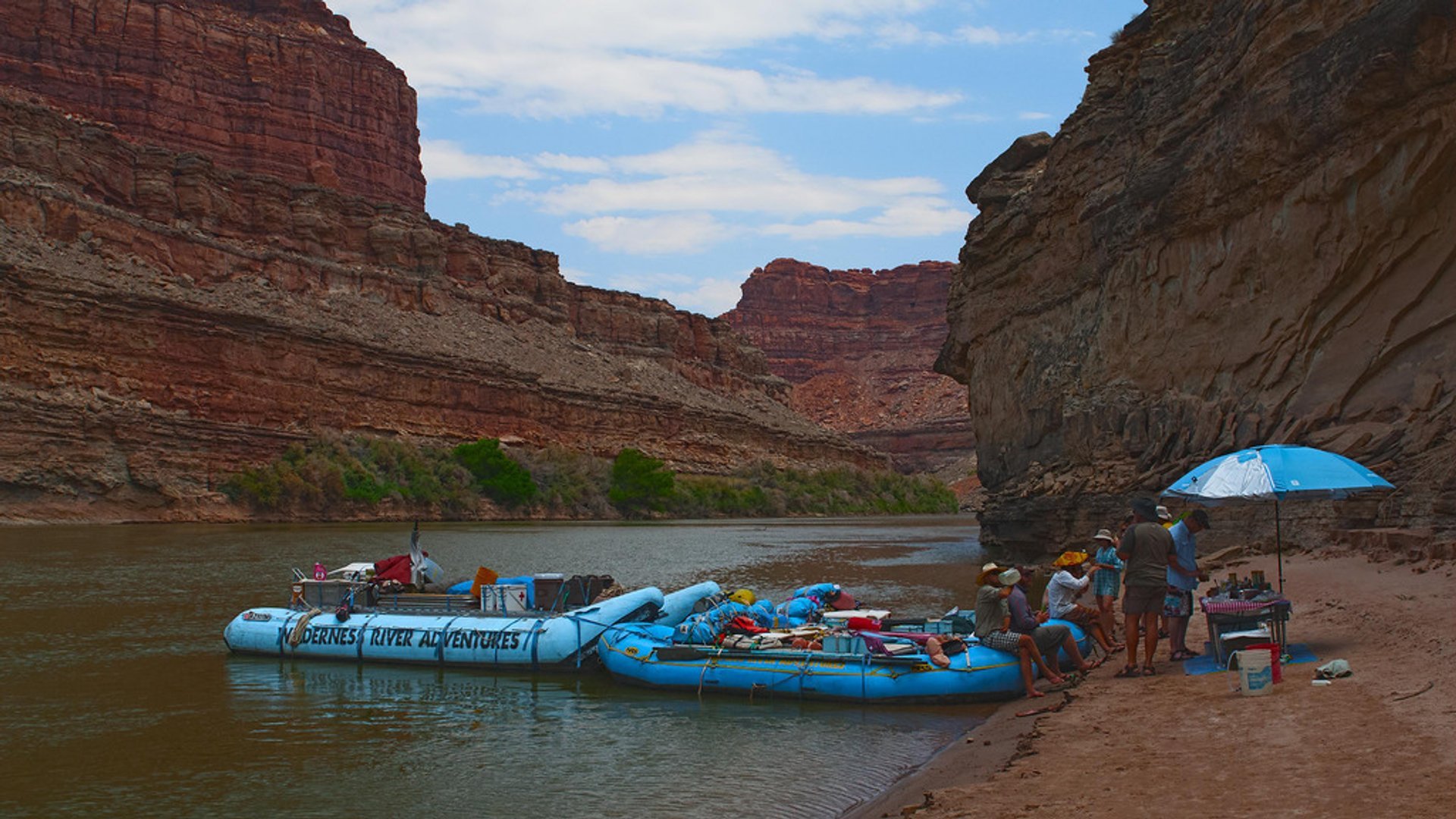 The power of the whitewater in Utah is exceptional. If you are searching for the most incredible rafting, you'll find it here. Enjoy the rush of the river and the beauty that surrounds you. On the lower parts of the rivers, you can see wildlife and marvel at amazing landscapes.
Some of the best rafting can be found on the Colorado River, Green River, and the Upper and Lower stretches of the San Juan River. The Green River in central Utah features a 14.5 km rafting route. It starts at Nefertiti Access Point, goes through Gray Canyon, and ends at Swasey's Boat Ramp. This is a relatively moderate trip that includes floating, paddling, and rafting. The desert scenery around is breathtaking and unforgettable. Except for great rapids, paddlers can also see the majestic bloom of wildflowers.
The northern part of the state offers a fun ride on the waters of The Weber River. This eight km float takes you through Weber Canyon, Rock Garden, Croydon Bridge, Devil's Slide, and Slalom Rapid. In the beginning, the water is quite calm, but further, it gets stronger and faster, especially during high water season. In general, this river features II-III-class rapids, with the biggest being Taggart Falls. During the high water, this journey can be somewhat crazy.
The high water season lasts from mid-May to mid-June. Snowmelt rivers in the beginning of the season can turn your paddling trip into unforgettable rafting adventure. It's good for advanced paddlers. Whereas, newbies are recommended to opt for the period of medium water between late-June and mid-August. This is a perfect time for young families and beginners. Some rivers and separate river sections which are closed during the high water season are open again. As it is the warmest part of the year, this time features the peak of tourists season. Low water rafting is possible between early April and mid-May, and also late August (on Green River the rafting season is extended well into October). This season features fewer people and is the best time to enjoy the views and watch wildlife on the rivers.
The 27 km float on the San Rafael River is kind of a calm river journey. It takes you along the towering canyons and cottonwood groves through narrow, serpentine curves of the river. In some parts, the water is really fast and unpredictable and needs constant attention from the paddlers. Starting from the San Rafael Bridge the water becomes very swift and dangerous, so it is the best place to stop and take-out. The best time to float on this river is late May through early June, but in some years there's no such opportunity at all. So you should check the condition of the river before you go. There are no guides or services along the river, so you will be on your own.
Find hotels and airbnbs near Rafting Season (Map)