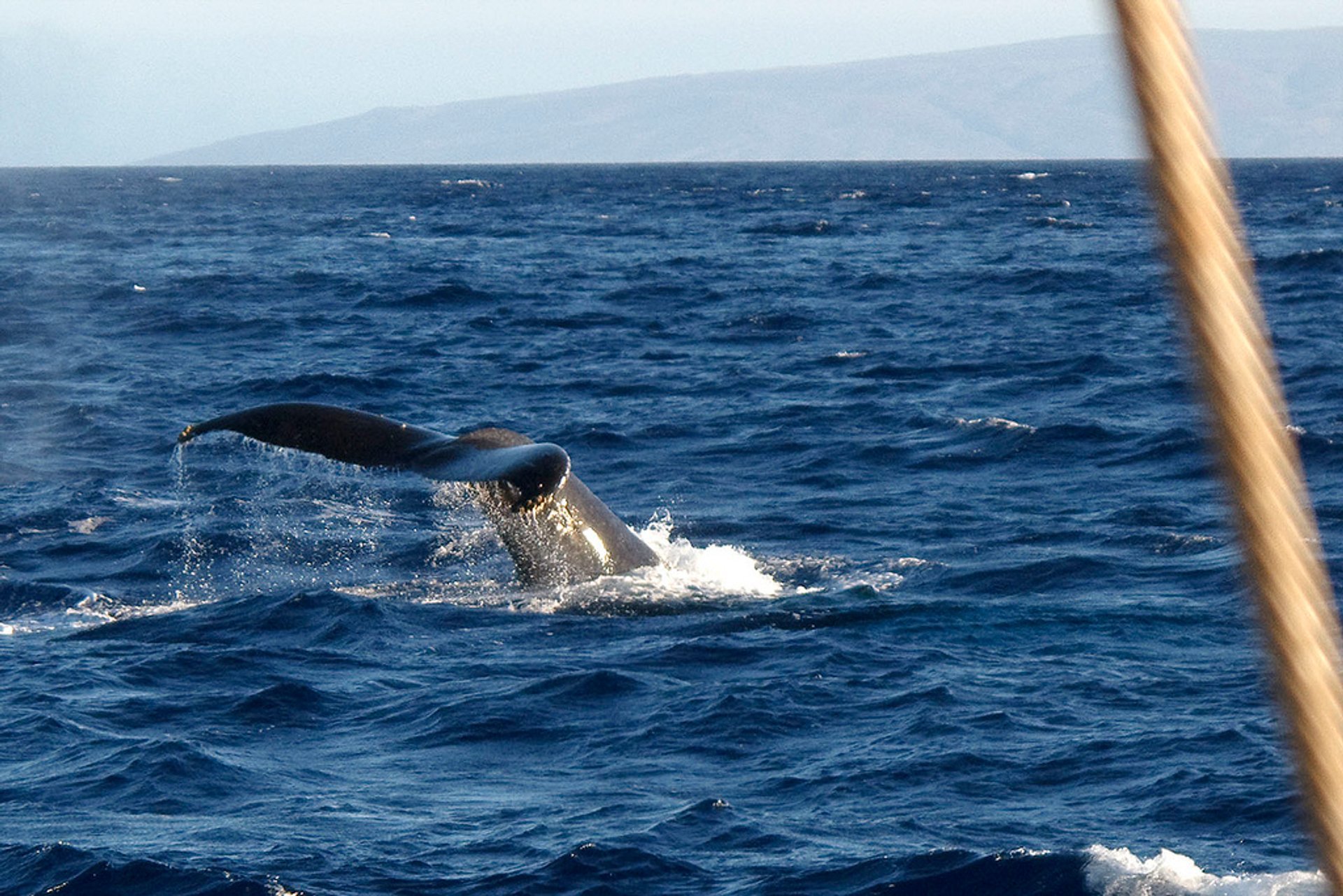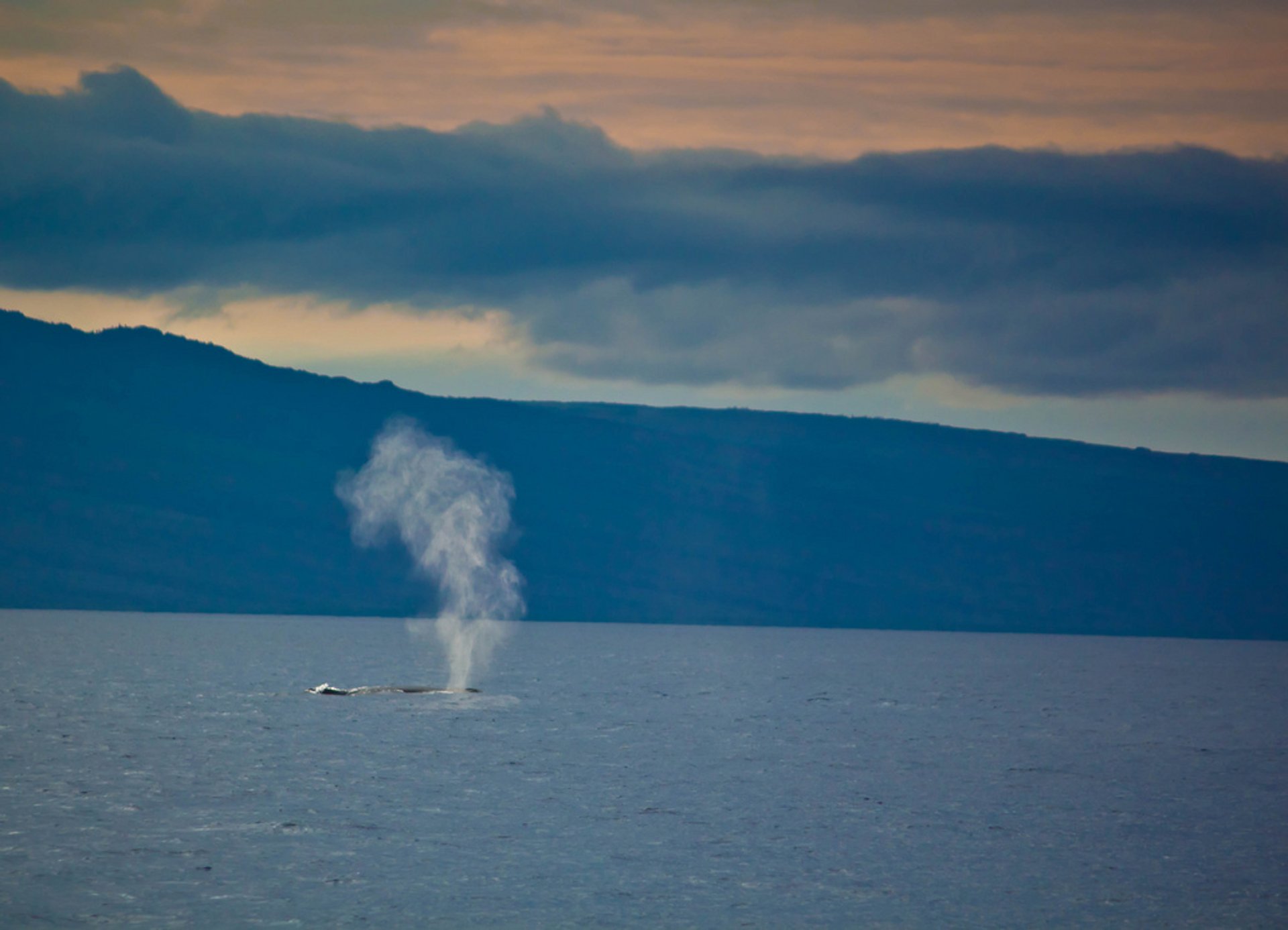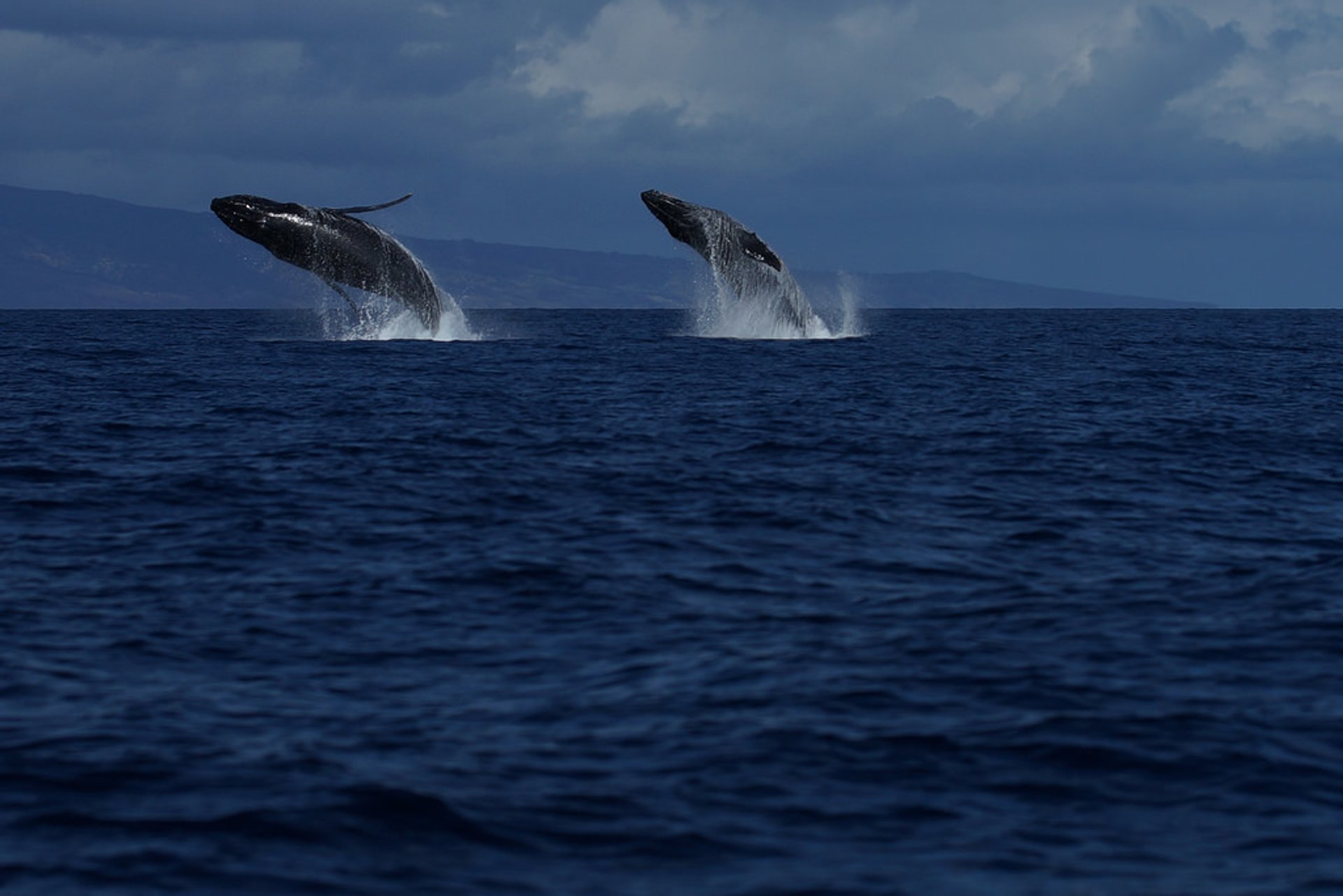 Curt Smith | Whale off Maui coast
See accommodations nearby
Between eight and ten thousand humpback whales travel long distances each year from the North to spend January through March in Hawaiian waters. Hawaii whale watching season brings an opportunity to observe these magnificent creatures in their natural habitat, near the islands where they breed, give birth, and raise their young calves in safety. These playful sea mammals can be observed near Big Island (Hawaii Island), Oahu, Maui, Kauai. and Niihau islands. The largest concentration of whales is usually spotted at Hawaiian Islands Humpback Whale National Marine Sanctuary that covers the Maui Nui region (between Maui, Lanai, Molokai, and Kahoolawe). Humpback whales are spotted in Hawaii the most often, however, there are over two dozens sea mammals that can be seen near the islands all year round, including rare pygmy killer whales or short-finned pilot whales.
Whale watching on Big Island
The north-west Kohala Coast is often called the best area of Hawaii for whale watching. Whales are also abundant along the western coast of Big Island known as Kona Coast or Kailua-Kona side. Plenty of whale-watching tours leave out of Kona offering various experiences and boat types, ranging from zodiacs to rafts, sailing catamarans, and cabin cruisers. There is also a solid chance to spot whales from the shore, especially along North Kona, Hilo coast, and North Kohala. Kapa'a Beach Park, Puukohola Heiau National Historic Site, and Lapakahi State Historical Park are among the most popular whale-spotting locations.
Big Island whale-watching tours
If you prefer to go whale watching on a smaller boat, Kona Snorkel Tours offers a 2-4-hour excursion on a Zodiac boat that combines whale watching and snorkeling. The boats that take 6-14 passengers depart from Honokohau Harbor. Another option is to take a cruise on a larger two-decked boat. Body Glove tours last for 2.5 hours and depart out of Kailua Kona every day from December through April at 1 pm. Food and drinks are served on board. Tickets for whale watching on Big Island are somewhat pricey, varying between $77 on a larger vessel and $120 on a smaller one.
Whale watching on Oahu
On Oahu, humpback whales can be spotted as late as early May. Some tour operators combine whale watching and snorkeling with dolphins and turtles. You can also spot whales from the southeastern Oahu coast, in particular, from Hanauma Bay. The most popular spots include Makapuu Lighthouse and Diamond Head.
Oahu whale-watching tours
Many whale watch boats depart from Honolulu and Waikiki. In particular, Star of Honolulu Whale Watch cruises offer 149-passenger catamarans, the largest such boats in Hawaii. Tours depart from Honolulu and Ala Wai Boat Harbor in Waikiki four times per week. These are affordable excursions that cost $42 for an adult or $26 for a child. Additionally, there is a whale guarantee. It means that if you don't see a whale, you'll receive a "Whale Check" to cruise again.
Whale watching on Maui
Maui is arguably the best whale-watching destination in Hawaii due to the fact that more than half of the Hawaii humpbacks migrate to the Maui Nui Basin. Sea mammals are breeding in these protected waters from November through May. You can watch them from a distance during whale-watching tours departing regularly from Lahaina Harbor. It's also possible to spot sea mammals from the shore in Lahaina and Kaanapali.
Maui whale-watching tours
Zodiac Tours and rafts are perhaps the most popular options for whale watching on Maui. Ultimate Whale Watch runs small hydrophone boats so that you can hear whale songs. And if you don't see any whales on the day of your adventure, you'll get a chance to take another trip without extra cost. Another great option is whale watching on a sailing catamaran. You can try a guided tour from Whalewatch Sail on a medium-sized vessel that takes about 60 people. At last, Maui is one of the few places on the planet where one can enjoy kayaking with whales. With Adventure Tours Hawaii, you can spend a few hours kayaking by Makena Beach and enjoy whale watching followed by snorkeling over a coral reef. During the tour, an instructor takes kayakers to the channel where humpback whales can be seen up close.
Whale watching on Kauai
Kauai is another great whale-watching destination. During the winter months, it's possible to spot humpbacks from the northern and western shores. The most popular spots include Kilauea Lighthouse, the Kapaa Overlook between Kapaa Town and Kealia Beach, Poipu Beach, Shipwreck's Beach, Makahuena Point, and Napali Coast's Kalalau Trail.
Kauai whale-watching tours
Kauai offers many whale watch options, from Zodiac boats to sail boats and private charters. Some of the most popular tours include Na Pali Catamaran with two 4-hour excursions departing from Hanalei Bay daily. Kauai Sea Rider offers a 2-hour Zodiac whale watch adventures on hydrophone boats accompanied by a marine biologist.
Whale-watching tips
Whales are spotted the best when the weather is clear and the sea is calm. Morning tours usually enjoy fewer waves and calmer weather. Also, try to get a seat on the bow for better visibility. If you are prone to motion sickness, it's better to opt for a larger boat that is more stable on the water. Small boats, like Zodiacs and rafts, are also not recommended for small children and pregnant women.
What to bring
Bring your binoculars and a camera with a telephoto lens to increase your chances to see and capture sea mammals. Also, don't forget extra batteries. Keep in mind that there will be lots of splashes around you so make sure to take a waterproof sleeve or just a zip bag for your phone and photo gear, especially if you are traveling on a small boat or a kayak. There is no need to pack many snacks since many large catamarans and sailboats offer food and beverages onboard. Even smaller Zodiac boats have a basic supply of water for the tour.
What to wear
Even when the weather in hot, temperatures in the ocean can be way cooler so bring a windbreaker or at least a sweater. It's best to wear long pants and closed-toed shoes on rubber, not slippery soles. Also, don't forget about harmful UV lights and bring some sunscreen, a sunhat, and sunglasses to protect you from the sun on your sea adventure.
Where to stay
During winter, you have a high chance of spotting whales even from your hotel's balcony. Choose a hotel along the areas frequently visited from humpbacks, like South or West Maui or the Kohala Coast on the Big Island. Check our map to see accomodations options. The best months to spot whales from the shore are January, February, and March. You will need binoculars and lots of patience.
Whale-watching season in Hawaii
Whales start to arrive in Hawaii in mid-November and leave for Alaska by early May. However, their peak numbers are usually spotted during January, February, and March. If you go whale watching between mid-November and December, you can spot mother whales with their youngsters who arrive in Hawaii first. Juvenile whales also show up early in the season. The winter months is when you can spot many adult humpbacks and pregnant females. During their stay in Hawaii, whales are busy with their breeding activities, which includes courtship, competing for mates, mating, calving, and nursing newborn calves. February is the best time to spot humpback whales both from the shore and in the sea. Additionally, this is the time of the annual Maui Whale Festival featuring a whale count, movie screenings, educational exhibits, seminars and much more.
Humpback whale facts
Graceful and intelligent behavior patterns of North Pacific Humpback Whales are truly fascinating. The fifth largest whale species on Earth reach 60 feet (18 m) in length and weigh up to 40 tons. Like humans, humpback whales have two lungs, each one is the size of a small car. Whales sleep with just one side of their brain resting and one eye closed. Humpback whales are unique as they are the only whale species that can sing. You can hear it best on a hydrophone boat, equipped with an underwater microphone. Sometimes people can hear distant whale songs even while snorkeling. Interestingly, humpbacks' flukes are unique to each individual which makes it easier to identify them. The largest concentrations of humpbacks are found around Maui, Lanai, and Molokai.
Hawaii archipelago rightfully belongs to the top humpback whales destination in the world due to the abundance of cetaceans, crystal clear water and the variety of ways to encounter whales. It's one of the few places where you can see whales while kayaking or paddling so make sure you include this magnificent experience in your vacation plans.