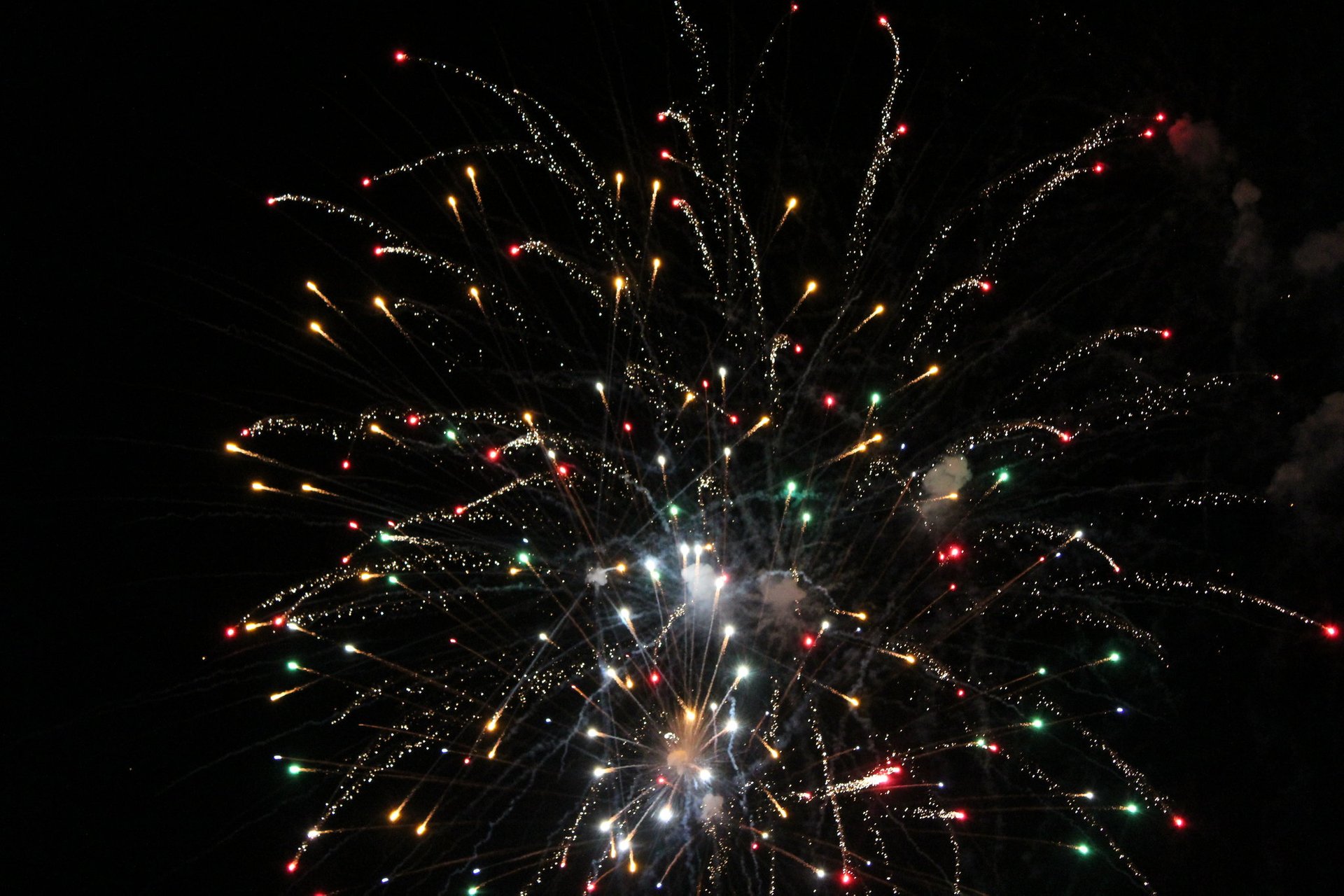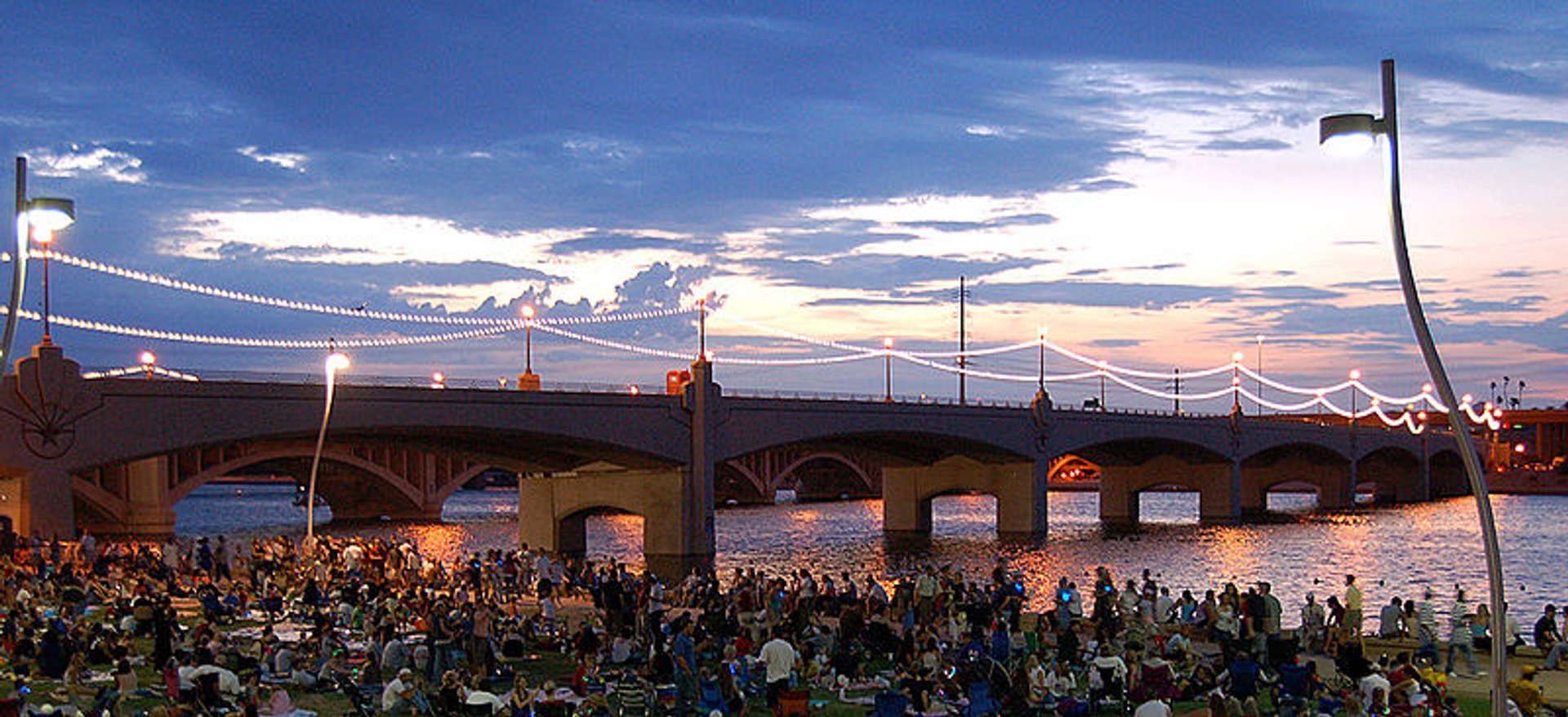 See accommodations nearby
The Greater Phoenix area boasts the most enthralling celebrations of Independence Day in the USA. Thousands of people spill out to several locations to enjoy famous fireworks, listen to local musical groups, watch outdoor movies, stay cool with water slides, sing patriotic songs, and play different games. Choose a location you like to catch the right vibe and to take in the festive atmosphere.
Arizona Celebration of Freedom in Mesa (July 4, 2023, unconfirmed)
The Arizona Celebration of Freedom is known as one of the most spectacular annual celebrations on the 4th of July around Arizona, which guarantees one night of unforgettable free entertainment. The event takes place at the Mesa Convention Center and Mesa Amphitheatre of the city of Mesa. It features breathtaking 20-minute evening laser displays, historical flag presentations, replicas of iconic American buildings, war re-enactments, patriotic music, and, of course, mind-blowing fireworks. By the way, inside the Convention Center, you may find the jaw-dropping Fallen Soldiers Memorial, honoring Arizona's fallen heroes from the war on terrorism in Afghanistan and Iraq.
Fabulous Phoenix 4th at Steele Indian School Park (unconfirmed in 2023)
Fabulous Phoenix 4th attracts over 80,000 attendees annually. The reason for such a demand is simple: this free family rain or shine event features one of the most epic fireworks displays in the Southwest. In addition, this non-alcoholic celebration offers classic car shows, several entertainers, arts and crafts, a variety of festival-style food, neverending musical acts, and numerous interactive exhibits. A Kids' World is also a part of Fabulous Phoenix 4th. It features fascinating youth activities, inflatables, and rides. A water spray zone will be present for little ones as well.
All-American Festival in Peoria (July 4, 2023)
Each 4th of July, thousands of people flock to Peoria Sports Complex in Peoria for the All-American Festival. This event hosts a world of family-friendly activities such as cornhole tournaments, face painting, a Water Zone with huge slides., and a Sensory Room in the Visitor's Clubhouse. You'll be able to take part in food eating contests, and your kid will be glad to enjoy the Kids Zone. Cold beer, food concessions, live entertainment, and fantastic fireworks are here for you as well. Just bring warm blankets or lawn chairs, make a bag of snacks for you and your kids and be ready to absorb the joyful atmosphere of the All-American Festival. The gates are open from 5 to 10 pm.
July 4th Tempe Town Lake Festival (July 4, 2023, unconfirmed)
Since 1952, the July 4th Tempe Town Lake Festival is deemed to be a premier Independence Day celebration in the Valley. Tens of thousands of visitors arrive at Tempe Beach Park to feel the true festive spirit. An evening of family-friendly activities is waiting for you. Delicious food like hot dogs, roasted corn and BBQ, kid's entertainment, and live concerts are just a small part of the celebration. But the main fun for guests is the annual Kiwanis Club's Fireworks Spectacular over Tempe Town Lake. They are choreographed to music for all tastes like patriotic, country, pop, and more. The best thing about the festival is that all visitors can enjoy the day and do good by just being present. All net proceeds benefit local children's charities.
Hometown 4th at Schnepf Farms (July 4, 2023, unconfirmed)
For good memories, celebrate America's independence with your friends and loved ones at a fourth-generation family farm in Queen Creek, Arizona. Hometown 4th at Schnepf Farms is a classic rustic celebration, complete with live music, a National Flag Service, and a 30-minute firework finale. There will be craft vendors, food trucks, beer & wine bar for the adults, and lots of entertainment for kids. Guests can bring their food and non-alcoholic drinks as well as pop-up tents and games to enjoy the day full of outdoor activities. Hometown 4th at Schnepf Farms is a cherished local tradition in a beautiful rural setting with spectacular fireworks under the stars.
Find hotels and airbnbs near Phoenix 4th of July Events & Fireworks (Map)