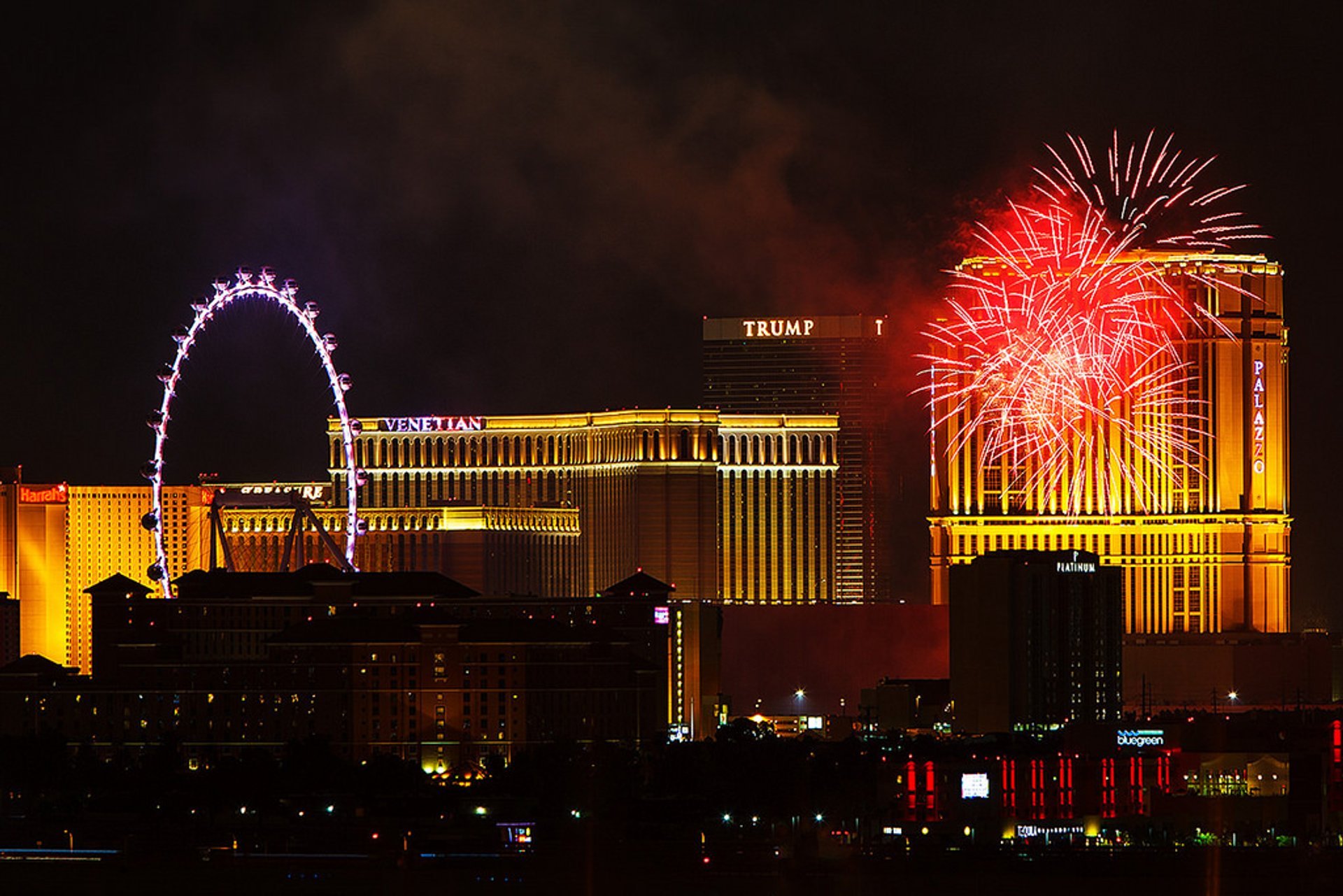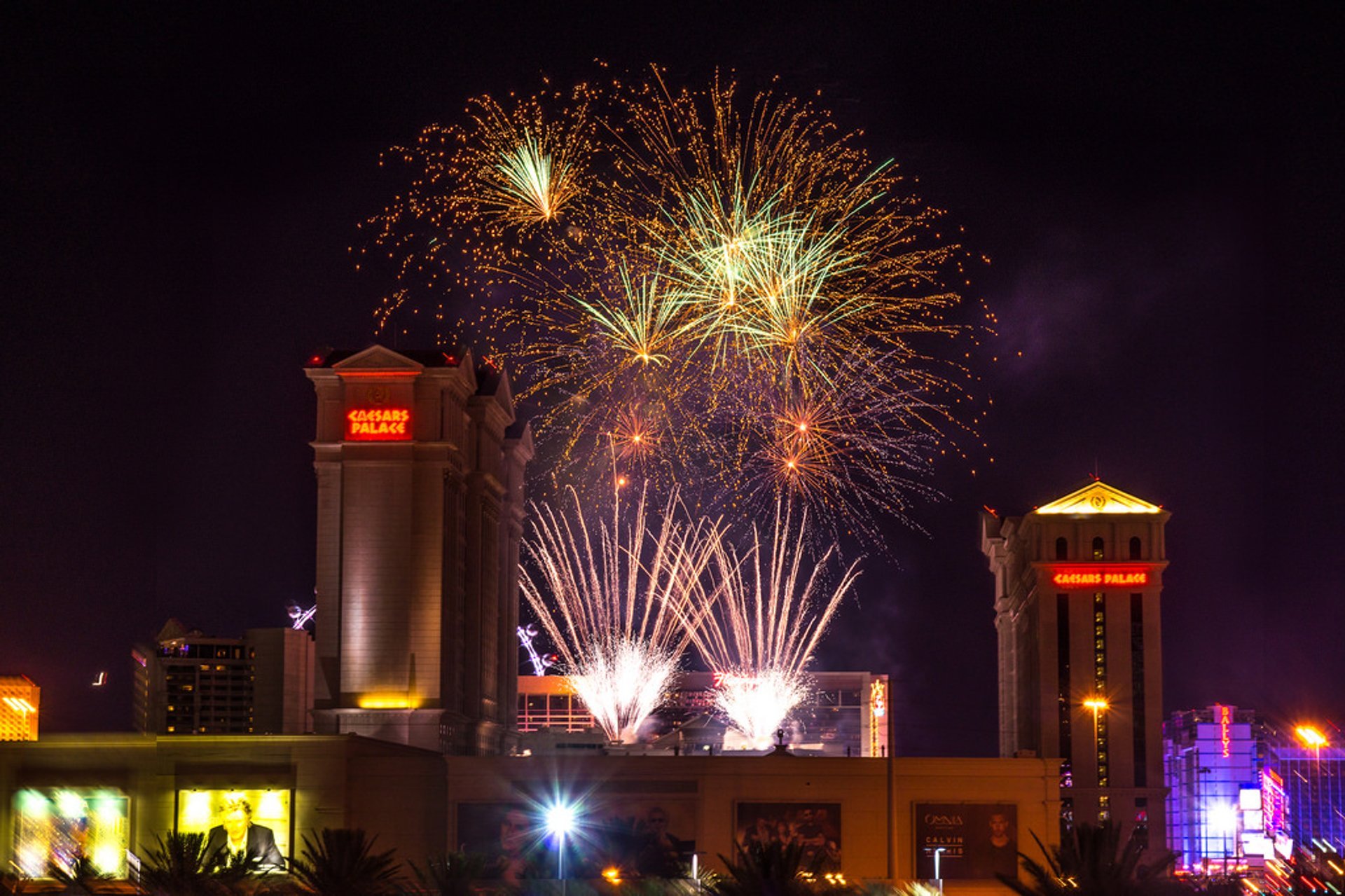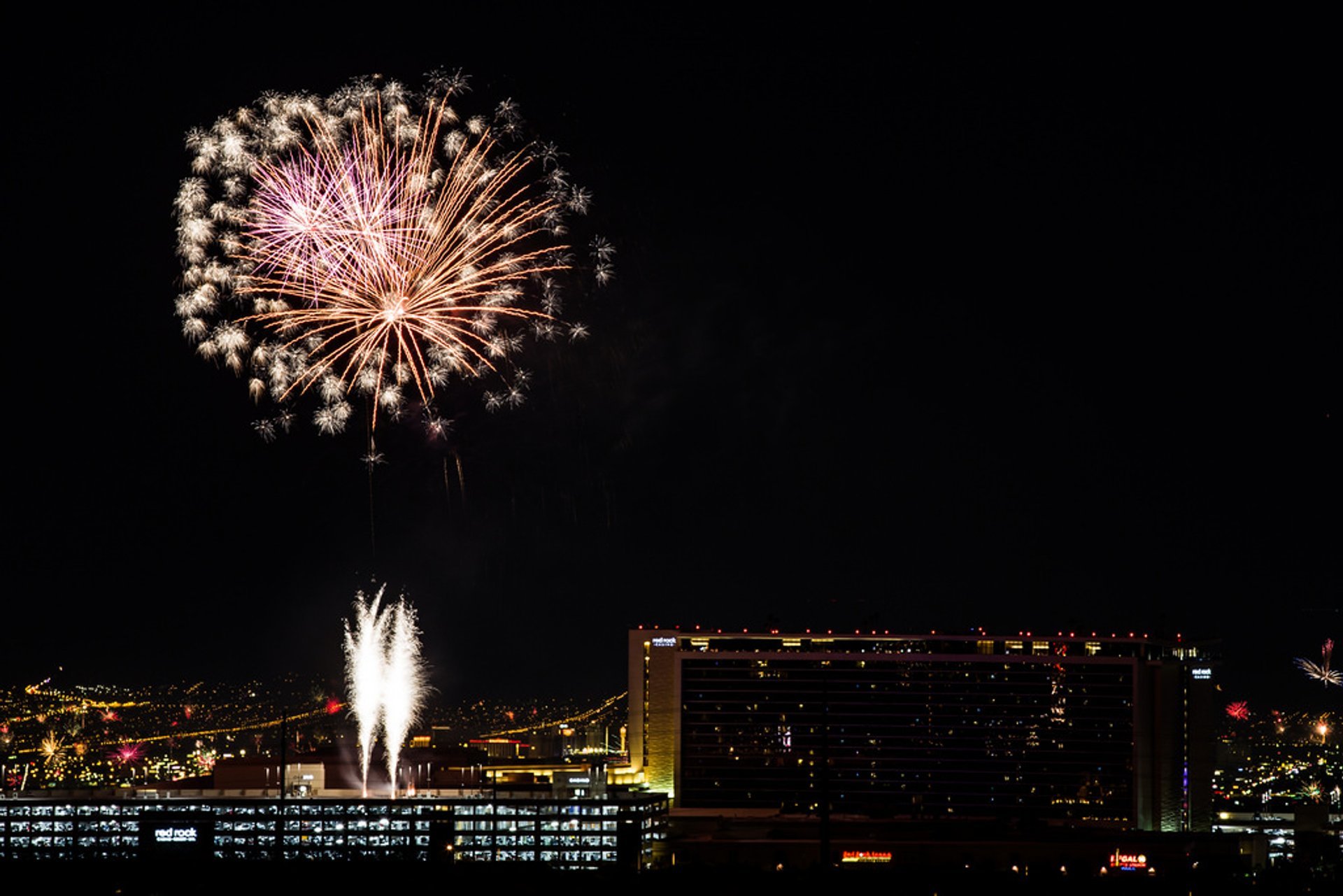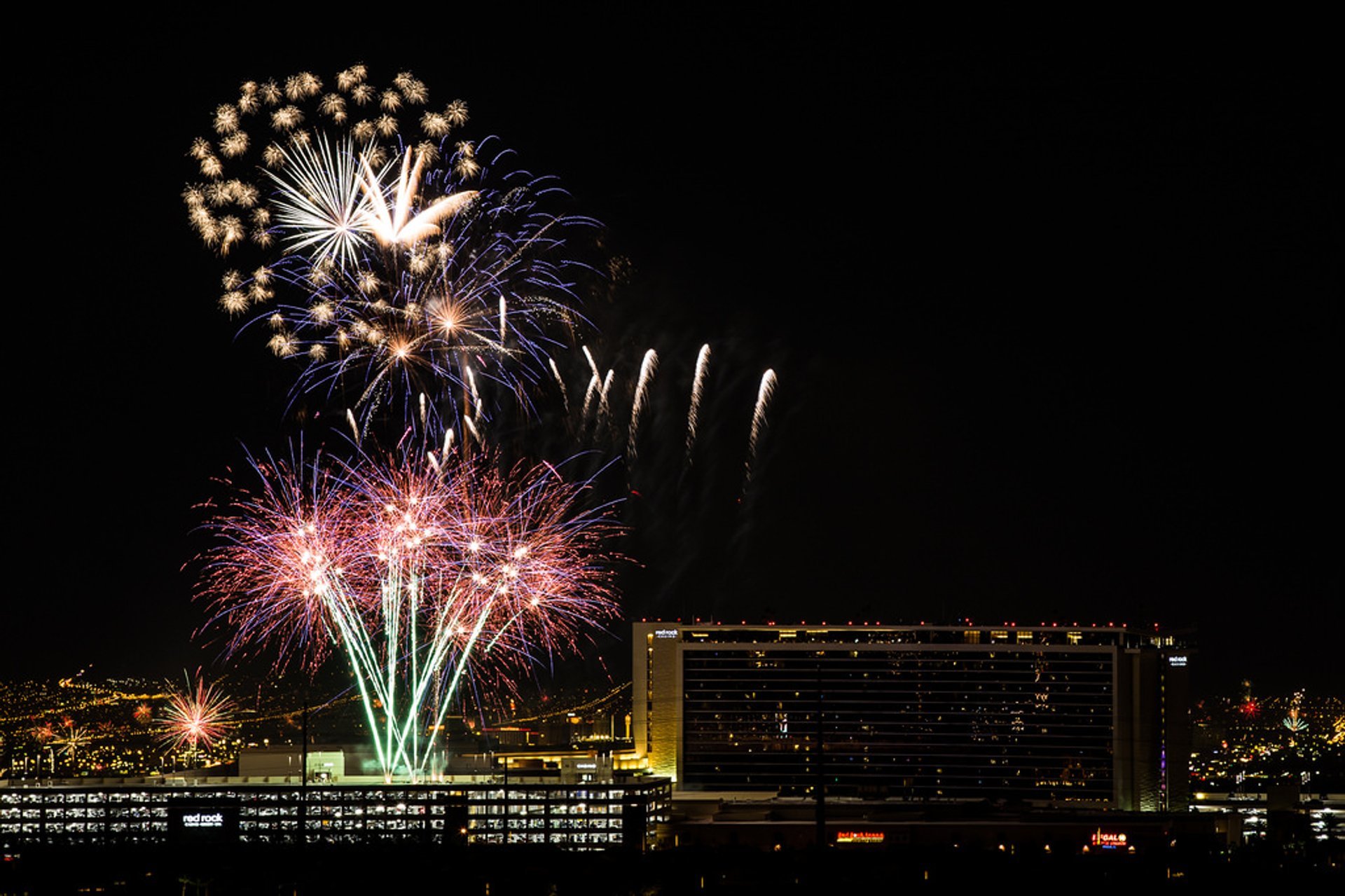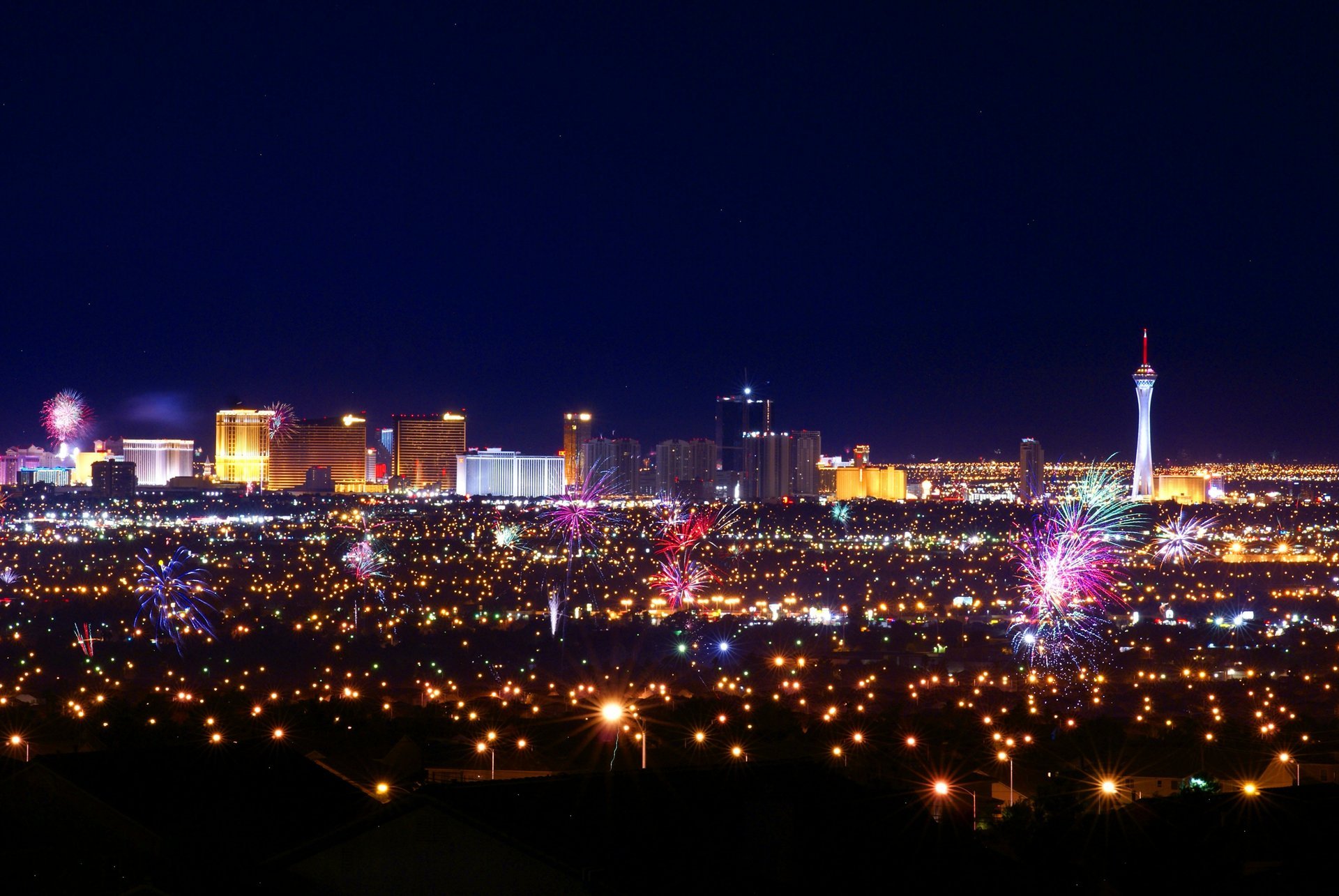 Las Vegas celebrates Independence Day with fireworks, parties, parades, barbecues, picnics, and concerts. The city usually gets quite crowded during the holidays, since many resorts and casinos hold special events. The festivities continue during the whole 4th of July weekend with plenty of patriotic decorations and fireworks, which illuminate the sky in red, white, and blue and are accompanied by patriotic music.
Fireworks at Last Vegas Strip
One of the best locations to enjoy the Independence Day extravaganza is Las Vegas Strip, where multiple hotels hold massive fireworks shows, starting at the same time. One of the biggest displays is launched by the Caesars Palace. The impressive 13-minute fireworks are shot from the hotel's Julius Tower at 9 pm. The best view is from the front fountains area, which is next to Caesars Palace.
Lake Las Vegas also holds a party with a spectacular pyrotechnic show. Another impressive fireworks display can be seen over the Plaza Hotel Casino in Downtown Las Vegas at 10 pm. Many resorts have special events on July 4th. Plaza Hotel & Casino usually hosts Plaza Pool Nights Fourth of July Party with live entertainment, drink specials, barbecue, and fun festivities.
Summerlin Patriotic Parade
The 4th of July Summerlin Patriotic Parade boasts an atmosphere of a small-town America within the official limits of Las Vegas. The tradition, with over two decades of history, draws over 40,000 spectators. The parade features over 70 entries, like Disney-themed characters, Las Vegas Golden Knights floats, and Native American performing groups. The procession starts at about 8:45 a.m. at the corner of Hillpointe Road and Hills Center Drive and finishes near Trailwood Drive and Spring Gate Lane.
Star Spangled Spectacular is part of Summerlin's 4th of July celebration. The concert by Las Vegas Philharmonic at TPC Summerlin pays homage to all the great things in America's history. In addition to the special symphony orchestra performance, spectators can enjoy fun family activities and fabulous fireworks afterward.
Find hotels and airbnbs near 4th of July Weekend Events & Fireworks (Map)