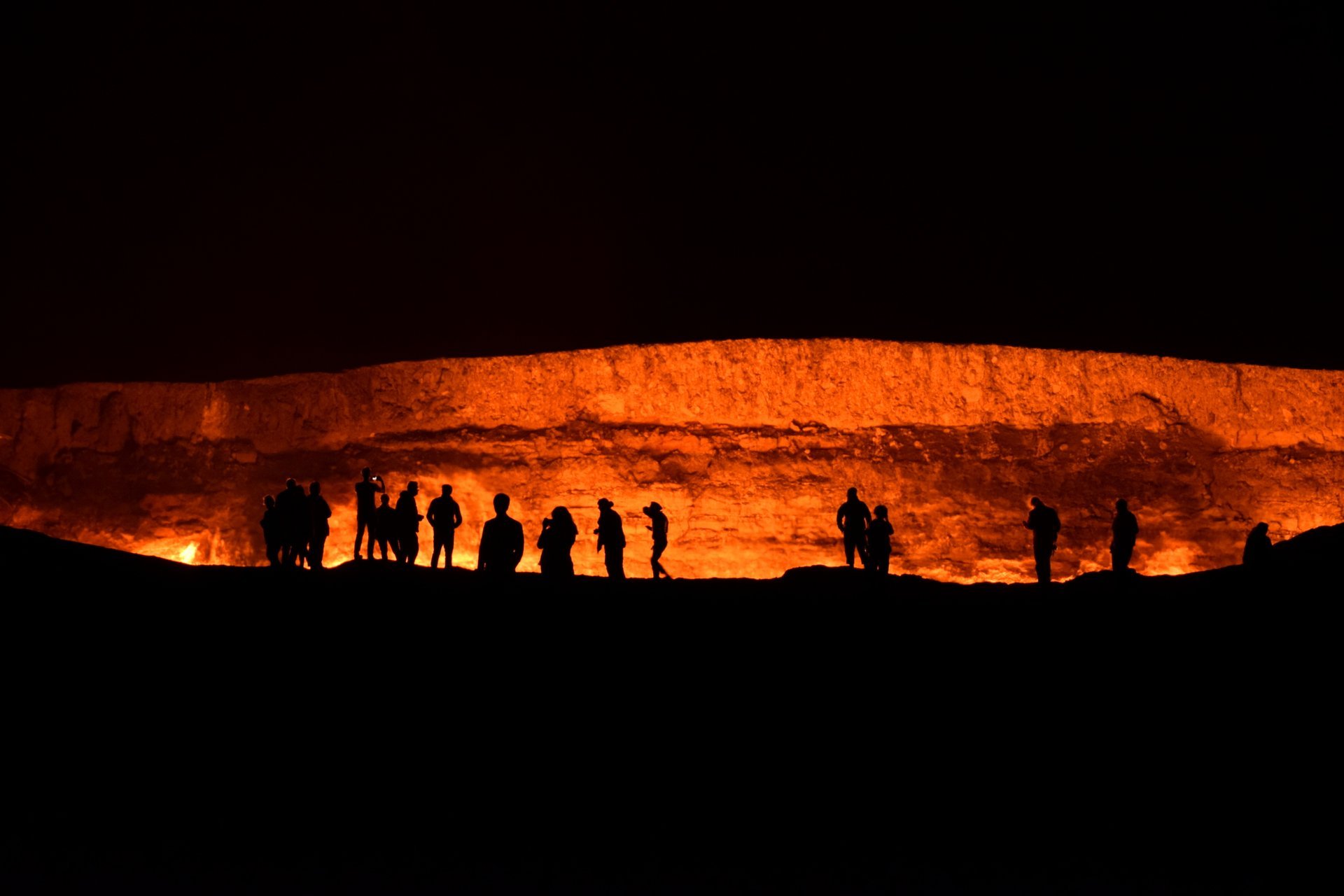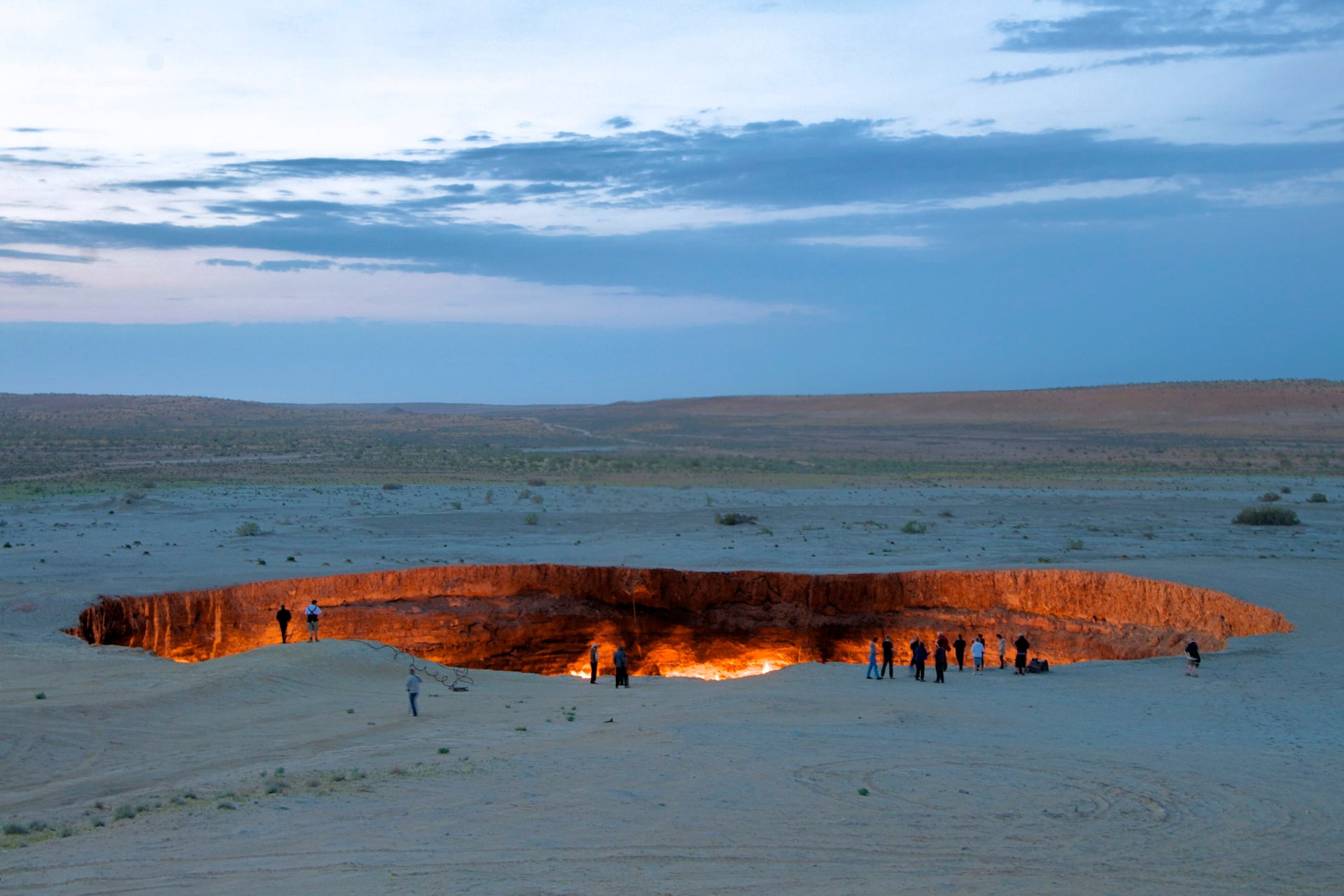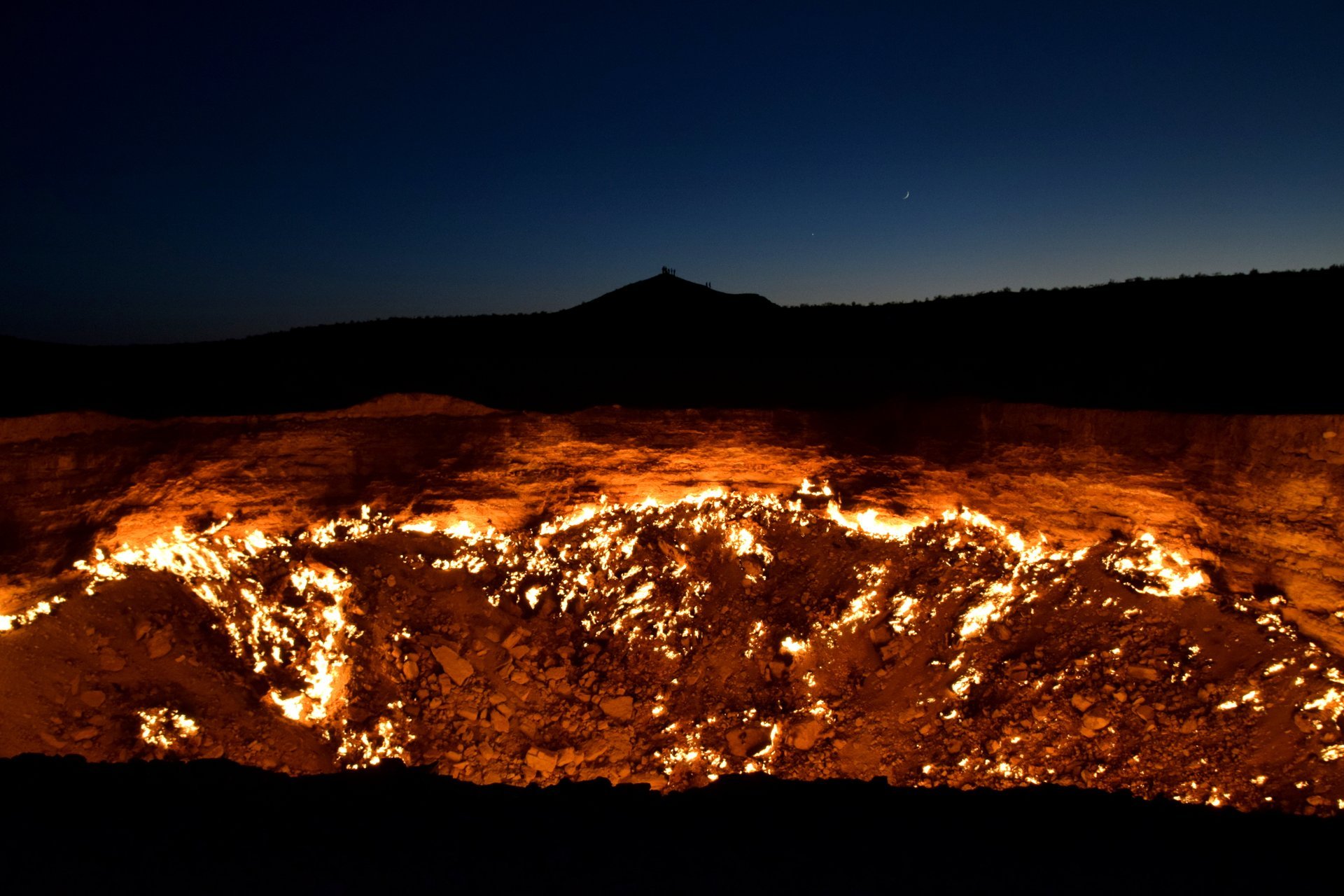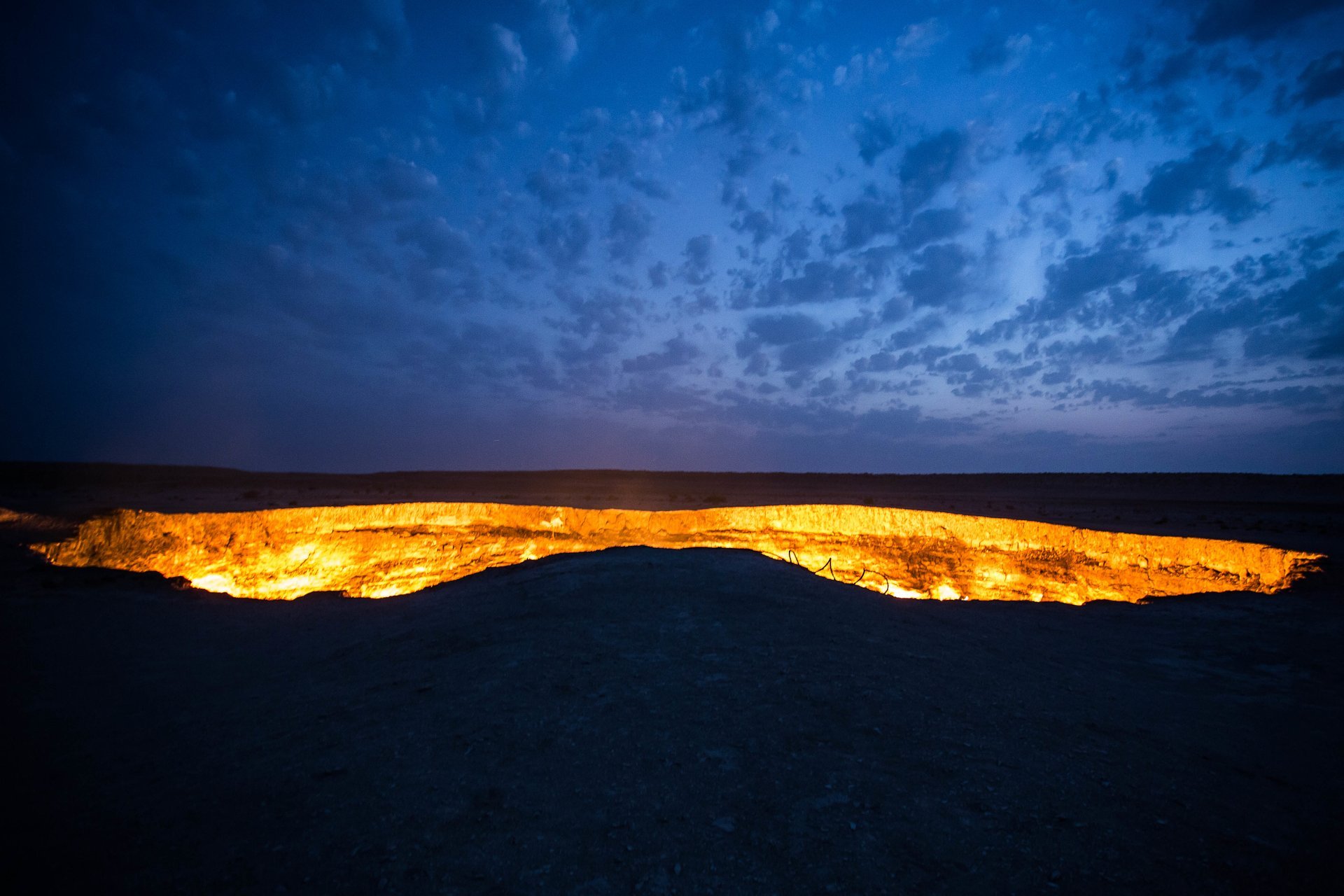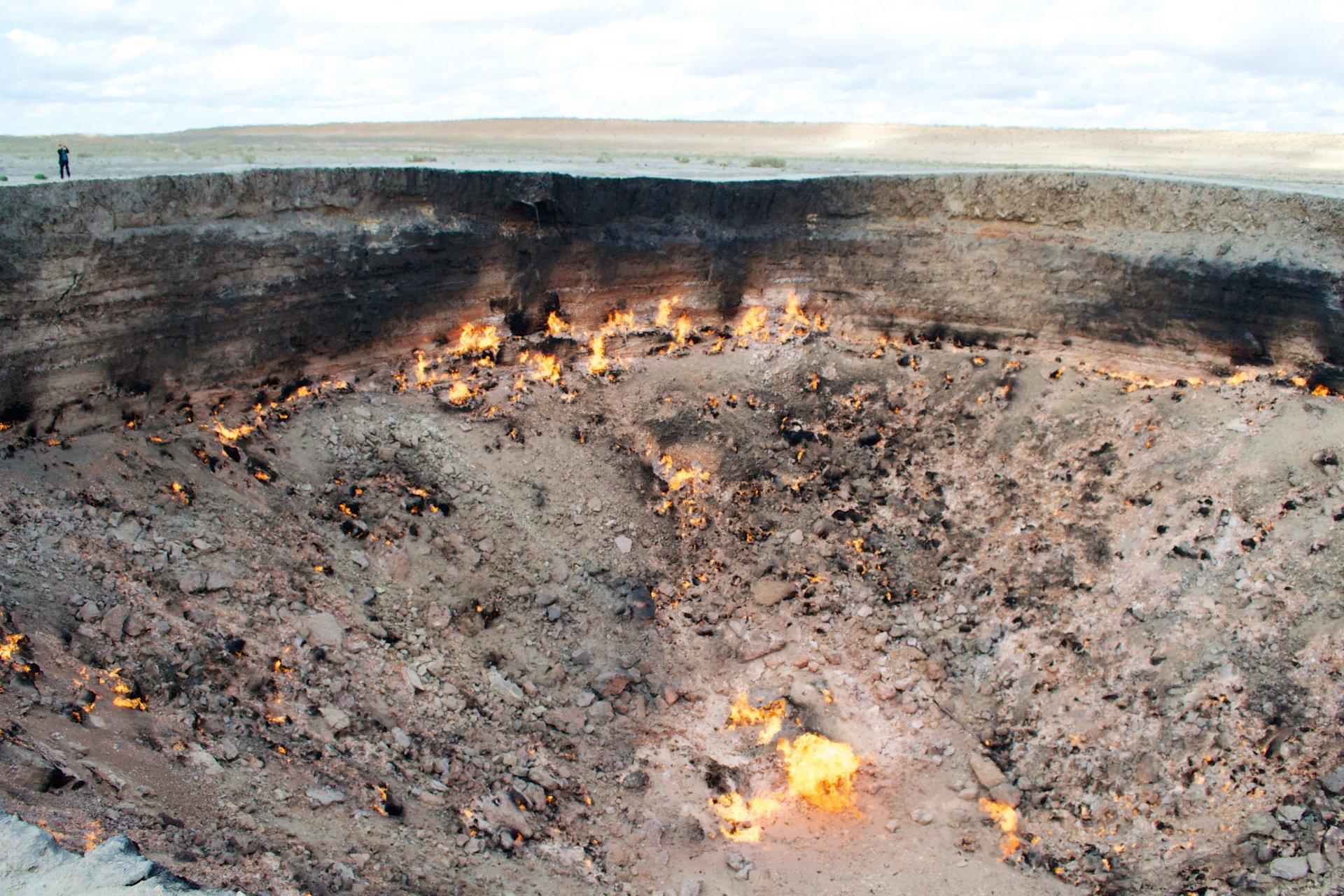 The Gates of Hell or the Door to Hell is a gas crater in Darvaza, 170 mi (275 km) north of the capital city of Ashgabat. This place used to be a gas pocket neatly concealed under the sands in the middle of the Karakum Desert. It remained treacherously silent until an accident in 1971 when a Soviet drilling rig punctured the gas cavern. The ground underneath collapsed, and the machine has forever drowned somewhere at the bottom. To prevent a natural disaster that could be easily caused by gas fumes, the Soviets decided to set the crater on fire. It hasn't stopped burning ever since.
Over the years the glowing cavern has become literally the hottest tourist attraction of Turkmenistan. When you stand on the edge, which is allowed but not recommended due to the crumbling soils, the air temperature is normally beyond 122 °F (50 °C.) Owing to the sinister appearance, Darvaza Gas Crater is called the Door to Hell or the Gates of Hell.
The Door to Hell is open year-round, but hiking season in the desert is April–November, naturally because of the weather. So Darvaza Gas Crater Tours run in spring, summer, and fall. If you're looking for the comfiest temperatures, the best time to enjoy the Karakum Desert adventure tour would be spring and autumn, as summer may get scorchingly hot. The spot is unique not only in Asia, but generally on Earth, and is a worthy addition to your travel wishlist.
There are several options for the Gate to Hell tours. Day tours include a drive to the crater and an early dinner nearby. Two-day tours offer more attractions on the way with an overnight camp by the Darvaza Gas Crater.
Find hotels and airbnbs near The Gates of Hell (Darvaza Gas Crater) (Map)