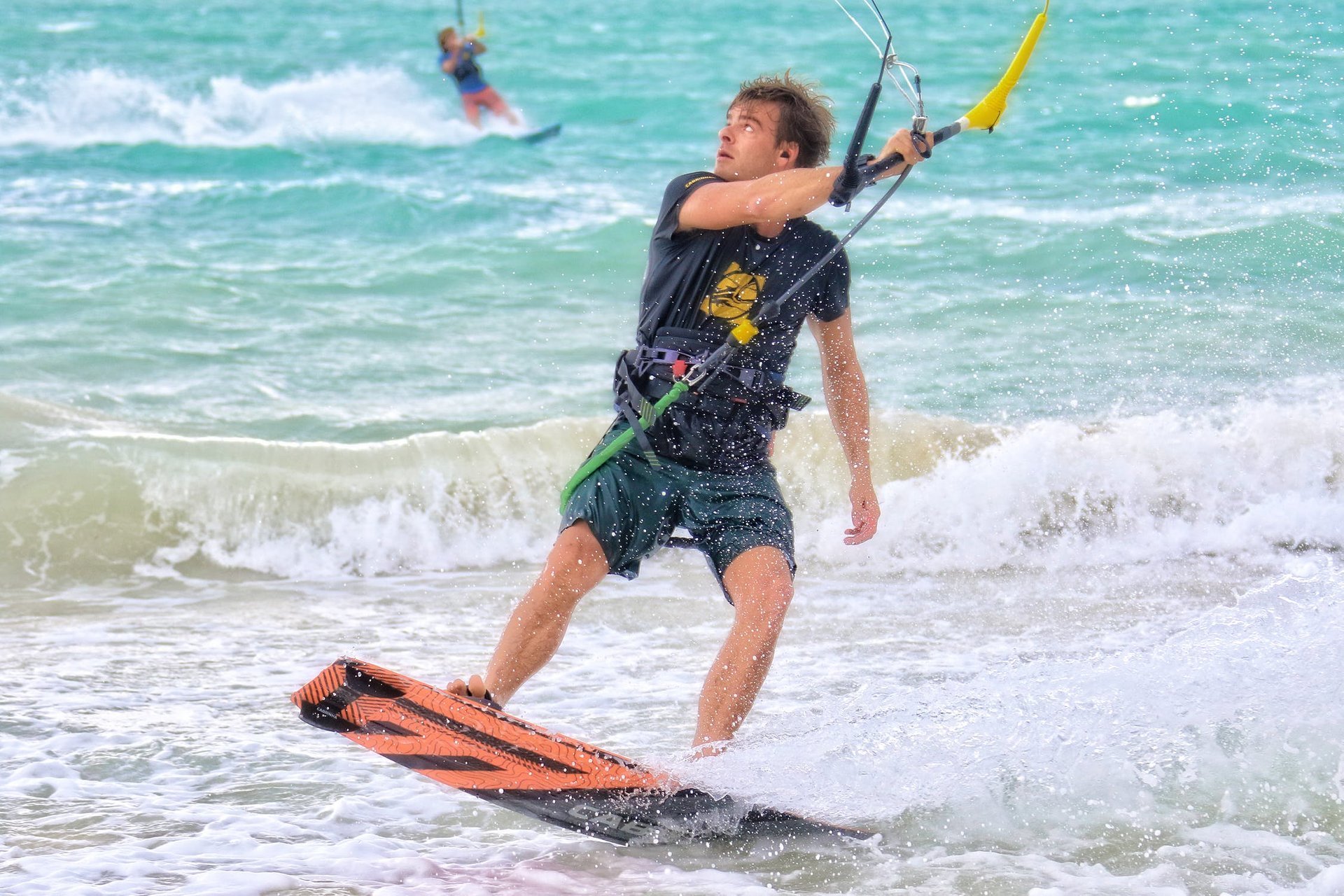 The Bahamas consists of 700 islands. So it has plenty of beach space for every kiter. Thanks to warm waters, reliable wind patterns, and iconic postcard natural beauty, it's a perfect vacation spot for a wind sports enthusiast. Winter is usually the windiest time in the Bahamas with the wind speed between 10 and 25 knots. From November through April, the north winds blow throughout the islands bringing slightly cooler temperature. The wind in the Bahamas is not as consistent as further south in the Caribbean, but it's pretty decent and perfect for beginner kiters. On the downside, there are not so many kitesurfing facilities and rentals in the Bahamas. Kiteboarders have to bring their equipment and a light wetsuit in case of a sudden cold wave or book a kitesurfing vacation package with a local resort.
Windsurfing is a perfect activity to try on New Providence Island. If you have your own gear, it's possible to rent a boat and explore hidden gems of the archipelago which is indeed a great experience. There are also plenty of locations to windsurf near Nassau, which is a perfect place for beginners to get started, with lessons and equipment rentals. Lyford Cay and Arawak Cay are two areas that will suit riders of all levels. Saunders Beach, just west of downtown Nassau, has plenty of amenities. Love Beach on the northwest side of the island is good at mid to low tide. South Beach offers shallow flat water—an excellent spot for learning.
Spectacular Exuma area consists of 365 islands hiding some great kiteboarding spots. Moriah Harbour has shallow and flat water riding. Emerald Bay is another good spot. You will have to rent a boat to explore Exuma's awesome secluded beaches. Exuma Kitesurfing in George Town offers kite vacation packages and lessons. There is also a school at Greenwood Beach Resort on Cat Island. And another option is San Salvador Island.
Eleuthera and Harbour Island have beautiful spots near Gregory Town. Check out Surfer's Beach that works well with east and northeast wind. Spanish Wells has a kitesurfing-friendly beach on the north with flat water riding. Grand Bahama is another good choice, with plenty of schools, rentals, and lessons.
Find hotels and airbnbs near Kitesurfing & Windsurfing (Map)