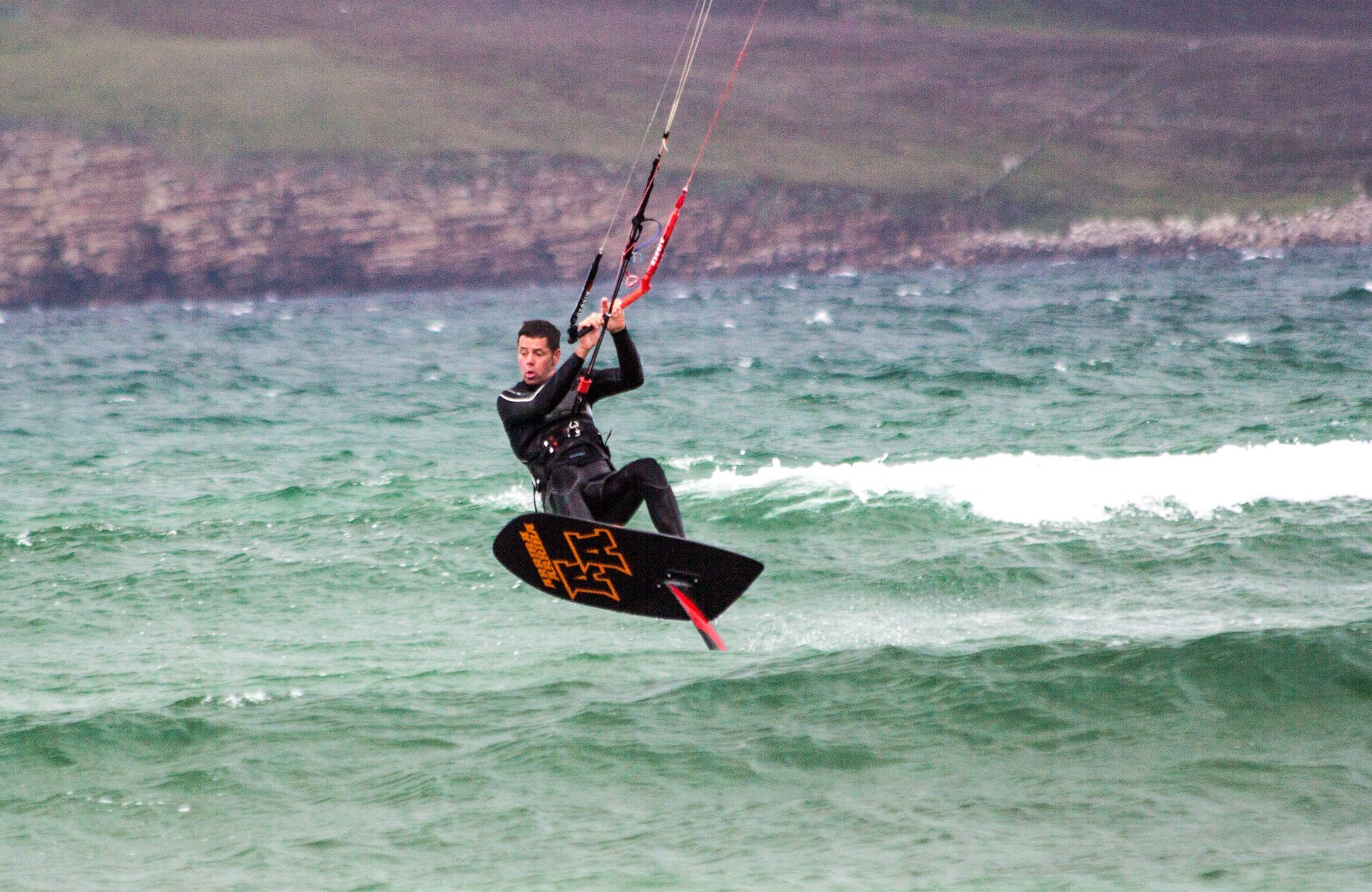 Scotland has all conditions for water sports: white sandy beaches, plenty of coastline, and clean waters. There is only one thing that it lacks: warmth. But if you are not afraid of cold water, pack a wetsuit and enjoy one of Europe's top water sports destinations. Washed by Atlantic ocean and the North Sea, Scotland gets swells and strong SW winds. During the summer, it is warmer, and riders can get some decent kitesurfing, especially on the East Coast. But the strongest winds arrive in Scotland in the fall and spring when temperatures drop. There are dedicated kitesurfing Beaches near Edinburgh, Fife area, near Aberdeen, and Glasgow.
On the East Coast, Longniddry gets steady and robust SW or WSW wind. The beach is rocky and is not suitable for beginners since riders have to stay upwind on a high tide. Gullane Beach nearby is safer for those who are learning to kitesurf, especially with NNW wind. The beach is very spacious there but beware of high tide that arrives quite suddenly. Pettycur Bay has an excellent kiting spot at the second beach behind the rocks that work well with W-SE wind or W-SW wind. The water is a bit choppy, and the waves can get rather significant.
On the West coast, Troon has one of the best kitesurfing beaches. The town of Troon is located in South Ayrshire. Barassie Beach, one of the most popular in Ayshire, has schools and rentals. It is good with any wind and tide levels and has good shallow kitesurfing waters for beginners.
Windsurfing in Scotland is one of the most popular sports due to steady winds blowing over the west coast making the Isle of Tiree, Islay and the Kintyre peninsula, a perfect spot to ride the waves. Iconic Machrihanish Beach, located on the Kintyre Peninsula on the West coast of Scotland, offers not just spectacular views. The 6-km (4-mi) beach connecting Machrihanish and Westport is the most popular surfing and windsurfing destination on the West Coast.
Tiree Island is not just the sunniest place in Scotland. The most westerly island in the Inner Hebrides chain is famous for its nine beaches getting plenty of wind from the Atlantic. It also hosts The Tiree Wave Classic, the biggest wave competition in the UK. The windiest season here is from October to March.
Find hotels and airbnbs near Kitesurfing & Windsurfing (Map)